This home was featured in the latest issue of Country Living.  It's an eye-catcher, to be sure.  But on closer inspection, I began to question whether I loved it or hated it.  I don't mean to be brutal, because it is a fun family home and everyone is entitled to their own sense of style.  But as a design-junkie, it's fun to really dissect a space and figure out what I like and don't like – what seems to work and what seems not to – and why.  Stick with me here.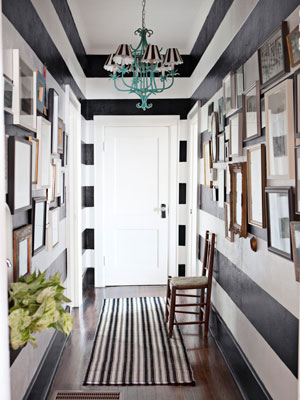 Wowza!  I love this entry hallway.  Graphic, bold, modern – with just the right touch of traditional (it is an old home, afterall).  Love the art groupings on either side of the striped walls.  It totally creates a gallery effect.  I kind of like the chandelier, because the color is a surprise.  Not sure about those striped shades, though.  Overall, a pretty awesome space.  What do you think?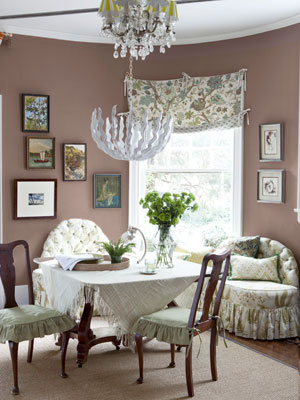 You don't see a lot of dining rooms painted brown, and there may be a good reason why you don't.  The chandelier is something the homeowner created for their new West Elm collection (they are artisans).  I'm not understanding the relationship between the bottom half and the top half of this light fixture.  And did they forget to change those yellow-striped shades when they changed the colors in this room?  I think they are going for a juxtaposition of modern and antique, but it feels too heavy on the antique side in this room.  The fabrics are too traditional, maybe?  And a different wall color would really bring it to life.  It just feels off-kilter to me.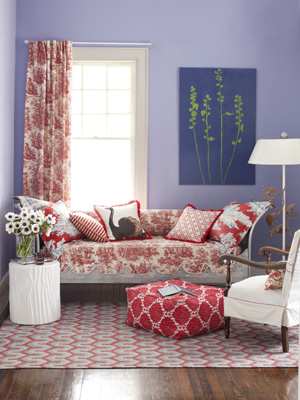 So this is sitting room that is featured on the cover of the magazine.  Surprisingly, it's in the same house as the previous photo.  It'd be interesting to walk through this house – I can't imagine the rooms flow together, but rather shock you as you enter one into the other.  There's even a giveway in this issue of Country Living, where you can win most of what's in this room – valued at $6000.  Ok, I really love this rug and the puffy ottoman.  I also am digging the white fois bois (fake log) side table.  But $6000?  I don't think so.  It's a cute room, but I sure wouldn't put it on the cover of a magazine.  I can't see the relation between the wall color and anything else in this room.  I like the way the furniture is arranged in and of itself but NOT the way it relates to the window behind the sofa.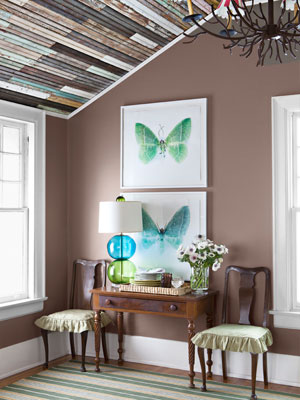 Now THIS is cool.  Love the interesting use of materials on the slanted ceiling.   Nice juxtaposition of new and old here.  But this thought keeps running through my mind that Elle Decor and Country Living  are wrestling each other throughout this house.  And I'm not sure who's winning.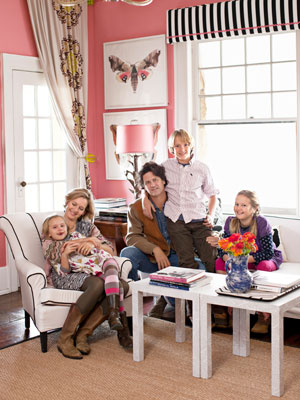 What a cute family!  They look like a lot of fun.  What do you think about this pink living room?  I love that they were brave enough to paint a room this color.  I'm not really getting the really highly-hung vintage panel over the door in the context of the black and white 1980-ish window valance.  I do love that lamp with the pink shade and the butterfly art.
So, do you think you could live in a house like this?  More importantly, why or why not?  Analyzing what you like and don't like in other spaces helps you understand what you'd like to integrate into your own home – as well as what you want to avoid for yourself.
Share this Post