How on earth can you design a room when you and your decorator are in a long-distance relationship?  Let me share a little about how I am able to help clients long-distance through the magic of this little laptop computer!
Here are photographs of the nursery in one of my on-line client's home.  The "new" room had to include the white shelf you see here, as well as a blonde crib, dresser, and a sadly-dated upholstered glider rocker that were used by previous babies.  But my client wanted her new baby to have a "new" space all her own.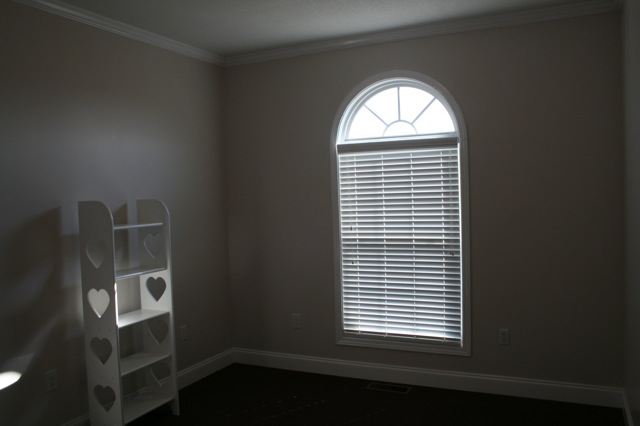 My challenge was to cast a vision for this room without actually being on-hand to make it happen.  We talked about what she wanted for this room, as well as what she didn't want (which is equally important).   I suggested a ballet pink for the walls and a chocolate brown for the ceiling.  After that decision was made, I put together an inspiration board to help my client  visualize what I was beginning to envision for this room.  The inspiration board included what she already had and new items to purchase, including a light fixture from Lowe's, polka dot curtains, and a fun tree decal that can be purchased on-line.  I also suggested she paint the blonde dresser in the chocolate brown from the ceiling, and invest in a custom slipcover for her dated glider.  This is what I sent her, along with specific written suggestions: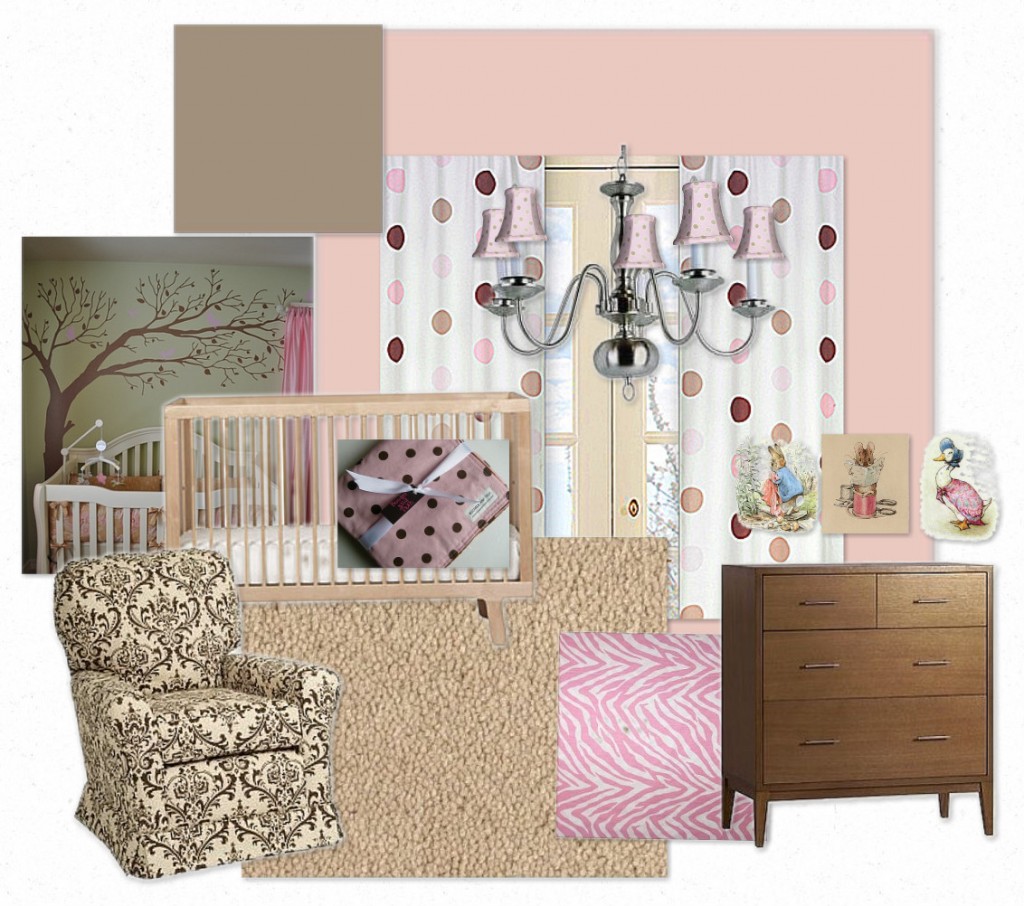 Excited to get started, my client scheduled painting and ordered the curtains and lighting.  My seamstress will be slipcovering the glider with the fabric you see on the inspiration chair above.   This is the photo I received this week of the freshly-painted nursery: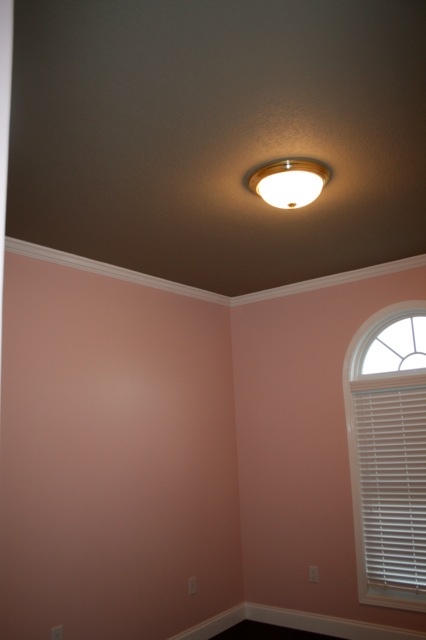 The older daughter's room had to include the existing basic furniture, but she wanted new paint colors, bedding, curtains, and a theme to pull it all together.   It also needed to double as a guest room for family and out-of-town guests.  Here is a photo of the room in its "before" state.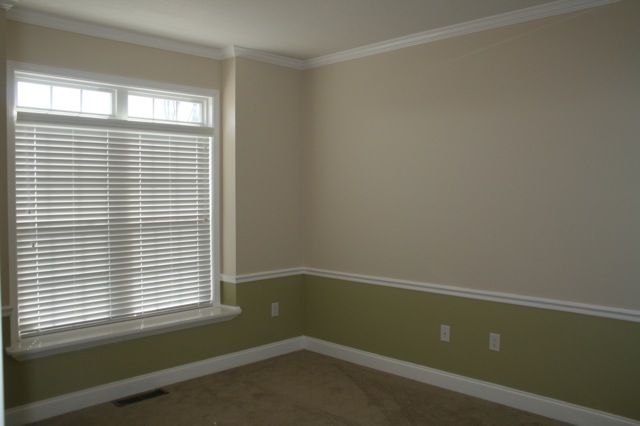 I suggested painting the upper walls in a dusky lavender, while painting the walls below the chair rail in the same white as the chair rail – creating a wainscotting effect.  I also suggested that an existing wicker chair be painted in Benjamin Moore's Revere Pewter.   This is the inspiration board that included some fun Pottery Barn bedding, gray window panels, an IKEA light fixture, and some fun bird accessories.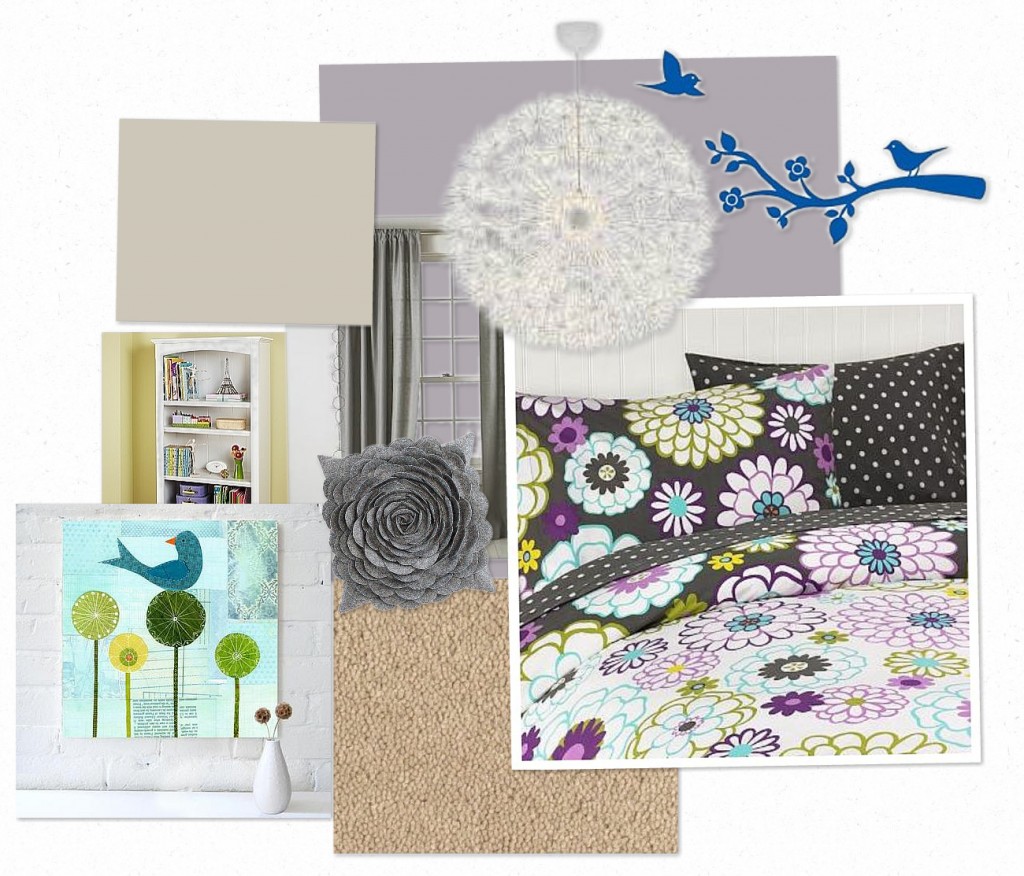 So now that room is painted, and this is where we are now: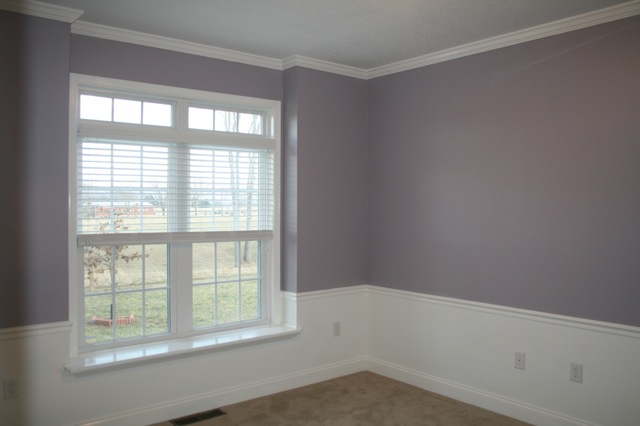 It's really helpful when you can "see" a designer's vision rather than following her suggestions blindly, don't you think?  I can't wait until I can share the finished rooms, but for now the client will  be finishing up the shopping based on the roadmap I gave her.
If you need help casting a vision for your space, learn more about how The Decorologist can create an inspiration board tailored just for your space, style, and budget!