| | |
| --- | --- |
| | The last time I was in the home of David and Michelle Arms was many years ago.  They then lived in an old stone cottage in East Nashville.  In a mere 900 square feet, they had packed more design genious and artistic imagination than you would ever see in most large showhouse designer homes.   Fast forward 16 years – I recently attended an event at their current home, which happens to be about 2 minutes from my home.  I must say I was excited to see how their style had evolved – and I was not disappointed! |
| | |
| --- | --- |
| For many years David Arms was one of the leading special event designers in the country, producing award-winning corporate and social events from coast to coast, including Nashville's Swan Ball.  In 1997, he decided to devote himself full-time to his art.  David often uses birds, eggs, and nests (a few of my favorite things!) in his art as symbols of renewal and hope.   | |
While they chose a backdrop of white for their current home, David and Michelle have never been afraid of a little paint.  When they were young and childless, their East Nashville home was painted and repainted (and repainted).  They even graciously helped me paint a few rooms in my first townhouse before I was married.   One rendition of their previous home was every room in a different shade of green – even the kitchen cabinets sported stripes in shades of green (and it was fabulous!).   One of those green tones has stuck with me all these many years, and was my inspiration for the green that is in my living room today.  
David and Michelle currently live in a renovated 1950's ranch-style home with their two daughters.  To say they have brought this home to life is an understatement.   I remember the formerly dated and dark green house before they got their hands on it.  Now it's light and bright, modern yet full of vintage expressions.  Rustic elegance – extremely liveable and totally artistic. 
| | |
| --- | --- |
| | Take a gander at their kitchen.  Notice the elegant chandelier paired with the farmhouse table and mismatched chairs.  Michelle made the curtain panels from vintage barkcloth. |
| | |
| --- | --- |
| Here's a close-up of some of Michelle's china collection displayed in open shelving. | |
The Arms ripped up the old carpeting and decided to go with polished concrete beneath their feet.  Michelle says their kids' friends are jealous because they're allowed to skateboard through the house!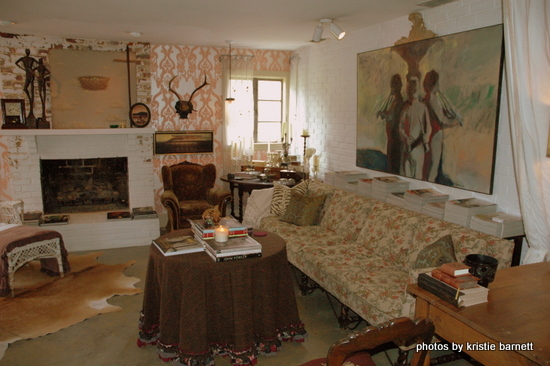 David likes to group furnishings and art in unexpected ways.  The masculine and the feminine play well together in this home – pink damask wallpaper and crushed velvet is at home with cowhides, antlers, and Guns and Gardens magazines.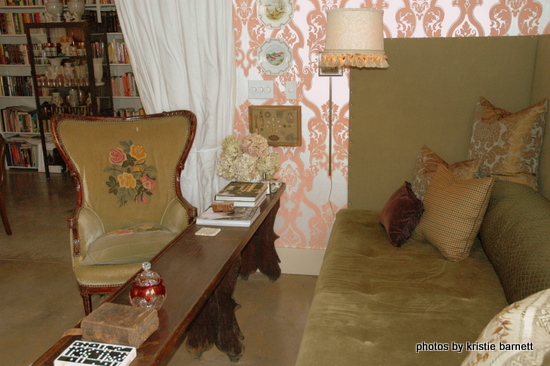 I love the way they mounted these brackets on the bookcases so as to perch these small lamps – genius!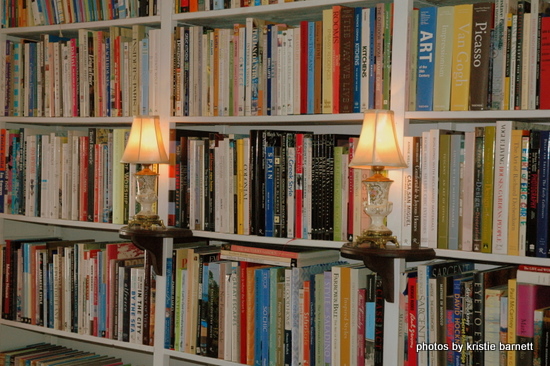 David recently made this gorgeous headboard for the master bedroom with vintage barkcloth.  Check out how the tartan plaid pillows and modern art are right at home with the plush velvet, florals, lace, and vintage chandelier.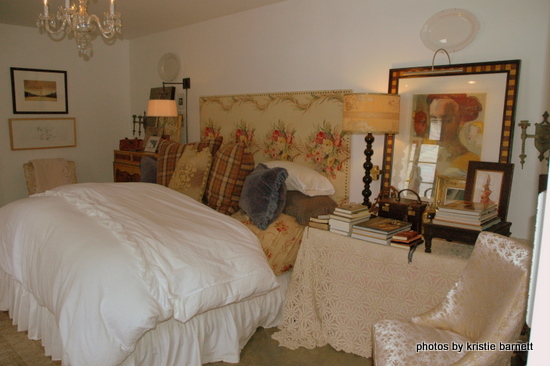 Ok, you've really got to see this space to appreciate it.  It's a passageway with four doors connecting the kitchen, family, front courtyard, and back courtyard.  What do you do with a space like that?  If you are David and Michelle, you paint it Benjamin Moore's Bittersweet Chocolate 2114-10 (well, that's my best guess) and use it as a backdrop for displaying frameless black and white family photos.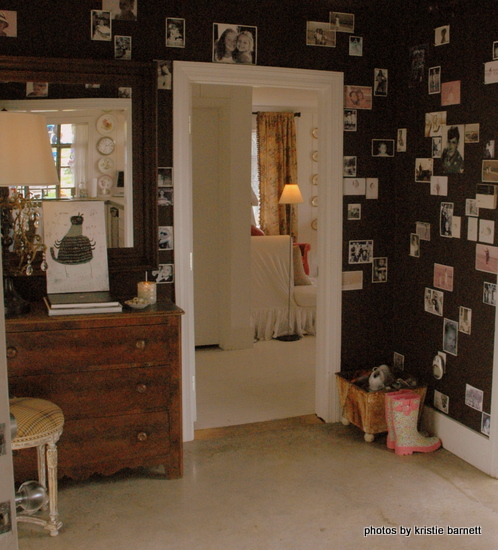 | | |
| --- | --- |
| I HEART THIS BEDROOM!  Check out the velvet drapes with contrasting pom-pom trim, the 70's hanging light, the fabulous retro bedding.  That iron side table was likely an outdoor piece and contrasts nicely with the frenchy chair. | |
Did I mention that Michelle is a brilliant seamstress?  I've seen the inspiration behind these shower curtains at Anthropologie and India Rose – but they've got NOTHING on Michelle Arms!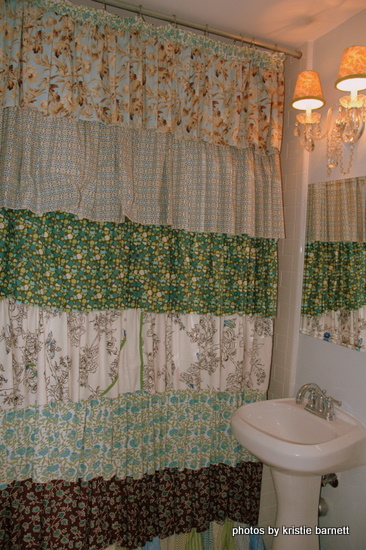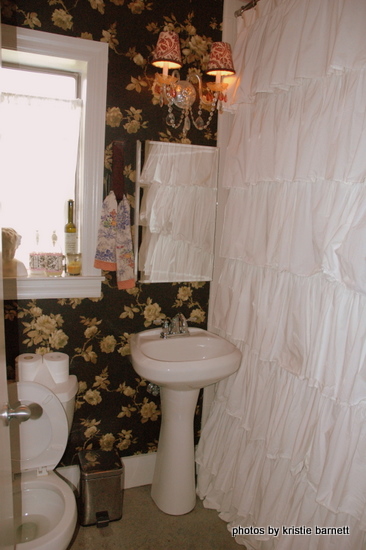 David is a master at tabletop vignettes.  Here are a few examples that showcase his masculine collections: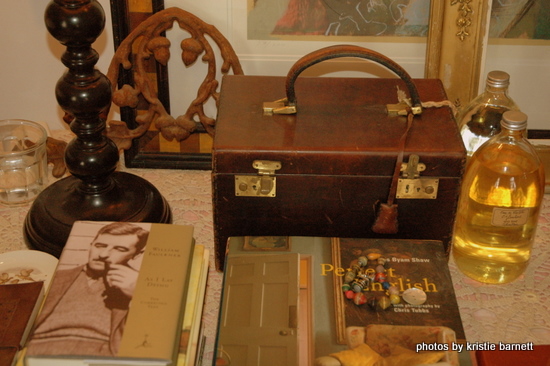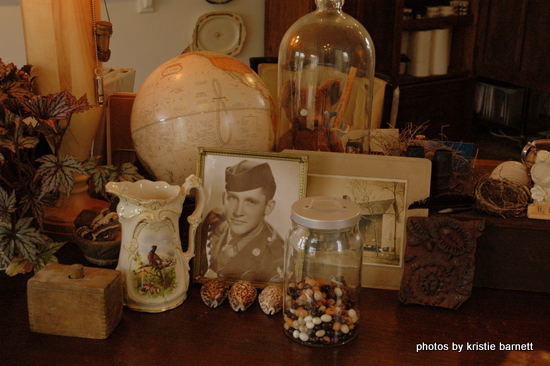 And this is David's fabulous office/studio space.  Why would you ever leave home if you could work in a space like this?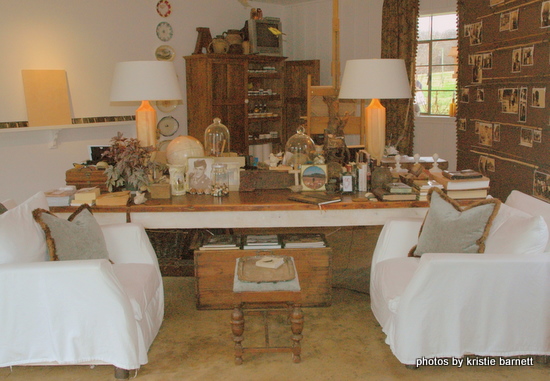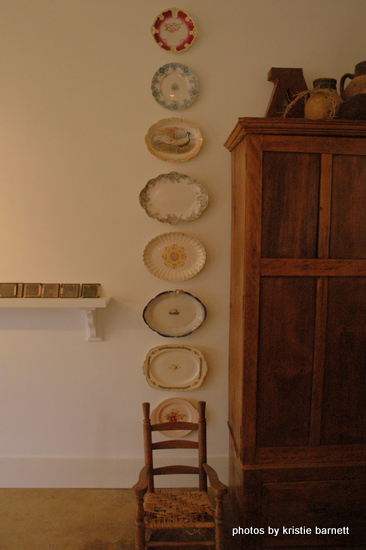 | | |
| --- | --- |
| | Devoted readers on my blog may remember that my very first "Object of Desire" was this Philippe Starck ghost chair.  Still don't have one, still want one.  Love how this modern chair is unexpectedly paired with the antique filing cabinet and lamp.  Now that I think about it, I believe I remember a fabulous room David designed for a Junior League showhouse years ago that featured a chair like this.  David, please tell me if this is the same chair!  Oh no, now you're gonna think I'm a design stalker for remembering that! |
If things are anything like when I used to hang out with them 16 years ago, I expect that David and Michelle's style and home will continue to evolve.  I remember long ago David describing his home as his design laboratory (or something like that), a place where he could create a new look when inspiration struck – which at the time, was about every 6 months or so!   Oh gosh, I hope I get invited back so I can see what's next!