It was a perfect weekend for the Bella Rustica Vintage Barnsale here in middle Tennessee. Great weather, great vendors, great venue!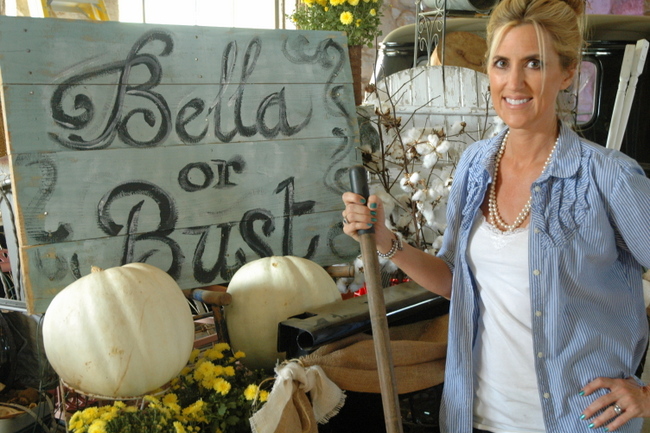 Bella Rustica Vintage Barnsale 2012
Bella Rustica was bigger and better than last year – more vendors and  a larger attendance, for sure.  Vendors included artisans, artists, collectors, upcyclers, entrepreneurs – you name it.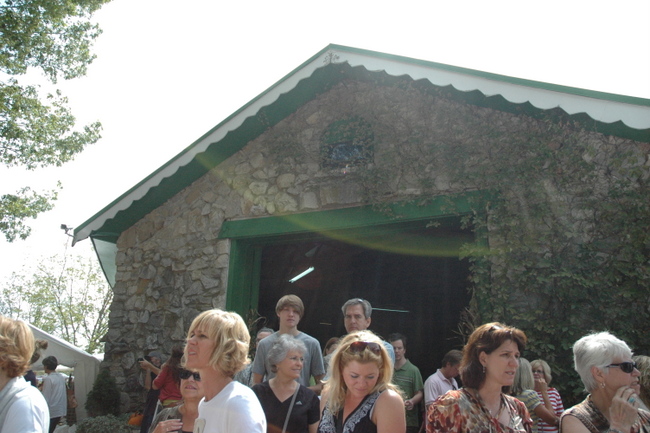 Vintage Barn on Milky Way Farms
There was so much to see – and so little time!  Well, the sale was 3 days long, but unfortunately I only had half a day to spend there.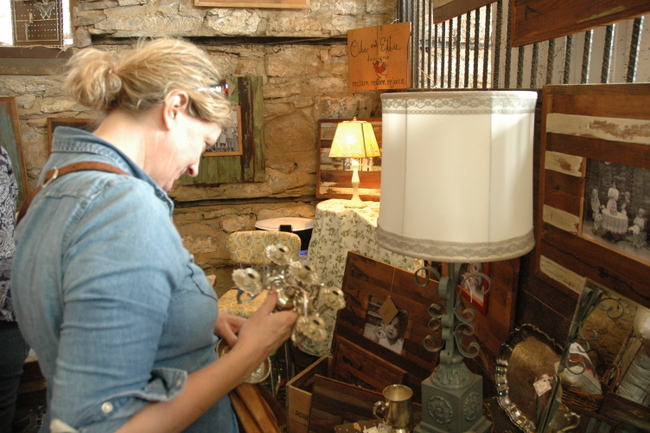 trolling the vintage booths with Christiana from Ruffled Linens

The large stone barn hosted vendors selling handmade and vintage wares, but much of the sale overflowed to the surrounding field like this booth of 1970's funky treasures.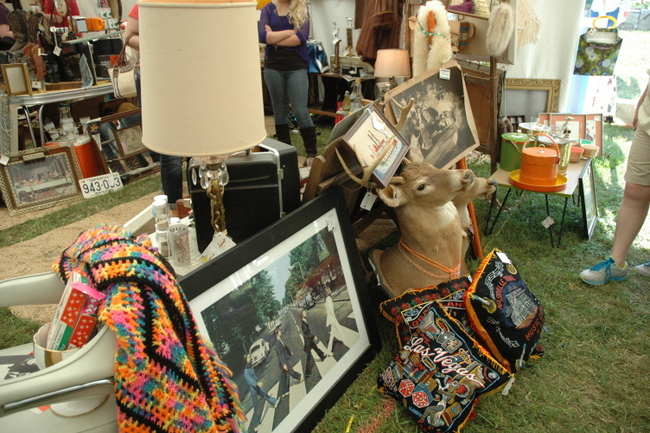 quirky treasures 
You can imagine how my head was spinning with ideas – this painted buffet would be perfect for one of my clients!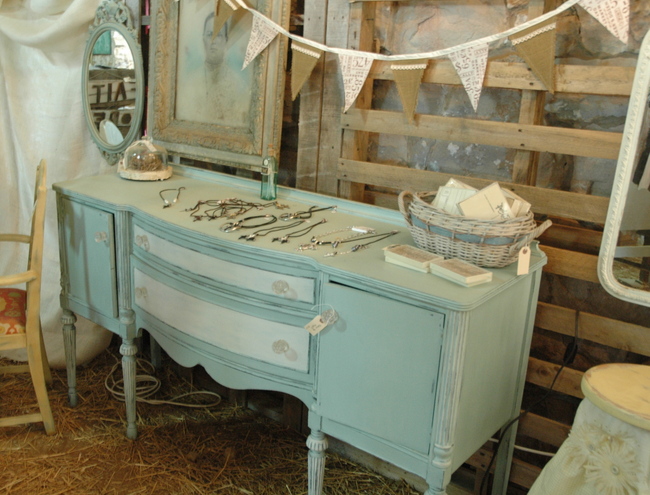 blue painted buffet
Not only was it a great place to find treasures for your own home, but was also an absolute wellspring of ideas for upcycling vintage objects.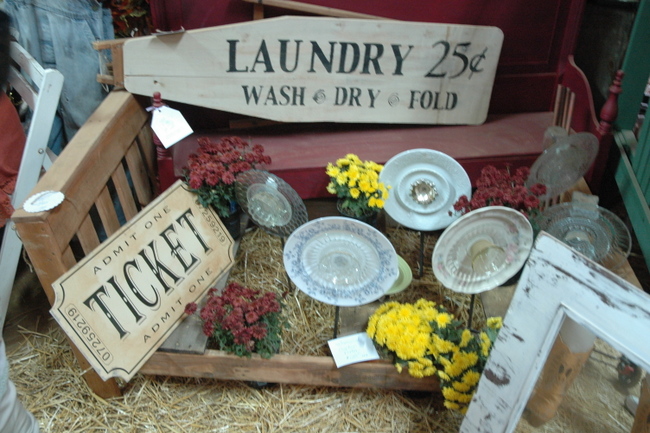 Garden Art – "flowers" made from vintage dishes 
This booth devoted to jewelry and beads gave me great ideas for storing and displaying my own jewelry – vintage baking tins are perfect for keeping small objects separate!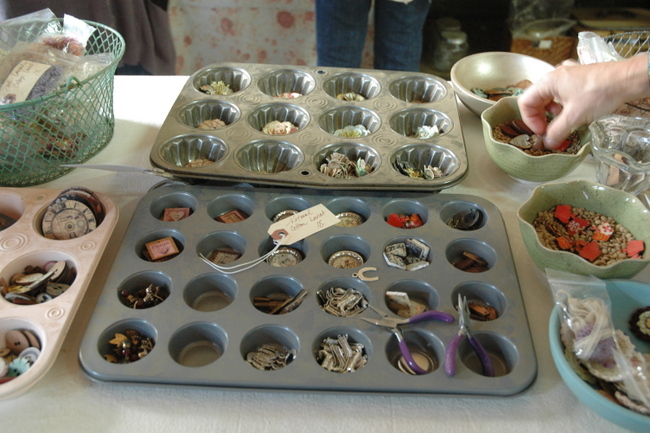 baking tins for jewelry storage 
Speaking of jewelry, I bought a wrap bracelet and ring as a present for my guitarist daughter. Much of this vendor's goods were made from guitar strings – how cool is that?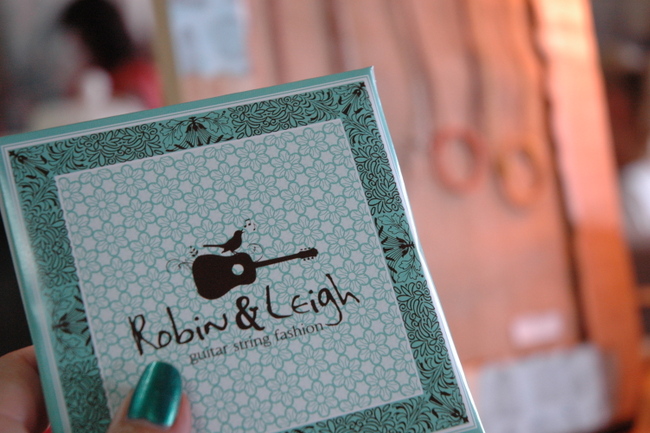 guitar string jewelry
This little vintage travel trailer showed up again this year, a dollhouse for grown-up women . . .  if you follow me on Pinterest you know I have a little fantasy about owning a vintage airstream!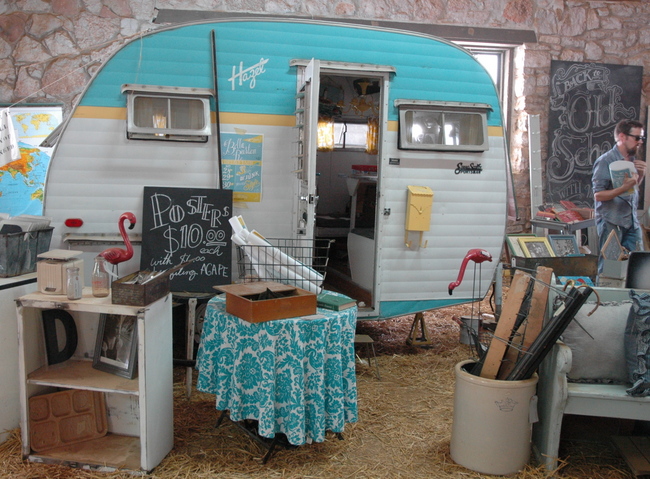 vintage travel trailer
My friends and I loved rifling through all the nostalgic schoolbooks and schoolhouse-themed wares in this booth.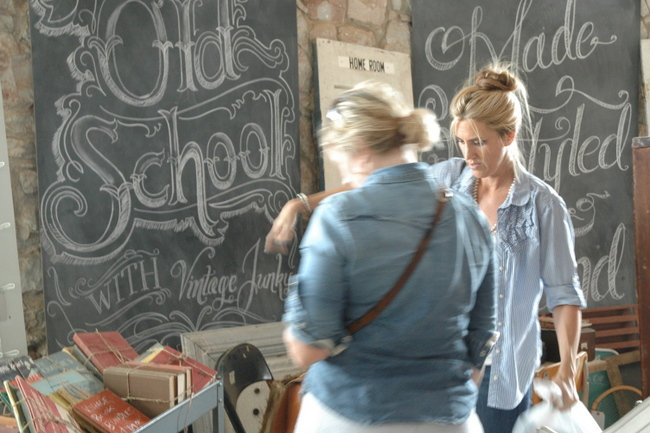 old school nostalgia
Chalkboards were EVERYWHERE at the barnsale – what a great way to post a schedule or calendar, or even to remind yourself of your family's values.  I bought a small one in the form of a sign that I can hang on the door to welcome friends.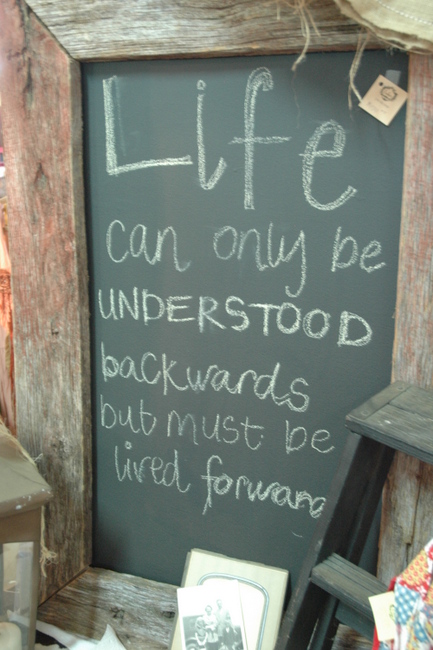 chalkboards  
Here I am with one my favorite finds of the day:  vintage turquoise lamps!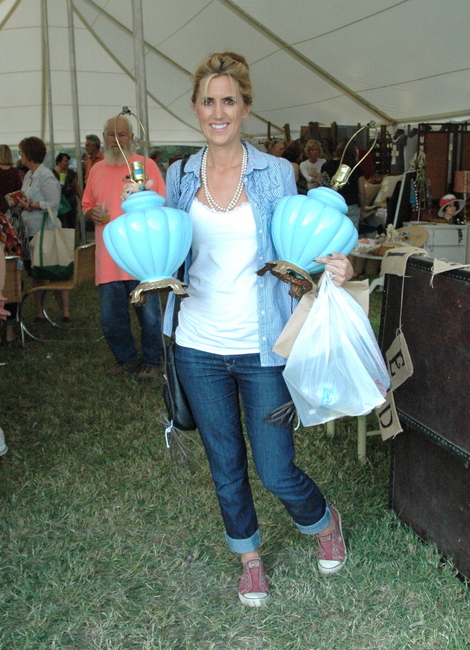 fun finds!
I hate to haggle on prices, so my friend Glenna did it for me and snagged them for only $25 a piece!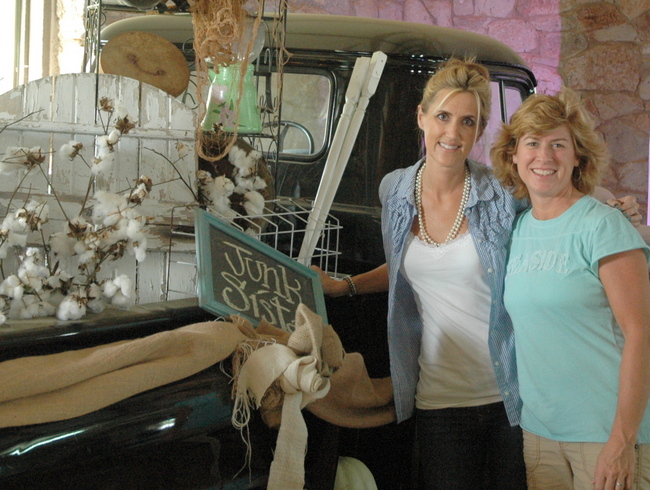 Junk Sisters
 Next year I think I'll hang out all weekend, rather than just rushing through in one day.  There was so much to see and enjoy.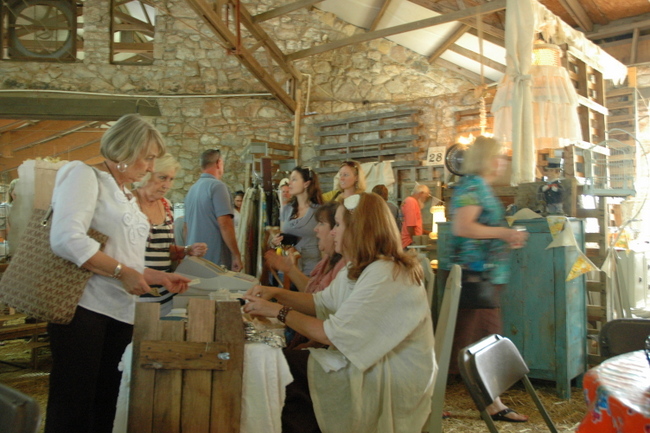 Bella Rustica Vintage Barn Sale
My only complaint was the long wait in line for fried pickles.  I still have no idea what fried Kool-Aid is.  Anyone???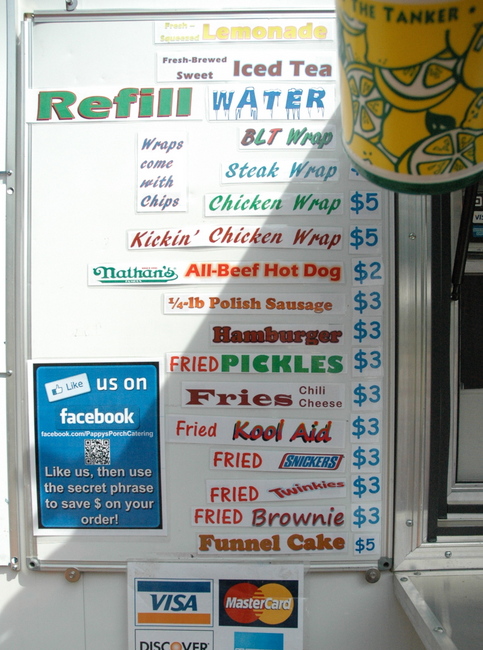 I suppose you can fry ANYTHING
Of course, that gave me time out from shopping to talk to DIY bloggers Donna from Funky Junk Interiors and Sandra from Sawdust and Paper Scraps.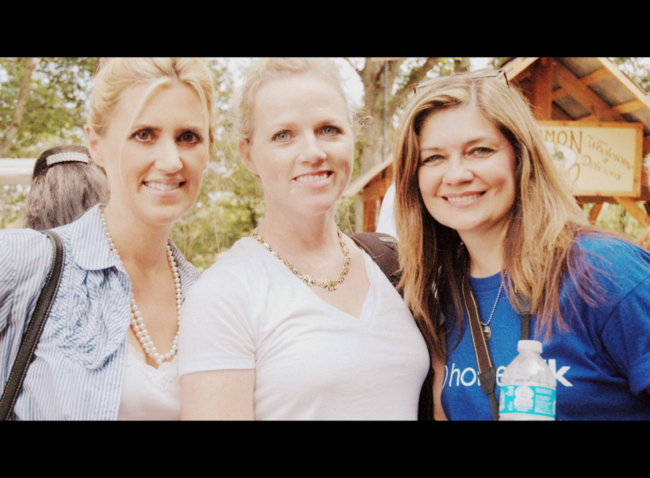 Bloggers Converge on Bella Rustica!
The day ended all too quickly, of course.  My girlfriends and I were pleased with our modest haul of treasures.  As we pulled away in my pal's suburban, I realized that we totally had room for that blue painted buffet . . .  Ah, well!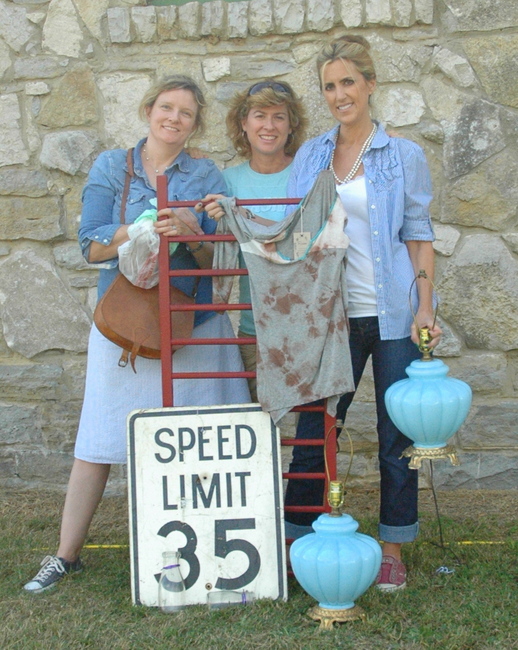 shopping Bella Rustica with two of my favorite people
I'll leave you with one more unique find – a vintage rhinestone pin I saw and HAD to have!  Never seen anything like it!  I know it's a bit flashy, but . . .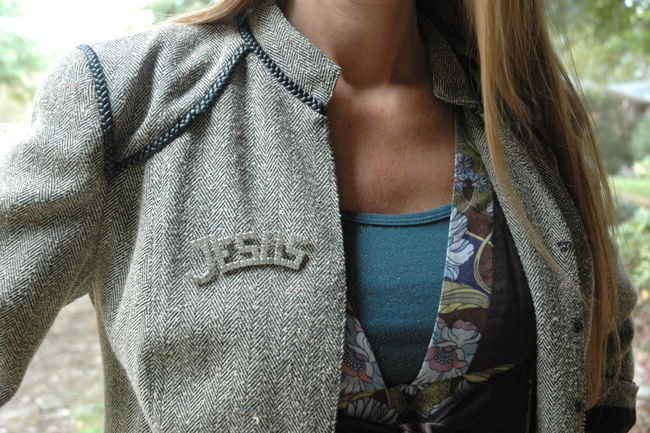 vintage rhinestone JESUS brooch
Later this week, I'll take you on a tour of the FABULOUS Milky Way Manor.  Did any of you make it to Bella Rustica 2012?  Tell us what treasures you brought home!
Share this Post