Some of my favorite projects are those where I am incorporating a client's existing furnishings in the "new" design. Mixing old and new is so much more interesting than starting from scratch! Old pieces add character, record history, and tell your story.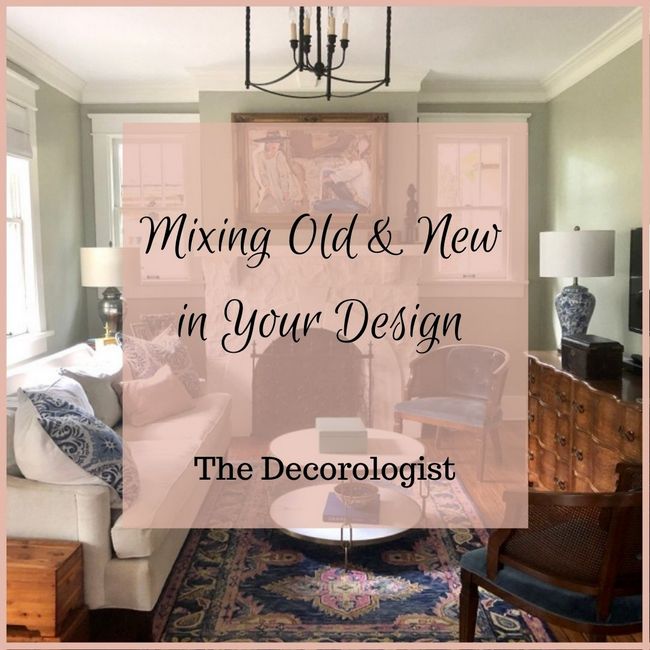 This client moved into a charming home in an historic neighborhood after many years in a cookie-cutter suburb. The first thing I helped her with was choosing new Benjamin Moore paint colors that she would be the foundation of the home's design. The living and dining room were previously painted in a fairly vivid yellow-green: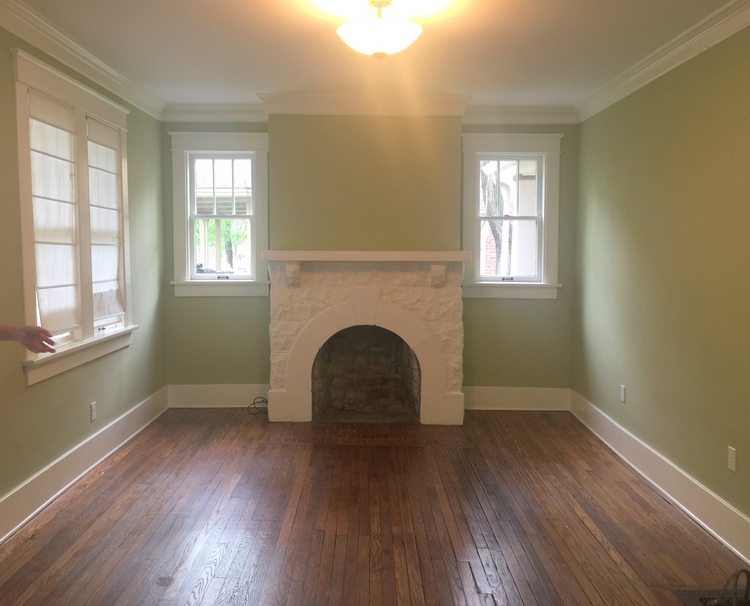 A more grayed-down green took its place and served as a lovely backdrop to her wooden dresser and her favorite piece of art (now above the fireplace). We decided to employ the dresser that was in her former bedroom as a credenza to anchor a wall-mounted television.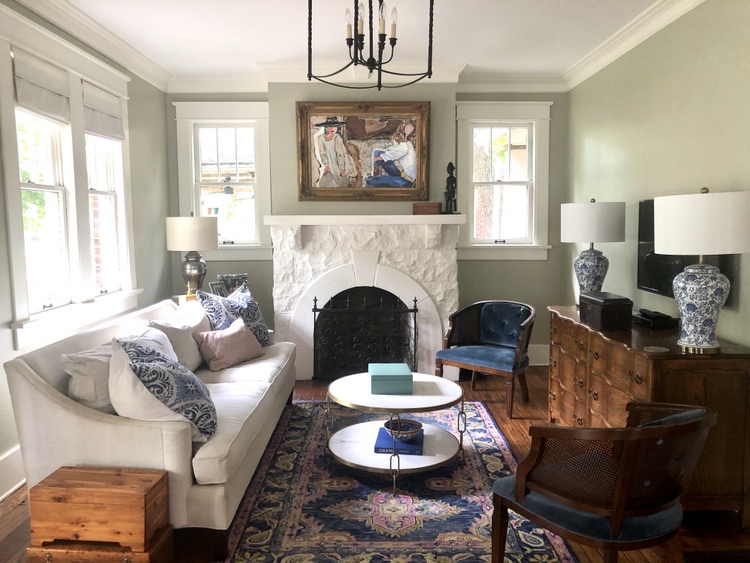 Her vintage chair fabric helped establish the direction of our new color palette in the space. What's new in the room? A new comfy sofa, fresh pillows, then gold and marble coffee table, blue ginger jar lamps, and a gorgeous new rug.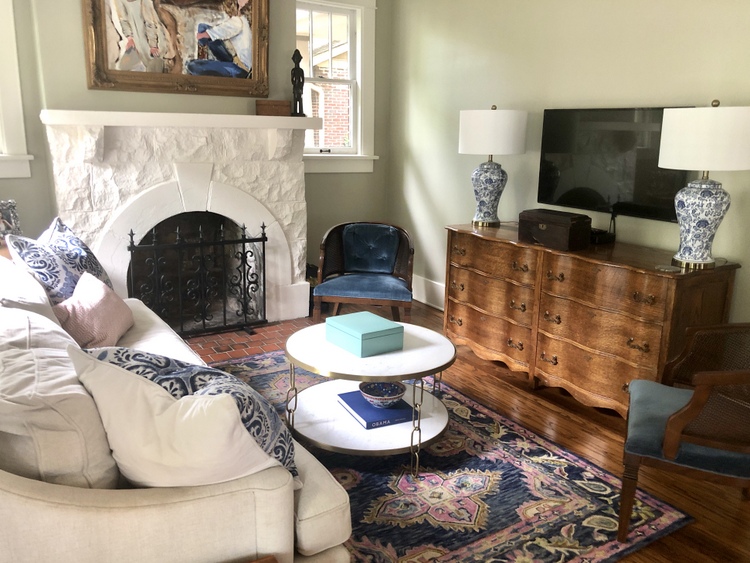 Holy moly, this rug is just SO PRETTY . . .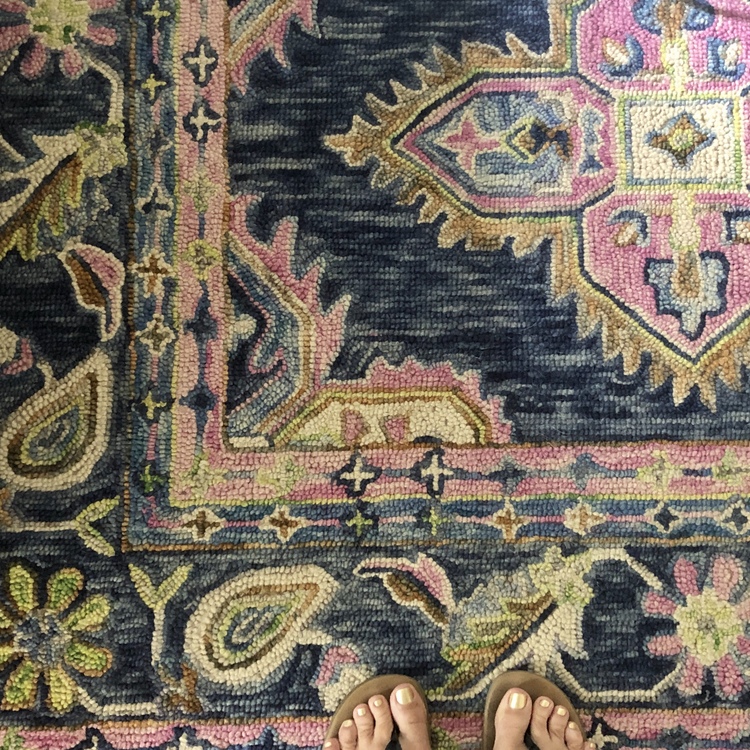 And I almost forgot the new iron light fixture!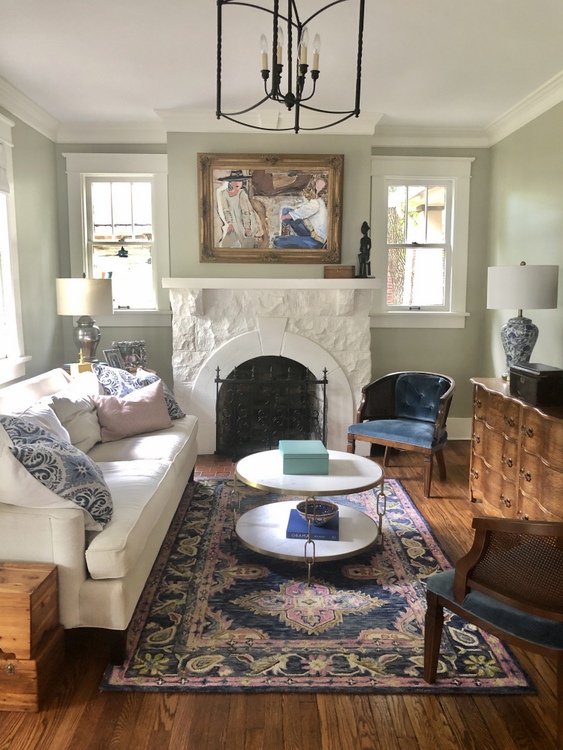 Here is the dining room prior to moving in her furniture: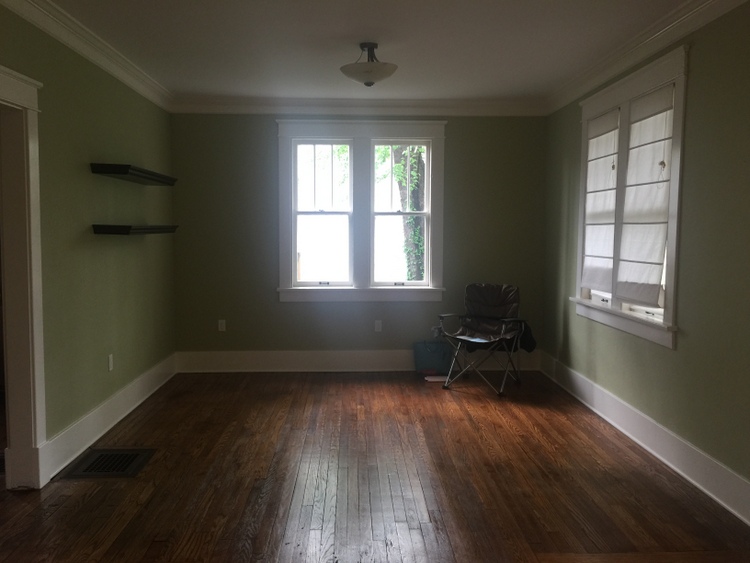 Her dining room table and chairs were still in great shape.
The end chair from her previous home: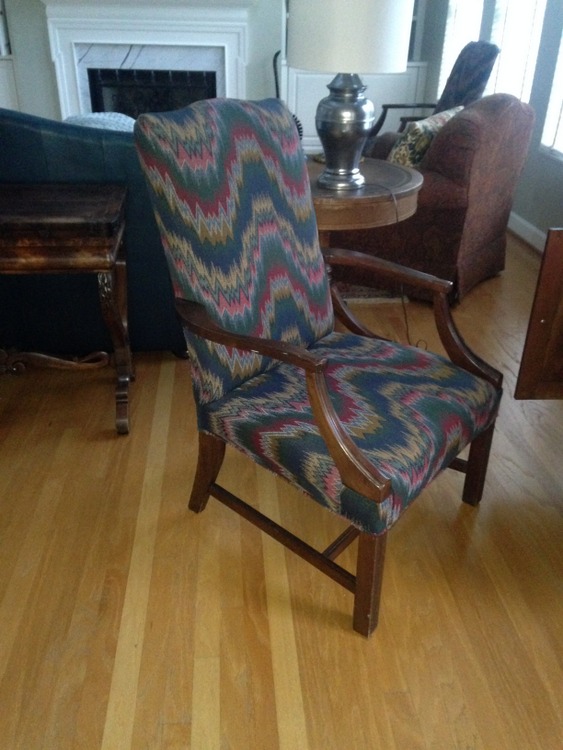 Mixing old and new, the new paint color and a light fixture she had wanted for some time went in first. Then we arranged her furniture and art. Painting the wooden chairs a great blue defined their shape and gave them a new lease on life!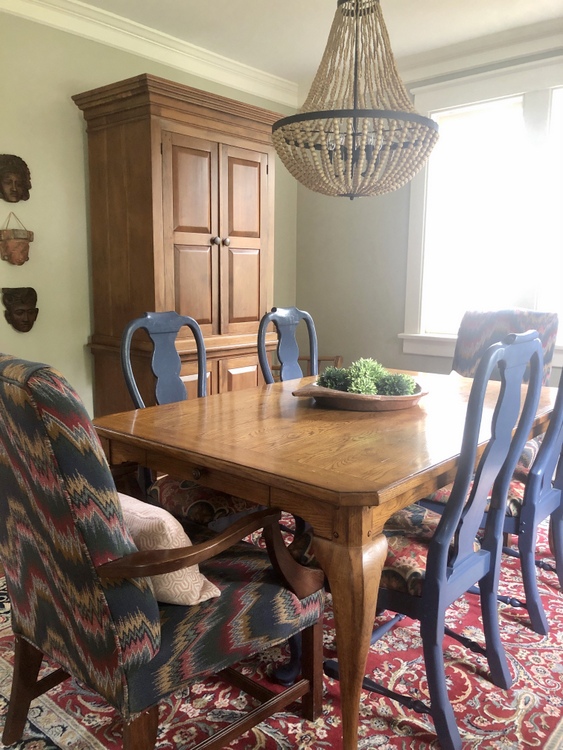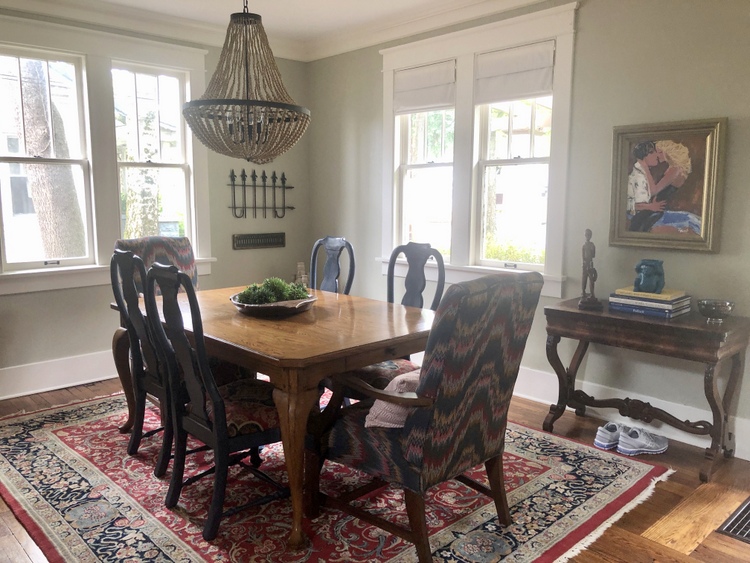 This was the muddy color in the master bedroom of the home: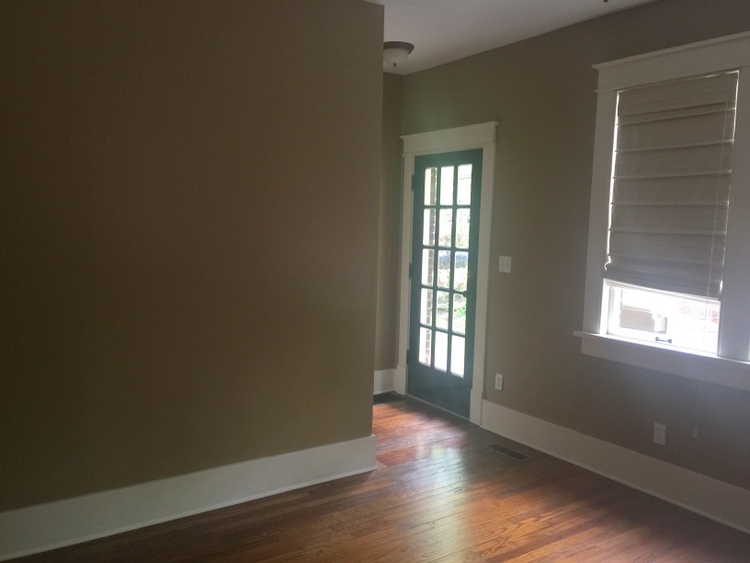 She wasn't replacing her antique bedroom furniture or the drapes we had purchased for her previous bedroom, but she really, really, really wanted a fresh and unexpected paint color.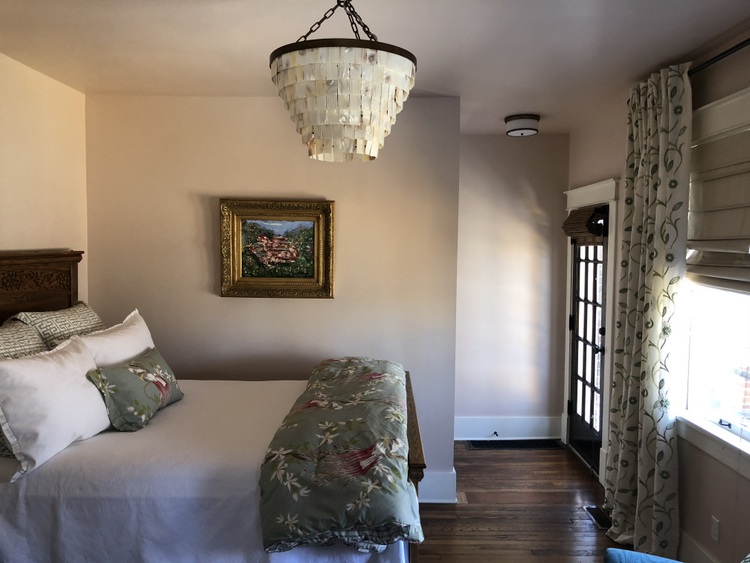 She is loving the beautiful blush pink I chose for the walls and ceiling. The small room looks so much fresher and larger!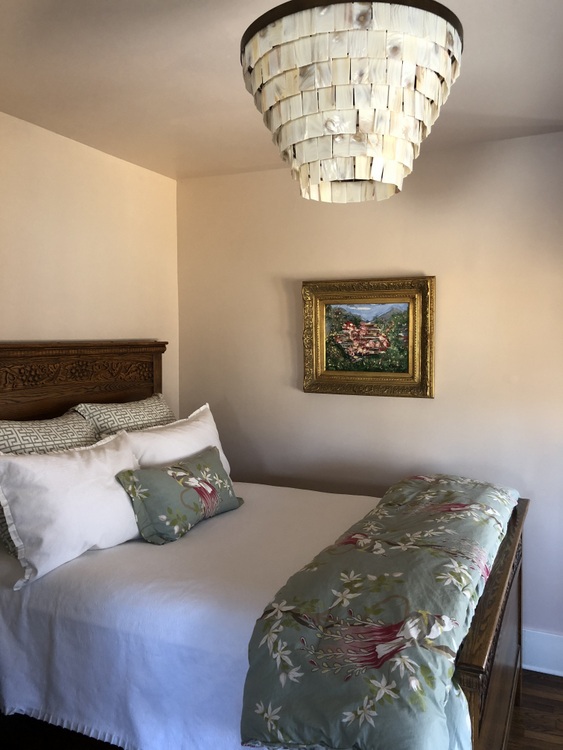 Mixing old and new is my favorite thing, y'all! Older furnishings don't have to look stodgy or tired if you use paint colors, light fixtures, and a few new pieces strategically in your home. If you need help with paint colors, I'm your gal! Drop an email to Daria, and she'll give you the details: [email protected]
If you want to become an expert in all things paint color, check out my professional training program that is completely online!