Ballard Designs is one of my favorite online sources for my decorating clients. You might say it's a lighter, more feminine version of Pottery Barn. Prettier and more colorful, but of similar price and quality as good ole PB. Ballard Designs features beautiful wall colors as a background to their products, and here are some you might be interested in knowing! Here's one of my personal favs: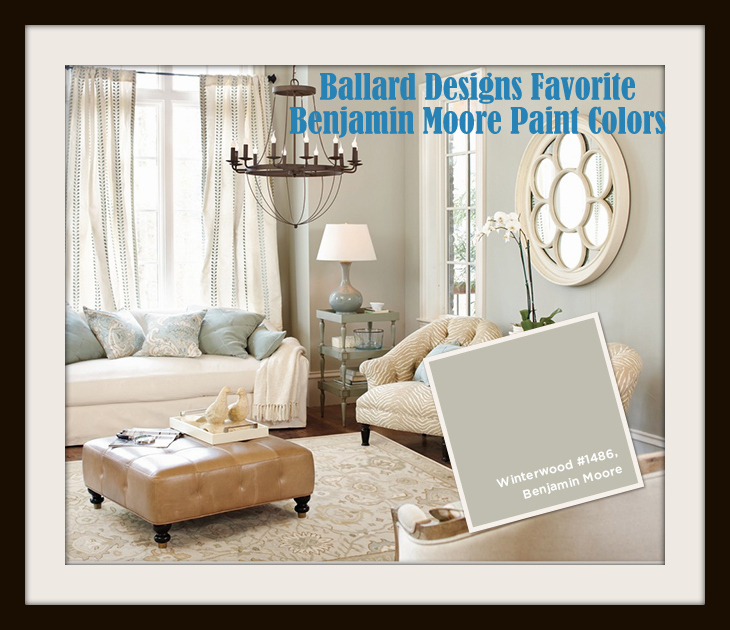 I've used Benjamin Moore's Winterwood in several projects this year – it's a great super-neutral that works great in somewhat contemporary spaces. It is not quite as "fresh" as it appears in the photo above, however – it's a bit more grayed down than this.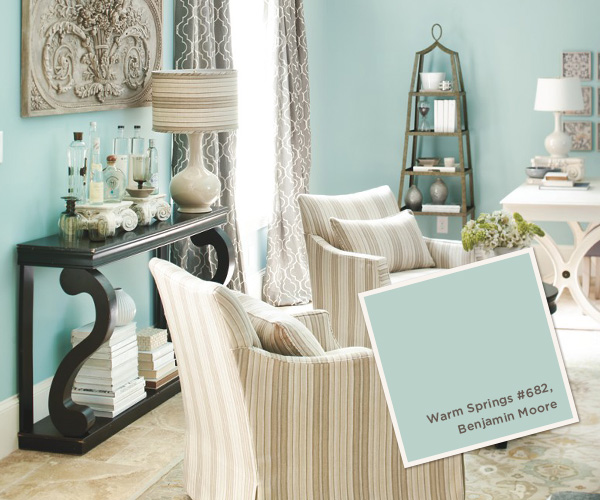 Honestly, I've never used or spec'd Warm Springs. I'd say it's one of those colors that works best in a young girl's room as it is really clean and vibrant. It would be too much and too bright for most people in a living room like this one.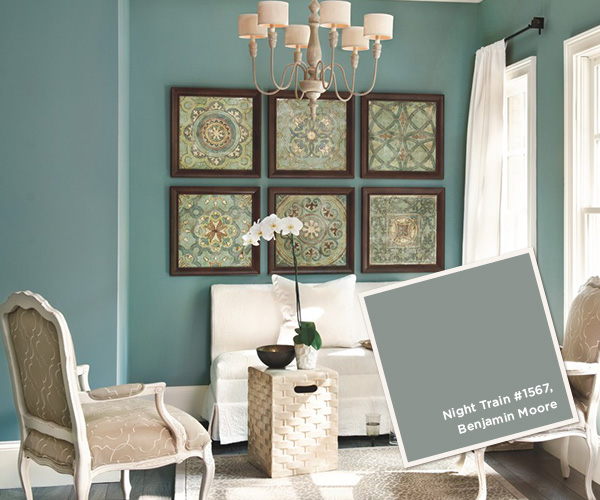 I really like Night Train, as well as a few of the lighter versions of it on the same swatch in the Classic Collections fandeck. You can probably tell this from the difference between the small sample and the actual wall above, but it is NOT as bright and vivid as the room photo portrays. It's more murky and dark, rather than what you see above.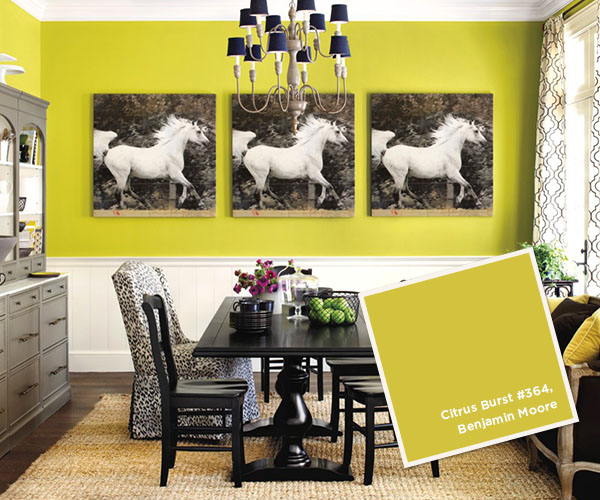 Now this is a wall color you don't see everyday! I must tell you, I actually HAVE used this on one focal accent wall for a client who is all about bright color and art. It is not for the faint of heart, but it can certainly give you a "wow" factor.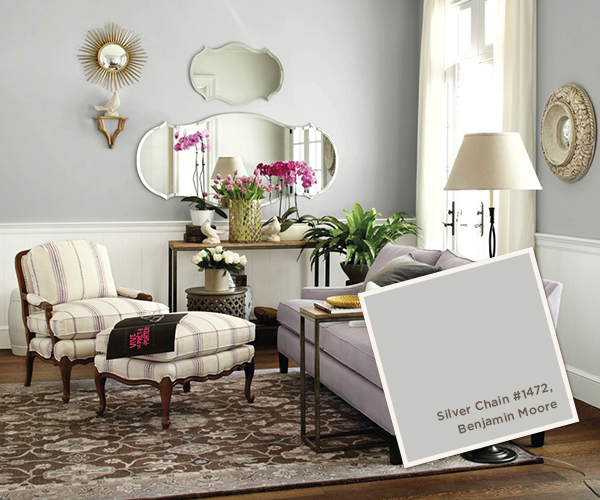 Now here's a good choice for a neutral backdrop – Silver Chain, a light gray with a blue-green undertone. Just remember: most "neutral" grays have sneaky undertones that may not read as neutral as you think when it goes up over the entire space. So you should be prepared for a room that could read light blue, in this case. Or if you have blue accents in the space, it could read green. Or, it could read just gray.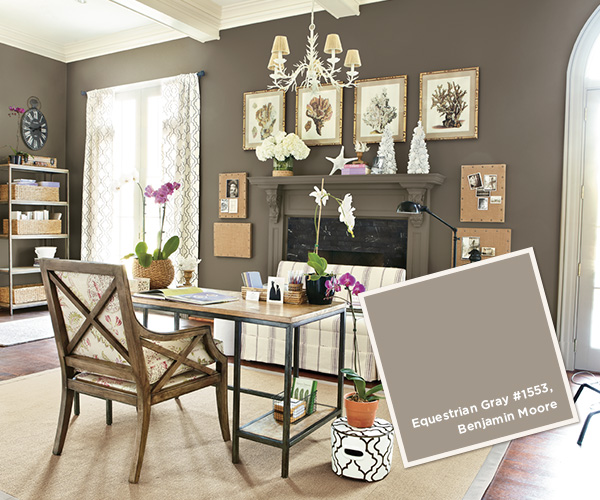 Benjamin Moore Equestrian Gray
This dark grayed brown has a slight green undertone and looks an awful lot like the nail polish I am wearing at this very moment! It will give you a rich, masculine look that needs lots of creamy white to balance it.
Here's an important tip to keep in mind if you are one of those people who scour magazines, catalogs, and blogs for images of the "perfect" paint color. Often colors in magazine layouts are enhanced to make them pop and contrast for best effect. Catalogs like Ballard Designs and Pottery Barn use background color to bring attention to the products they are selling – so they have reason to tweak the paint colors to make it work for their product styling purposes. They are trying to sell the furniture, not the paint color – so don't rely to heavily on those images as being an accurate representation of a given color. It's really to choose your color while in the room you are painting, in the context of the existing finishes and furnishings that will live there. When in doubt, a really good professional color consultant can help you choose just the right paint color for your specific situation and space.
If you are interested in learning more about choosing just the right color for your home, you'll be glad to know my Just the Right Color Workshop will soon be available for purchase on the website! Sign up today for my emails to get subscriber-only deals on my workshop and other upcoming products from The Decorologist.