As a residential paint color specialist, this is the busy season for exterior paint color consultations. Dark exterior windows are quite the rage for high-end builds right now, and I've been specifying them right and left. But can you paint vinyl windows dark, and if not, why?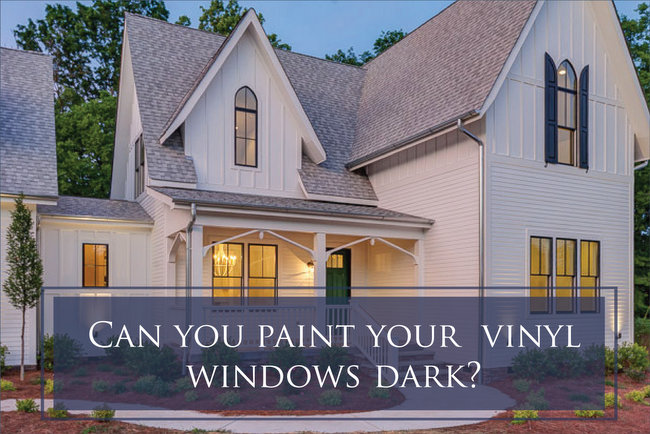 This week I consulted with a couple on colors for their new home currently being built. The windows are already in – they are paintable PVC (polyvinyl chloride), which is a plastic polymer.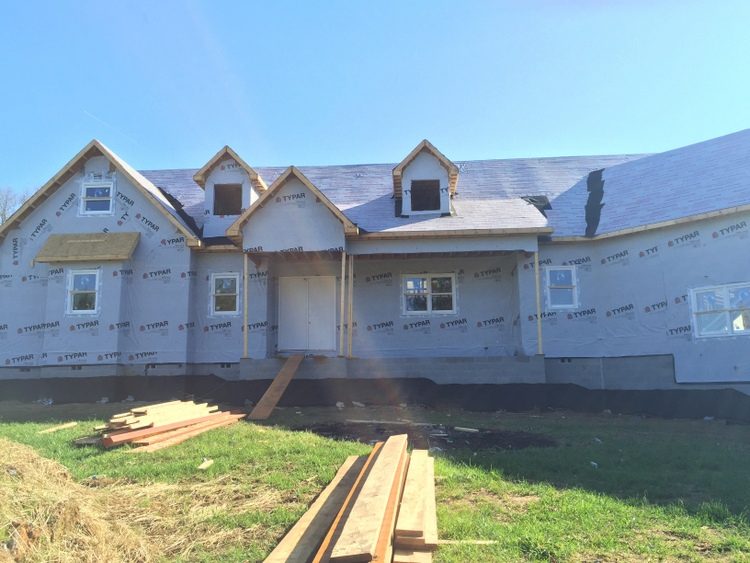 My clients were excited about going dark on their windows, so I helped them choose Benjamin Moore Kendall Charcoal. This was the overall plan I presented them: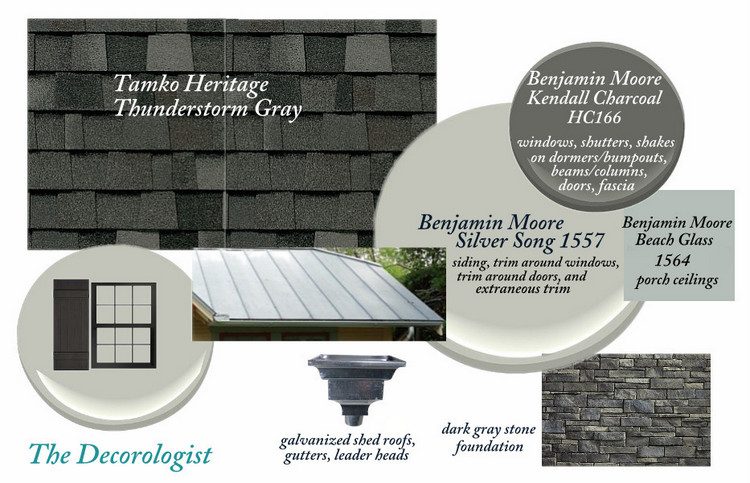 When they shared the plan with their builder, he told them that if they painted the pvc or vinyl windows a paint color that had less than a LRV of 55, the warranty on the windows would be null and void. So they are paintable, but only light colors can be used???
Way to rain on our parade . . .
So here's the scoop – dark colors with low LRV (that means light reflective value, in case you're wondering) absorb heat much more than lighter colors with a higher LRV. This isn't an issue if you are painting wood, because heat does not alter wood. You may have already heard that you can't paint vinyl siding dark, because it can warp. Unlike their competitors, LP SmartSide siding and trim products are engineered wood products, so heat doesn't warp it. However, heat CAN warp plastic products. So pvc and vinyl window manufacturers don't want to take the chance that direct sunlight will damage the vinyl windows, which is why they make this caveat to their product warranty.
Here is the advice that Azek (a pvc trim board manufacturer) provides its customers:
• If you choose to paint, use a 100% acrylic latex paint
with colors having a Light Reflective Value (LRV) of
55 or higher.
• For darker colors (LRV of 54 or lower), choose paints
specifically designed for use on vinyl/pvc products
such as, but not limited to, Sherwin-Williams
VinylSafe™ coatings. These paints/coatings are
designed to reduce excessive heat gain.
AHA! Here's more about the Sherwin-Williams product that might solve the problem:
Sherwin-Williams VinylSafe™ Color Technology provides a wide color selection and excellent performance on vinyl without buckling — even when using a dark color.
You can choose from their 100 color options in the VinylSafe™ palette, or have them do a custom color match. VinylSafe™ Color Technology promises a quality finish that resists blistering and peeling. And no, they are not paying me to tell you this (but they totally should)!
Does this mean that you can safely paint a dark color on your exterior pvc windows? Yes, probably. Since pvc does not absorb moisture, the paint on polyurethane trim will last much longer than on wood, so that's a plus as well.
However, the window manufacturer may still render the warranty void just to avoid the potential of problems down the road. I'm still waiting to hear back from my client – we may have to alter our exterior paint palette.
Big, fat frowny face . . .
If you are building a house or replacing your windows, make sure you check out all the prefinished options before defaulting to white windows.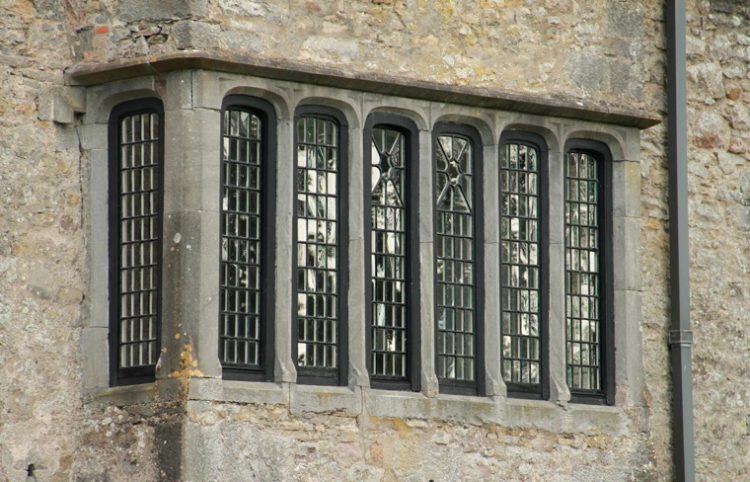 Dark windows are popular right now, but don't be fearful about them going out of style. They are a classic – just check out centuries-old European castles, and you'll see for yourself!
Do you like dark exterior windows? Would you take a chance on painting yours?
If paint color fascinates you like it does me, there is SO MUCH TO LEARN about how to use it in your home and the homes of your clients. Let me rock your world with color in my new ONLINE color course – and be sure to check out all the 5-star reviews!!!