I'm sure I'm not the only one, right?  I change up my furniture, art, and accessory arrangement in my living room at least every six months or so.  I like things to stay fresh, which means tweaking from time to time. Or you could just call it a serial furniture rearranging disorder. Whatever. This is my living room right now:
For me, my home is my laboratory – I like to experiment without regard to what anyone else might think, welcoming and grouping all the things that I am personally drawn to:  color, books, vintage.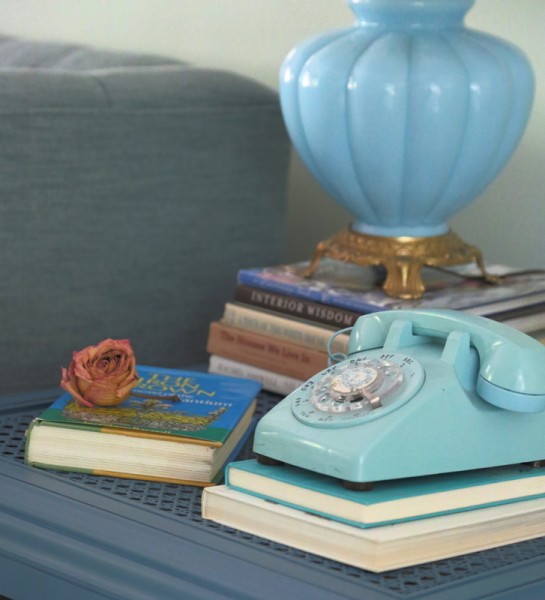 My current color palette in this space is anchored with grayed mint walls – Benjamin Moore's Prescott Green. This backdrop works well for the butter yellow casegoods and wingback chairs.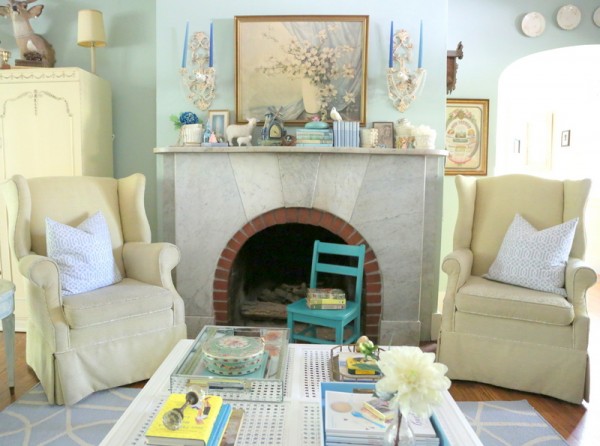 Prescott Green also sets off my heather blue sofa from Merridian Home Furnishings that I purchased in the spring.  That sofa has got to be one of the best things I've ever bought!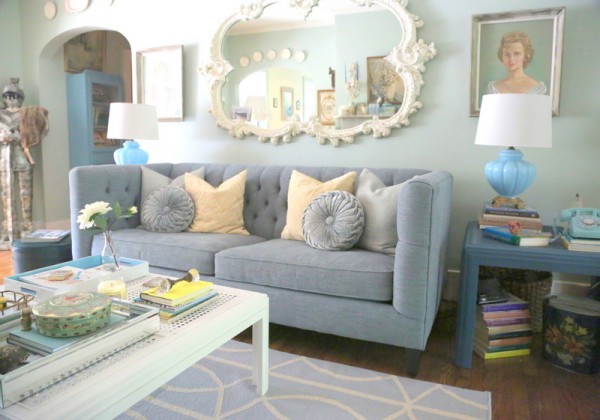 I then used lighter and darker versions of blue throughout.  Lighter blues in the rug, pillows, and accessories. Darker, moodier blues in the side table and accessories.  Then pops of brighter blues in the table lamps and accessories.  This is not a one-note kind of room.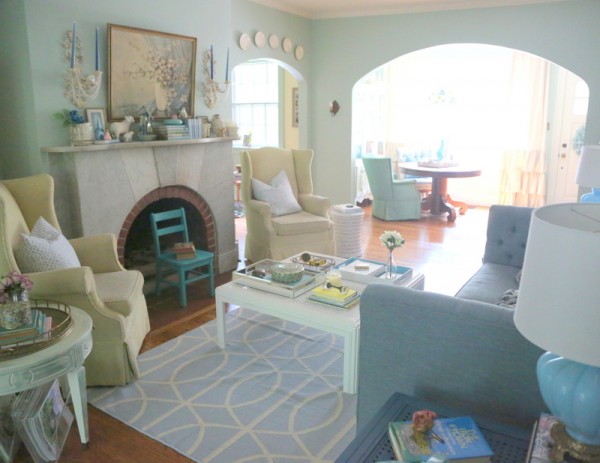 The butter yellows are ramped up with a few spots of brighter yellows – the sofa pillows and a couple of accessories.  And greens from light to dark are also scattered throughout.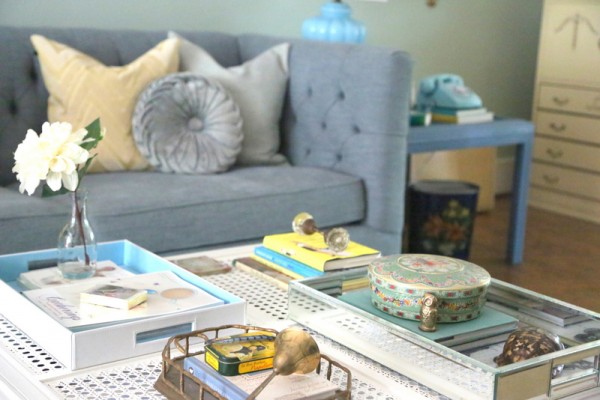 I am so invigorated and soothed by color at the same time.  Living in a color palette like this is extremely personal – not for most people, but it works just right for me.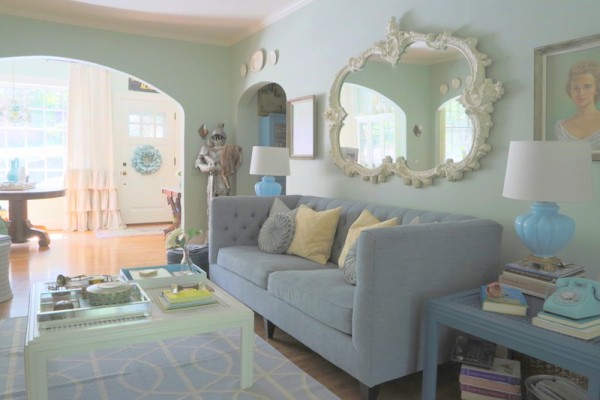 With all the varying shades of blue, yellow, and green in my space, I prefer a warm white as the grounding point on the trim, coffee table, and background color of the rug.  Although I often use it in client's home to ground the space, you'll notice there is very little black in my living room.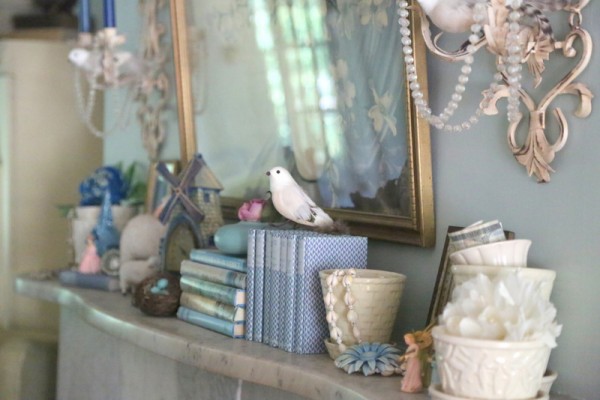 Details are everything for me.  They weave together a story, provoke a feeling, and insure a particular experience you have when you spend time in a space.  Some might see my accessorizing as organized chaos.  And I'm ok with that!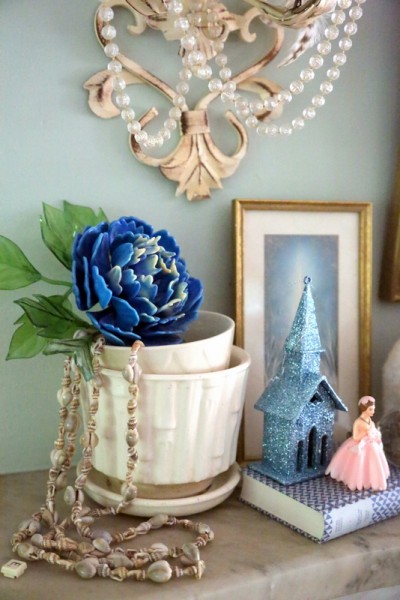 I hope you like the "new" look of my living room.  I suspect I'll keep it (pretty much) this way for awhile, but you never know!  My living room is currently in the running for Apartment Therapy's 2013 Room for Color Contest.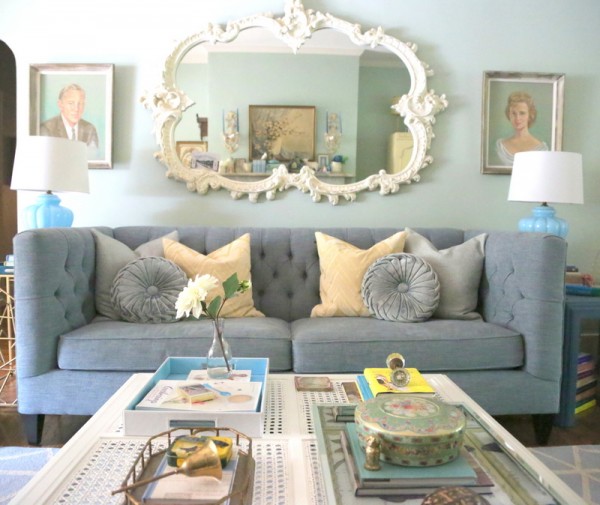 My hope and my request of you is that (if you like the room) you will pop by the contest and "favorite" my living room.  It's also a great opportunity to look around as some other inspirational and colorful rooms that are in the contest.  My room falls into the "light" category, but there are also "dark," "cool," and "warm" room categories in the tour of rooms you will find there.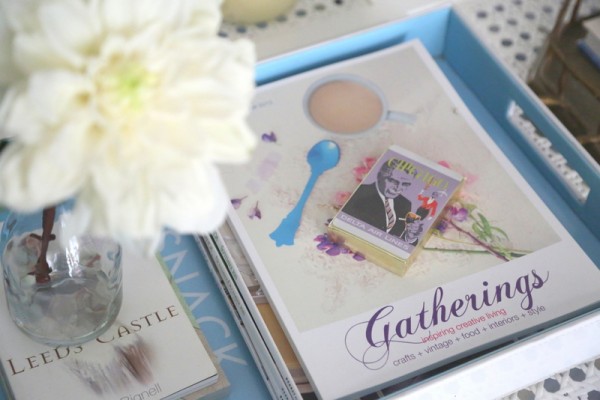 Thanks to you that have already voted for me – I'm currently in second place in the "light" color category, but I need some more support to pull ahead.  You only have to vote once, and all that is required is an email address (which won't sign you up for anything else).