I'm always preaching about paint color placement, because I believe that can be as important as the colors you choose. I'm going to show you some variations of color placement on a recent online exterior paint consultation where Graphics Girl (that's what I call my graphics designer because she is a superhero!) helped us visualize the best Tudor paint colors and placement for this home's exterior.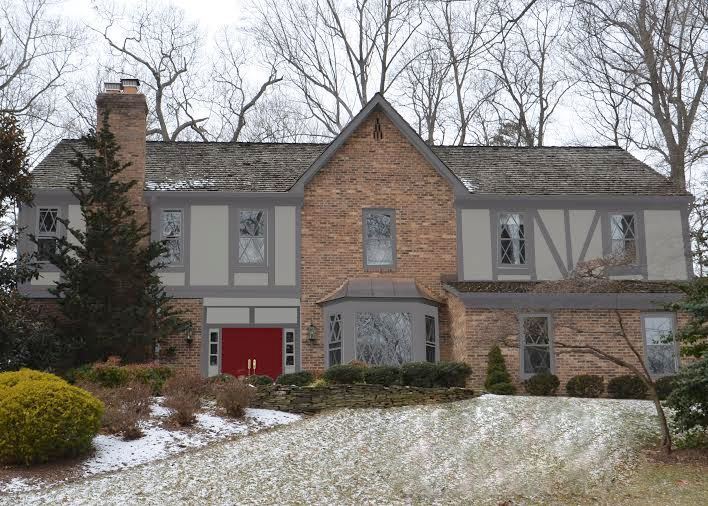 Below is the before version of this lovely tudor revival style home. Tudor and tudor revival architecture is often marked by the use of half timbering, stucco, diamond-paned windows, tall chimneys, and pitched roofs. This home was built in the early 1980s, but it harkens back to the medieval architecture in England during the Tudor period (1485-1603).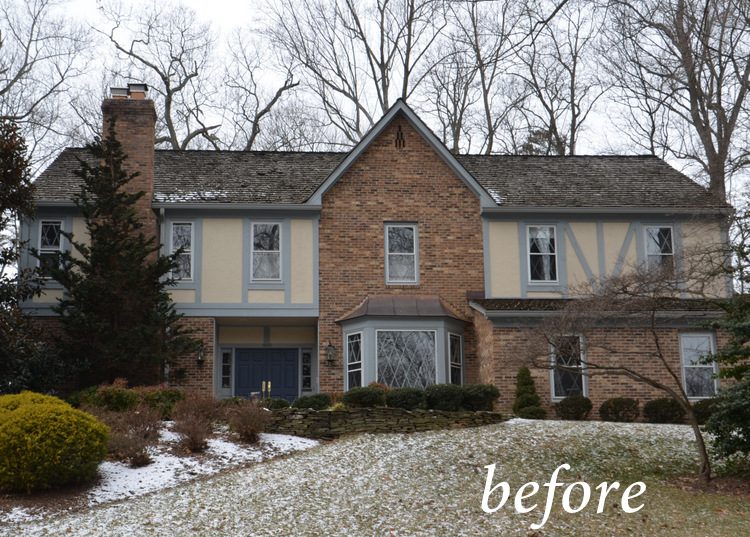 My client contacted me to help her choose new paint colors on the home she and her husband recently purchased in the D.C. area. Not only is the paint color palette a question, but also issues like: should the bay window area be painted out body color or trim color? Should the trim be light or dark? How much contrast between trim and body would be best? Here is a collage of how I had Graphics Girl mock up various paint color placement options on the bay window and the area around the front door, which I thought could be improved from the original color placement. Look closely: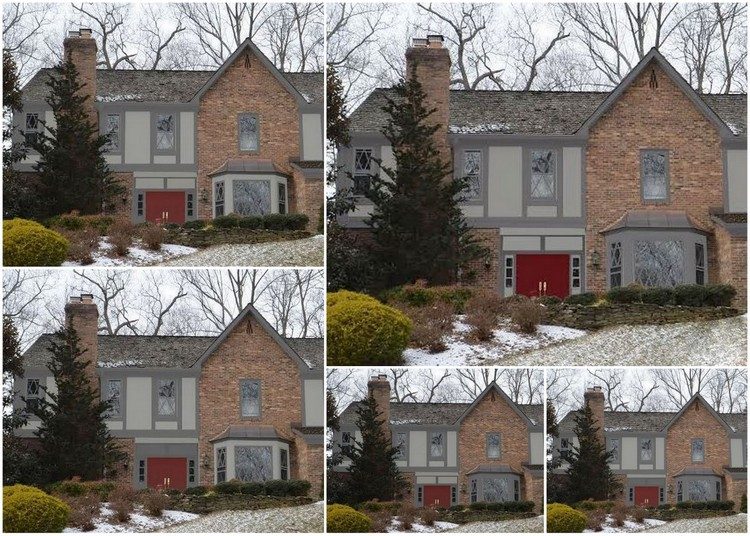 tudor revival paint color placement options 
I think the one at top right looks best, and the paint placement on those sidelights brightens up the entry area. Most people just repeat the previous paint color placement when repainting their home's exterior, because it is just so hard to envision different color placement.  That's why virtual mock-ups can be helpful. Let's face it – no one wants to screw up on a decision as expensive as painting an exterior. Plus, you're going to be looking at it every day for the next 20 years!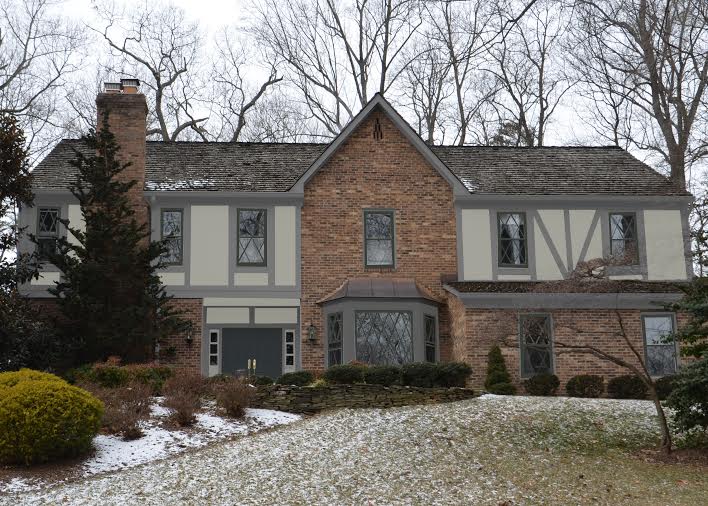 tudor revival paint color mock up 
The mock-up above is actually my favorite option for paint colors and paint color placement on this home. Although she was thinking she wanted less contrast between the body and trim, I wanted my client to see how a sharper contrast might look, including accenting the diamond-paned windows a dark, rich color. I specified Benjamin Moore's Lafayette Green HC-135 as the eyeliner on the "eyes" of this house, and the effect is a beautiful way to bring attention to the architectural detail of the diamond-paned windows. What do you think?
Here's another tudor style home I chose colors for in Nashville. If you need help with your exterior paint colors, find out how I can help here.
AND, don't forget to sign up for my Expert Psychological Stager™ course if you'd like to earn your home staging certification or up your game as a design professional!  The next course is May 7-9, 2015 and I'm running an Early Bird Special for the next few weeks, so reserve your spot today!