Good Friday!  What a beautiful week it has been here in Nashville.  I've been working on getting three homes staged to sell this week – everyone's trying to take advantage of the tax break for home buyers that requires a contract by the end of April.  Spring is here and I am wonderfully and thankfully busy!    But never too busy to post a blog for my dear readers. 
Today I'm sharing an Easter dinner I hosted in my home last year.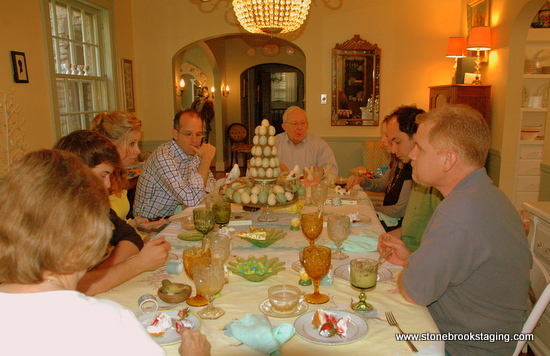 My centerpiece was an egg wreath laid on a cake pedestal.  I often create centerpieces with cake pedestals, as I did here.  Then I placed an egg tree I found at Home Goods in the center and perched a few white doves around the wreath (they are Christmas tree decorations that I use year-round).  I used mainly crystal and mercury glass.  It's good to keep to two main materials in this kind of dinner tablescape.   Antique dinner plates, vintage crystal water goblets, and gold vintage goblets for tea (see previous picture), blue cloth napkins, and a few sweet bunnies and chicks decorate the table.  Not sure if you can tell, but I layered 3 vintage tablecloths on the table to add interest and bring in color.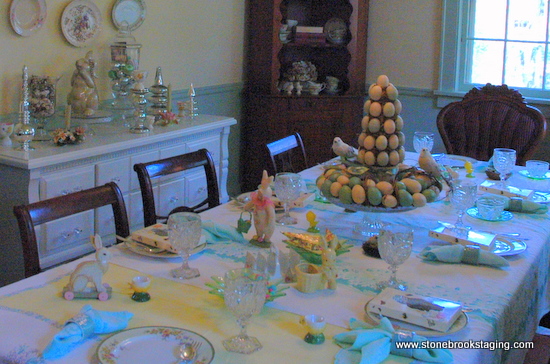 Like these carrots?  I got this recipe from my friend, Robbie Spivey.  She used it in an "April Fool's Day" – themed cooking club we were in together.  It's a great cheesy spread for crackers or bread, and everyone gets a kick out of its appearance!  The strawberry-rhubarb cake is a recipe from another cooking club friend, Kelli Smith.  It's one of the easiest and most delicious cakes I have ever had, and it's perfect for a spring/summer get-together.  Both recipes are at the end of the post.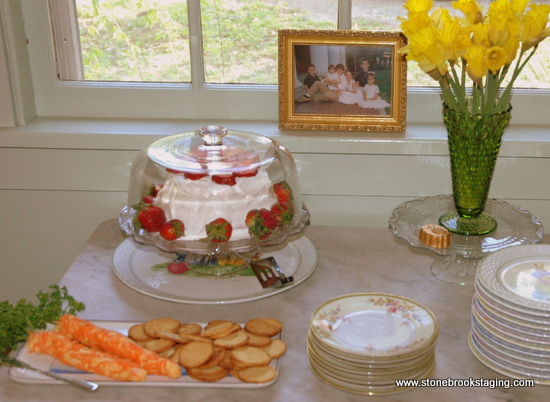 And we didn't forget to have a classic Easter egg hunt for the children.  I dread the day mine will be to big to want to hunt eggs!  Maybe if I start putting money in them, they'll be more interested when they're teenagers . . .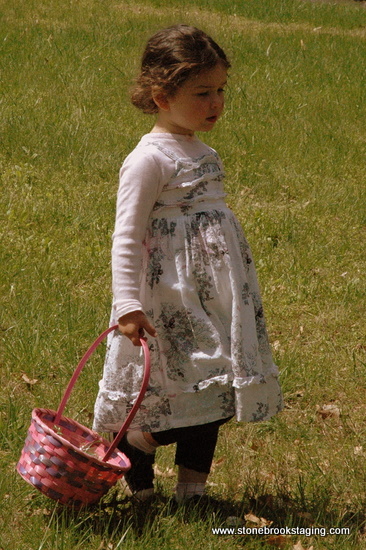 April Fool Carrots
1 (3oz.) cream cheese
1 cup finely shredded cheddar cheese
2 tsp honey
2 large carrots, finely shredded (1 cup)
9 parsley sprigs
Let cream cheese stand at room temperature in a small mixing bowl for 30 minutes.  Add cheddar and honey. Beat on medium.  Stir in half of carrot. Cover andchill for 1 hour. Shape cheesemixture into 2 1/2 inch logs. Taper ends to look like a carrot.  Spread remaining carrot on waxed paper.  Roll each "carrot" in shredded carrot.  Store in refrigerator 4-6 hours. Just before serving insert parsley sprigs into wider end of carrot.  Serve with crackers or melba toast.
Strawberry Rhubarb Angel Cake
Publix angel food cake (already prepared)
2 cups sliced rhubarb
1/2 cup sugar
2 tbsp orange juice
1 1/2 cups sliced strawberries + 1/2 cup for topping
red food color
whipped topping 
In 2 qt saucepan, mix rhubarb, sugar, orange juice.  Cook over medium heat for 10 minutes.  Cool for 15 minutes off stove.  Stir in strawberries and food color.  Refrigerate for 1 hour.  Cut pre-made (or homemade, if you are so inclined) cake horizontally into 3 layers, spread filling between layers.  Frost sides and top of cake with whipped topping.  Arrange strawberries on top.