As many of you know, I switched out my living room and dining room a few months ago and enjoyed a change of scenery in my home.  As the holidays approach, I decided I wanted enjoy the fireplace (sans books – see here what I'm talking about) so I switched them back.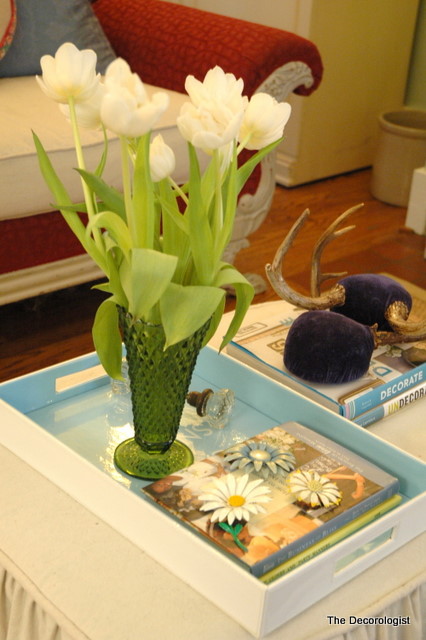 That doesn't mean my living room looks like it used to, since I traded sofas in the living and enclosed sleeping porch.  This is where the red sofa used to sit: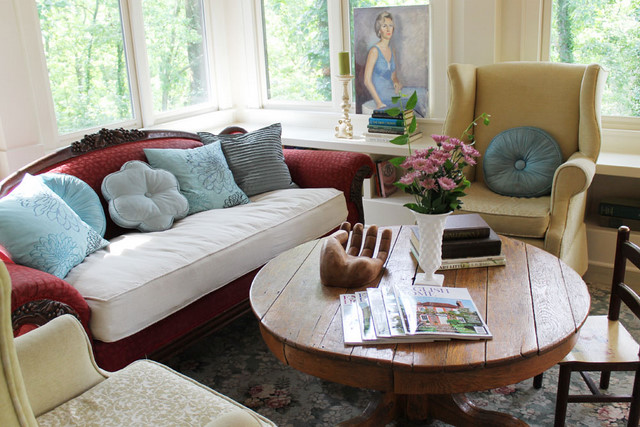 photo by Heather Spriggs
This is the way my living room looked with the green sofa back in the spring in this photo taken for Gatherings Magazine: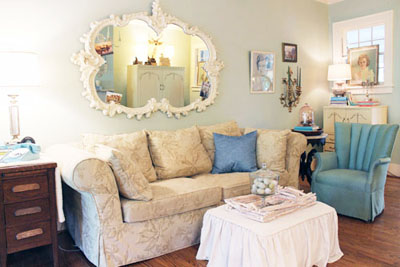 Photo by Heather Spriggs for Gatherings Magazine
I wanted to nestle close to the fireplace as I write for my blog, work on virtual designs, or shop online for clients.  So my furniture is arranged a bit differently than before the initial switcheroo.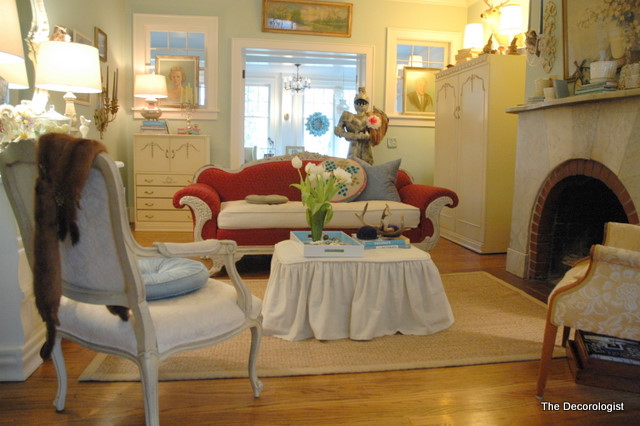 Also, a few months ago I finally took the plunge and painted my cherished Victorian sofa.  It was originally an orange and green velvet pattern when it belonged to my granny.  I had it recovered when I got it 22 years ago, and this is how it had looked ever since.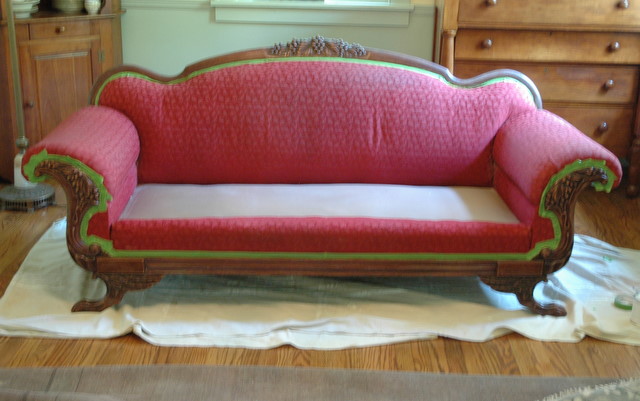 A few coats of Benjamin Moore's Shale and a little sanding transformed the "heavy" look to something a bit lighter.  This is how it looks now: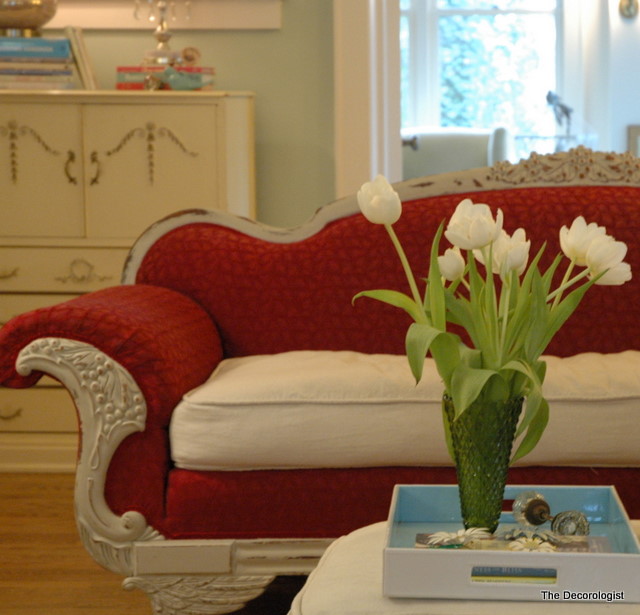 My dining room is back in it's original place.  All my mismatched dining chairs are now all painted in gilt or Benjamin Moore's Waterbury Green.  I'm digging green and gold right now.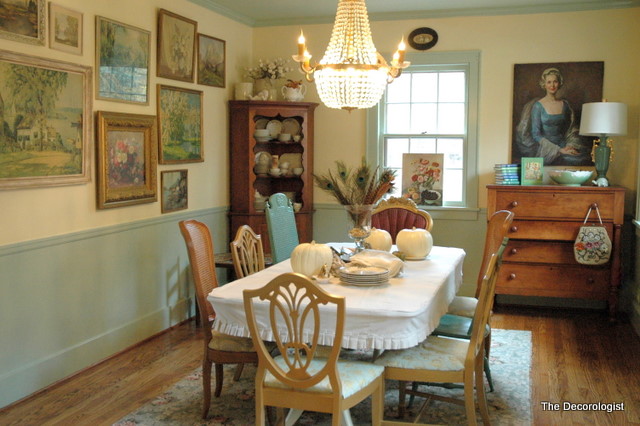 I also bought an old tole chandelier on Ebay and decided to custom paint it to hang over the pedestal table in my entry.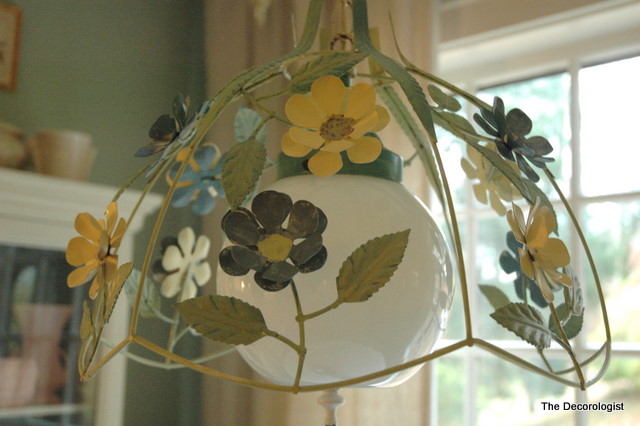 It replaced another light fixture I had here that looked kinda like a floral jellyfish: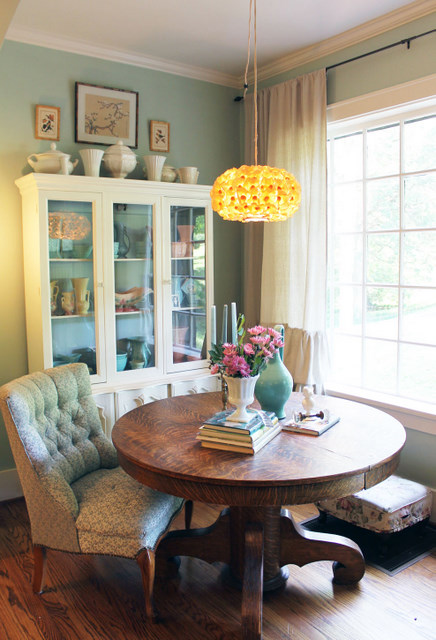 Photo by Heather Spriggs for Gatherings Magazine 
I liked it when it was turned on, but not so much when it wasn't.  Anyway, it was the only light fixture in the house that wasn't vintage (and you know I prefer that), so I was ready for a change.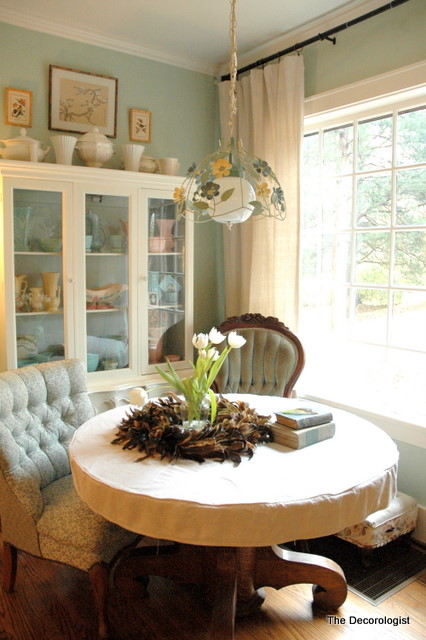 So, yeah, I admit it.  My name is Kristie, and I'm a serial furniture rearranger.  How 'bout you?