Although we repainted most of Allison's interior, we chose NOT to paint her bedroom. Why? Because we were on a tight budget, and the bedroom wall color was NOT the problem.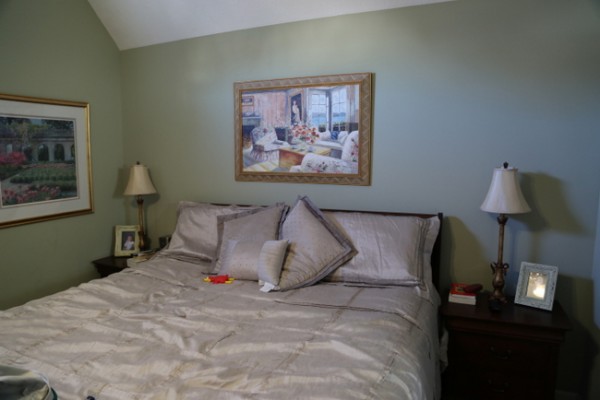 bedroom before
There were three things that needed updating in her master bedroom:
1) bedding
2) lamps
3) artwork
The rest of the furniture and the wall color were just fine. In fact, the new gray-blue in the main part of the house transitions very nicely with this green color on the walls of the bedroom. Here's the updated after: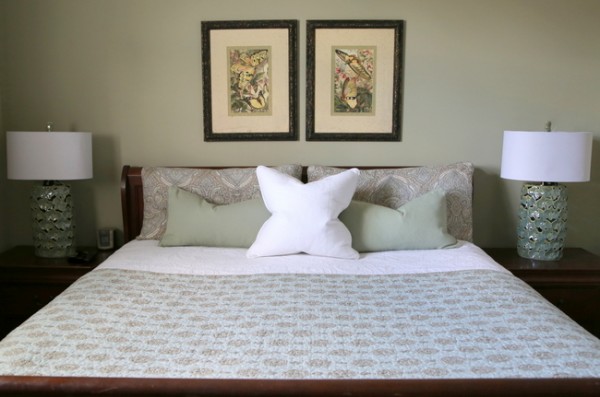 after
I'm going to break down this simple makeover for you.  We bought the patterned coverlet and shams at Home Goods – the coverlet is reversible, with coordinating patterns on either side.  We folded the coverlet across 2/3 of the bed exposing one pattern, while the shams show the other.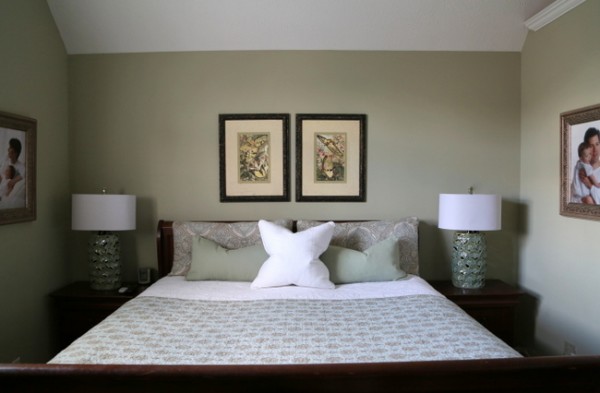 after
Then we found this fabulous pair of lamps at Marshalls.  If you want to update a room, buy some bigger lamps that make a statement!  The base of these are a few shades darker than the wall color, so they help create a soothing monochromatic look.  The lamps came with white shades, so we needed to be sure and repeat some white in the space, as there is no white in the patterned bedding we bought first.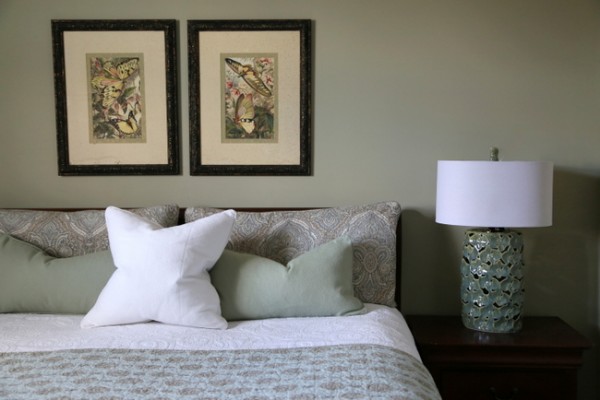 after
So, we looked specifically for a second solid white coverlet or matelasse.  We found a lovely one at Marshalls, as well as a pair of solid lumbar pillows that were almost the same color as the walls and a large, solid white accent pillow.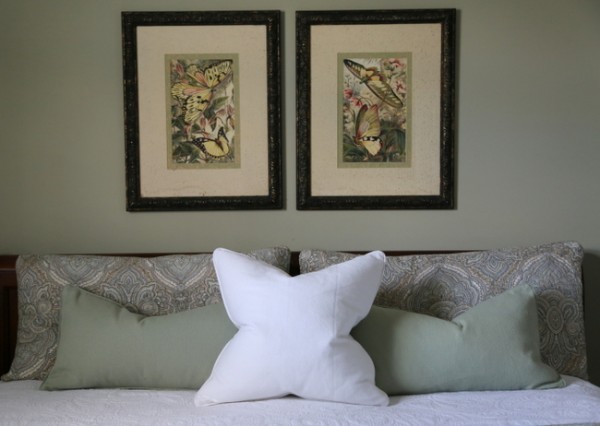 after
Finally, I found this pair of butterfly art at a local barn sale that I thought might work for Allison's house somewhere.  I really wasn't sure, but they work pretty perfectly in her bedroom! The mats read butter yellow against the white bedding and bring out the creamy yellow in the shams. You don't have to use only white-white or only creams in a space, but you have to understand how to repeat them to where they look purposeful (and not like a mistake).
Here's a cost round-up for the bedroom (some amounts may be approximate):  white coverlet – $50, patterned coverlet – $60, shams (2) $15 each, lumbar pillows (2) $17 each, white accent pillow – $20, lamps (2) – $60 each, art (2) $35 each.  Grand total:  $384 before tax.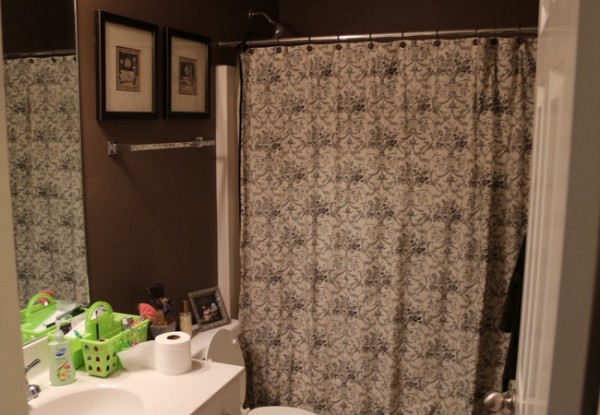 hall bathroom before
As a bonus, here's a before and after of the dark brown hall bathroom (not the master bath) in Allison's house.  The before photo is above.  We pulled the darker blue from the entry ceiling I posted about here, and painted the hall bathroom walls in that color.  Then we found this shower curtain, art, and towels at HomeGoods in one visit.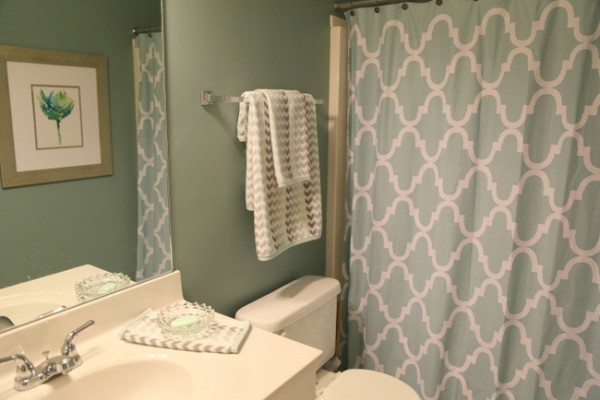 hall bathroom after
The glass had broken in the art, so we found this piece in HomeGoods clearance aisle for $22. What a steal! Allison may have a piece of glass cut to protect it from steamy showers, but she probably wouldn't need to if we had hung it elsewhere in her home.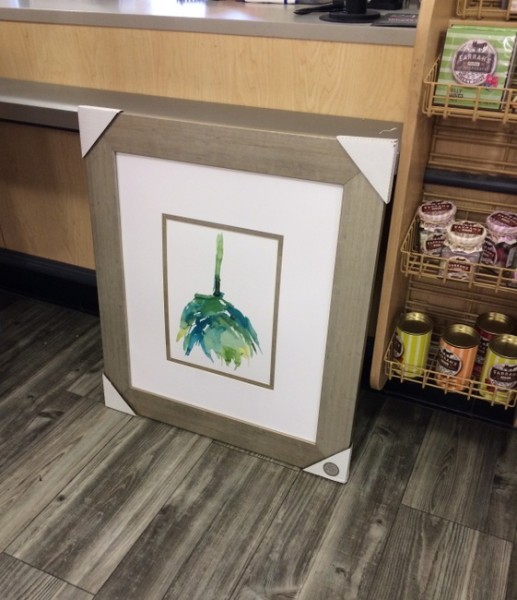 bargain art
Alrighty, that's all for today. But Friday is the living room/kitchen reveal, and it's a doozy! Don't forget to check back in to see what else we did.
If you haven't gotten the mothers in your life a gift yet for Mother's Day this Sunday, you might consider one of my video classes on choosing paint color and arranging furniture.  There's even a special gift card you can print out!  You may even want to drop a hint if YOU are the mom . . . 
Share this Post