Would you be able to see the potential in these yard sale tables?  One is a large coffee table, one is an end table, and one is a sofa table.  All with caning, missing the glass inserts that were originally included in this 1980's set.  I picked them up for $30 for all three!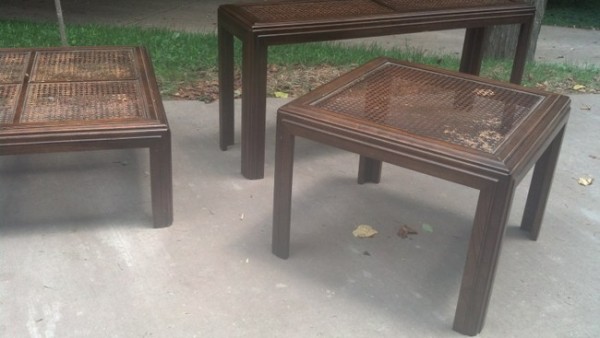 I started with the coffee table.  I used Annie Sloan Chalk Paint in Pure White, but it was an EPIC FAIL. This is the first time I haven't been pleased with the outcome using Annie Sloan, but I think the tables had a lot of furniture wax built up on them, so it kinda seeped through the two coats of paint I applied.  Not acceptable. And I decided I wanted a glossier finish on the coffee table.  So I lightly sanded it and put two more coats of Benjamin Moore's White Dove in a semi-gloss finish.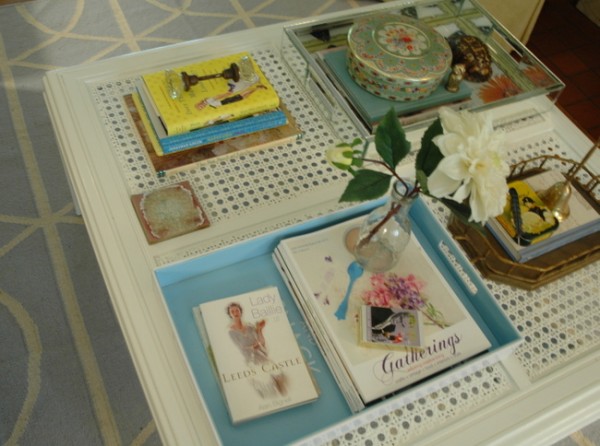 Perfectly perfect!  I LOVE my new coffee table, even though I had to use four coats of paint. Still a bargain when it was all said and done!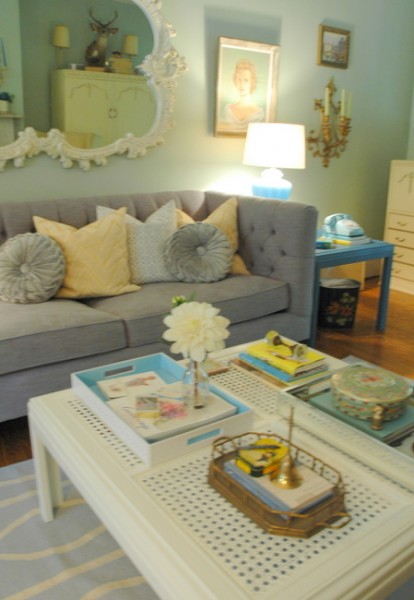 You can see the newly-painted end table in the above photo, as well. For that piece, I lightly sanded it FIRST, then painted it with two coats of Annie Sloan Chalk Paint in Aubusson Blue. I finished it off with a coat of clear wax and a buff.  I love the slight sheen.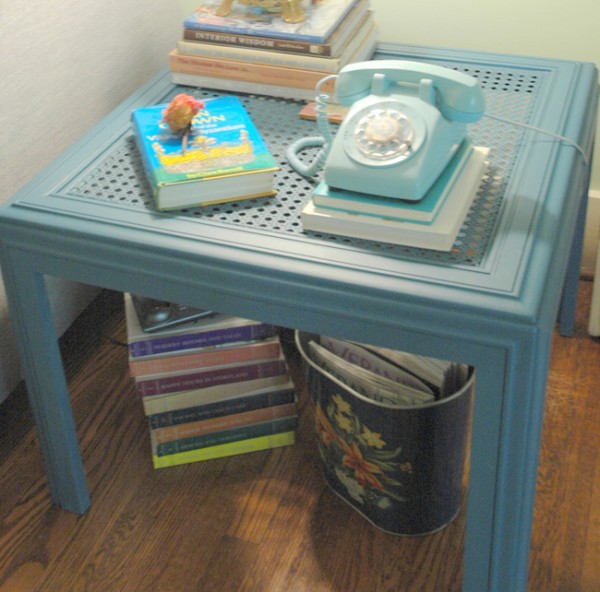 Annie Sloan Aubusson Blue with Clear Wax
It turned out great, with no furniture wax bleed-through.  I haven't painted the sofa table yet – I don't really need the piece, so I might save it until I have a client who needs it.  The lesson here is that if you have an old piece of furniture that may have decades of furniture wax on it, it may need a light sanding before using Annie Sloan paint.  If you notice bleed-through in spots after one coat, go ahead and lightly sand it (and dust completely) before putting on another coat.
If you get a chance, check out the latest Benjamin Moore ColorChats blog where some of my work is featured and I'm quoted a few times in Leah Rosch's article about taking the stress out of choosing a new color palette for your home.
If you'd like to learn more about choosing paint colors, color placement, and exactly what paint products you should use, download my Color Workshop Video today!