In recent months, I've grown a bit discontent with my master bathroom and decided it could use a little freshening up.  While I love the original tile in our 1939 bathroom, it's a bit of a challenge to decorate around. The grout looks dingy, the wallpaper is tired, and the trim could use repainting. Sometimes, adding some interesting items and changing things up can distract from the not-so-perfect nature of most homes.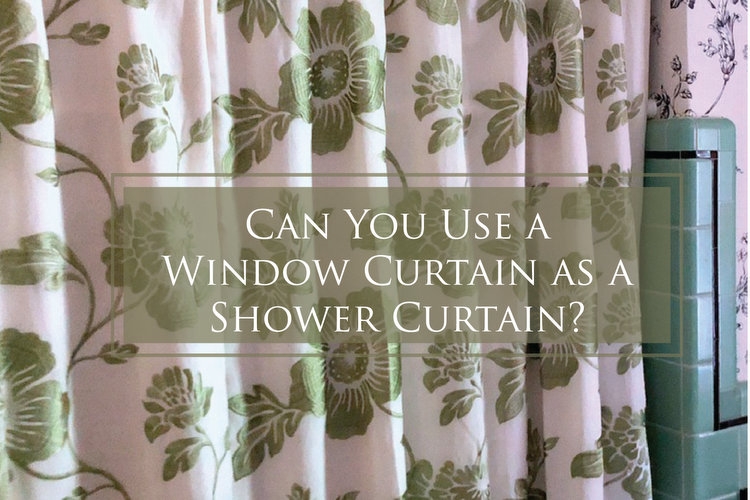 When one of my dearest friends moved back to Nashville from Los Angeles (Yay!!!) last week, I popped over to the condo she is renting and helped her decide what to keep, what to get rid of, and to arrange her furniture and art. Sadly, she has a boob light over her breakfast room table. The black chandelier in my bathroom would be perfect for above that table, and she's always liked that light fixture. That was a good motivation for me to change that fixture out and give her mine! Here's the way my bathroom has looked for years: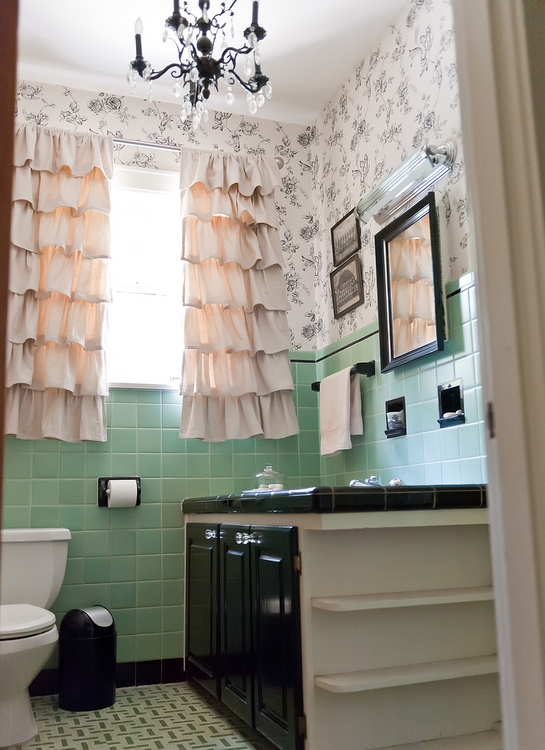 Last summer, I won a lovely crystal light fixture in a drawing at a local design event which has been sitting unopened in my office ever since. The new crystal chandelier from PDI Kitchen, Bath, & Lighting was definitely a nice change for the bathroom!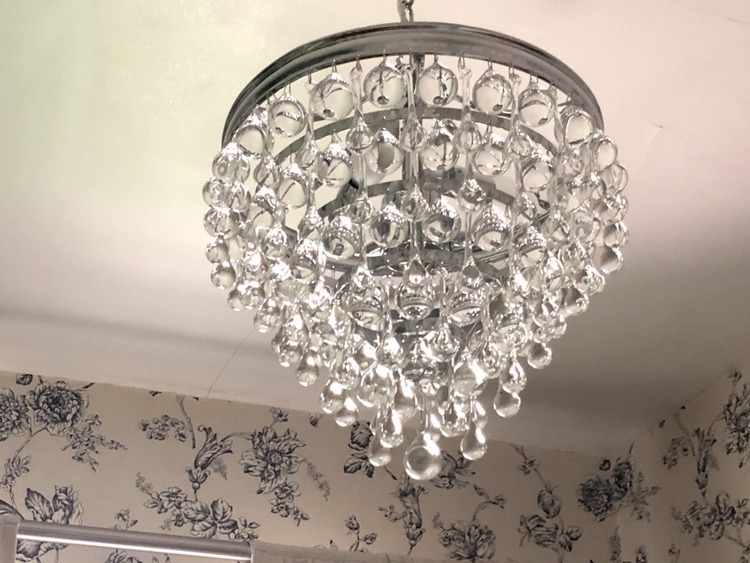 That got me going – how else could I spruce up my bathroom?
I added a couple of "new" vintage art pieces that I found recently at estate sales. I love the colors and design of this framed old Scottish prayer: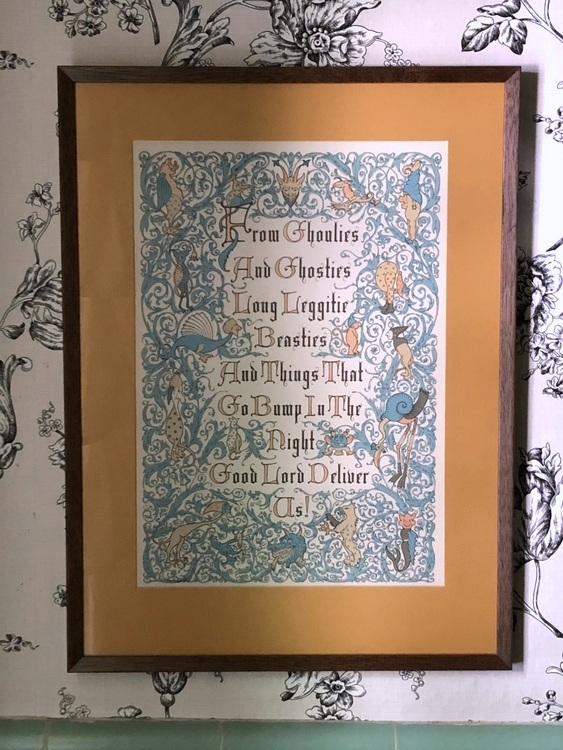 And this lovely piece is a portrait of a young girl, completely embroidered!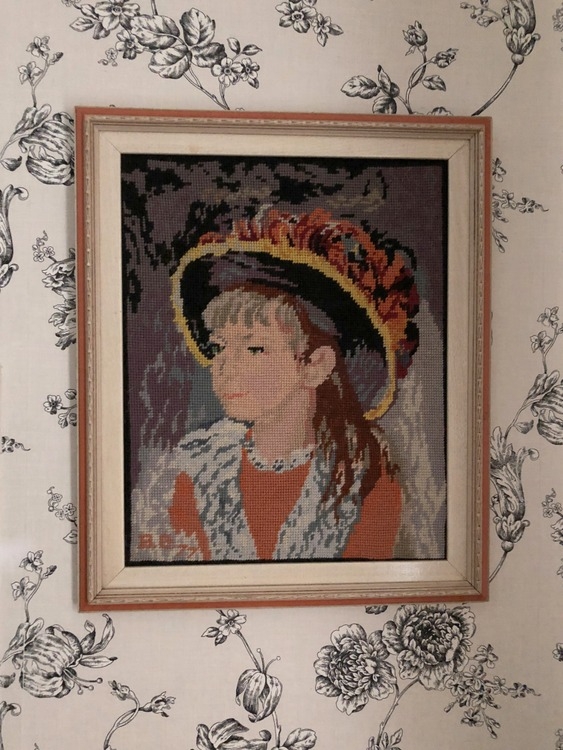 I added a beautiful realistic floral and some vintage accessories to the countertop.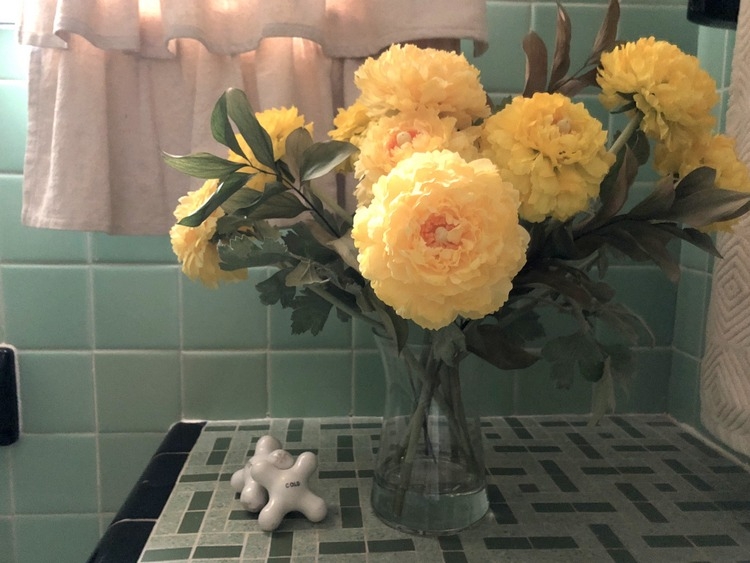 HomeGoods floral and vintage porcelain shower knobs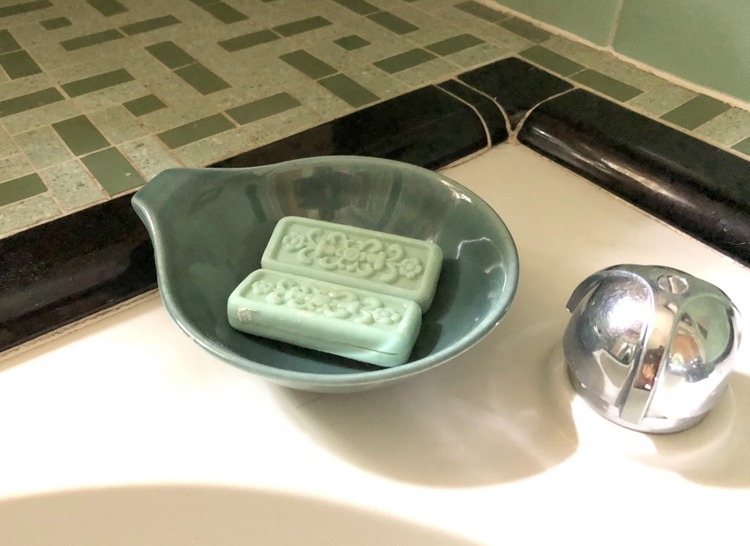 vintage Russel Wright dish for decorative soap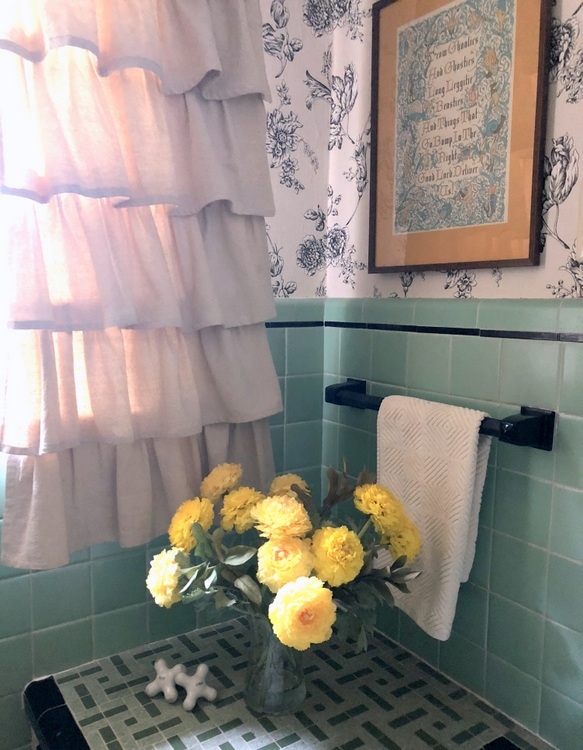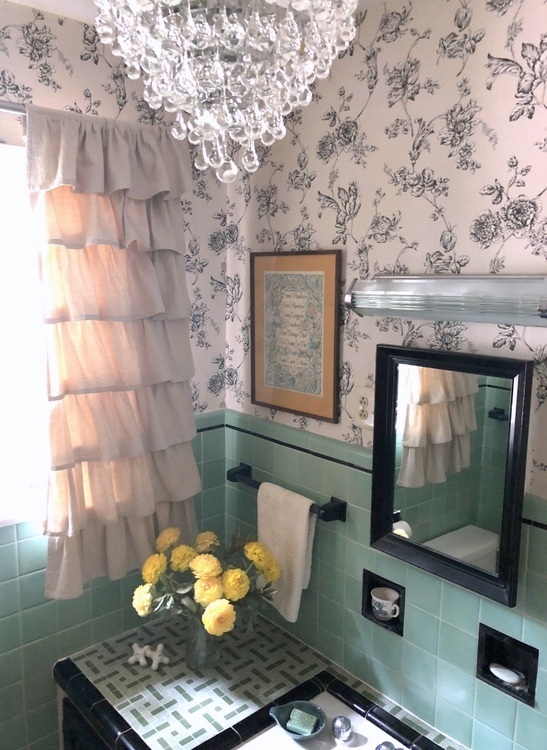 Now, to address the question in the title of this blogpost:
I decided to replace the shower curtain I've had up for years, but wanted something more dramatic and finished than a standard shower curtain. Rather than having something custom made, I decided to hang a pair of 96″ window curtains instead.  Obviously, that requires mounting a sturdy rod up high. We have 9 foot ceilings – if you have 8 foot ceilings, you would need to choose 84″ curtains. Mr. Man hung them while I was out working for a client, and I came home to this: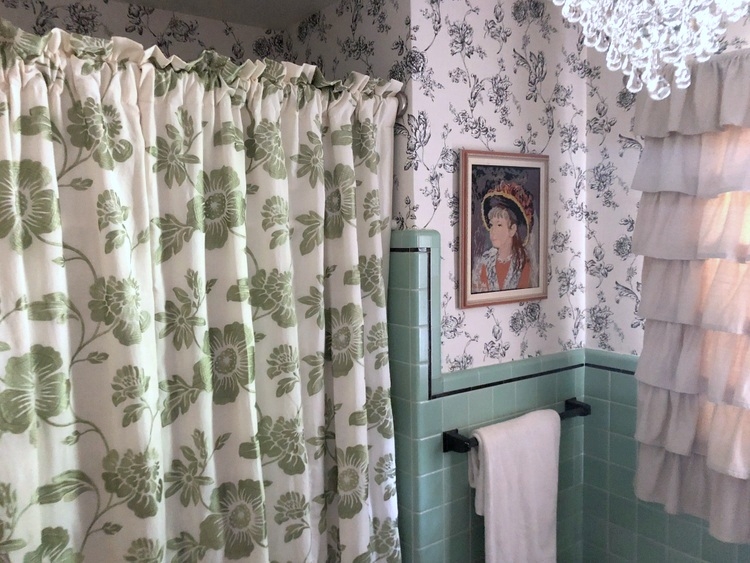 You see how the top of the curtains look? He threaded the curtains on the rod, which is a look I try to avoid because it creates a "country" effect. These curtains also have tabs that are attached directly beneath the rod pocket.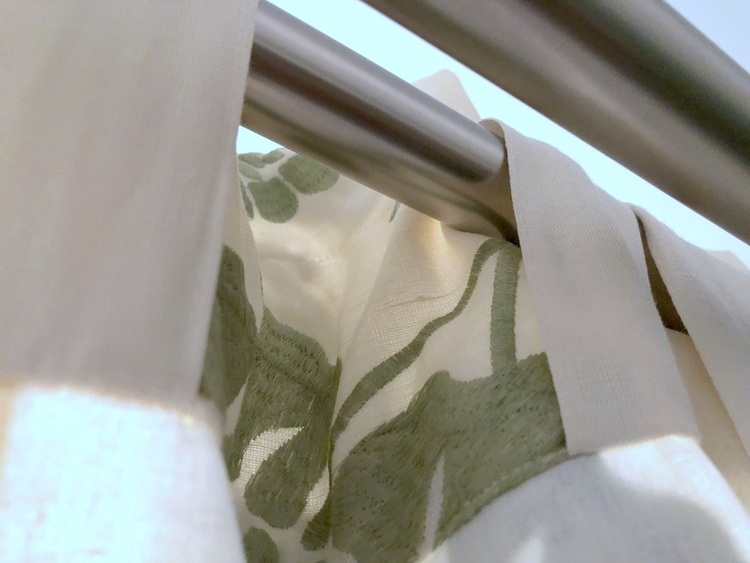 THAT is what I thread a rod on so that it looks like THIS: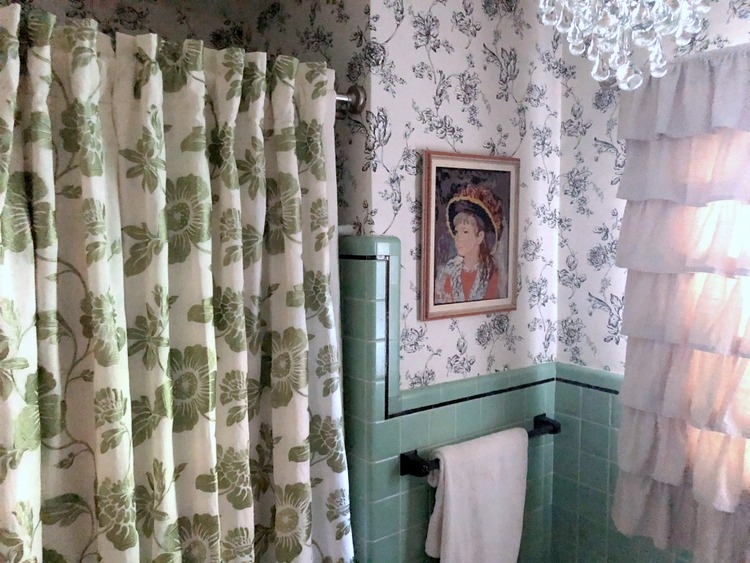 Isn't that better? The result is a less-frilly look that reads more expensive to me. If your rod pocket curtains don't also have loops, you can pretty easily make your own and attach them to the back of your curtain panel. And yes, I actually chose a floral curtain with floral wallpaper. Shocking, I know, but if there was ever a time to get away with a floral-on-floral look, it's this year! I did hang a separate expanding shower curtain rod lower (you can see it peeking out in the photo above) for the shower liner to be long enough inside the tub.
The original doors in this room are stained the same color of the top of the wood stool I dragged in the bathroom for effect, but of course you can't see how it ties in with the doors! It's impossible to get the whole room into one shot with my camera, so this is the best I can do: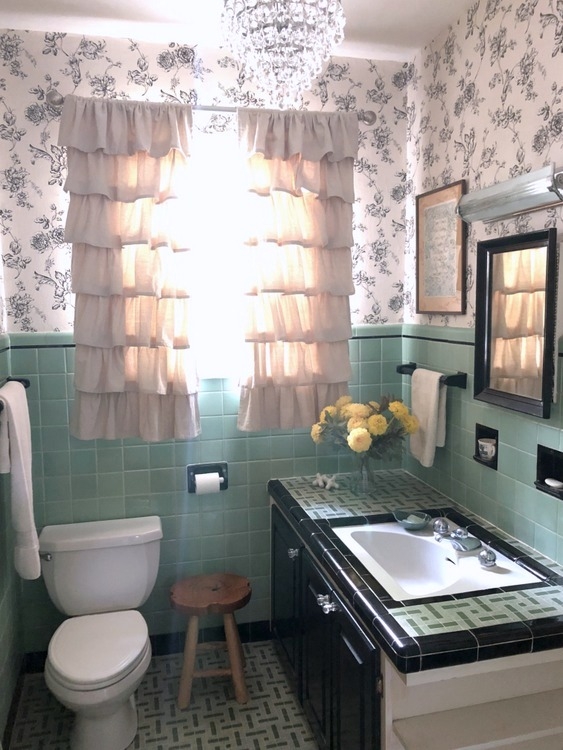 I didn't do anything terribly drastic, but I am enjoying the new touches in the bathroom. If you can't find a shower curtain you love, definitely give some beautiful window curtains a try. It's a bit pricier, but the result will be worth it!