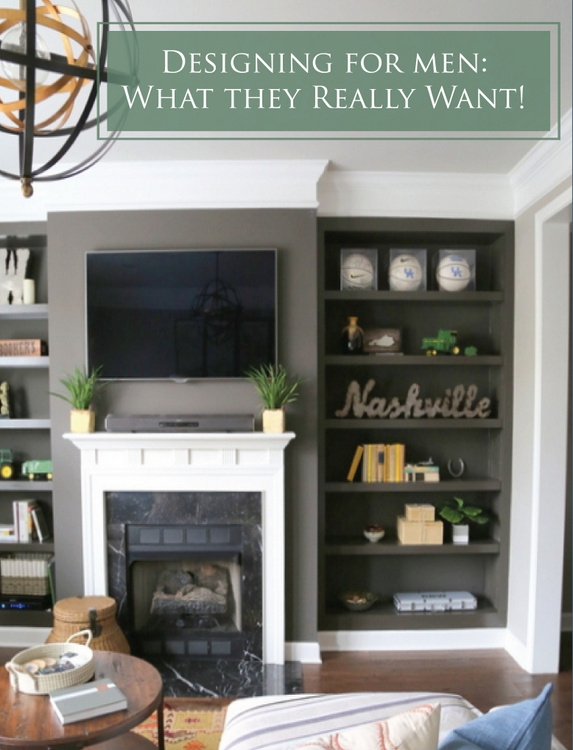 Have you ever wondered if designing for men (single men) is different than designing for women or couples? If you thought I wasn't in touch with the masculine side of design, today you'll see if I was able to bring it for a single professional's townhouse. I'm here to tell you, there are 5 things that are important to men when it comes to interior design.
1) Comfort
I bet this one isn't a surprise. Men prefer function over form, practically every time. Those oversized, puffy sofas and recliners are their natural default.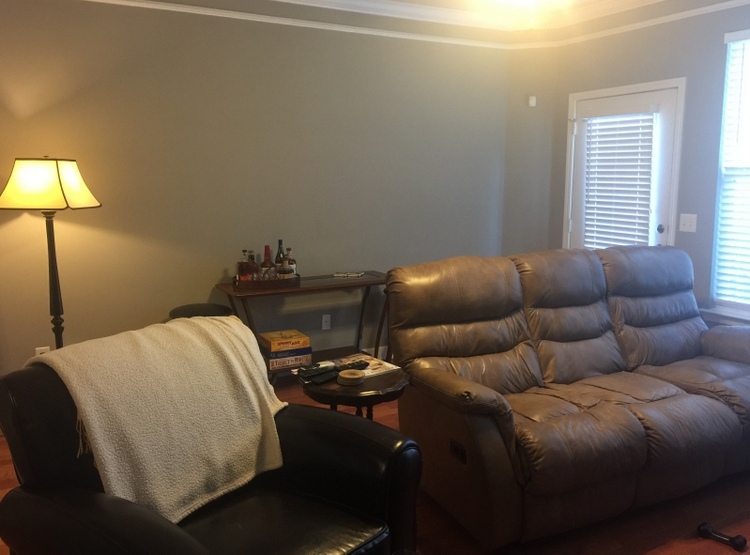 before
But there are other options that are plenty comfortable and look great, too. In order convince the man of this, he's going to have to do some sofa surfing at a local retailer to be sure it's comfy enough. But he may need some guidance!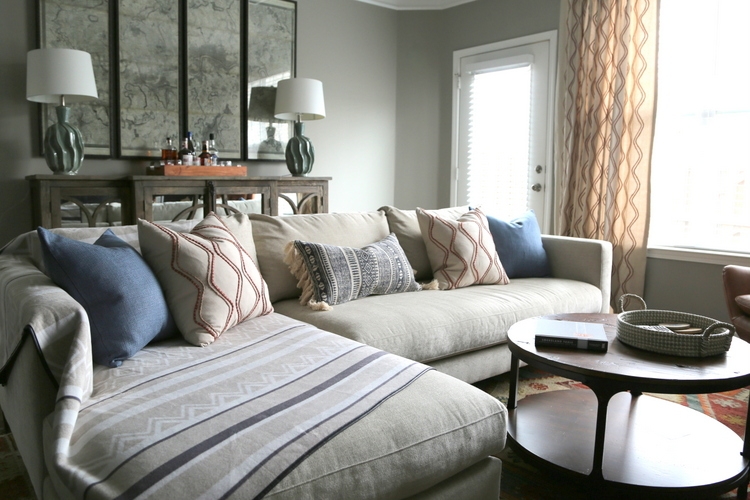 after (find similar table here)
Here are a couple of things I could recommend:
1) Look for sofa options with deep seating. Men usually have longer limbs than the ladies, so a deep sofa seat is going to feel the most comfortable to them.
2) Skip the puffy arms and add those horizontal inches to length of the actual sofa seating. An 84″ long sofa with 10″ wide arms has only 64″ of buttspace, while an 84″ long sofa with 4″ wide arms has 76." Hey, that's another butt's worth of seating!
3) Provide something to put their feet up on. You don't need a recliner to get comfy – a sectional, sofa with chaise, or a great table with a non-precious top will provide room for the fella to stretch out his legs while watching the big game (find out here the reason we chose this round one).
2) A Dose of Black
Did you know that in a recent study of color preferences, black is in men's top 3 favorite choices? If a woman thinks every room needs a touch of black, the guys think every room needs a heavy dose! My client wasn't interested in changing his dark paint colors, so we had to go with the flow. The bookcases aren't black, but they are not too far from it. To counteract the darkness, we removed a few dark pieces in his bookcases and replaced them with more colorful or lighter items to create contrast.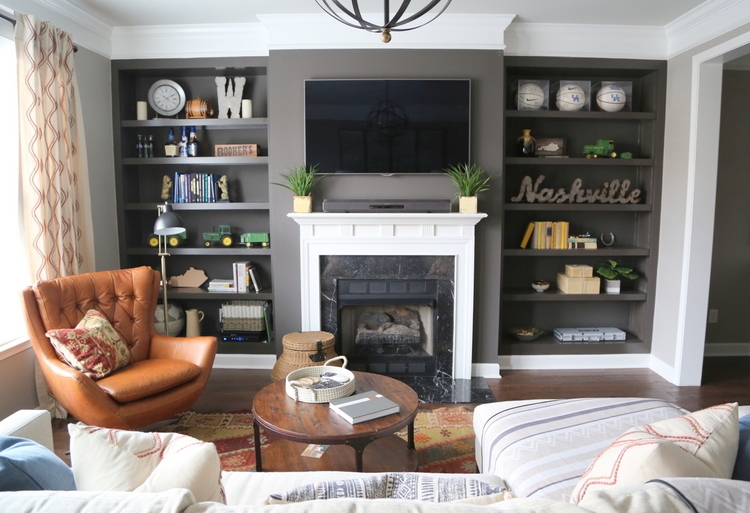 design by The Decorologist
I wanted to use most of my client's own items because they were important to him. But bringing in some greens and yellows really helped things stand out compared to the before of this area: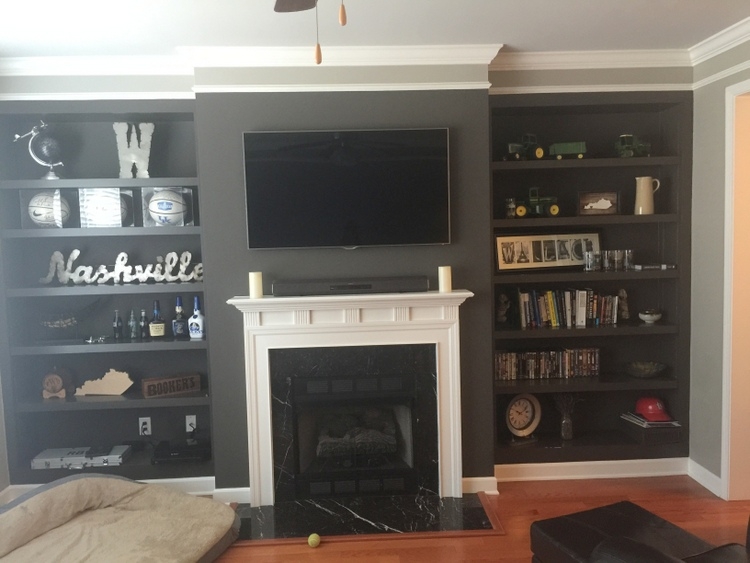 before
When designing for men, you can also add black in iron finishes of light fixtures, picture frames, and tabletop accessories.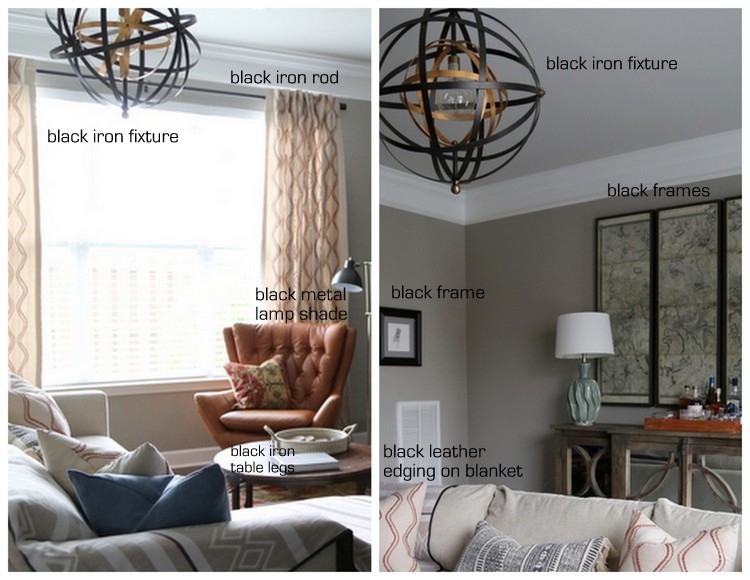 3) Leather
Another big surprise, right? Men sure do love their leather. My client loved the ease of his previous leather seating, so we initially shopped for only leather sofas.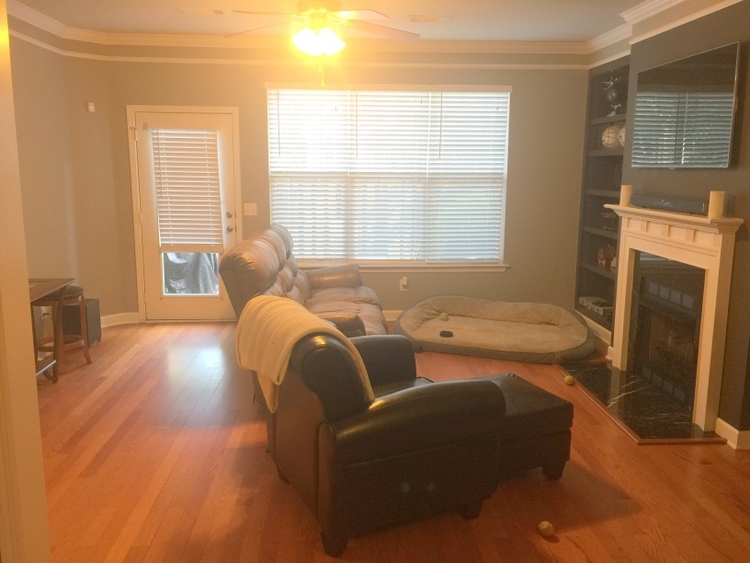 before
I did steer him towards a lovely cognac shade to add color and interest, which he liked very much. But when he saw the price difference of the leather and performance fabric version of the sofa, he changed course and opted for the fabric.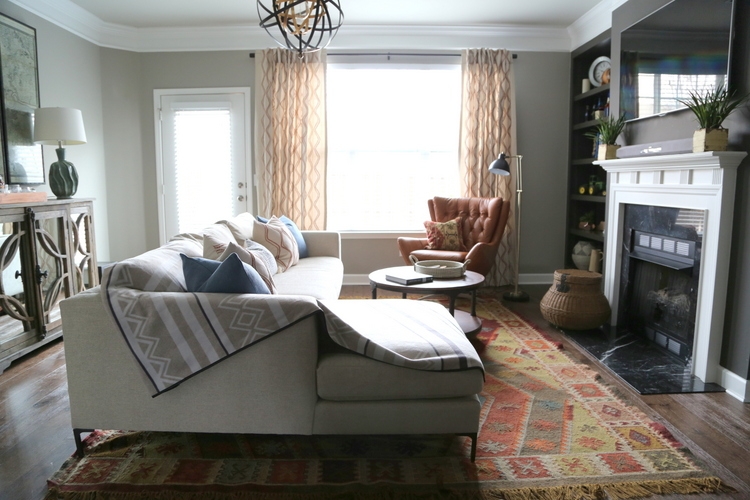 design by Kristie Barnett, The Decorologist
Since it's a performance fabric, it's easy to maintain and clean. I would advise you NEVER to choose an upholstery fabric for bachelors that isn't easily cleanable.
Although he didn't end up with a leather sofa, I made sure to find my client a fabulous cognac leather chair with a masculine mid-century look. It's one of my favorite things in the room!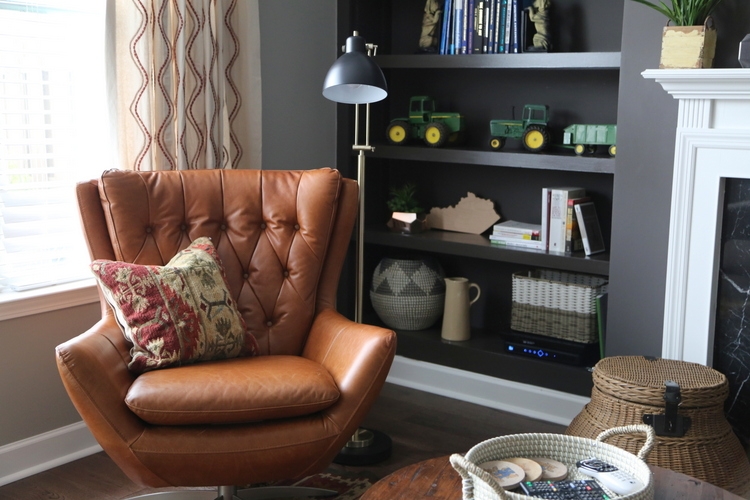 4) Texture
Although they may be able to articulate that they want this, I find that when designing for men they are always drawn to texture. They are big about the touching, and they tend to prefer rougher, grittier textures. We incorporated a lot of texture in this room to give it depth and warmth, such as the drapes and pillows with the corded embroidery, the recycled yarn kilim area rug, the rough-hewn coffee table top, and the hammered copper dining room fixture.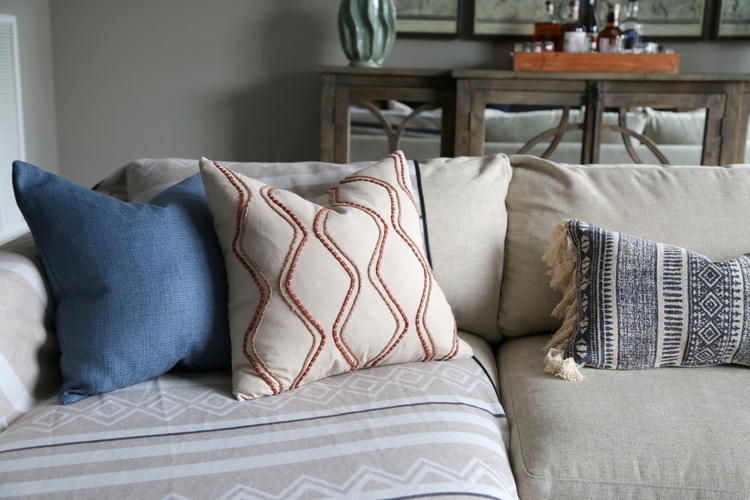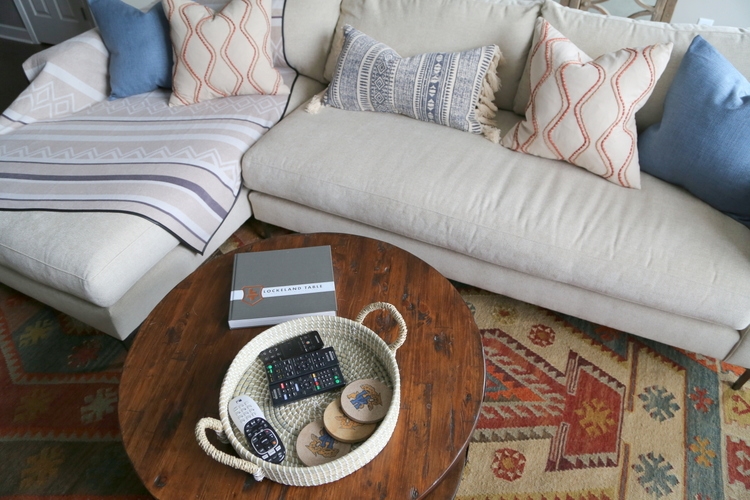 similar rug here

5) Masculine Art
While my male client didn't exactly know what kind of art he wanted for his townhome, he was pretty sure what he DIDN'T want. Nothing feminine, nothing botanical, nothing abstract or "weird." When he told me he preferred black and white, I died a little inside . . .  but the client gets what the client wants, so I searched for something sophisticated and interesting in black and white. When I found these large panels of a vintage map of London, I hoped he would be interested.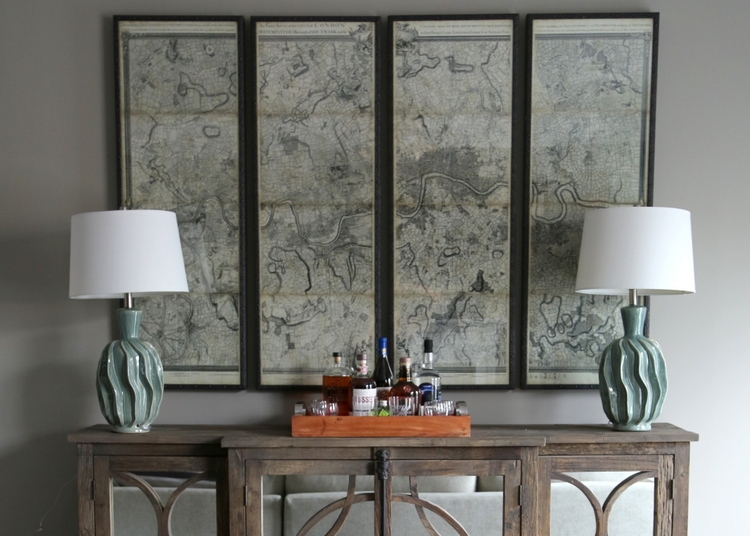 London street map art
Guess what? London is one of his favorite destinations, so he loved this option for the living room.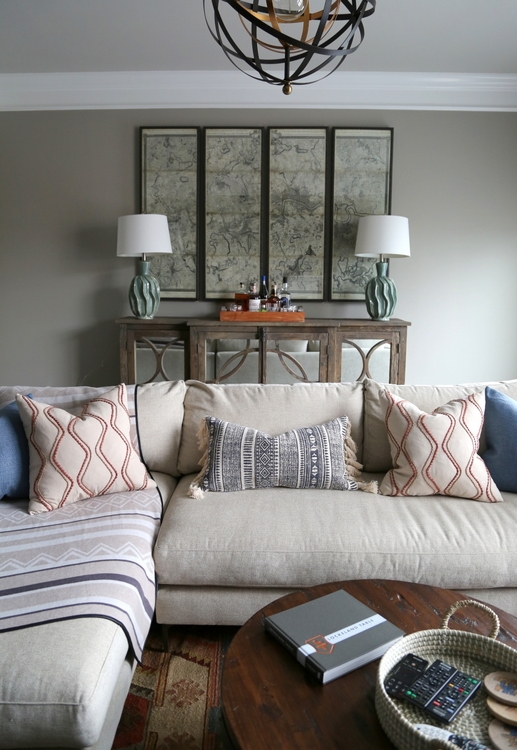 Since we did black and white here, I was hoping for some color in his monotone dining room. I soon received an email from him, telling me how he was drawn to the iconic b/w photograph of construction workers eating lunch atop a beam amongst the skyscrapers of New York. My hopes for color were almost dashed, until I found this oversized poster in a colorized version that would be perfect with the upholstered end chairs already in his dining room. I ordered the inexpensive poster and had it framed for a few hundred dollars, and we love how it turned out!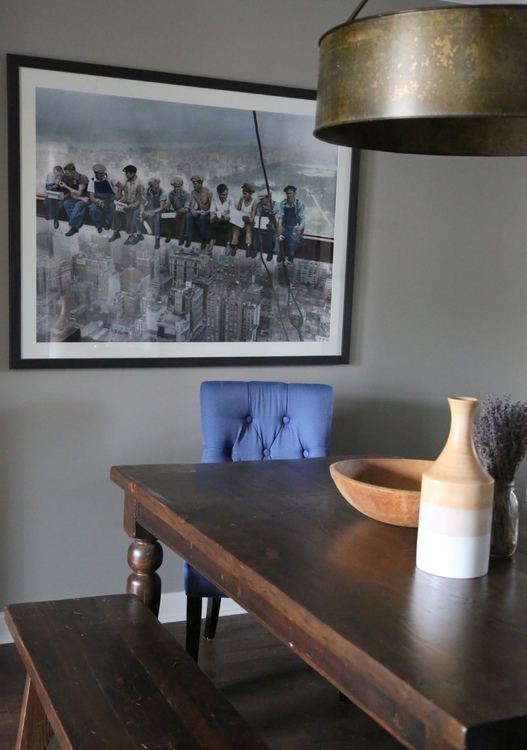 Charles C. Ebbets' workers lunching on a beam
Of course, anything rugged or rusted can make for a masculine art piece, like this metal Nashville sign that my owner already had: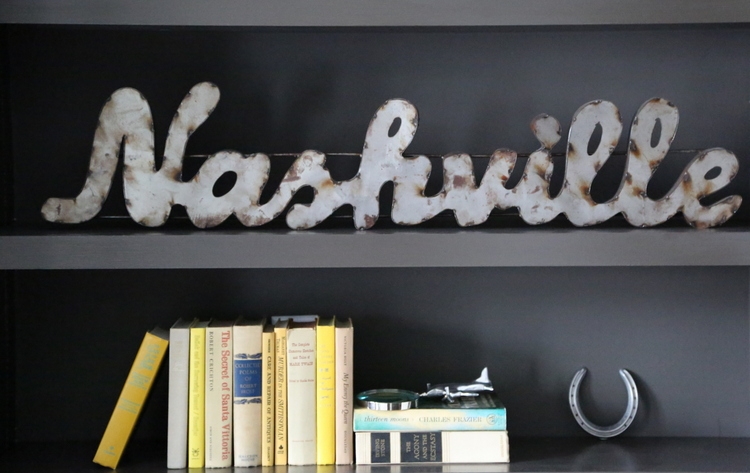 Nashville signs here
So, what did I leave out? What do you know about designing for men that we should know?
If you'd like to become a certified expert in choosing interior paint color and paint color palettes, find out all about my online training program here!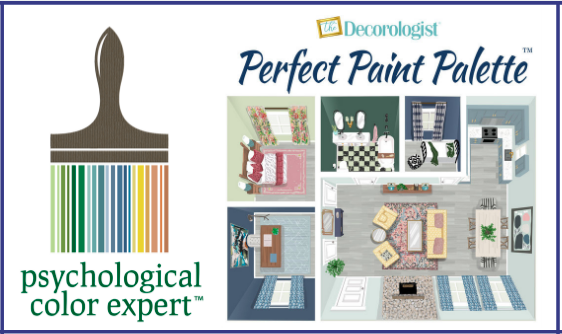 Note: this post contains some affiliate links in order to help you find similar items in my design.