| | |
| --- | --- |
| | This is a picture of how my bedroom looked when we moved into this house 8 years ago.  Dark green walls, very bad floral border, ceiling fan.  Oh my.  The first thing we had to do was strip down that border, which was apparently put up with superglue.  |
| | |
| --- | --- |
| We had an extremely difficult time removing it, and finally had to sand down the remains of it and do a skimcoat of drywall compound to even it out.  Whew! | |
  The next thing I had to do was decide on my color.  I picked out beautiful shade of lavender with blue undertones.  Then I took 2 parts that color and mixed it with 1 part white, resulting in the ceiling color. 
| | |
| --- | --- |
| | I used my existing furniture and lots of vintage and antique accessories.  My color scheme was lavender, green, and pink.  Kinda like my own preteen dream bedroom. I am publicly admitting that my bedroom looked both childish and old-lady for a very long time 🙁  For the sake of my husband, this pink chenille bedspread didn't last long.  I soon replaced it with a white chenille one.  Needless to say, it still wasn't very sophisticated! |
I recently decided I needed a style update in there.  It didn't feel cohesive, and it didn't feel sophisticated.  The problem was, I still really loved the existing color on the walls.  Sometimes a new color is exactly what you need to kick-start a makeover.  But what do you do when you want to keep the color and existing furniture?  I needed some inspiration.  I had recently advised 2 different clients to try to veer away from the grapey-Disney princess purples in their little girls' rooms and go for a more sophisticated European princess-look with gilt mirrors and crystal chandeliers.  Maybe that's what I needed, in a more grown-up form! 
| | |
| --- | --- |
| I changed my color tactics – rather than going with my previous triad of colors,  I decided on a more tone-on-tone, serenity-now scheme.  Gray is definitely an on-trend color right now, and I love the Gustavian style (go ahead, google it).  I took all the tchotchkes and wall art out and started with a clean palette of lavender.  I found bedding on clearance at TJ Maxx that looked completely gray under store lighting.  In my own room, it totally took on the color of the walls.   I then staged the bed (I have special training in this :)) in a grand way.  I already had a lavender upholstered bench that sat in my downstairs hallway, so I moved it to the end of the bed.  Symmetry=serenity, so I placed identical lamps on either side of the bed.  I stacked 2 white and lavender plates directly above each of  the lamps to continue the symmetry and calmness.  I switched out my smaller crystal chandelier with my old dining room chandelier.  The size and formality took this room up a notch.  | |
I also brought in a cool old dresser mirror (previously hanging in the enclosed sleeping porch) and hung it lengthwise to use as a dressing mirror.   Then I plopped an asian-inspired pillow on the existing blue-lavender chair, and I was finished!  The new version of my room is much more elegant, grown-up, and seductive.  A romantic Gustavian dream.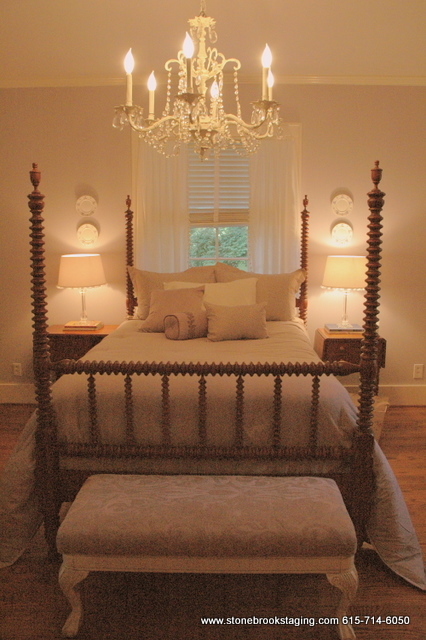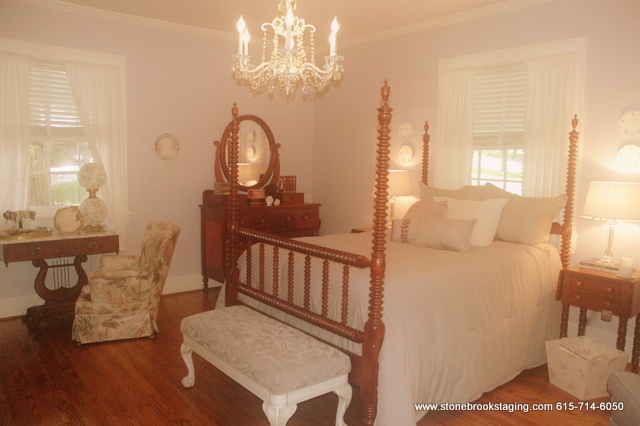 | | |
| --- | --- |
| Moral of the story:  Sometimes you don't have to paint a room a new color to make a significant change.  Maybe you change the colors you are using with that wall color.  Maybe you take more things out rather than putting more things in.  Maybe you change the style or feel of the room by changing out or simplifying accessories and fabrics.  Maybe you just need to find your inspiration! | |
.
Share this Post