There is simply no reason you must live perpetually with a dated wood kitchen if you don't want to. Or live in a dark, wood-paneled den just because your home contains one.  And, no, you don't have to rip the wood paneling out.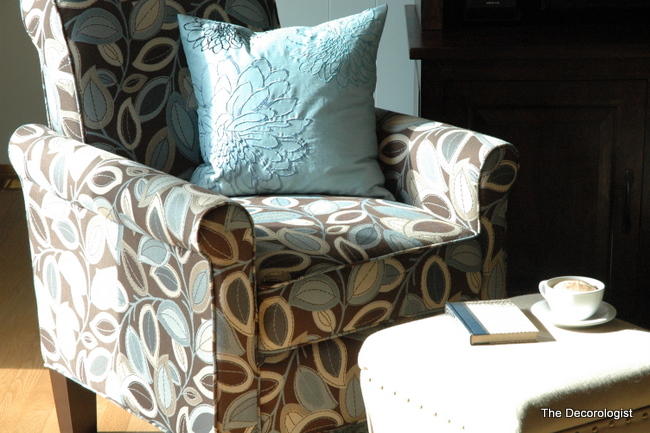 Pull Up a Comfy Chair and Read This Post
You need to lighten up your life by painting wood paneling in your home. I know, I know:  your husband says "No way, Jose!" Men have lots of reasons for leaving wood in its natural state as I expounded upon in my post, "Why Men Fear Painting Wood."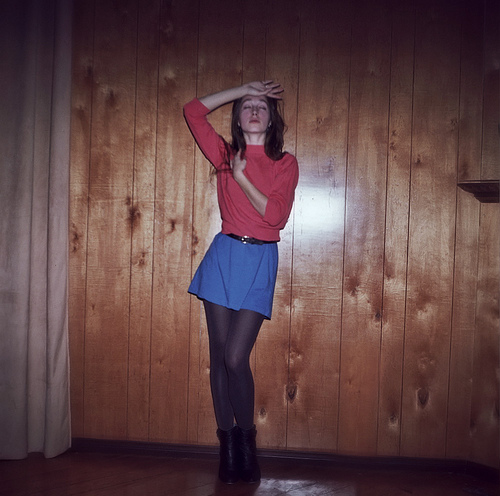 Men Think Wood Paneling is Sexy, But It's Not
My clients spent 16 years with dark, dated wood cabinets and wood paneling in their kitchen and adjoining den. Because their Nashville home is a 1970's ranch, they honestly believed that they had no other choice but to live in that era as long as they lived in that home. Not true!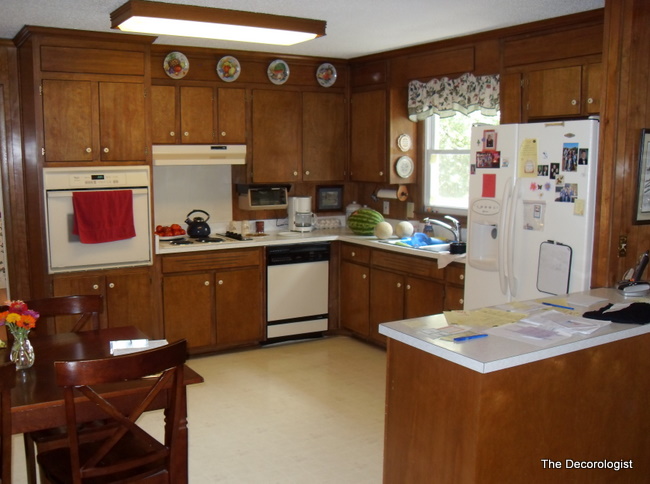 Before of Kitchen with Dated Wood Cabinetry
Honestly, it took a bit of convincing to reassure my clients that painting wood paneling would work and not result in a half-baked result. They thought they needed to rip out all their cabinetry and start over, which would have been prohibitively expensive. They were paralyzed by fear and lack of vision. Once I gained their trust, we began moving forward towards an amazing outcome. The proof is in the photos. Get ready for the transformation . . .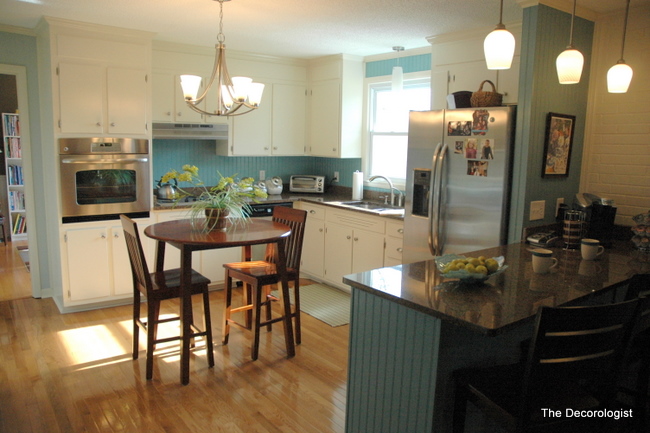 After – Same Cabinets, Painted White
Note how the peninsula was really narrow and not terribly functional – that was about to change.  Here's another angle of the "before" condition of the kitchen: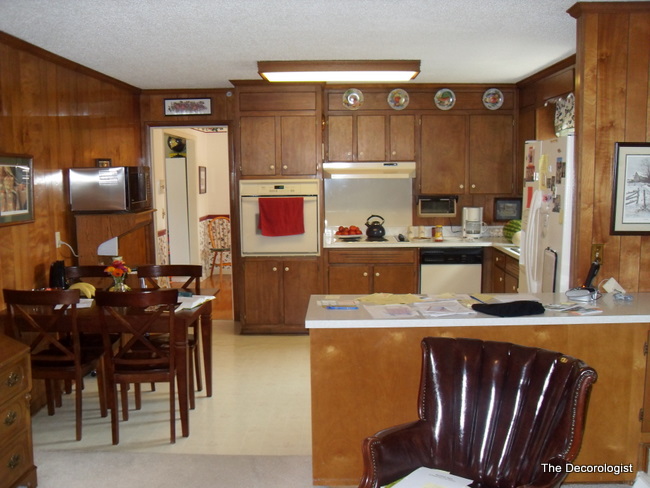 Kitchen Before Design Intervention
Granite countertops, stainless steel appliances, and updated lighting helped bring the kitchen into the 21st century, but the paint updates really make the biggest impact. The hutch you see to the left is great additional storage for a kitchen with no pantry. It was previously in the dining room, but I encouraged my clients to paint the dated oak piece white and move it into the kitchen. Notice the expanded coffee bar area with seating – the existing peninsula with an extended countertop created a new space for seating.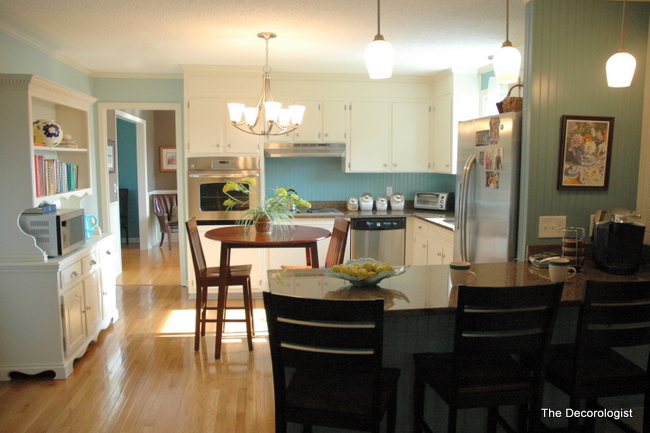 Light and Bright Kitchen After Design Intervention
Shall we turn around and look at the "before" of the adjoining den? Definitely dated and underutilized: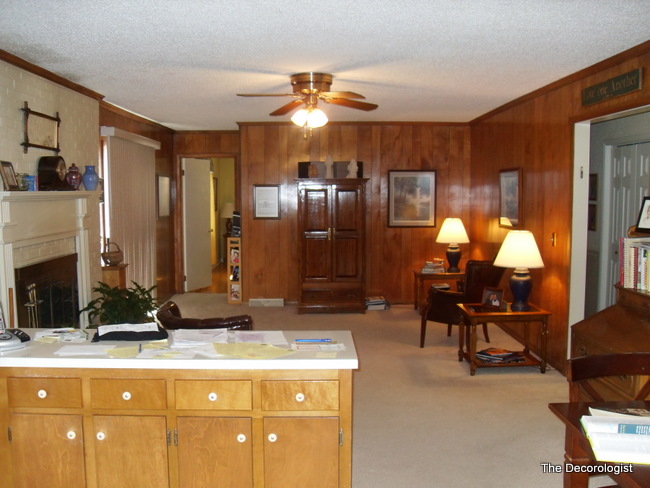 Wood Paneling Before
Painting wood paneling will change your life!  The paneling remains, but Benjamin Moore's Woodlawn Blue transforms the look and feel of the space.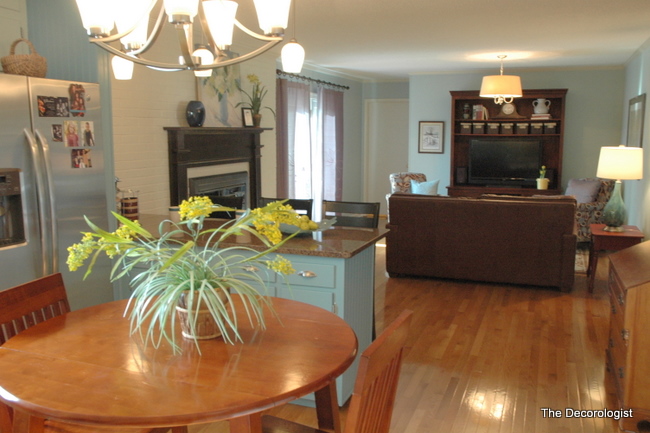 Painted Wood Paneling
Closer in now, another "before" shot of the adjoining den: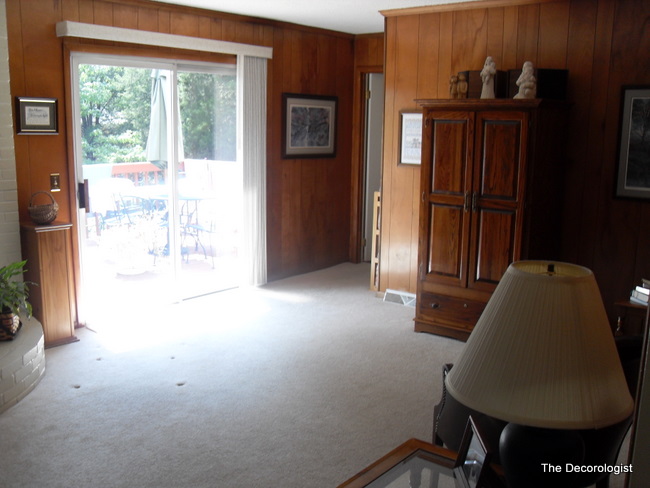 Den and Wood Paneling Before
The addition of black accents including the painted fireplace mantel, bar chairs, and drapery rod add sophistication and gravity to the airy and light room.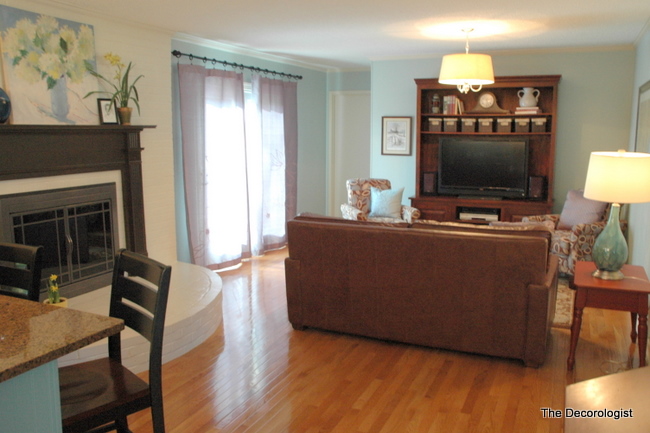 Den After
The before looks like circa 1974: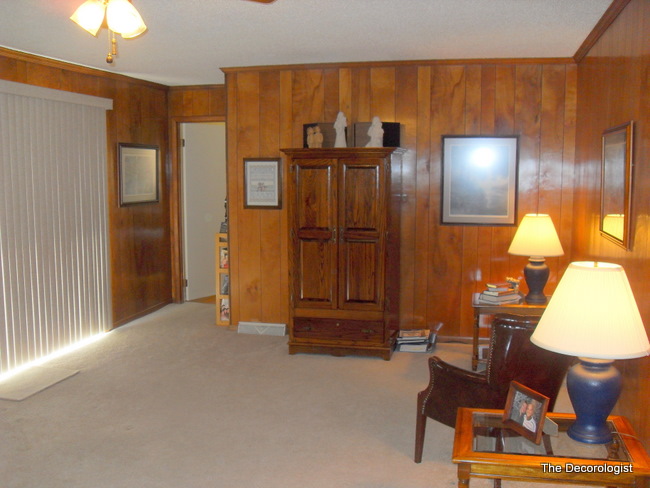 Wood Paneling Before
Dark days are over, now everything's light and bright!  New furnishings and updated lighting make the den a family-friendly place to gather and watch television.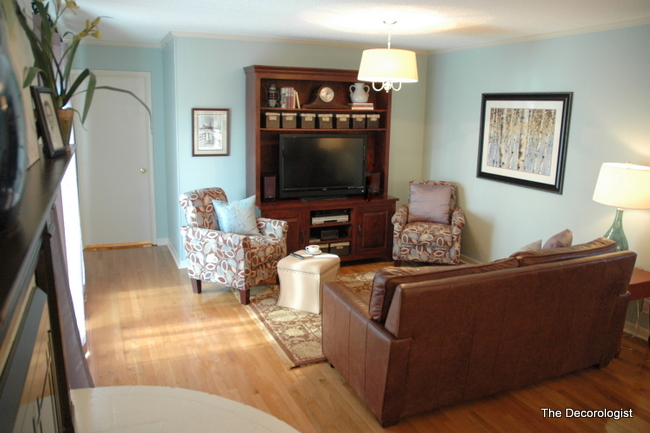 Beautiful New Den
As an interior decorator my job was to cast the vision, specify the right colors, and provide expert shopping within their budget. These homeowners did most of the work in this lovely transformation themselves: painting, installing new hardwood floors, and installing the new beadboard backsplash. Their hands-on involvement resulted in a beautiful home that they can feel happy and proud to spend the next 16+ years in.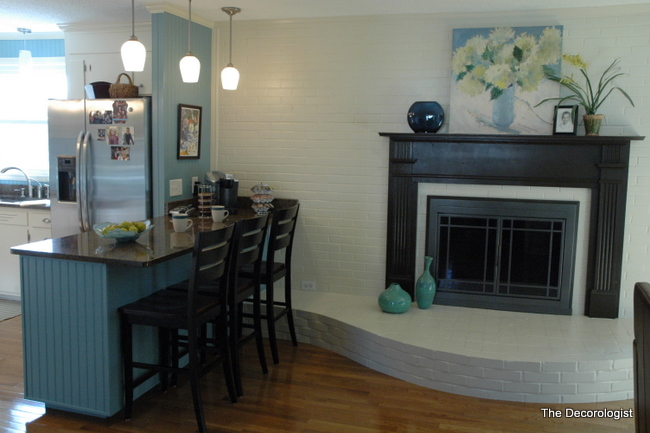 Expanded Counter and  Painted Beadboard Paneling
Really, do you need any better proof that you should paint your dated wood paneling?