Most of us have seen those painted chalkboard and magnetic walls and thought, "maybe I should do that!"  Well, here's the lowdown on what works, what doesn't, and how to get the effect you really want.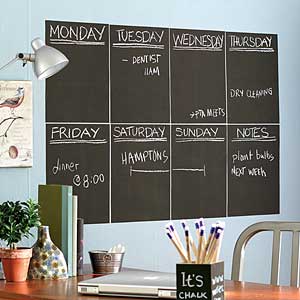 get this peel and stick chalkboard here
The claim:  chalkboard paint can easily create a message board or art display in practically any room.  The truth:  it really can, but you don't need to use a specific chalkboard paint that may come in a limited palette of colors.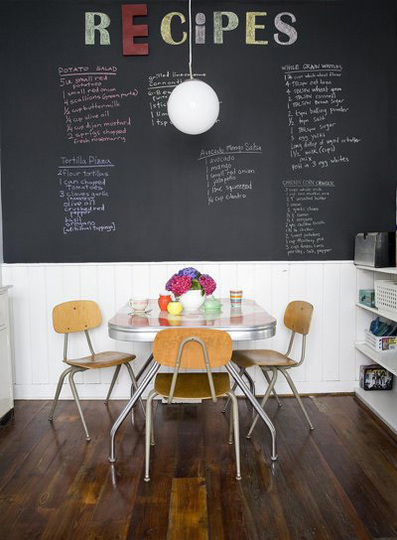 Here's the secret formula:  for each cup of regular paint in any color, add in 2 tablespoons of unsanded tile grout and stir to break up clumps.  Apply paint with a roller or sponge paintbrush, and use multiple coats for even coverage.  After it dries, sand lightly with 150 grit sandpaper and wipe off dust.  Rub the side of a piece of chalk over the entire thing, then wipe away chalk with a barely damp sponge.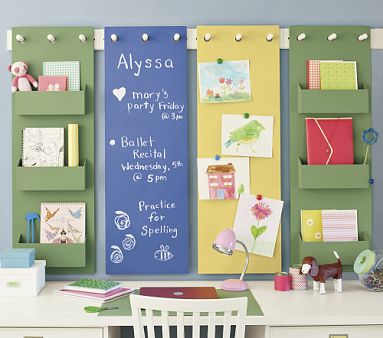 Pottery Barn
The claim:  magnetic paint can transform a wall into a spot to display anything you want to display with magnets.  The truth:  it just doesn't work well.  A couple of years ago, one of my design clients wanted to create a magnetic area for her daughter to display her art and school work.  After 3+ coats of magnetic paint, the area still was not magnetic enough to hold most magnets, much less a magnet holding a piece of paper!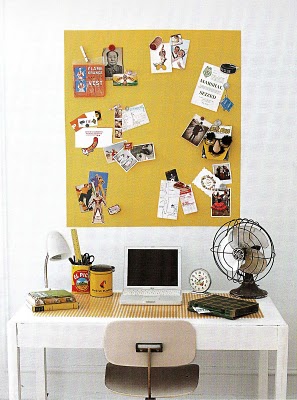 Have you seen those tiny super-strong magnets?  They work pretty well, but those are kind of scary for kids to use (easily swallowed).  Don't know if you saw the Grey's Anatomy episode about the kid who ingested a handful of magnets, but it was NOT pretty.  Anywho, my client ended up being able to use those very light word magnets found in those magnetic poetry kits – her daughter creates sentences and poems on the wall, but is unable to hang anything on it.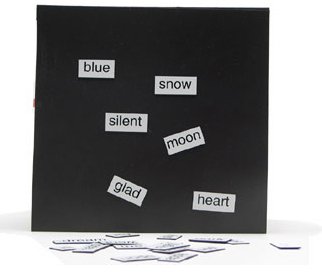 Here's how they arranged the magnetic words in the form of a Christmas tree last year: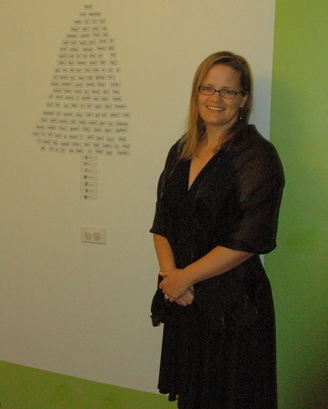 Photo by The Decorologist
So, forget the magnetic paint.  If you want a magnetic space that actually works – go to the hardware store and purchase a large sheet of galvanized steel (make sure it's magnetic before you buy it).   You can even use a metal backsplash for a stove (just don't get a stainless steel one).  Then you can paint it any color you like – painting won't impact the magnetism.  Attach a hanger on the back and mount it on your wall.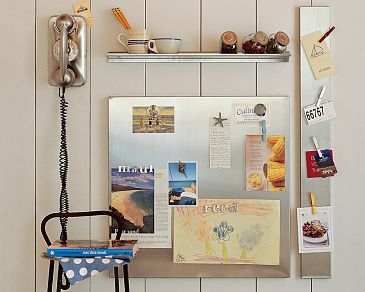 So now you know the good, the bad, and the truth about chalkboard and magnetic paint.  If you've had experience using either, please share! If you want to become an expert in all things paint colors, find out more about our ONLINE paint color certification course here!