| | |
| --- | --- |
| I wanted to share the cool home of Lizzy Carnie, a designer with EuroTrash.  EuroTrash in the brainchild of my best friend, Annie Brahler.  Ok, Annie doesn't know I exist, but I think she's divine!   Her home is my favorite house ever (to see why, check it out here).  Anywho, Lizzy is a cutie-pie with a very hip 1,000 square foot home recently featured in Country Living. | |
| | |
| --- | --- |
| | This little kitchen is fabulous.  I love that she has the guts to hang an over-the-top Belgium crystal chandelier over that rough hewn island.  Her walls are Benjamin Moore's Amherst Gray, which work beautifully in this kitchen.  Punches of color like the turquoise refrigerator and pink flowers keep it from feeling somber.  Ooh, I gotta get me one of those peacocks! |
| | |
| --- | --- |
| Lizzie doesn't have space for a dining room, so IT"S IN THE BASEMENT.  Genius, I tell you.  Think outside the box, people! | |
This is my least favorite room in her house (sorry, Lizzie) because she could really use some pattern or color besides pink or brown.  But whatever floats her boat – it's her house and she gets to decide what she loves!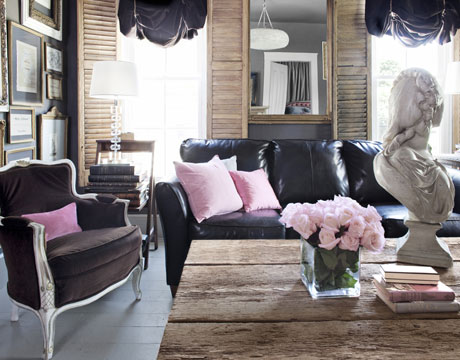 | | |
| --- | --- |
| | Lizzie loves pink, and she shows it off in her glamorous bedroom.  I saw a cream version of that duvet at Anthropologie the other day. |
Lizzie's home has two bedrooms, but she really needed a big closet.  So, guess what?  She has a one-bedroom house with the most awesome walk-in closet ever!  Notice how she wrapped the walls and ceiling in gray?  And she painted that British flag on an old outdoor rug she had!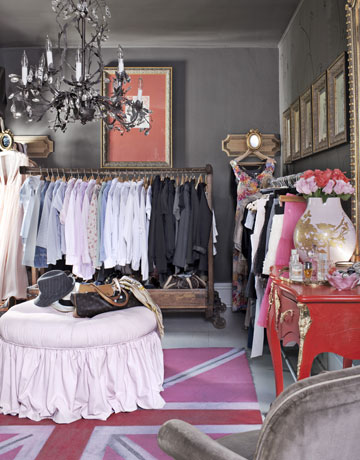 Take a lesson from Lizzie.  Decorate how you love, whatever that means for you.  Think outside the box, do your own thing.  Don't need that extra bedroom, dining room, den?  Make it into a room you'll actually use and enjoy.   Mix – don't match!  Create a one-of-a-kind space you will love coming home to.   That's what decorating is (or should be) all about.
Photo Credits:  Country Living.