The day I've dreaded for the last six months (I'll be honest, maybe more like 18 years) finally arrived:  the day my firstborn moved out of her childhood bedroom and into a college dorm room. All you mommas – you know what I mean, right?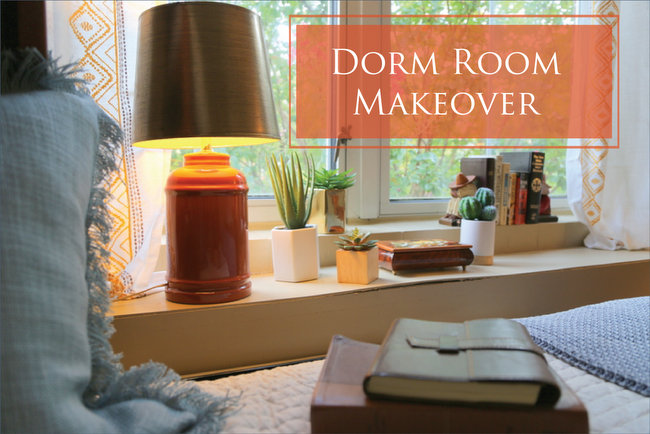 Audrey and her new roommate ended up with the smallest, wonkiest room in the entire dorm – and I'm not just saying that. The good news is that they really like each other!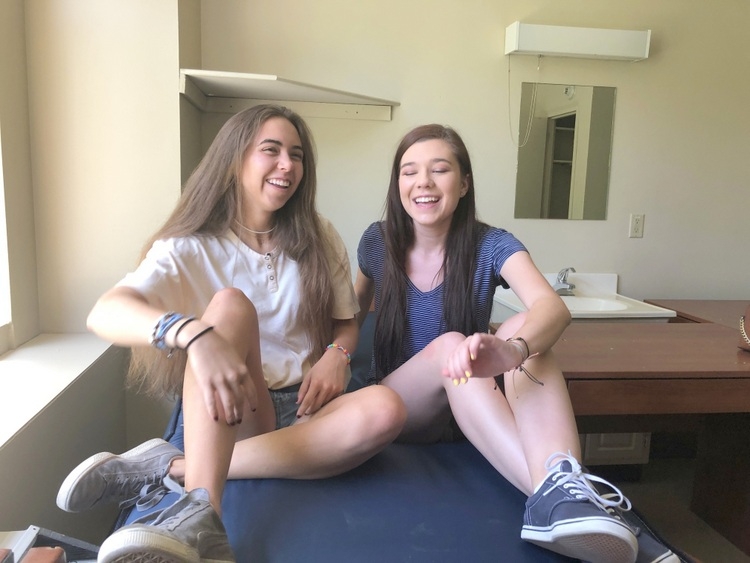 That doesn't surprise me, because her roommate's mother, Allison, was one of my best friends in college and worked as my office manager for four years! It was fun being able to share this experience with Allison and shop together for the dorm room makeover.
This was the dorm room in its "before" state: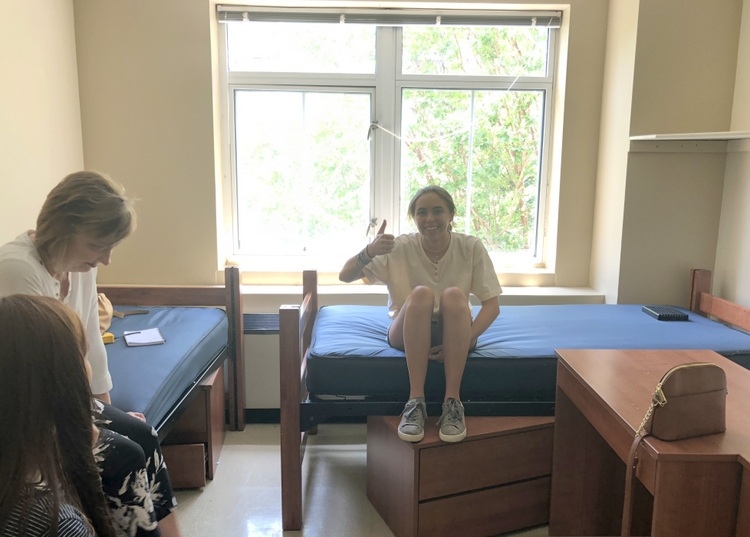 before
Unlike when I was in undergraduate, they aren't allowed to paint the walls.  So, we were stuck with BUILDER BEIGE.  The girls would have rather had a gray wall color, but I knew it was important to embrace what couldn't be changed and stay in the beige lane. Our goal was to help them make this small space their own, and for these girls that means warm, cozy, orderly, a little bohemian, and in my daughter's words: "not too extra."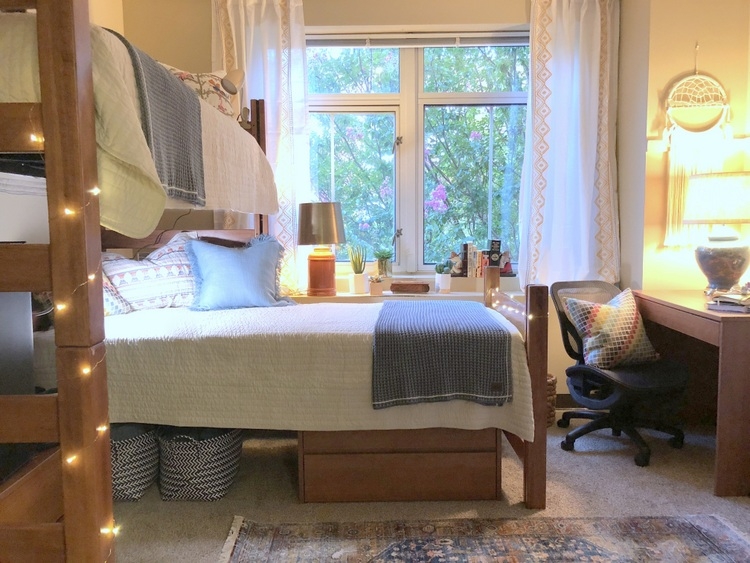 after dorm room makeover 
If you don't have a teenager, you may not know the latest definition of the word "extra," but I'll fill you in. If someone calls you "extra," you're either trying too hard or being over the top. So there you go!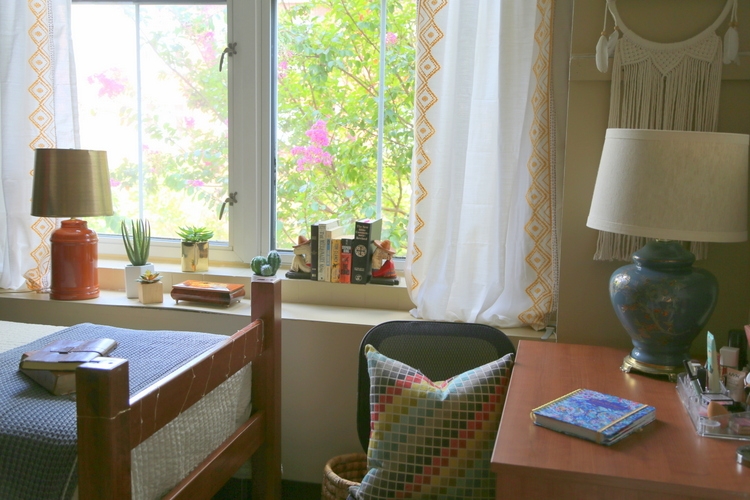 There literally wasn't room to fit all the college-included furnishings – if you ever wanted to open the closet, that is. We had to remove one of the desks to make it work at all. But hey, they'll probably be doing their homework in their beds anyway!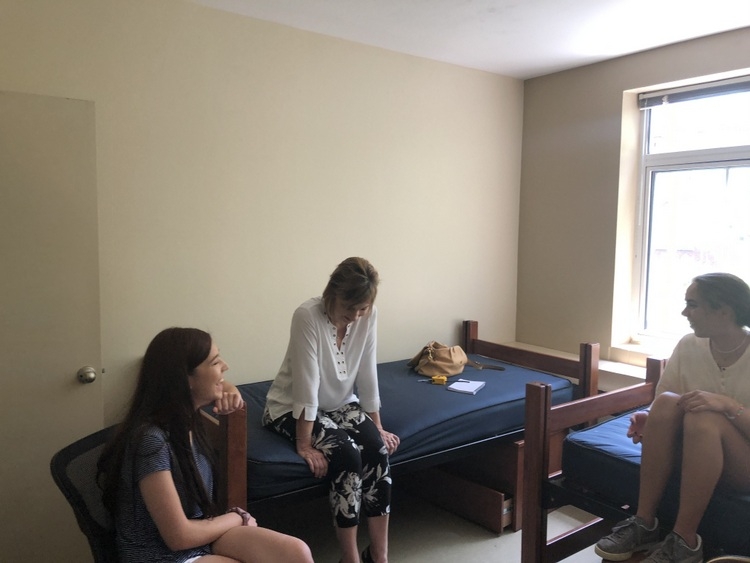 before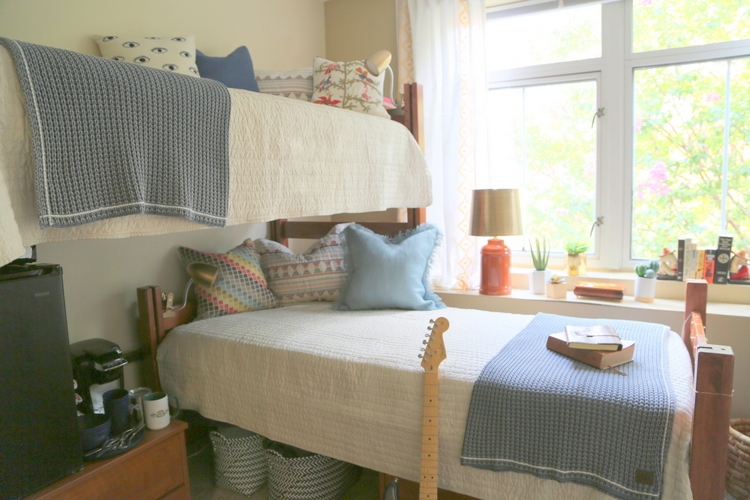 similar blue throw blanket here
A little vintage 1970s, like the Asian lamp base and leopard print are some of the pieces that they liked because they are not what you'd find at HomeGoods. But the throw-back macrame dreamcatcher is a new piece from HomeGoods (oh, the irony)!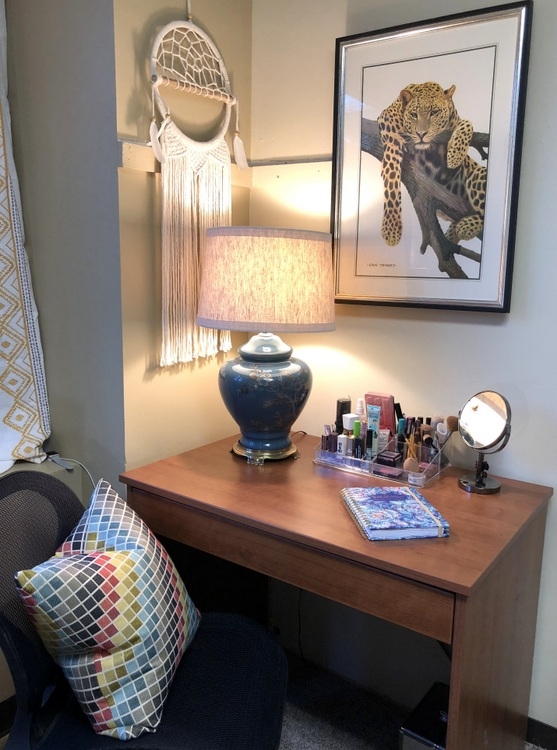 macrame dreamcatchers here
The bumpout under the window houses ductwork for heat and air, but also serves as a ledge to place a lamp and personal items to cozy things up.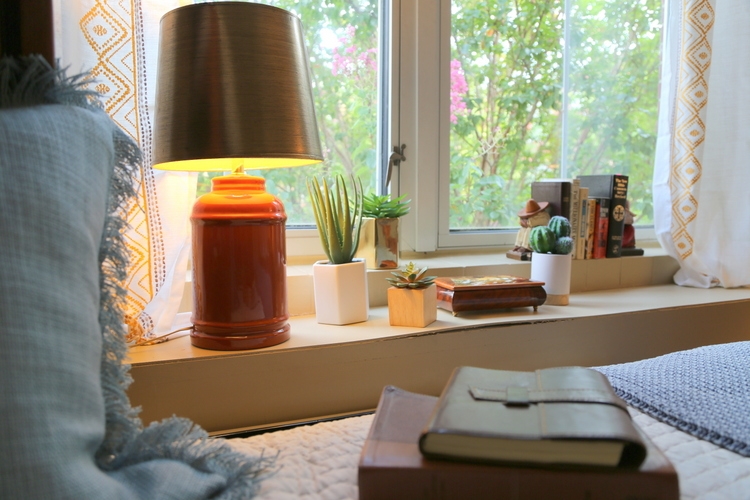 similar faux succulents here
My daughter loves the vintage bookends that were in my home office, so I let her take them.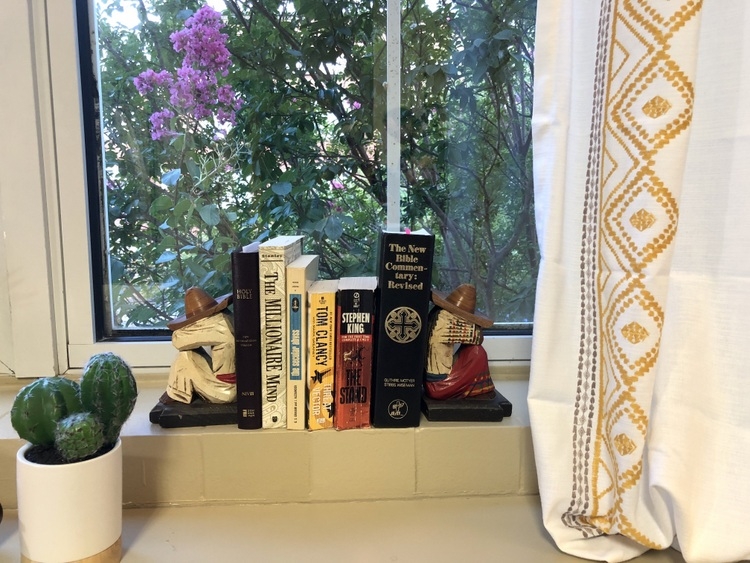 A while back, Audrey bought a bunch of vintage postcards from an estate sale that she pinned around the mirror on her bedroom door at home. She brought half of them with her and pinned them on her new door. It'll feel like a little bit of home when she gets ready in the morning.
The lovely crepe myrtle in front of their window is the best thing about the room, allowing plenty of light in the room while maintaining privacy.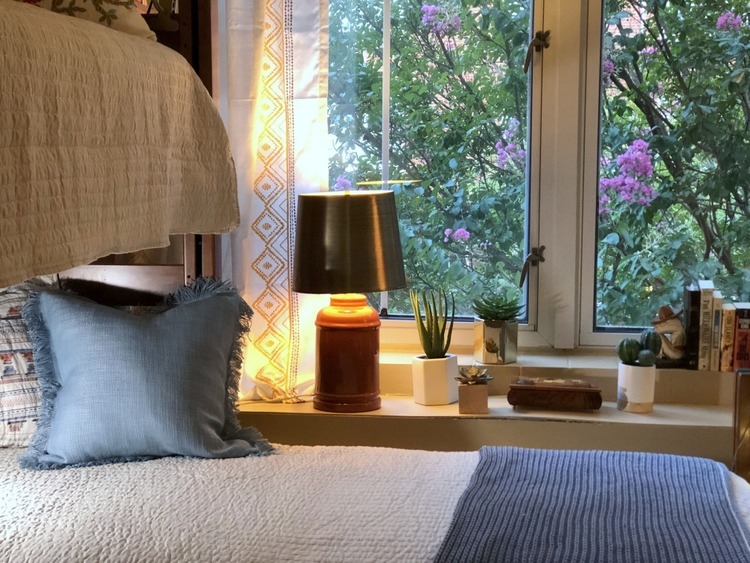 I hope you liked Audrey's dorm room makeover. She's well-equipped and ready to take on this next chapter of her life, but I'm not sure I am!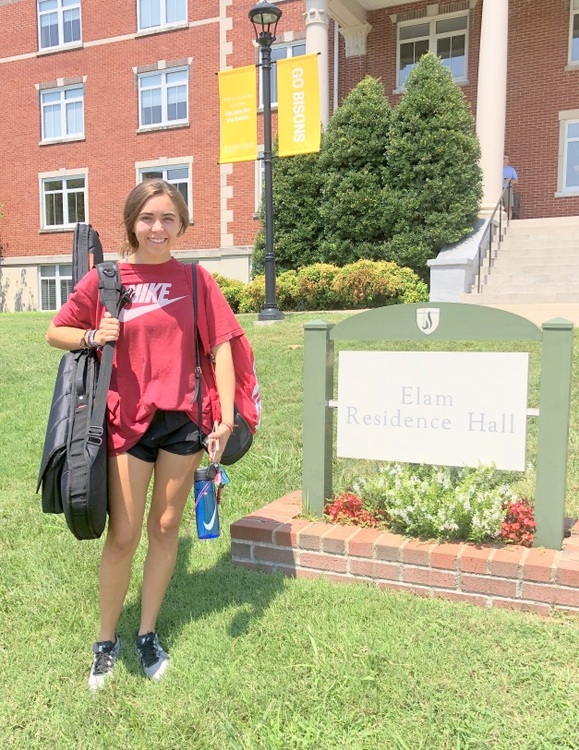 Many women talk about how difficult this transition is, but no one really talks about ways that help you get through it!  I'm feeling all the feels of pride and loss, and crying more tears than I'd like to for both reasons. I'm excited for her and want her to move forward in creating a life for herself, but nothing will ever feel quite as good to me as her living under the same roof.
So I'm just putting one foot in front of each other and putting my faith in God's plans for her and for me.
I will say that it helped me a lot to be a part of helping her make her nest in this new place. It helps to be able to envision her in the new room where she'll spend much of her time. Apart from me, but always a part of me.
For all you mommas who have gotten through to the other side of watching your child go out into the world, please give the rest of us some hope that it's gonna be ok!
On a happier note, I found out we were nominated for a 2018 Amara Blog Award for Best Colour Inspiration! I've been writing this blog for over 9 years now (wow, that's hard to believe!) and it would mean a lot to me if you took a minute to vote for the blog here (one vote per person). Thank you so much!