I'm so excited to share this Grand Millennial bathroom design that I worked on with one of my favorite clients! This isn't a run-of-the-mill bathroom design you see every day. My client plans on living in this home for years to come and wanted to a completely unique and luxurious bathroom that suits her personal taste and style. She enlisted me to help her create an elegant design, pulling together modern elements with an Art Deco style.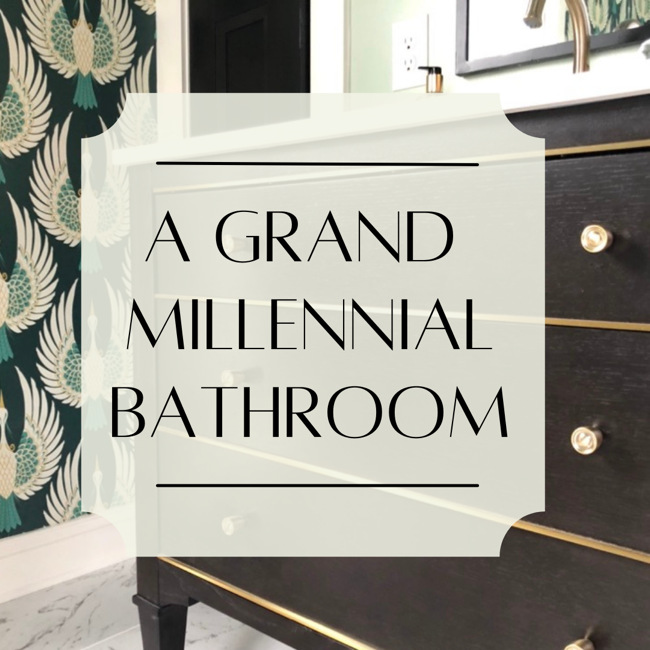 When she decided to convert her den (previously a garage) into a new master bedroom, the trick was figuring out how to get a generous-sized new bathroom into the existing floor plan. And since the open concept kitchen/living area already included an ample breakfast room area, she asked if I thought we could transform the rarely-used formal dining room into a new bathroom. Since it was adjacent to the den (soon-to-be new master bedroom), I said WHY NOT???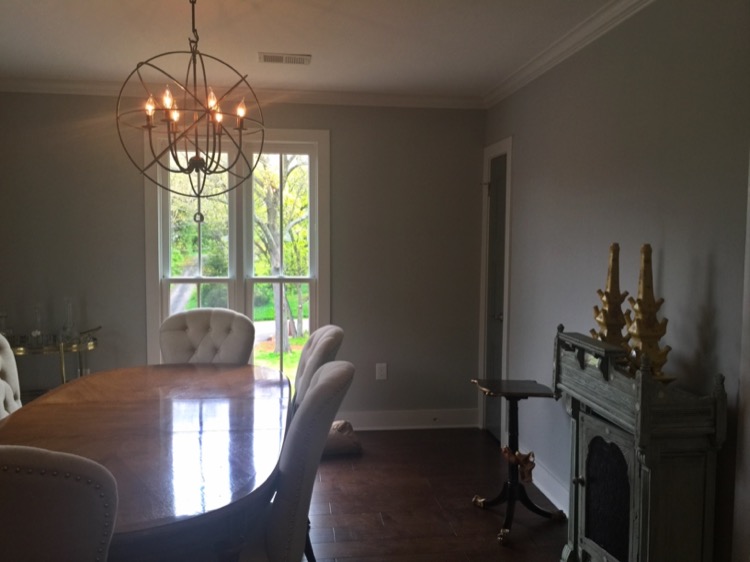 dining room in 2015, before design/color intervention
The design projects I've worked on in her home over the last seven years include a completely new paint color palette, a sunroom addition, new furnishings for several rooms, updated lighting, and draperies. Here's a glimpse of the paint colors we chose for the dining room several years back: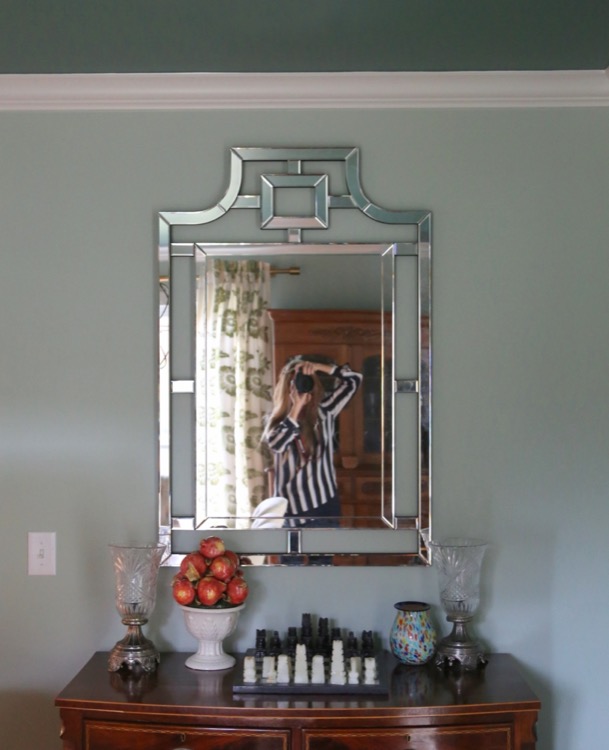 dining room colors from several years ago
When my client asked if we could keep the colors in the former dining room for the new bathroom (because they are STILL so fabulous), I again said WHY NOT???  With these two green hues, I suggested the remaining finishes for the bathroom should be black, white, and gold. When we found a beautiful Art Deco crane motif wallpaper (I'll show you that shortly!), this bathroom was on a clear path to Grand Millennial dreaminess. This is a style my client fully embraced before it was trending! But the design was not without hiccups . . .
The bathroom floor tile we initially ordered had been discontinued (as so many things have been over the last year), so I found a great alternative in these low-maintenance porcelain tiles that look like marble: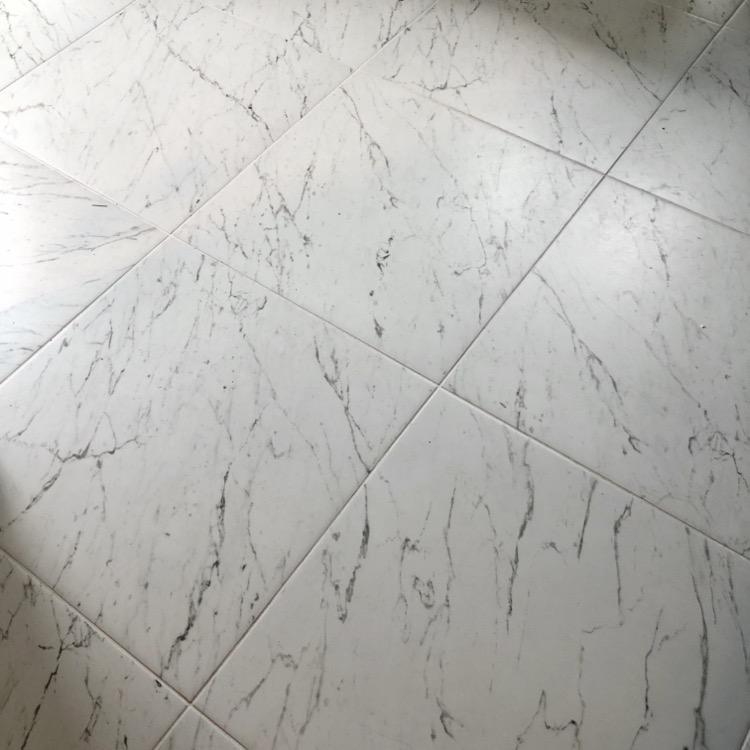 Some of the other design choices were on back order, so patience was definitely required. Trying to keep up with Nashville's rapid growth, local contractors and subs have had their hands more than full with new builds and remodels, so this project took longer than desired.
Here's a progress shot from a few months ago when the beautiful new black vanities were installed: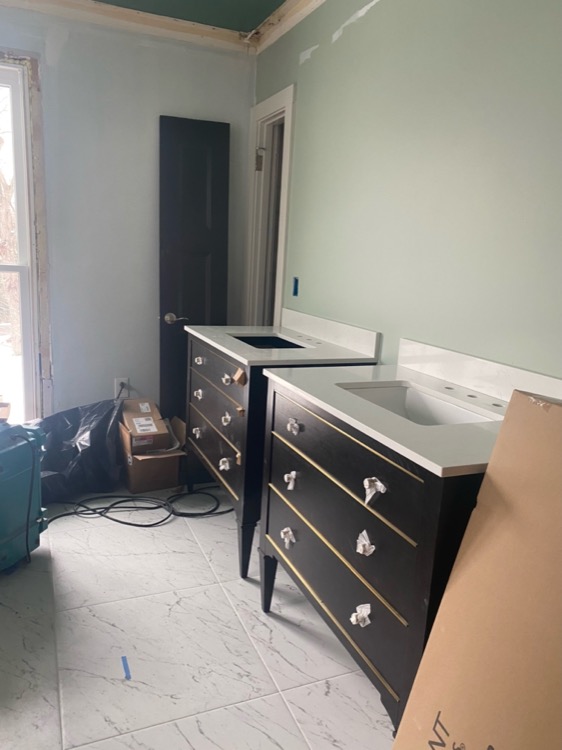 Although this new bathroom took nearly a year to finally be completed, I think it was well worth the wait. Are you ready to see this bold and beautiful Grand Millennial bathroom???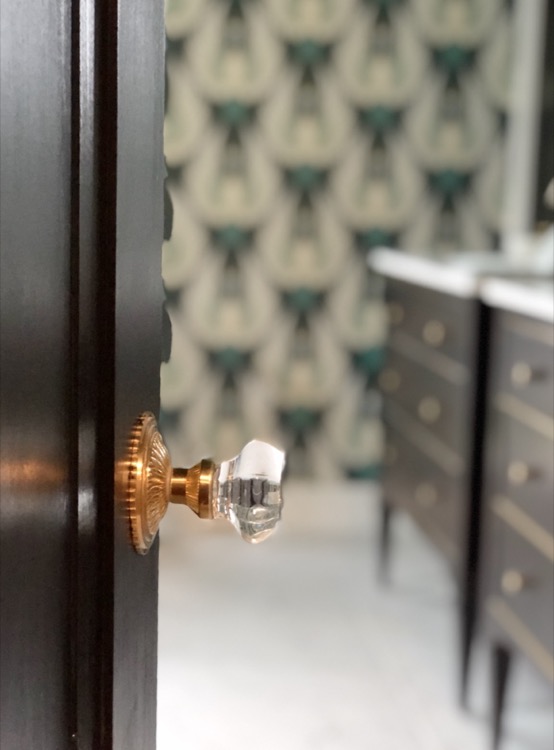 Come on in and see my client's dream bathroom. It's a one-of-a-kind bathroom design – it's hard to imagine that it used to be a dining room!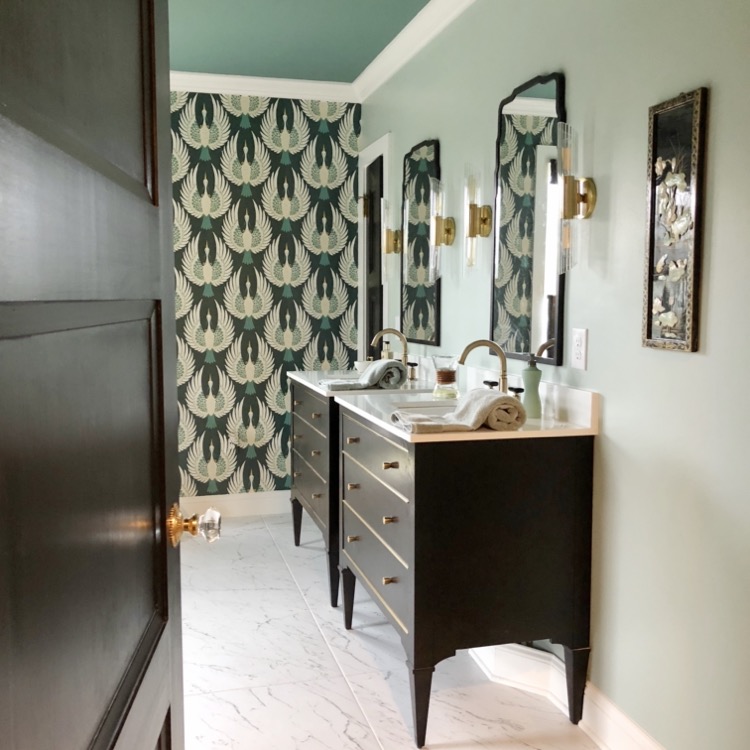 The lighting, the fixtures, the hardware – there's a lot to love in this space.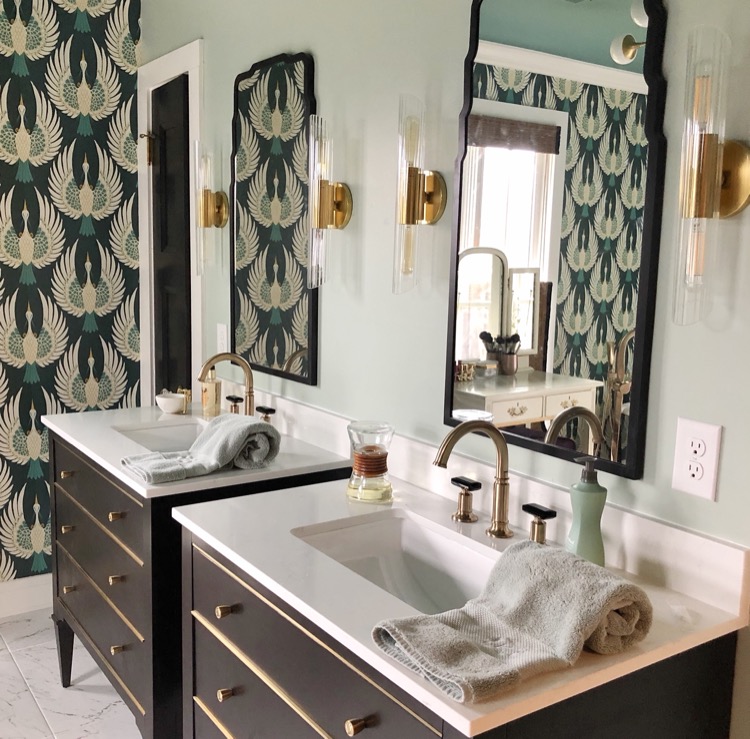 The black handles look like cut jewels against the Luxe Gold finish of the faucet: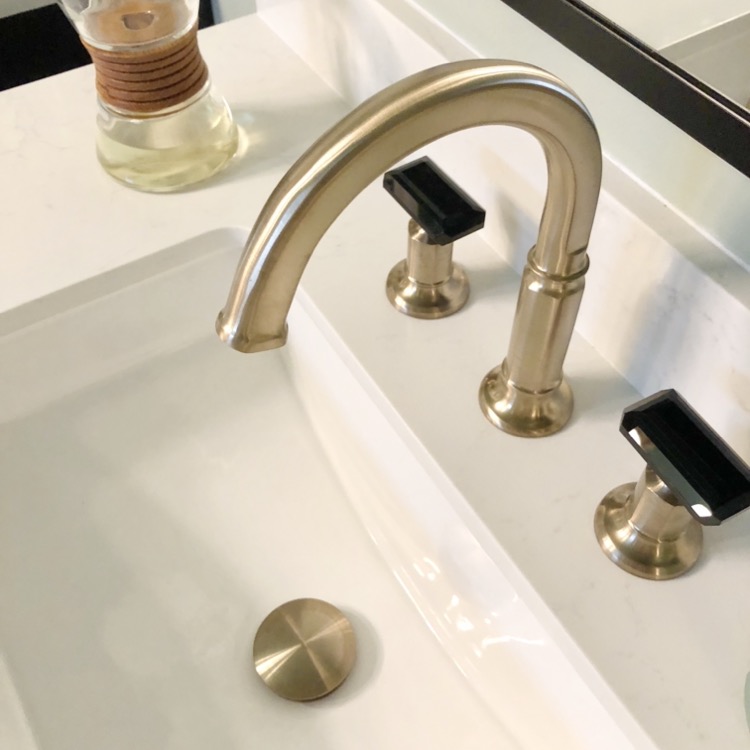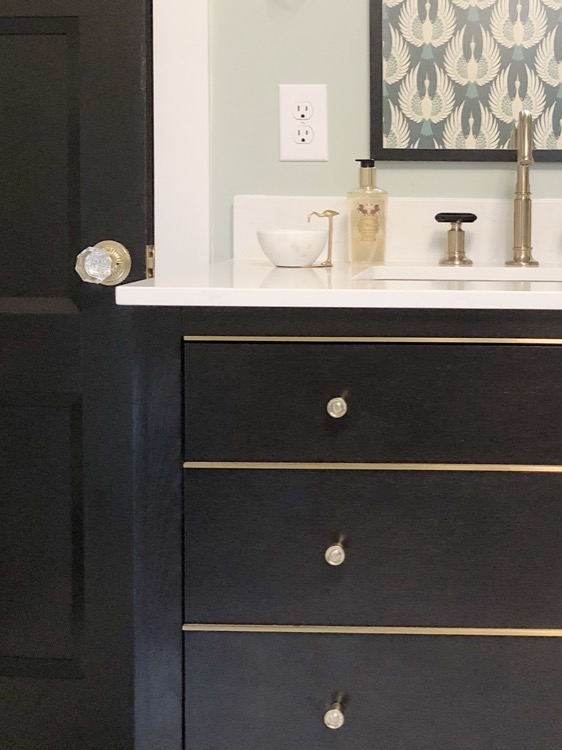 The furniture-style vanities provide lots of great storage.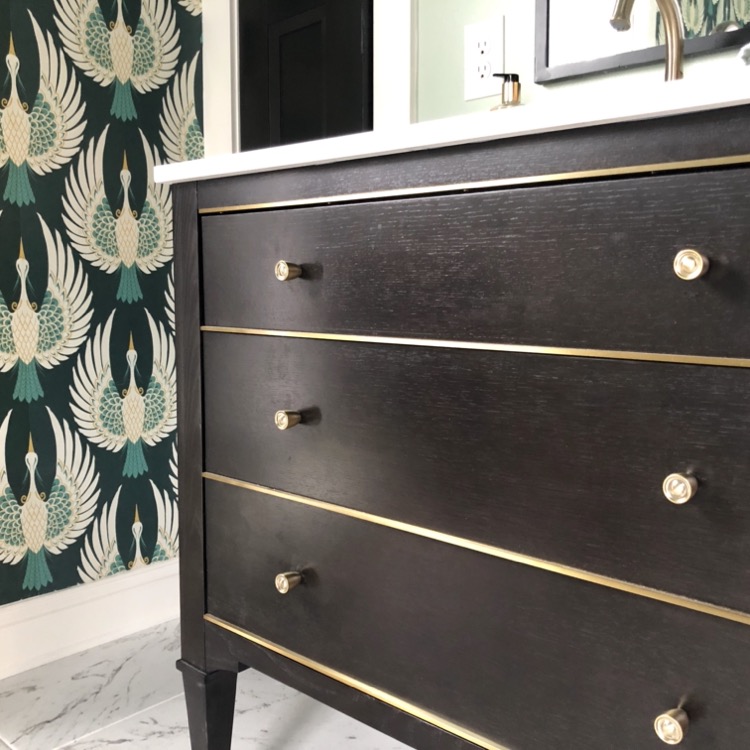 We were so happy to find this Art Deco light fixture at my favorite lighting source – it pairs perfectly with the crane wallpaper.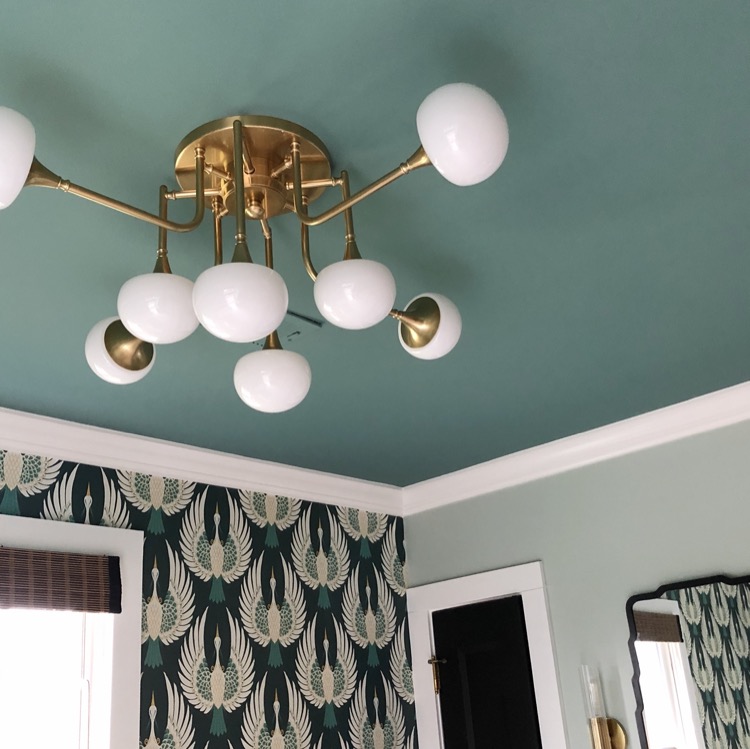 The wallpaper is on two walls of the new bathroom and Benjamin Moore Antique Jade coats the adjoining walls.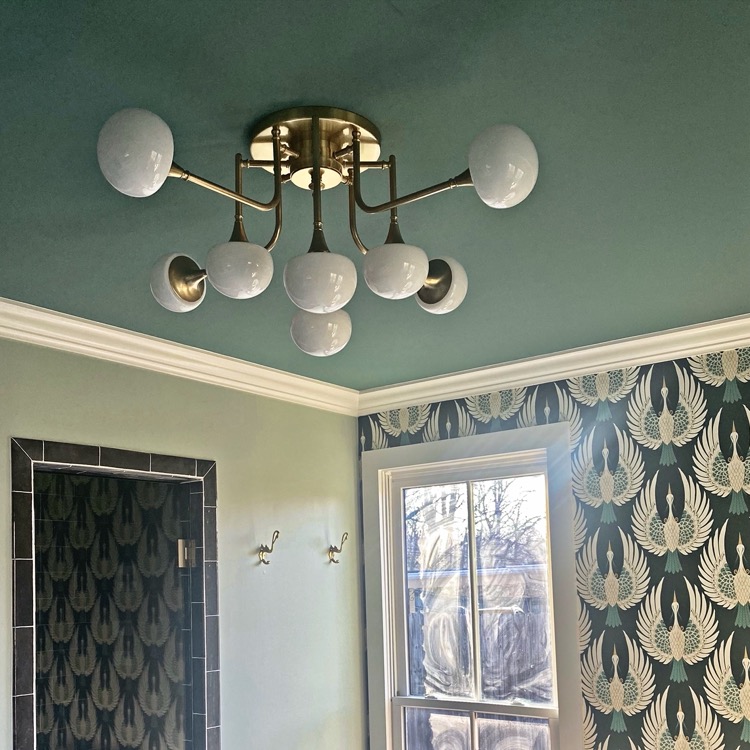 And then there's the STUNNING walk-in shower: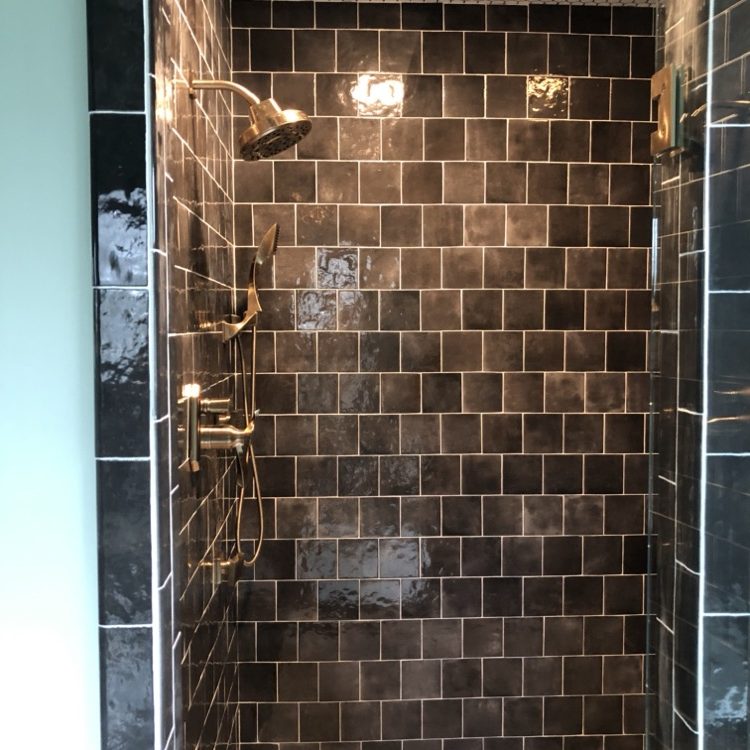 This nearly-black glazed tile is just so elegant and glamorous.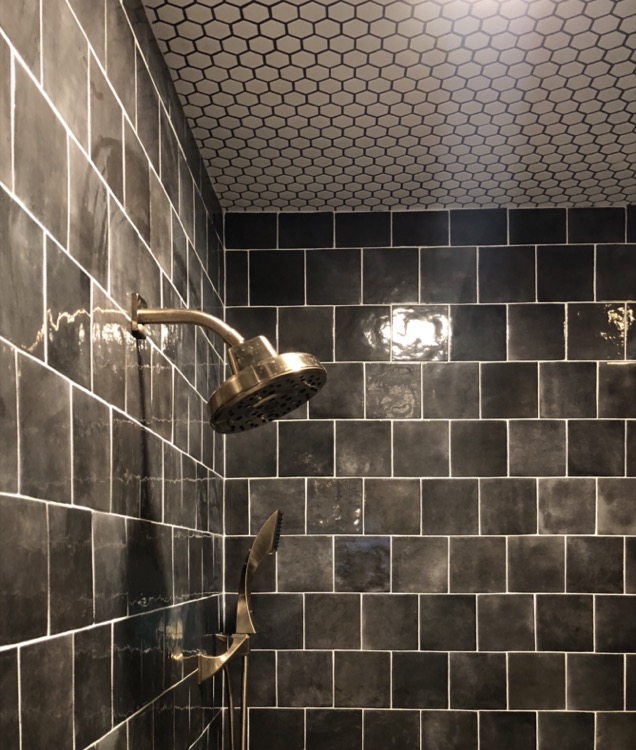 And of course, a gal needs a glamorous soaking tub!  We chose a black clawfoot tub and specified a gold finish for the feet: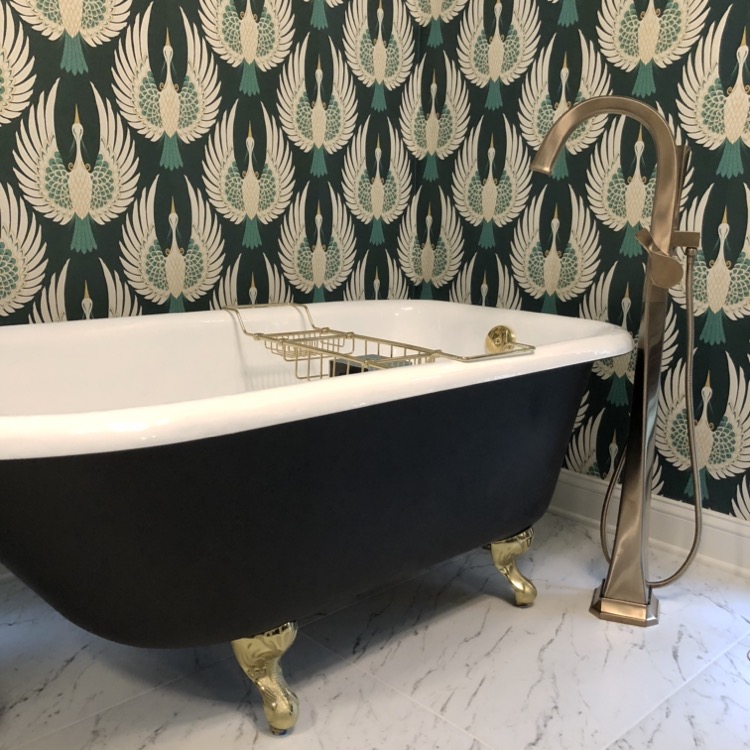 My client chose this intricate pull from House of Hardware for the water closet's pocket door: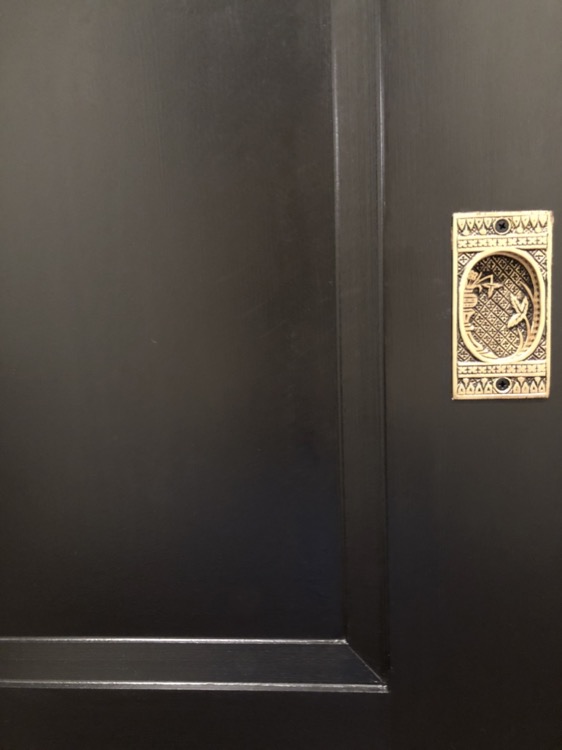 Just a few more details to finish up, then I'll get a professional photographer to capture the whole space!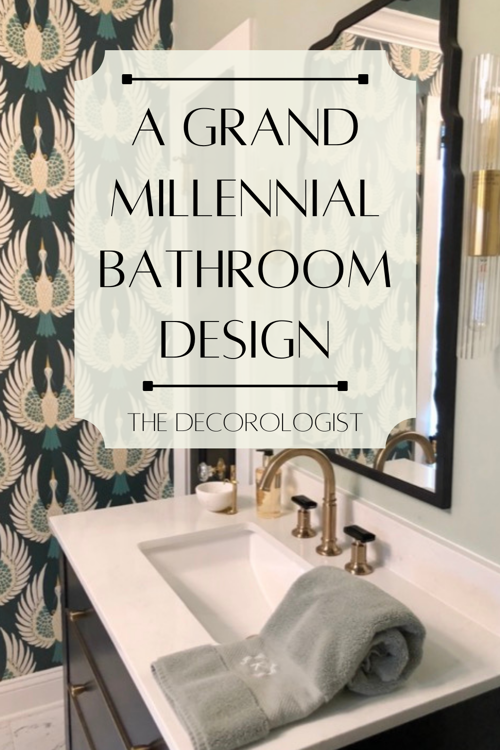 Pin This!
The new master bedroom is shaping up as well, but it's not quite camera ready. We are waiting on window treatments and a few more lamps. Here's a sneak peak of the new bedding: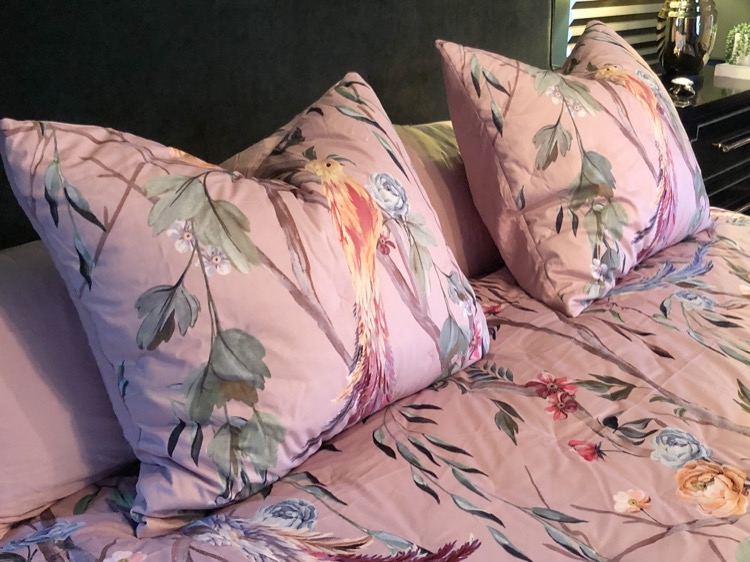 When the bedroom is finished, I'm definitely getting professional photography done for this project and will share that with you soon.
I'd love to hear what you think about this Grand Millennial bathroom in the comments below!