Last week I talked about getting rid of vintage furniture that you don't love anymore, namely my own antique spindle bed. Some of you may have believed that I shouldn't have parted with it. So, what can you do if you don't want to part with your antique bed, but it needs a facelift? Today I'm sharing one of the two things you can do to freshen up antique furniture.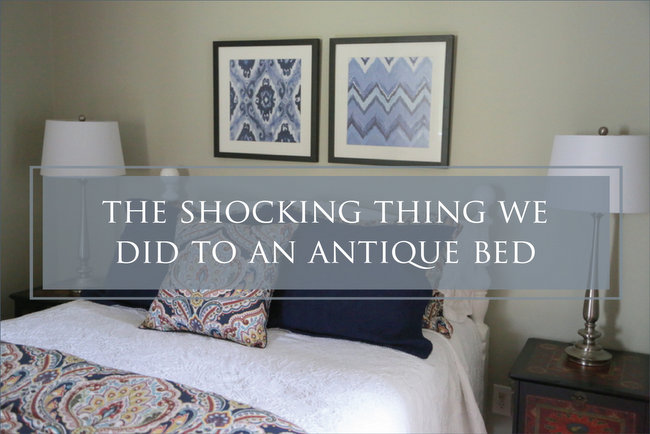 There are times when it might be best to paint your wood furniture, even if it's vintage or antique. I know it's shocking – your husband will probably think so, at least! But here's the deal: you aren't enjoying it if you don't like it in its current state, and you can bring an old piece new life with a couple inexpensive coats of paint. freshen up antique bedroom furniture.
This antique spindle bed has been in my client's family a long time. Although she likes the bed, it's dark color made it difficult to update the room which we recently remodeled (its bathroom was expanded and a closet was added). Plus, she has another bed almost identical to this one in another guest room! She wanted to know how to freshen up antique furniture without getting rid of it altogether.  Here's the room pre-construction: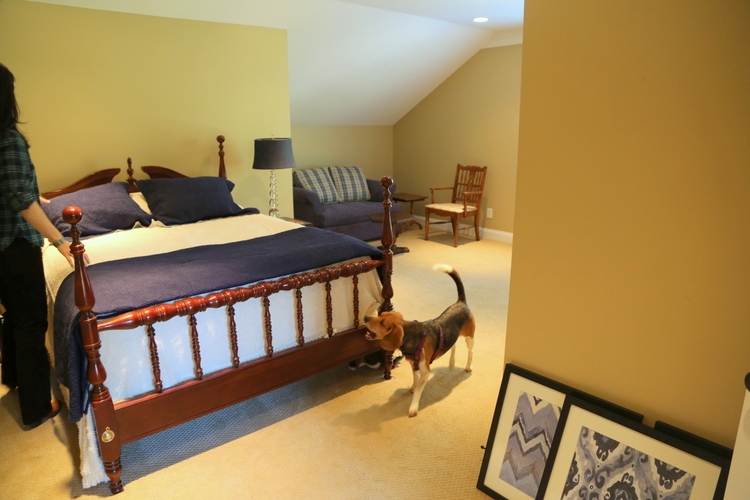 before
I recommended painting her bed in Porter Paint White Umber – it matches her newly added trim molding- and also suggested she paint the dark wood mirror and side chair in the same color. Don't be afraid to mix stained and painted furniture in a bedroom! You'll notice new hardwood was installed (to match the rest of the home), and we had the room painted a fresh light green and added new lighting and bedding, as well. The rest of the furniture was existing already in the home. Since we already had painters in the house, they were happy to prep, prime, and paint these three furniture pieces for my client.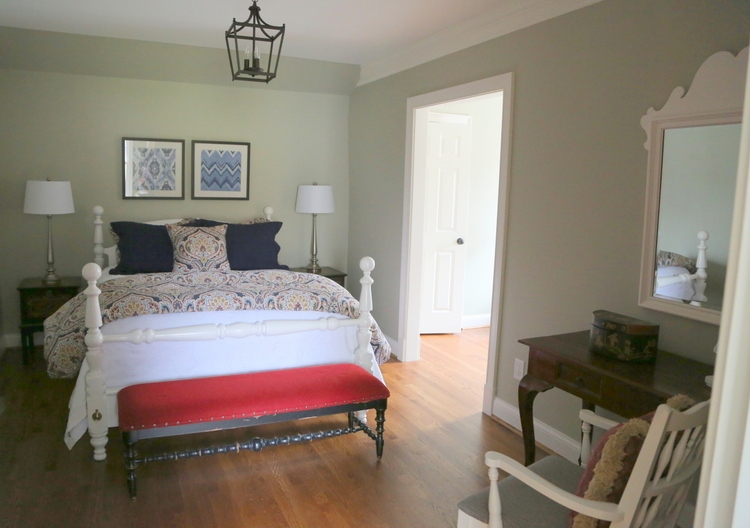 My client loves the way these pieces turned out – it's amazing how much the white paint brightened up the room and the shadows just disappeared. This is where her parents stay when they are in town to visit. Here's a close-up of the bed, and you can you se the sweet kitty in the reflection of the art above her bed. She's perched on the window in the neighboring hallway!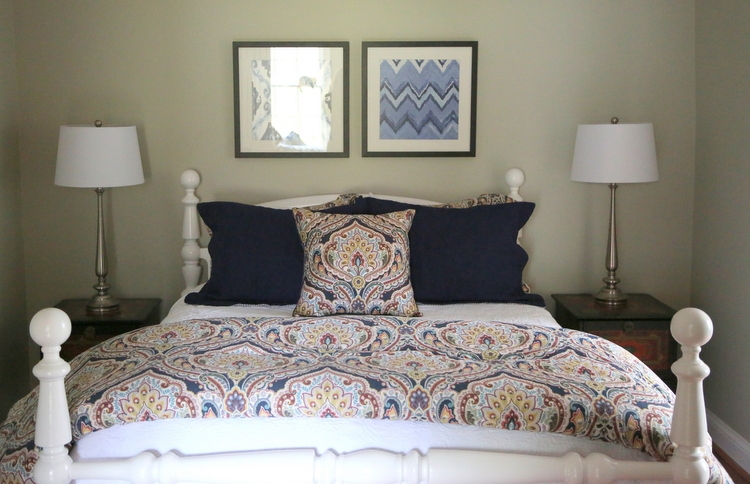 Here's a money-saving tip:  you can mix in new bedding with some of your old for a whole new look. We mixed in a patterned comforter, shams, and throw pillow with her existing coverlet and navy shams. Layers are good!
Now let me ask you: WOULD YOU or HAVE YOU ever painted a piece of antique furniture? Did you love it or regret it? And for you purists: next time on the blog I'll show you the other guest room and show you another way to freshen up antique furniture – without the use of paint.
Our next EPS™ course is fast approaching! Register now and live the life you've only dreamed of. You deserve to LOVE what you do for a living!