Most of you know I hosted a Front Door Friday – Spring Edition last week, where I spent a day choosing new paint colors for readers' front doors.  When I choose a front door color for a home, I take into account a number of things:  the color of the brick or siding, the trim color, the roof color, and even the plantings and landscaping. This is the home submitted by one of my readers: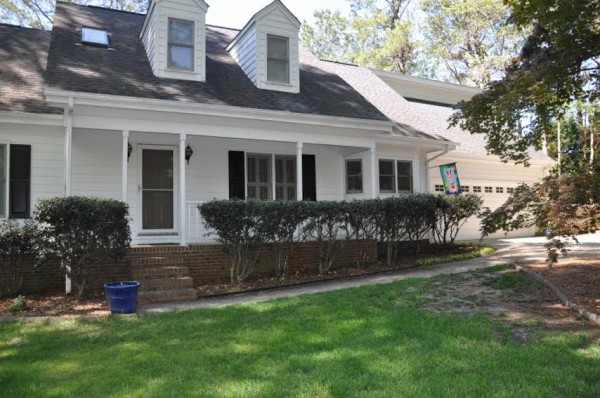 Front Door Friday – Spring Edition
What a lovely home!  The white siding and black roof makes many front door color options possible.  Let me show you the options I chose for this home.
Like I mentioned, there are a wider range of good options for front door colors when the home has white siding than when it's another color or brick.  So I actually provided three options, each of which you see above.  But, I also suggested that the homeowner consider repainting the shutters in Stratton Blue.  If she chooses to do that, I recommend she paint the front door either Palladian Blue or Sweet Daphne.
I'm actually considering painting my own front door in Sweet Daphne.  Which option would YOU choose?
Front Door Friday – Spring Edition is over, but if you need a professionally-chosen front door color for your home this spring, contact my assistant at allison@thedecorologist.com.  We can have a few great options for your front door within three days after you submit photos!