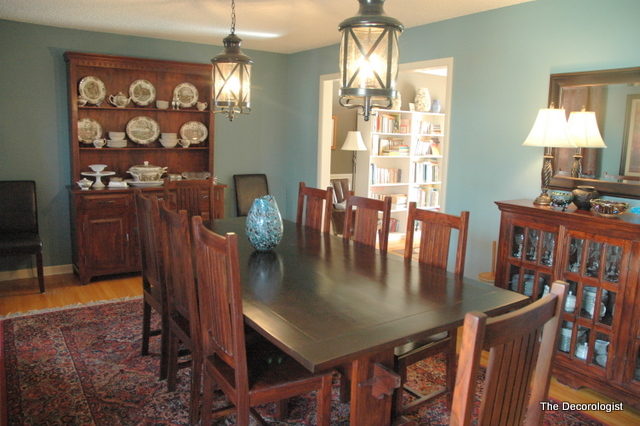 In the part of the country where I live, there are many families who decide that homeschooling is the best option for their children.   I have had multiple clients over the last few years who homeschool and have particularly challenging decorating dilemmas.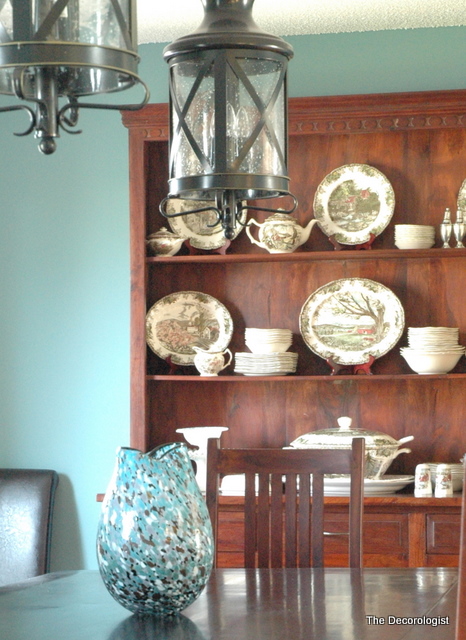 This particular family has been successfully educating their 5 children in their home for many years, but their surroundings had been less than inspiring.  This is the front room of their home as it was before The Decorologist stepped in: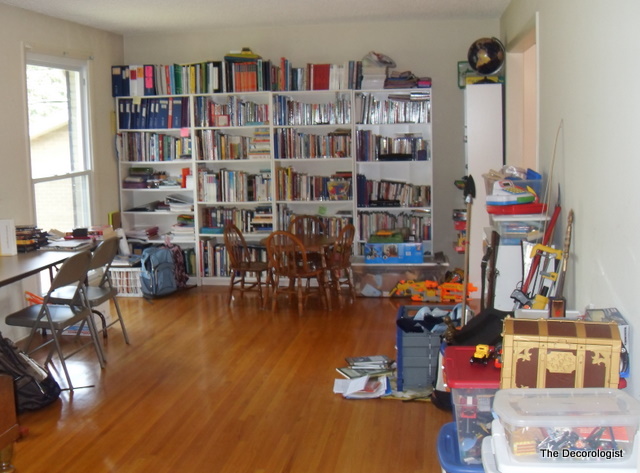 Before – Homeschool Room
It was lined with bookcases full of books and curricula, a few tables and chairs (most of which were too small for their growing children), and various toys and other items.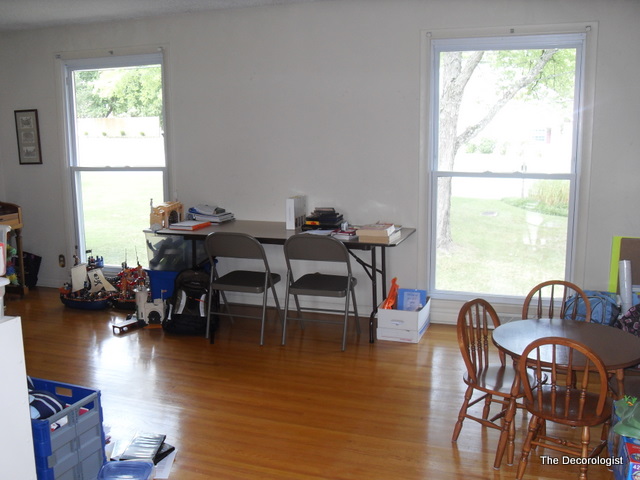 Before – Homeschool Room
Such a big room with untapped potential.  It seemed that there might be a more effective way to use this space to better-suit this family's needs.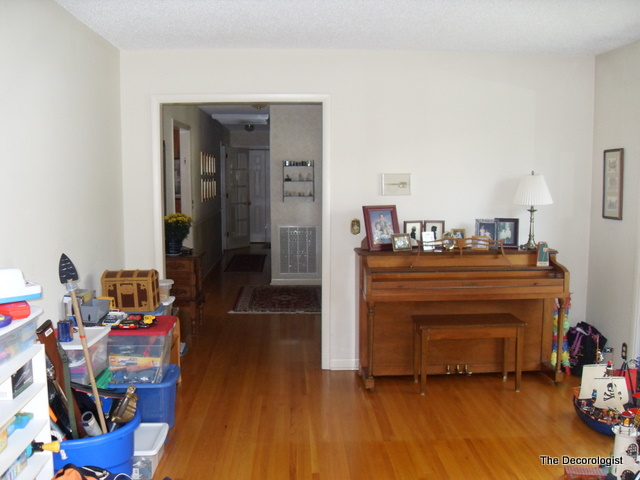 Before – Homeschool Room
This smaller room adjacent the homeschool room was their dining room – it was also where the older kids did their schoolwork.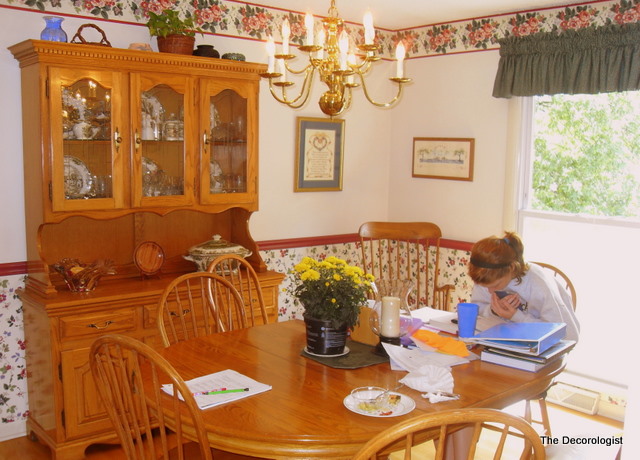 Before – Dining Room and Workspace
An important part of a decorator's mission is to marry function with beauty.  Is that possible in these two rooms where so many needs must be met?  I certainly believe it is.  Before I reveal the transformation of these rooms, I must explain that a lot of discussion and planning went into making these rooms not only more visually-pleasing, but also more functional for this busy family.  This wasn't just about creating pretty spaces – it was about creating pretty spaces that WORKED. Now, here again is the larger of the two rooms in its "before" state: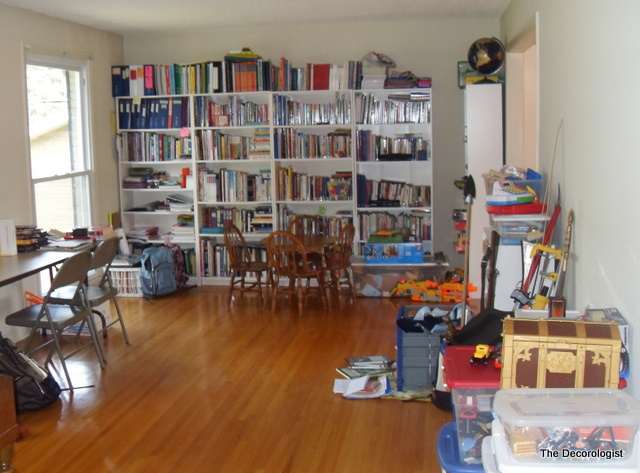 Before – Homeschool Room
Ready for the "after"?  Now the larger of the two rooms is a roomy and inviting dining room with a table that easily seats 10.  The pair of overhead lantern lights adds warmth and character to this transformed space.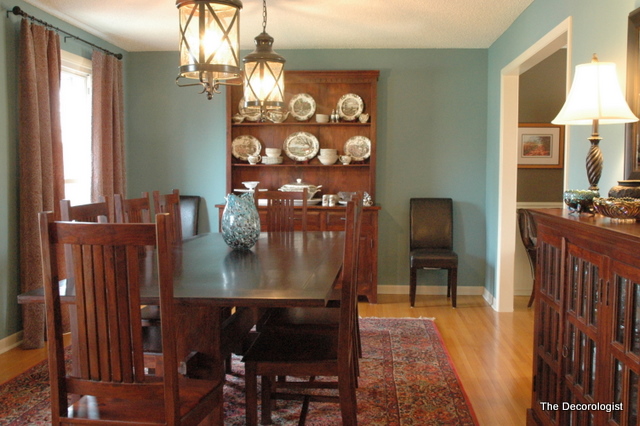 After – Warm and Welcoming Dining Room
The paint color is Benjamin Moore's Boca Raton Blue – a perfect foil for the dark wood tones.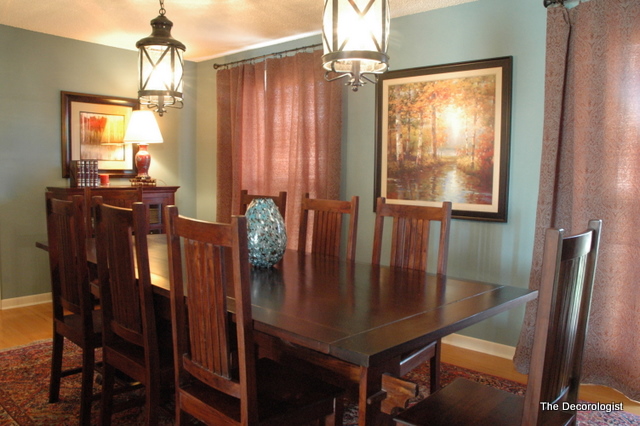 New Dining Room/Workspace
We purchased the beautiful dark wood furniture from my friends over at Merridian Home Furnishings on 8th Avenue in Nashville.  This trestle table is gorgeous but doesn't have to be handled with kid gloves.  The older children do most of their schoolwork here and have plenty of room to spread out.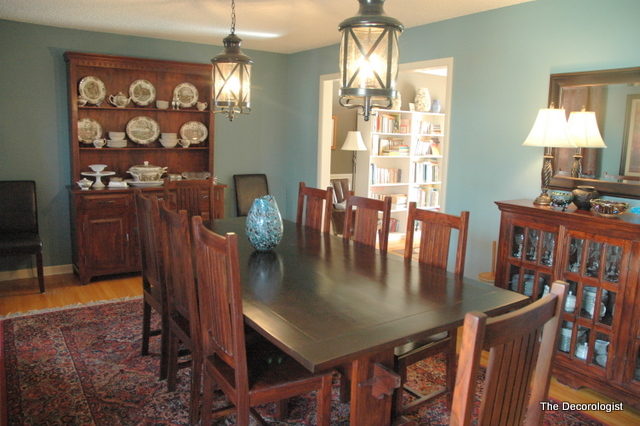 Trestle or pedestal tables accomodate more chairs than tables with four legs at the corners.
This is a room the whole family truly uses now – both for homeschooling and for dining together as a family.  It also is a great place to entertain and display their beautiful family china, which was previously stored away behind cabinets.
Family China on Display
Here again is the adjoining former dining room/homeschool workspace before: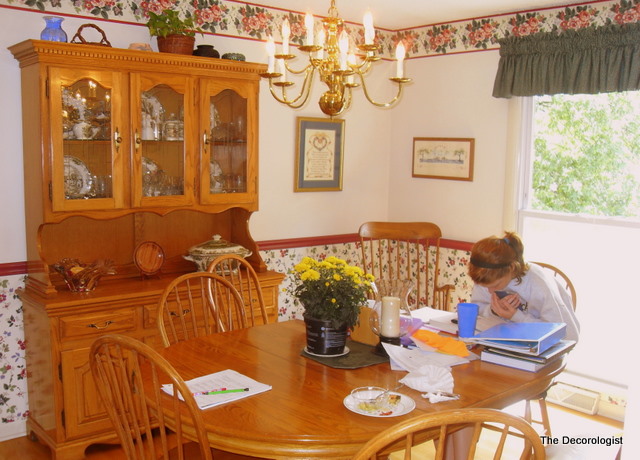 Dining Room Before
The wallpaper and border went bye-bye, and white beadboard wainscotting was installed below the chair rail.  We decided on a rich expresso color – Benjamin Moore's Clinton Brown, as a backdrop to all the white bookcases that hold schoolbooks and supplies.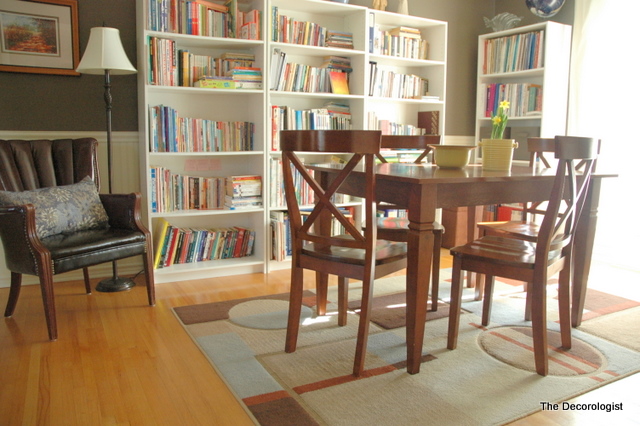 After:  HomeSchool Room
All the furniture was existing – this smaller table and chairs were moved in from the kitchen.  Pairing down and relocating all the school supplies into this lesser-seen room made a lot more sense than continuing to squeeze this family of 7 into a dinner table for 6!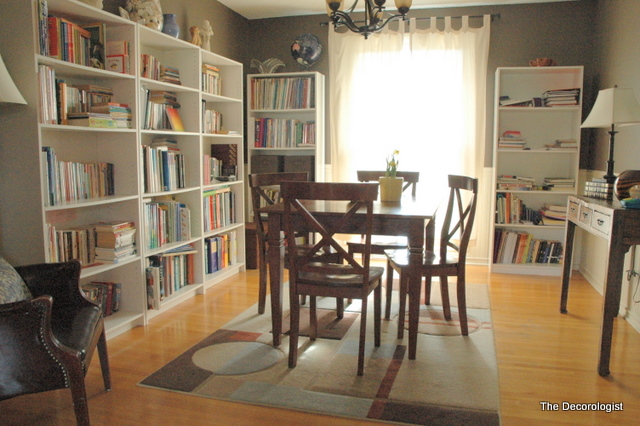 New HomeSchool Room
The younger kids now do their school work in this happy, cozy area.  I love this candy bowl on their work table!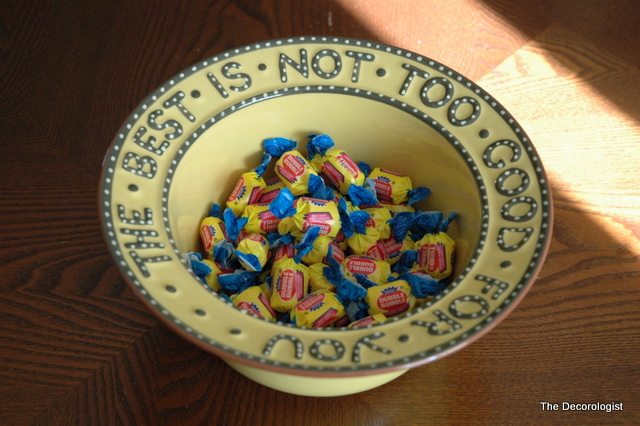 "The Best is Not Too Good for You"
There's no reason why functional, multi-use spaces can't be lovely and inspiring.  The children in this home even help keep these new rooms organized and clean, because they enjoy working in beautiful, peaceful spaces as much as their parents enjoy having such a lovely home to live in!
Share this Post