One of my favorite things to do is to attend home tours in historic neighborhoods.   We have our fair share of such annual tours here in Nashville.    The Whitland Neighborhood Home Tour, which I blogged about last year here,  is one of the highlights of my year.  Of course, I wanted to share highlights with you, but I dropped my Android in the lake the day before the tour and didn't have a cell phone/camera to take!  If I brought in my big camera, I feel sure I would have been removed from the premises.  So I decided to be old-fashioned and take notes of interesting ideas and trends that I saw in each house.  The photos are not from the actual tour, but will help you visualize what I saw.
1.  Of course, oversized lighting is a big trend in contemporary design right now.  And I saw lots of it on this tour – oversized lanterns, pendant lighting, and table lamps.  I *heart* this trend and oversized lighting makes such a statement in any space!  When it comes to lighting, always go bigger than you think you should.   Trust me!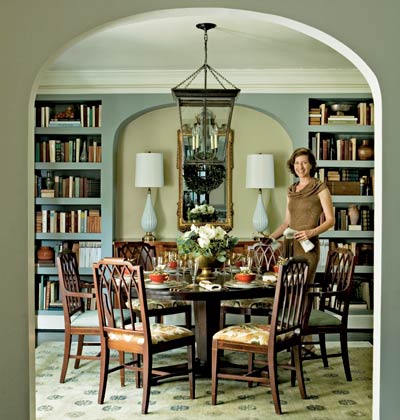 2.  I also noticed lots of mismatched, unlikely bedside tables.  Most of the time, my clients bedside tables are too small.   The bedside tables I saw on the tour were mainly larger tables you might expect to see used in a different way, but they worked!  In one master bedroom, the homeowners had sawn an antique pedestal dining table in half and screwed each end into the walls on either side of the bed.  Unconventional, but it looked fabulous!  I couldn't find a picture that shows that, but here's one that gives you an idea of  the larger, unlikely bedside tables I saw on the tour: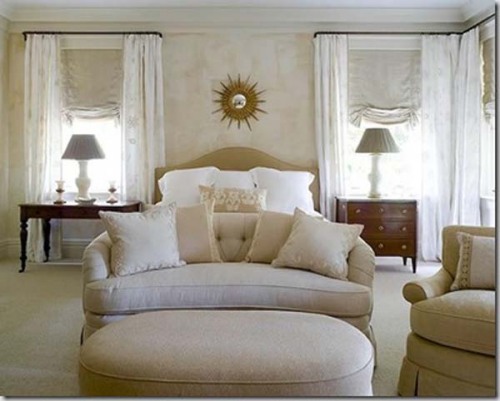 3. Another thing I saw was using small faux sheepskins on wooden chairs.  I've seen these at IKEA, but didn't realize they were intended to comfy-up a normally uncomfortable chair.  Duh.  Anyway, it was a neat look and would be a great way to cozy up a room for the winter season.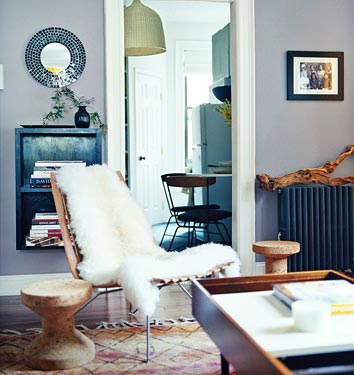 4.  I really like the way one house had vintage paneled doors that had been outfitted with mirrors in the master bedroom, like this: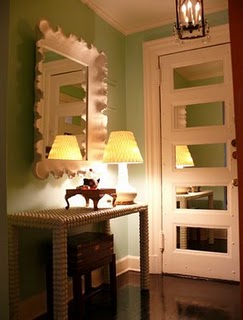 5.  And a  kitchen pantry door had been painted with chalkboard paint in the inset panel, like this: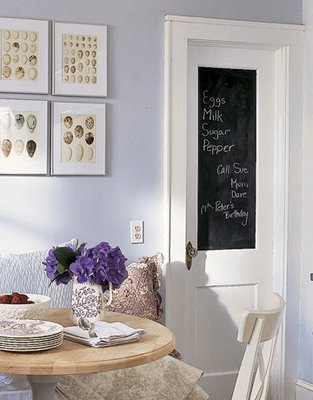 6.  One homeowner had created some neat art pieces by framing vintage sewing patterns.  Here's an example of how one blogger did this with children's sewing patterns: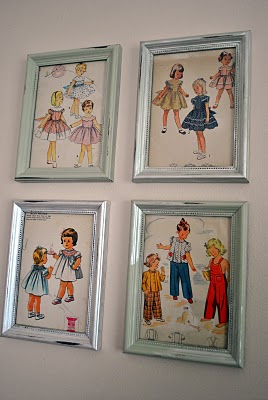 7.  I met the owner of one of the houses on the tour and complemented her on some cool things in her house.  Ends up, she's the author of a fun blog called I Steal Good Ideas.   Loved this inventive bulletin board she came up with that hangs on the glass wall of her sunroom office.   If you want details as to how to make your own, check it out here.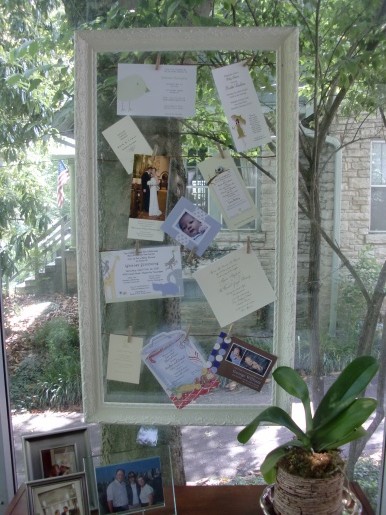 8.  She also had a great carpet runner for her stairs that I think would work great for my stairwell – the pattern is called French Wreath.  It comes in a bunch of colorways and is available at Myers Carpet here in Nashville.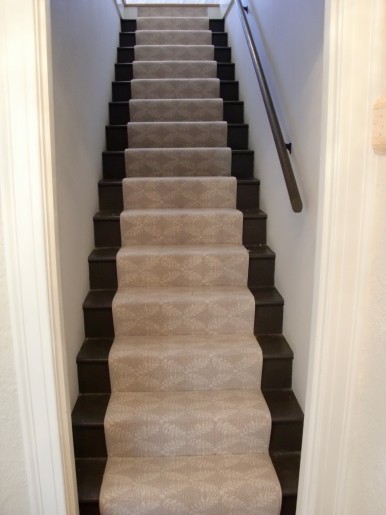 9.  I saw a lot of art hung on the exterior frames of bookcases, which I just blogged about the other day here. 
10.  And taxidermy in unexpected places – like an antelope, bass fish, and some horns going up a stairwell.  Sorry no picture of that one, either!
Oh, and here's a bonus:  one homeowner told me how they used Easy Off oven cleaner to "age" their new hardware!  I hadn't heard that one before, but I'm definitely going to try it!
Photo Credits:  My Home Ideas, Talk and Sleep,  Apartment Therapy, Black Dog Salvage, Country Living, I Steal Good Ideas.