I work with multiple clients every week helping them establish color palettes for their home. Some people may think that paint color consultants/specialists have a few pre-established color palettes that they pull out, any of which will work in a given home.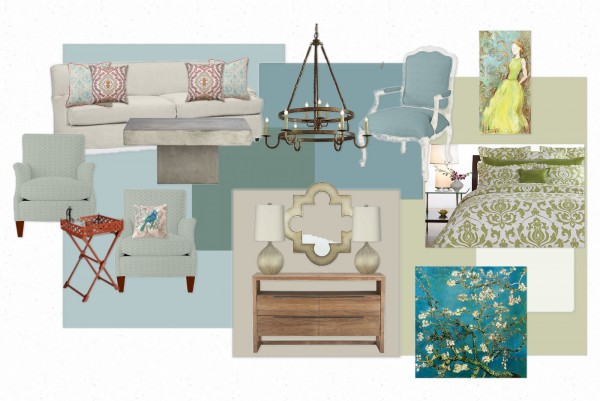 Color Palette by The Decorologist
That may be true for some in this field, but it's certainly not the way I operate. Determining what is NOT changing in a client's home is very important, as that influences what options are available going forward. Part of my job is knowing what colors and color combinations are current, or on-trend, but that's not to say that those colors will truly work in any setting. I am always dealing with pre-existing finishes and furnishings that must be part of the overall equation in order to make the space feel right.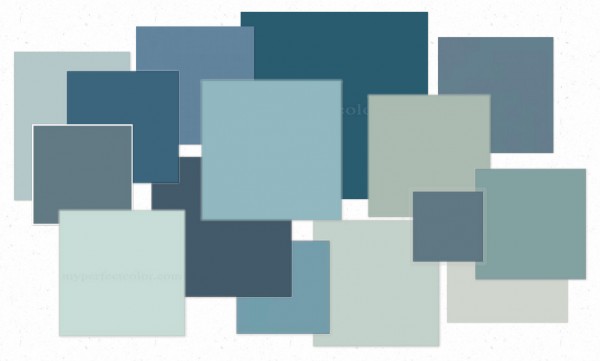 Just SOME of the blues I've used in design projects this year
Let's say a client loves blue and wants that incorporated in the color palette. I can usually make that happen, but different clients may need different blues based on what's already a part of their existing space. Knowing WHICH blue will work in a given space is the puzzle I solve during my color consultations. Below is a color palette that I worked on with a client yesterday – I started working with her over two years ago, when we established a couple of the colors you see below (the two blues) in a couple of her rooms. She told me yesterday that she had read a recent article I wrote for The Tennessean about looking at the "big picture" and decorating in the right order, so now she wanted to build on those colors to finish out her home in a complete color palette with good flow.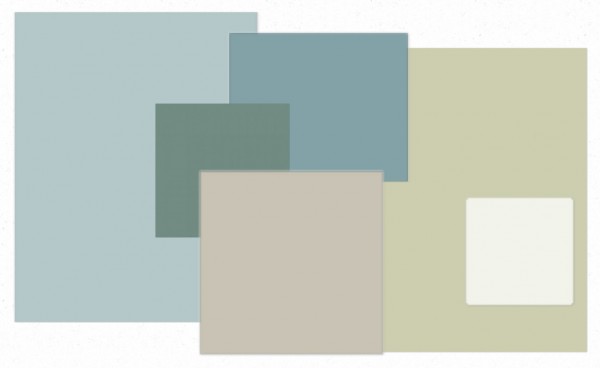 Client Color Palette
The color scheme you see above is roughly layed out in relation to the flow of the rooms in her home. The neutral you see will be in the entrance to her home, the light blue is in her living room/dining room (from two years ago), the darker blue is in her kitchen (from two years ago), the lighter green will be in her bedroom/bath with the off-white going on several furniture pieces, and the dark green will be in her hall bathroom. This color palette works with her existing furnishings and finishes, which is my #1 priority.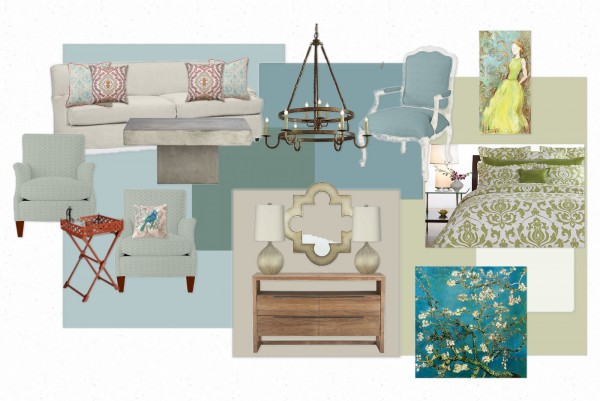 This image that I posted at the beginning of this article is an Inspiration Board I put together last night using her color palette, but which different furnishings just for fun. This might be the direction I would go in if we were starting from scratch, which we aren't. Regardless of whether you are using what you have or starting from scratch, the development of a cohesive, on-trend color palette requires a vision for the "big picture" or the finished look of a space.
If you want to know more about my services, take a look here. Make sure you sign up for free design and color ideas through your email!