You probably know I went to the Bella Rustica Vintage Barnsale the weekend before last and had a wonderful time scouring the humongous barn for vintage and handmade treasures. What you may not know is that the sale was held on the property of Milky Way Farms, founded in the 1930's by Mars candy mogul, Frank Mars.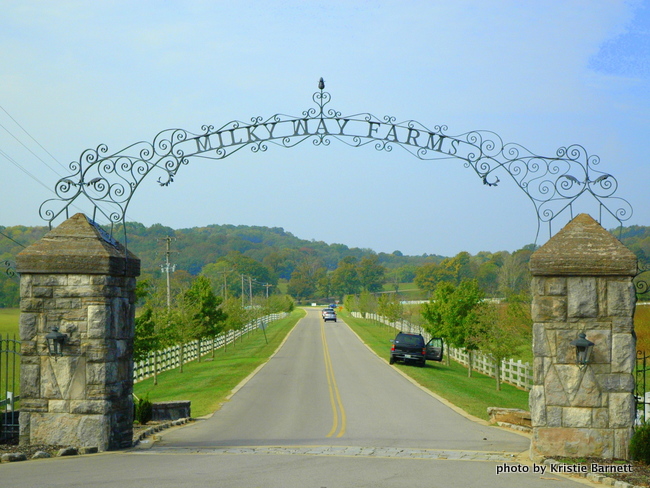 entrance to Milky Way Farms
For an old house junkie like me, the best part of the day was touring the amazing tudor revival-style Milky Way Manor.  Located about an hour outside of Nashville, Milky Way Manor is more than worth the trip.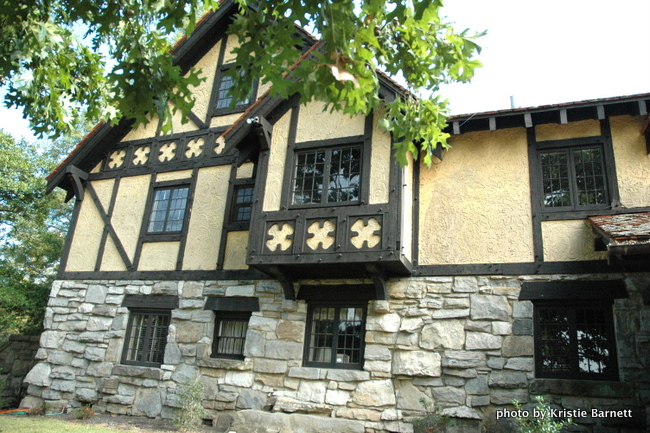 Milky Way Manor
First of all, Tudor Revival is one of my favorite architectural styles because of the storybook charm and coziness it provides.  Huckle Cat could totally live here, right?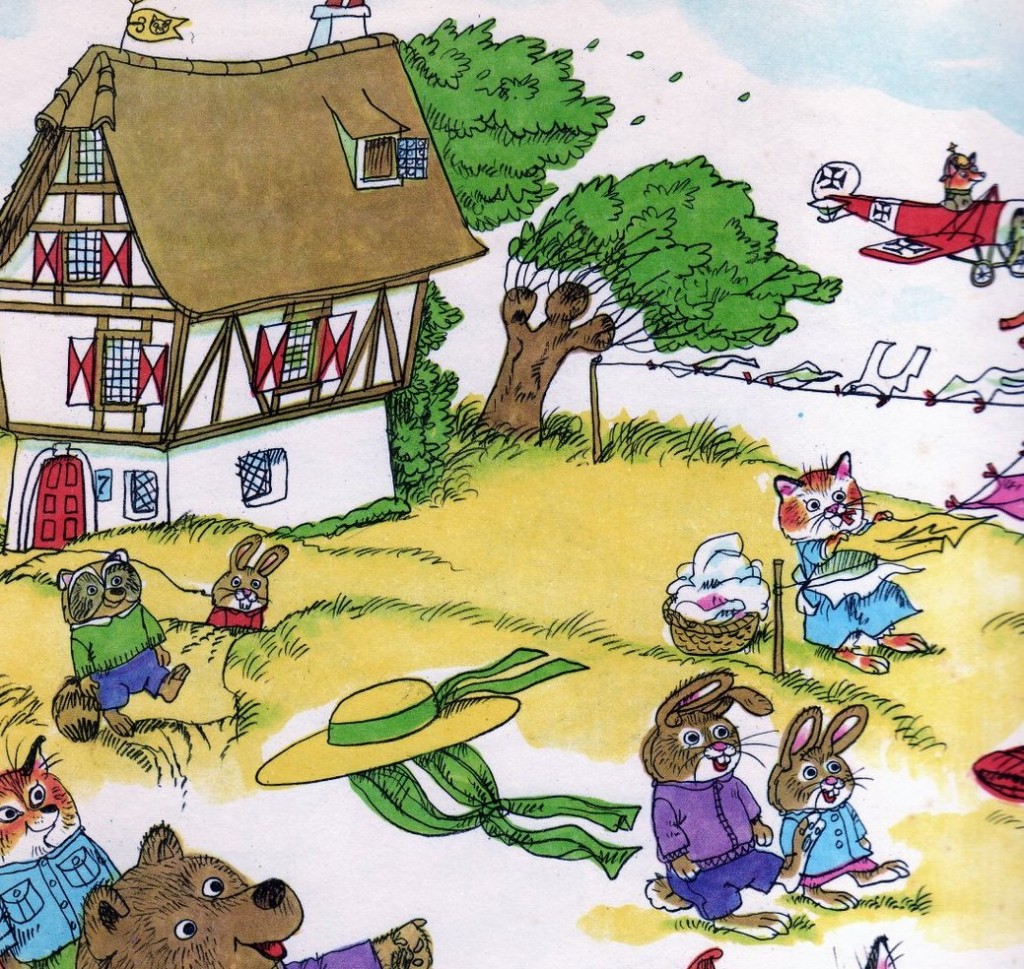 Richard Scarry book illustration
But I digress.  Stone and half-timbering grace this amazing 25,000 square foot home built in the early 1930s on Frank Mars' 2,800 acre estate.  Even though it's the size of a small castle, Milky Way Manor is warm and inviting.  You can tell there's been a lot of love and happiness in this place.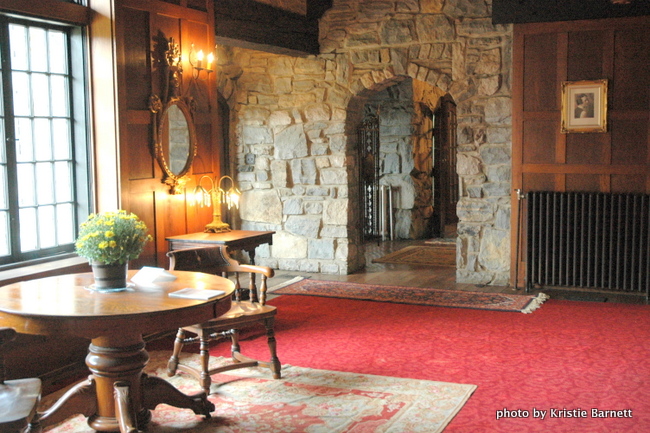 Milky Way Manor Interior
The house is centered around this Great Hall, with 4 hallways branching out from this room.  You can see the upstairs and downstairs hallways below, with bedrooms for family and close friends.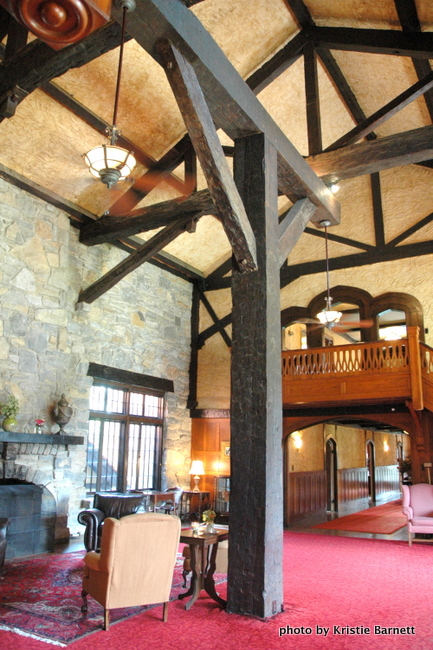 Massive Wood Beams in Great Hall
The opposite hallways lead to what were formerly servants and maid quarters.  Mr. Mars paid his staff so well that the neighboring business owners were initially up in arms – all the local workers wanted to work for Mars instead of the jobs they currently held!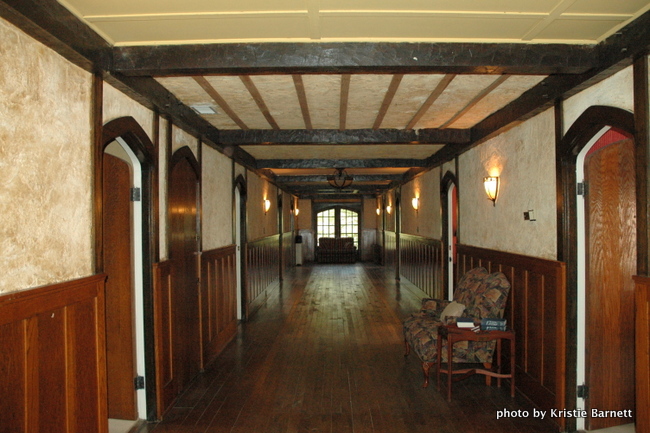 Revival Tudor hallway
This was Frank Mars' private bedroom.  His wife had a private suite, as well, across the hallway.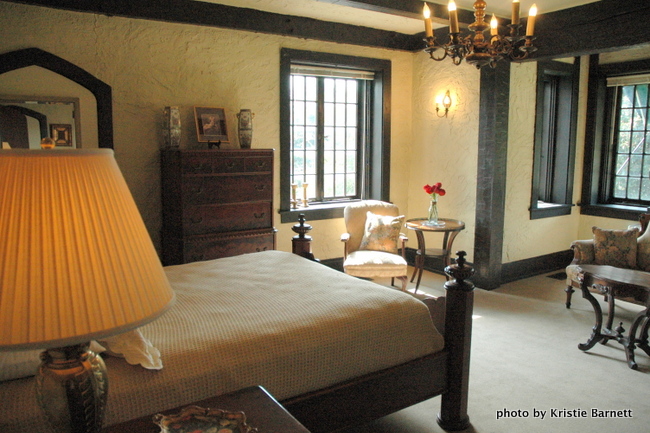 Frank Mars' Bedroom
Their rooms share a romantic private porch at the end of this wing.  I imagine they spent time there in the evenings –  she, knitting a scarf and he, smoking a cigar . . .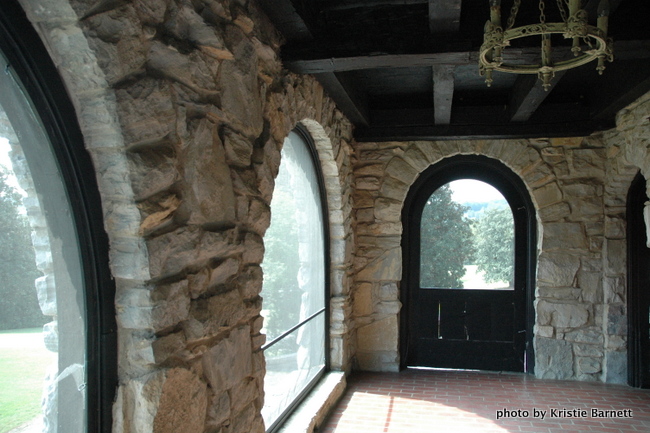 stone porch for romantic rendevouses . . . 
There are a total of 25 bedrooms in the house, and this is one of my favorites: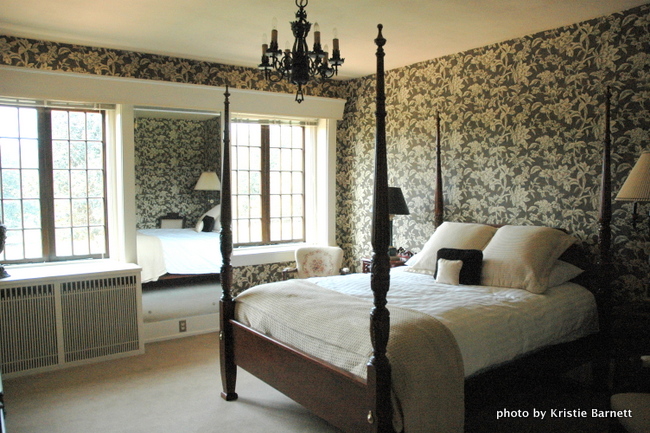 Guest bedroom at Milky Way Manor 
All of the bathrooms have an Art Deco flair.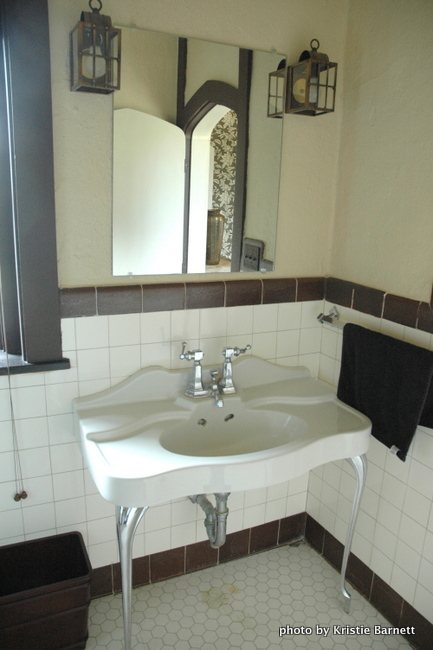 Art Deco Bath
All the other bathrooms have black and white tile, with the exception of this one has dark chocolate and white tile.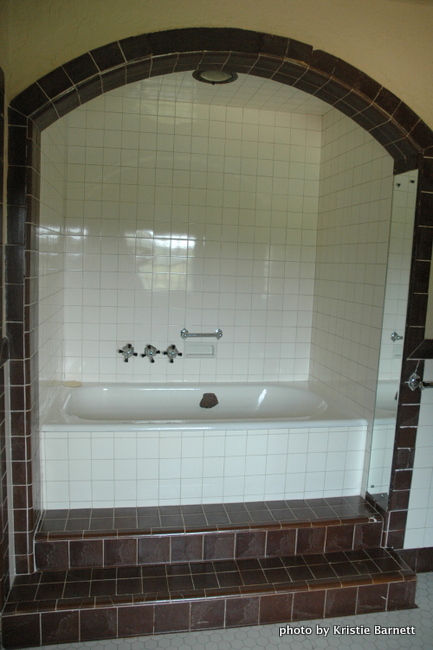 Bathtub at Milky Way Manor
The dining room holds a table that seats 48 – it is the largest privately-owned dining table in the United States!  The Vanderbilts once tried to purchase it for The Biltmore in Asheville, North Carolina – but it was impossible to remove from Milky Way Manor.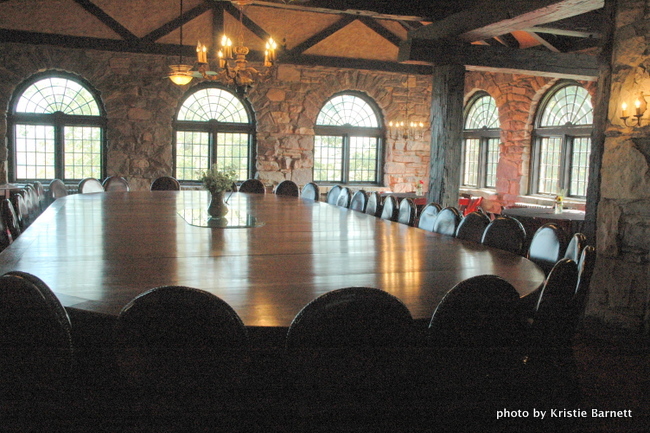 America's Largest Dining Table
It was built on site and wasn't made to be dismantled.  Can you imagine the feasts that were held in this room?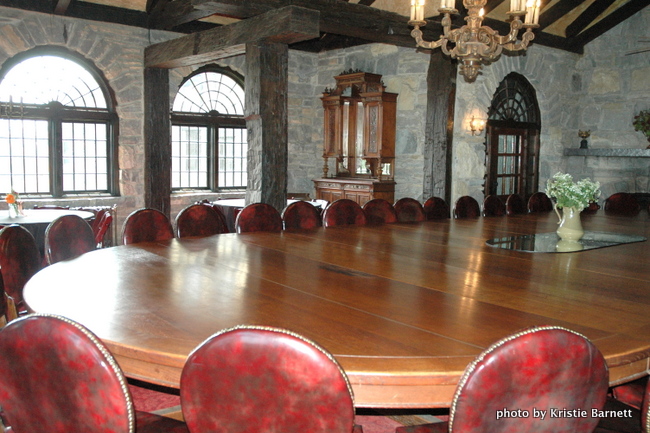 Milky Way Manor Dining Room
Milky Way Manor was recently purchased by the Charles Jones family and is available for wedding and corporate events, as well as manor tours.  Too bad I'm already married . . .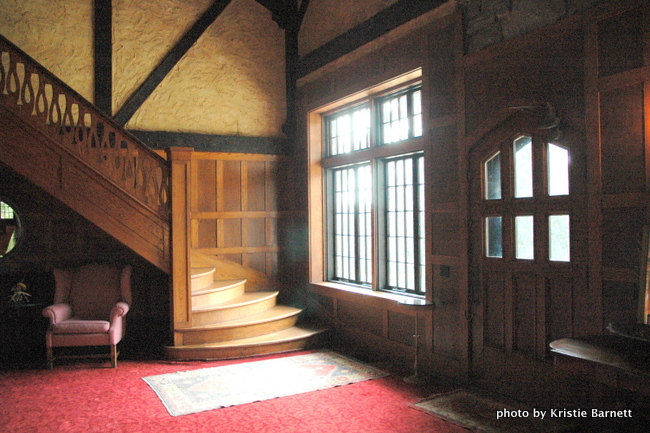 Glorious Woodwork in Milky Way Manor
Wouldn't this be a fabulous venue for a Master Design Workshop weekend with The Decorologist?  A girl can dream . . .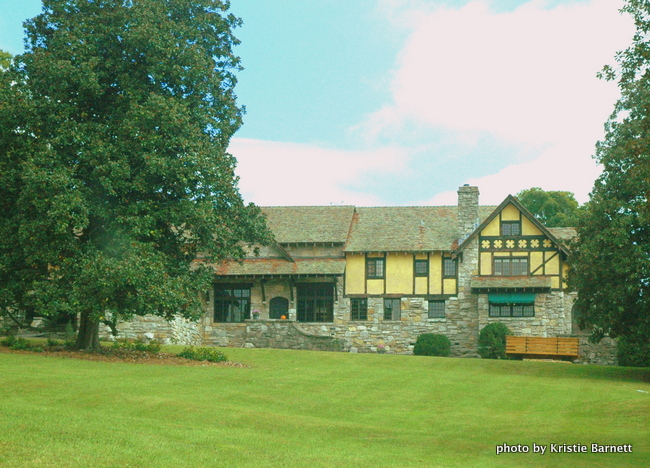 Milky Way Manor
Spending a morning in this beautiful setting can certainly make you believe you've been transported to the English countryside in the 1930s.  Of course, spotting this on the ground just outside the gates of the farm harkened me back to reality.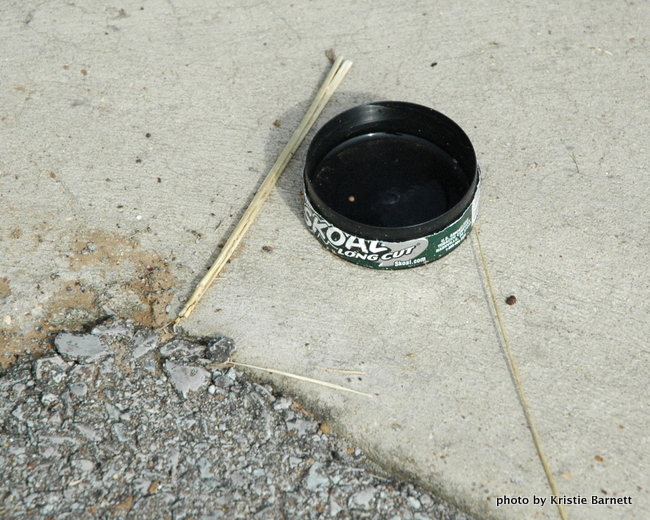 Oh right, we're in rural middle Tennessee
If you ever have a chance to check out this hidden jewel, I urge you to do so.  Milky Way Farms host a miriad of  events, trail riding, camping excursions, and photo/video shoots.   For more information, go to their website and their business page on Facebook.  Tell them The Decorologist sent you!
Share this Post