Not all of us have the artistic skill to do intricately carved pumpkins for Halloween, so here are some easy (really!) ways to decorate pumpkins that will still wow the neighbors.  Try painting or drawing with a black Sharpee on white pumpkins to make cool designs like these.
You can punch little holes with a drill bit to create an outline you like.  Cut a hole in the bottom of the pumpkin, rather than the top.  Stick a string of twinkle lights inside and poke the lights through the holes like a Lite-Brite.
Bigger drill bit and creepy critters.   Mouse motel!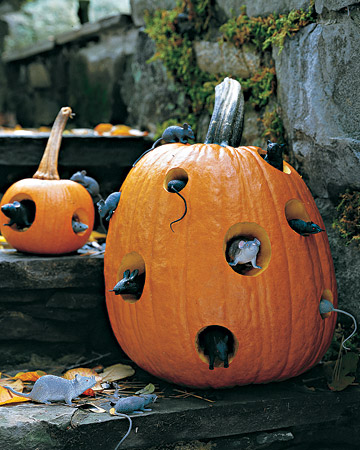 Have you ever seen a pumpkin tree before?  Be the first in your neighborhood to grow one!   Use those plastic pumpkins (Funkins) from a craft store – they are very light.   Hang a few lanterns and perch a few black crows.  Very spooky.
 
Forget all that carving.  Why not just adorn your pumpkins with masks and hats?  What a great idea!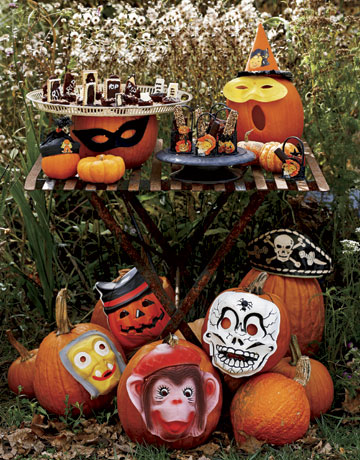 Look at these beautiful gilded pumpkins.  Make your own sophisticated display using stickers and gold spray paint.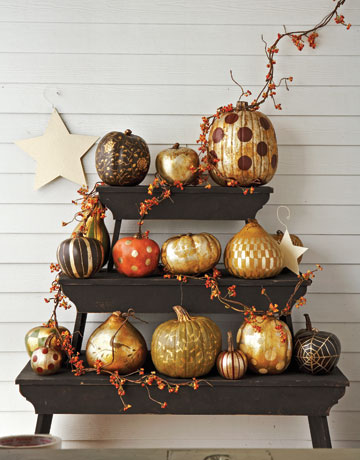 Squirt some spray mount on small pumpkins or gourds, then sprinkle with colored glitter.  Create a sweet display with silver candlestands or a cake pedestal.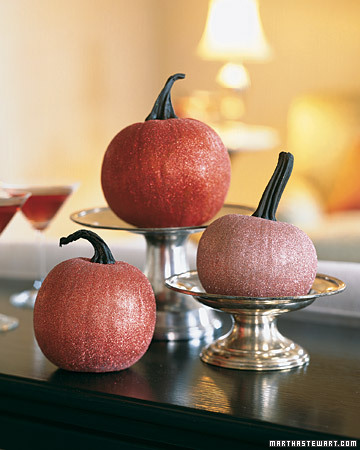 If you have lots of pumpkins, why not spell out a spooky message?  Just have a few?  Spell "boo."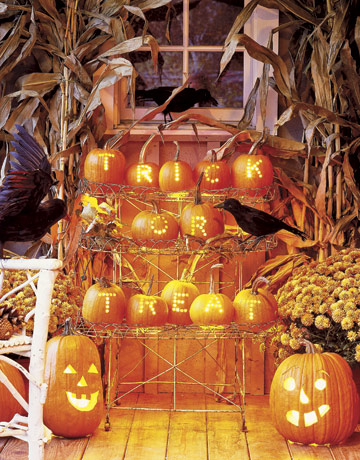 I love these gourd people!  You don't even have to do the faces, just artfully stack some colorful gourds on your porch.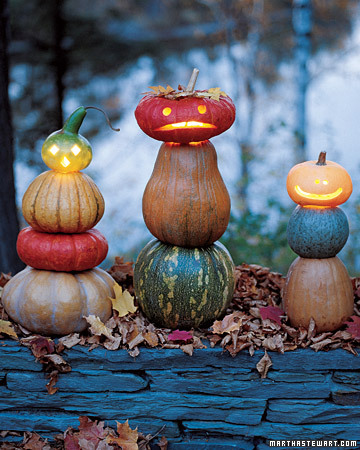 Look how GORGEOUS this is!  Just stick to one color in an assortment of shapes and sizes.  The spider pumpkins are just the right touch.  And that cool moss doesn't hurt, either.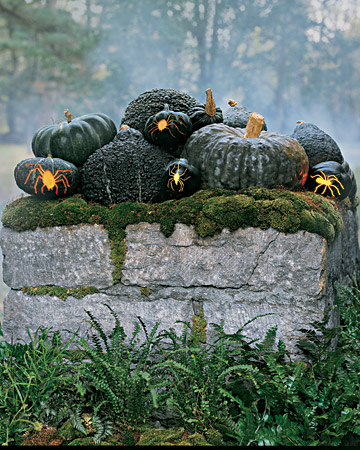 How about using gourds or mini-pumpkins as placecards at your dinner party?  This could work now all the way to Thanksgiving.  Use a stencil or freehand  an initial with paint or a Sharpee pen.
 Hollow out a place for a votive candle.  Line your mantel with these or scatter across your tablescape.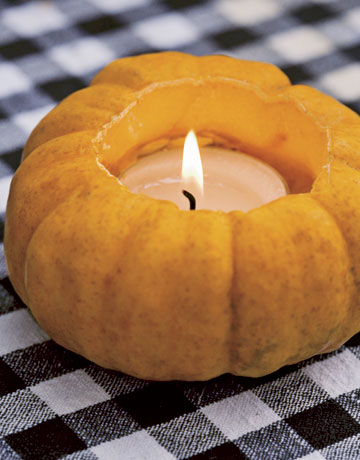 I saved the best for last.   These enchanted toadstools made of gourds are my favorite!  My daughters were a gnome and a toadstool last Halloween – click here if you want to see how hilariously cute their costumes were.
I'm spending a bit of time here in Phoenix doing some great architectural tours – can't wait to share that with you when I return home!