Today I'm sharing the article I wrote for The Tennessean Style Section, which appeared in last Saturday's edition. You can typically me in The Tennessean a couple of times a month.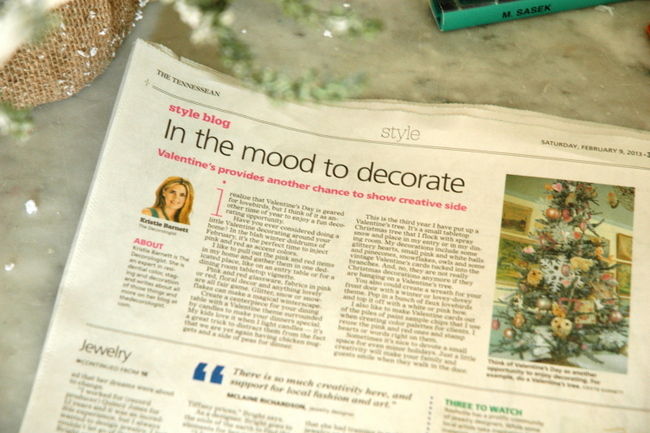 The Tennessean Style Section
I realize that Valentine's Day is geared for lovebirds and romance, but I think of it as another time of year to enjoy a fun decorating opportunity. In the blah winter doldrums of February, its the perfect time to inject the happy colors of pink and red as accent colors! I like to pull out the pink and red items in my home and gather them in one dedicated place, like on an entry table or for a dining room tabletop vignette. Pink and red glassware, fabrics in pink or red colorways, floral decor, and anything love-ly is fair game. Glitter, snow, or snowflakes can mix in with these colors to make a magical winterscape. Create a centerpiece for your dining table with a Valentine theme surrounded by candles to make dinners romantic. My kids love it when I light candles at meals – it's a great trick to distract them from the fact that we are yet again having chicken nuggets and a side of peas for dinner!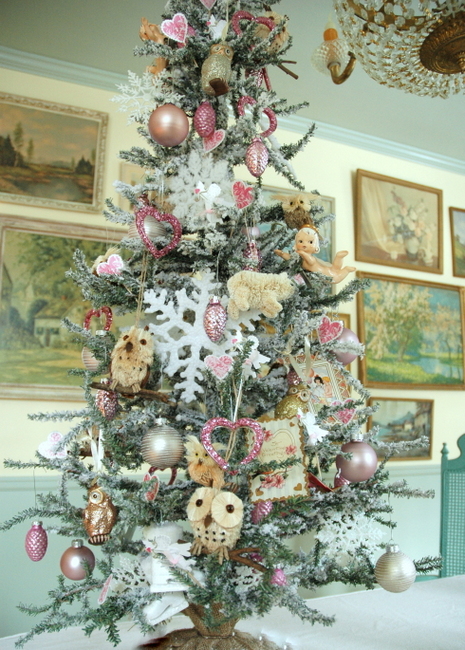 The Decorologist Third Annual Valentine's Tree
This is the third year I have put up a Valentine's tree. It's a small tabletop Christmas tree that I flocked with spray snow and place in my entry or in my dining room (I like to move things around). My decorations include some glittery hearts, small pink and white balls and pinecones (Christmas decorations), snowflakes, owls, and some vintage Valentine's cards tucked into the branches. And no, they are not really Christmas decorations anymore if they are hanging on a Valentine's tree.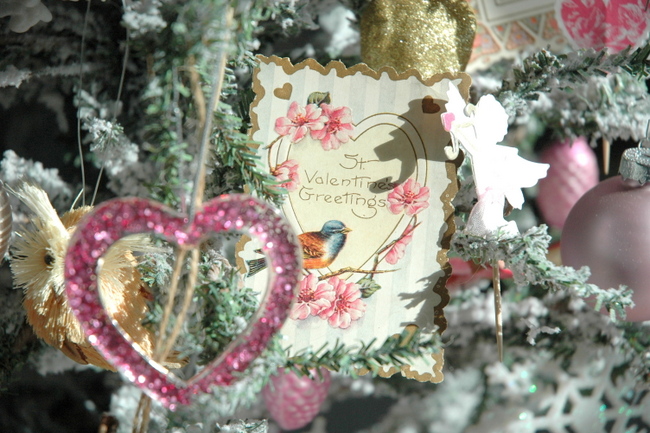 Another great way to decorate for Valentine's Day is to create a wreath for your front door with a winter or lovey-dovey theme. You could flock a standard Christmas wreath, pop in a bunch of faux lovebirds from Michaels, and top it off with a beautiful white or pink bow. I'm totally going to do that next year.
Because I'm a Paint Color Specialist, I like to make Valentine cards out of the piles of paint sample chips that I use when creating color palettes for clients. I reuse the pink and red ones and stamp hearts and words right on them – I also use these as gift tags for Valentine gifts.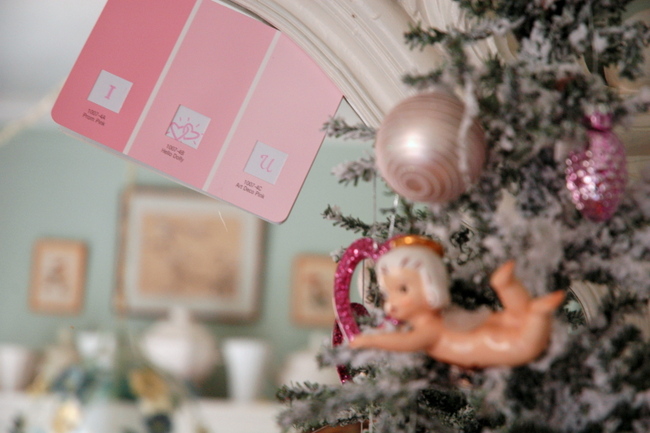 It may not be among the most popular holidays for decorating, but sometimes it's nice to devote a small space to decorating for the minor holidays, too. Just a little thought and creativity will make your family and guests smile when they walk in the door!
So, are you doing anything special tonight for Valentine's Day? Or are you like me, and just watching Grey's Anatomy?