The House for Hope Designer Showhouse turned out beautifully and is open for tours!
*sigh of relief*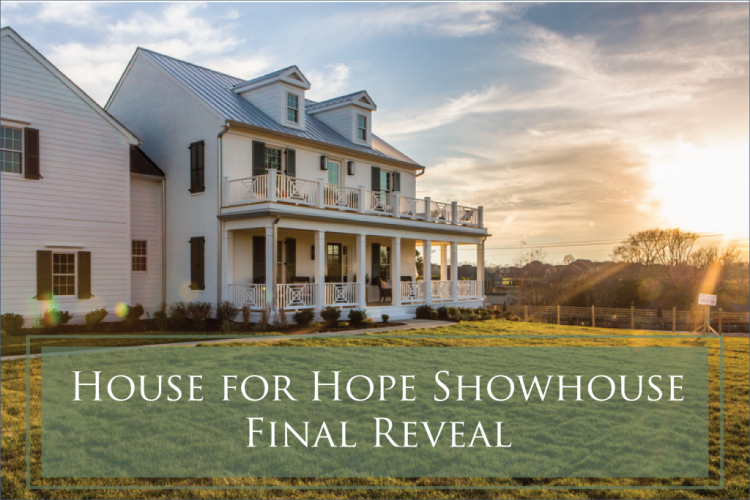 You might imagine that choosing the paint color palette and placement for the home was a quick and easy task.
If only.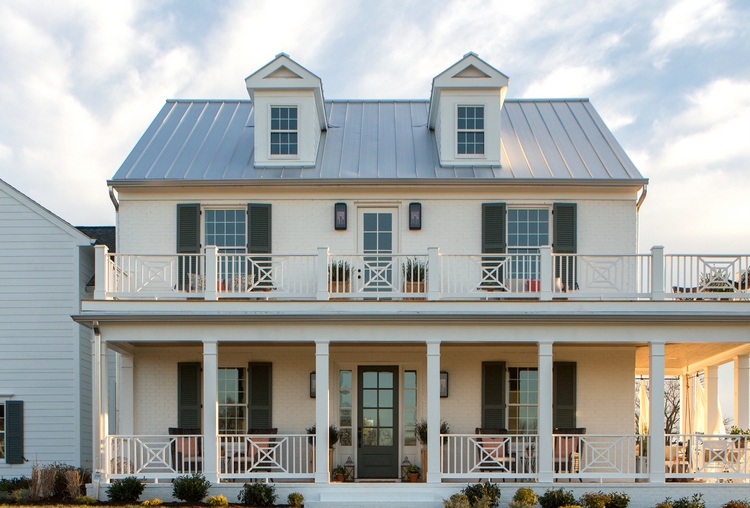 paint colors are Sherwin-Williams and specified by The Decorologist
I created the paint color scheme prior to the designers submitting their plans for their spaces. The truth is, most of them did not like the paint colors I chose for their rooms. The majority of the designers requested all white paint for their rooms. There was a lot of push-back throughout the last 11 months since this process began. The hardest part is the fact that if you change colors or the color placement in one space, it impacts the adjoining spaces and the flow of the house as a whole.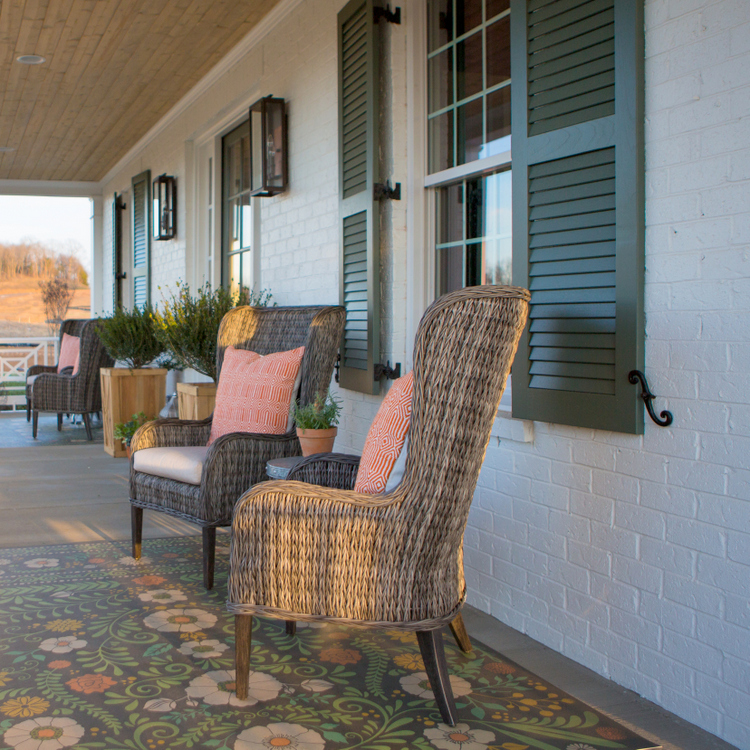 Color by The Decorologist – SW Pure White on brick, siding, and trim – SW Pewter Green on shutters, doors
White seems to be the default for farmhouse style these days, but the modern farmhouse doesn't have to be just white + wood. It doesn't have to be simply shiplap + barn doors.
As you will soon see, the interior is NOT all white. And like most things, it all worked out in the end. Here are the interior colors I specified for Carbine and Associates' House for Hope Designer Showhouse, and I'll show you some of their placements next: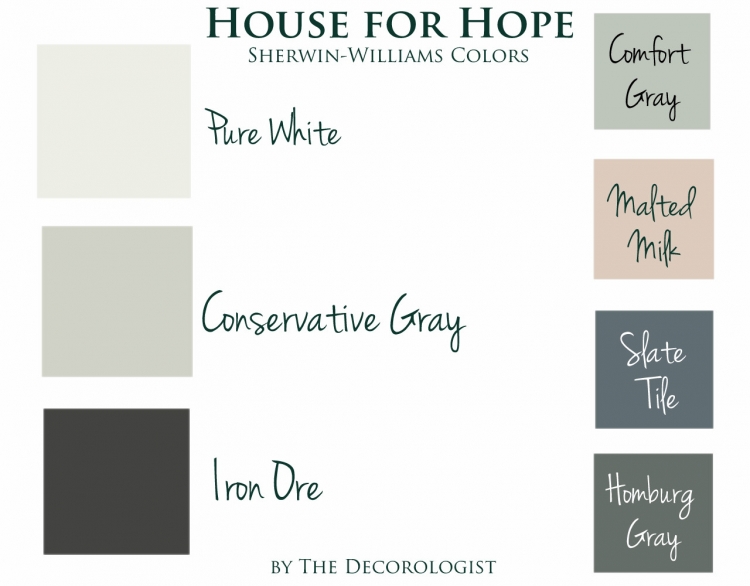 The living room walls, ceiling, and trim are SW Pure White. The fireplace brick and mantel is SW Iron Ore, which ties in with the Iron Ore french doors and adjoining kitchen with its Iron Ore island. The ceiling beams are an Iron Ore paint stain at 80%.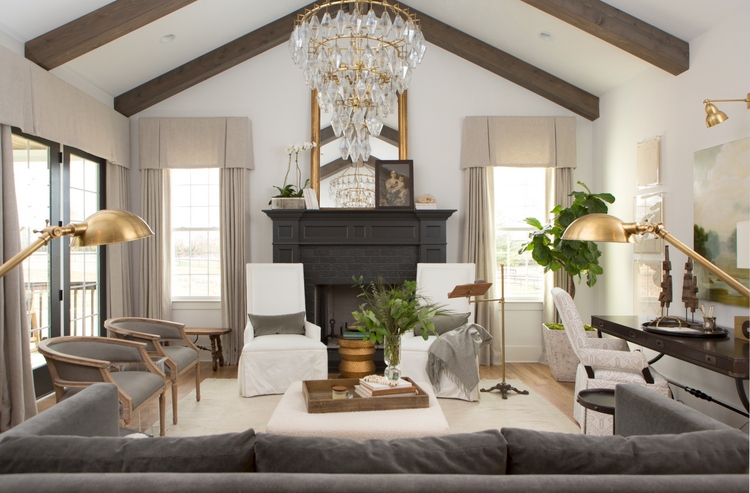 living room design by Julie Couch Interiors
The entry, hallways, master bedroom and bath, and bonus room are painted SW Conservative Gray. This color serves as the anchor neutral™ for the home's color palette.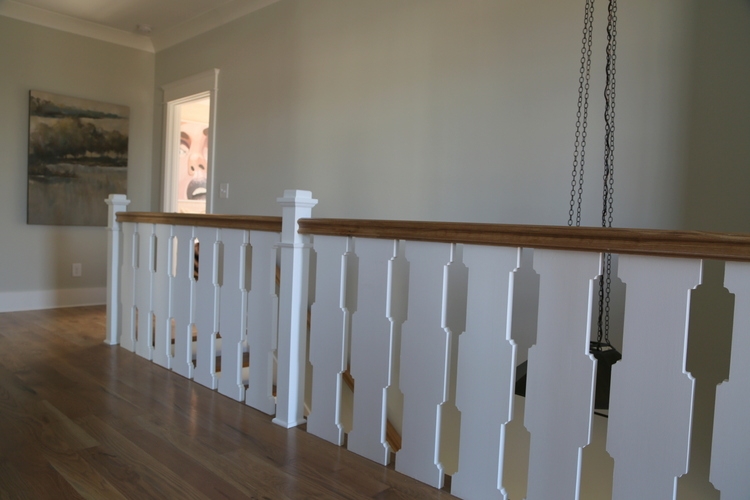 baluster design by Chad James
The color I chose for the study is SW Homburg Gray.  It's on the walls, trim, and bookcases. I love the fabulous light fixture here: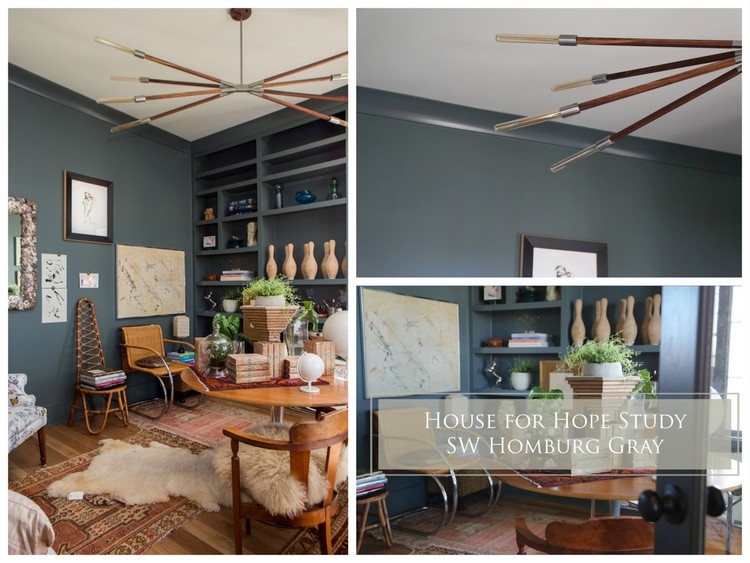 study design by Trot Home
SW Conservative Gray on the walls of the master bedroom and bath: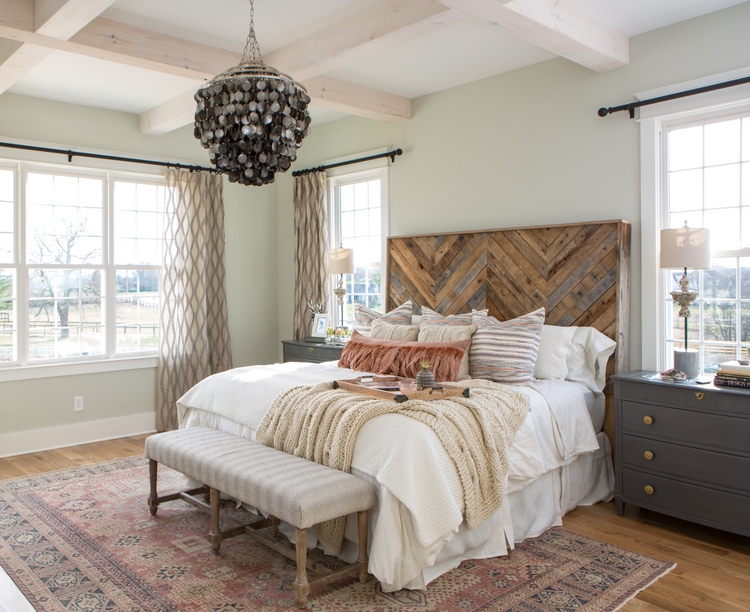 master bedroom/bath design by Refresh Home
You'll notice all the interior doors are painted dark, which I love to do!  SW Iron Ore are on the doors and master bathroom cabinetry.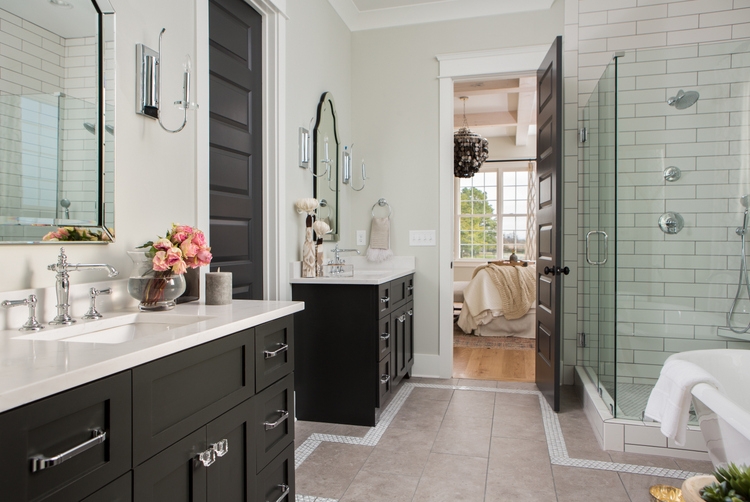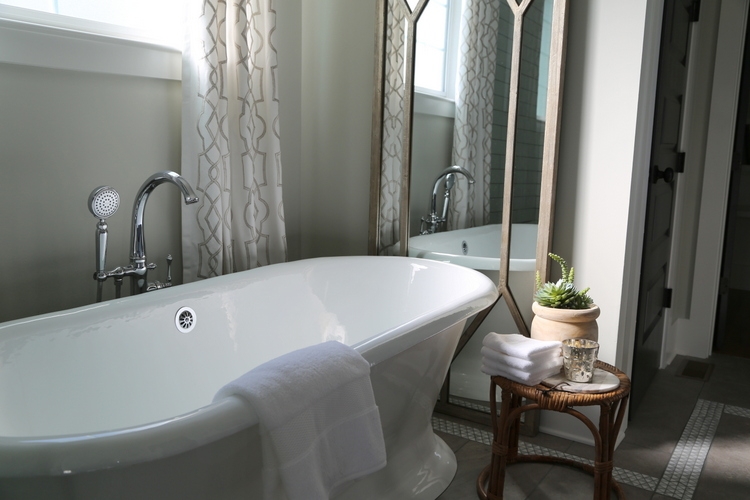 Let me take a second to bring you this public service announcement about testing paint colors!
The first thing I do is paint samples up with real paint on my 12×12 SmallWall® boards that are available at Sherwin-Williams or on their website. These boards are the closest thing to painting on drywall that you can get, plus with their adhesive strip on the back you can move them to different walls in different lighting so that you make better paint color decisions. Their design is patented, and I haven't found a better product for sampling paint colors.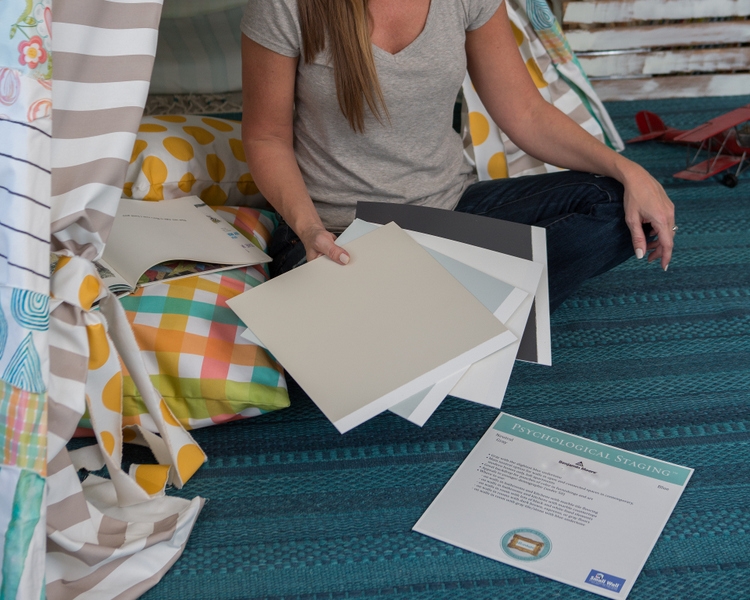 You get a much more accurate read on what the color will look like with these large samples than you can with a teeny-tiny printed card in a paint company's fan deck surrounded by other colors. I placed a few of the samples I have with me all the time in the master bathroom to give you an idea of how you should test paint color – NOT by painting directly on the wall!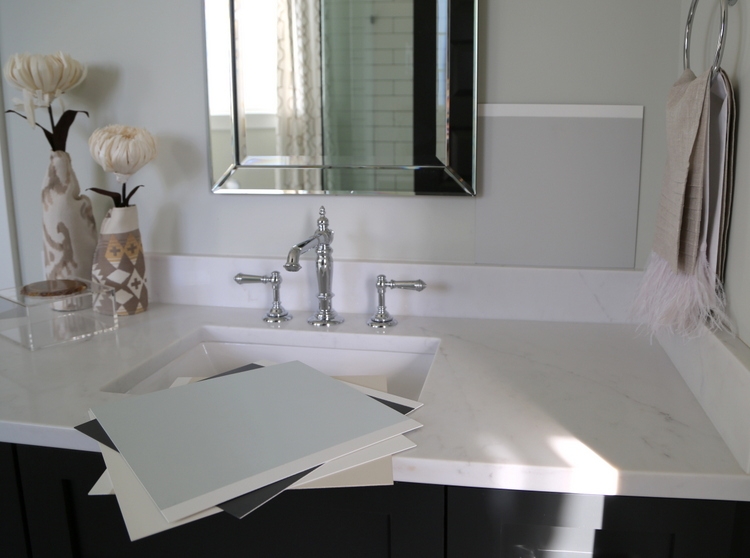 Oh, and always test against trim to make sure you are going to get the contrast (or lack of contrast) that you are going for!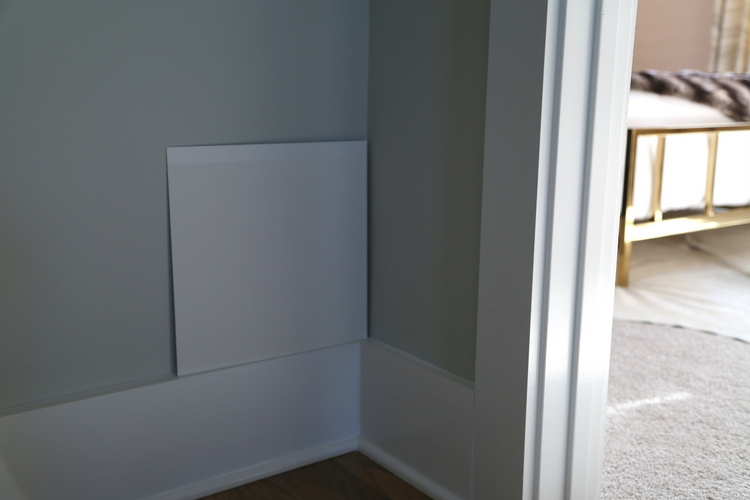 Ok, back to the paint colors that I chose for the House for Hope Designer Showhouse. The mudroom walls are SW Conservative Gray, while the laundry room walls are SW Comfort Gray (you'll see that color again in a minute).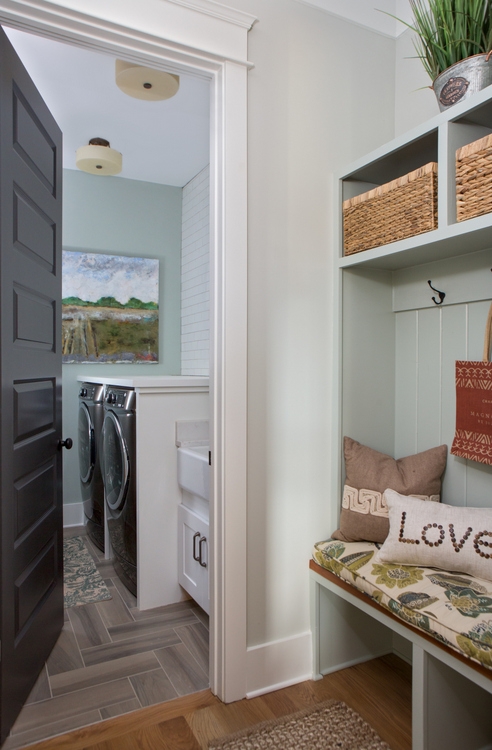 design by Rhoda of Southern Hospitality
Here's the bonus room with SW Conservative Gray walls. The custom bookcase/entertainment center is Pure White like the trim in the room, but has SW Slate Tile in the back of the unit only. I like to do entertainment units with dark back walls so the television blends in a little better. You will see this color used again in the home, but in different placements.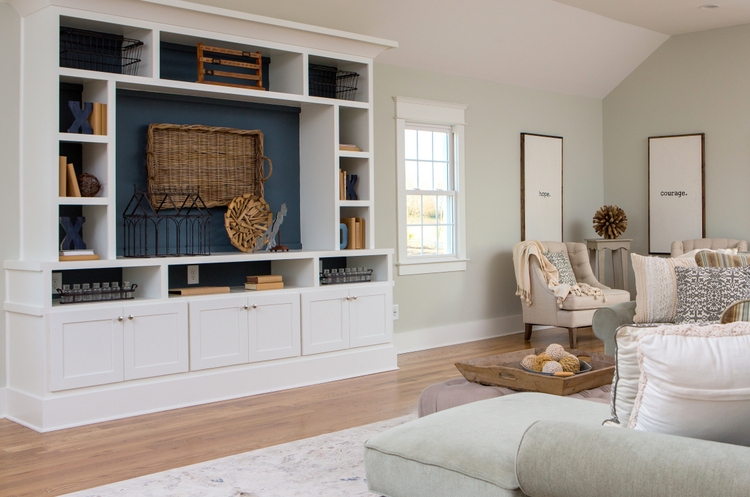 bonus room design by Kari Ann from Thistlewood Farms
The sophisticated guest room is where you'll see a combo of two of our memory colors™ for the home – SW Comfort Gray on the walls, and SW Slate Tile on the ceiling. This small room actually has four paint colors in it (including the Pure White trim and Iron Ore doors).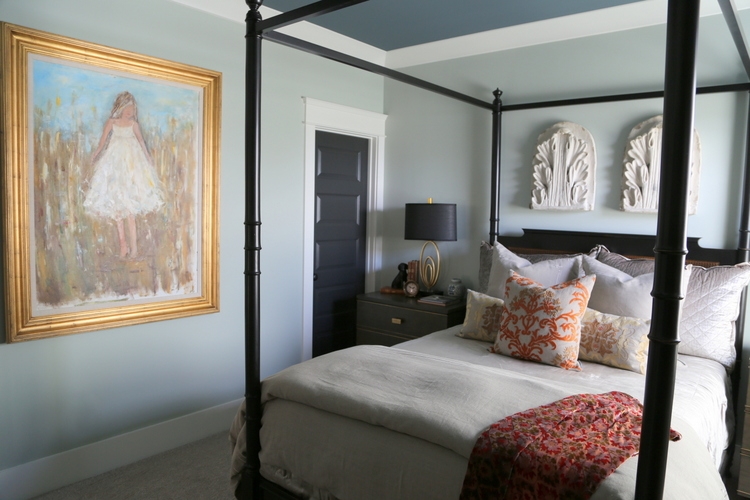 design by Angie Forte and Jerome Farris of Peddler Interiors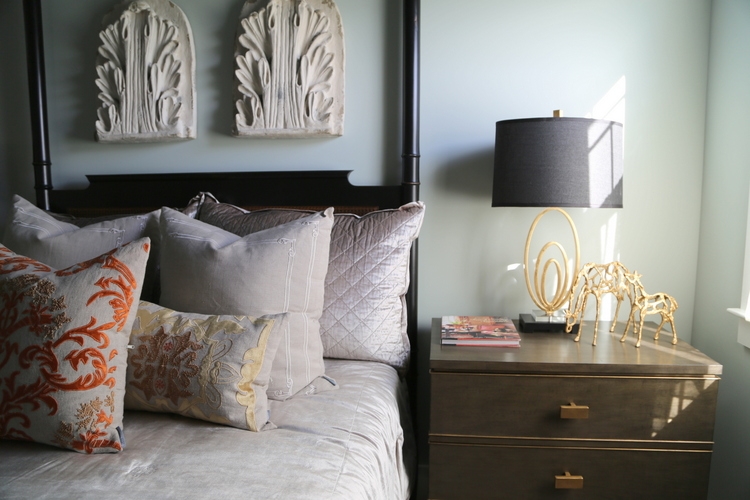 Down the hall is the boy's bedroom was designed by Amanda Carlson of Amanda Carlson Interiors. I specified SW Slate Tile for the walls this time, which is a perfect rich color for an evergreen boy's room.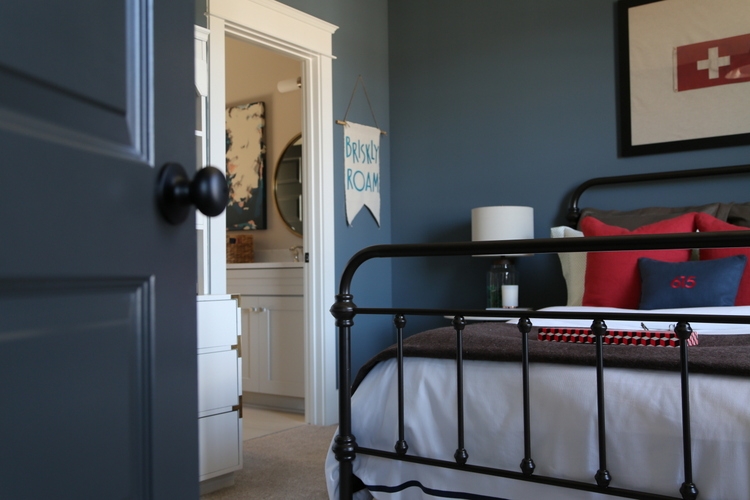 design by Amanda Carlson Interiors
What's an "evergreen" room, you ask? It's a color that will take a child from early boyhood to young gentleman without having to repaint! I love taking photos through a mirror – doesn't this round wall mirror capture this room's cool vibe perfectly?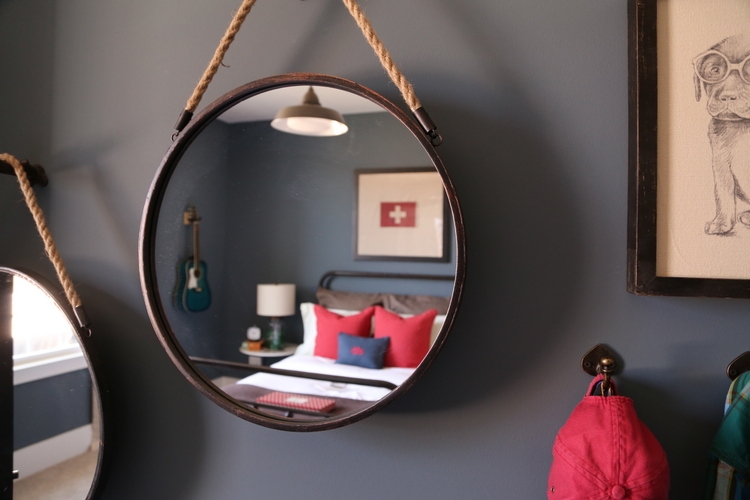 Look at how Amanda put army men inside the fillable glass lamp bases – how cool is that? She initially tried matchbox cars, but she thought it looked too busy in photos!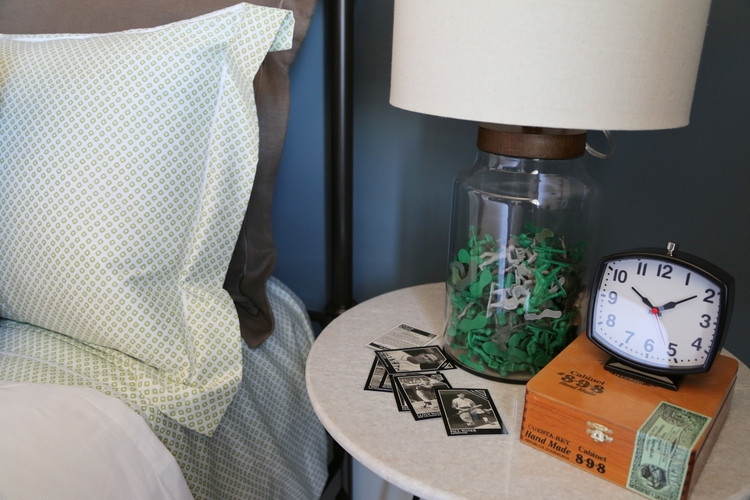 Amanda is an interior designer who took my Expert Psychological Stager™ course a couple years ago to help relaunch her career after staying home with her kiddos for quite a few years. I love to see the cool things she is doing in Nashville!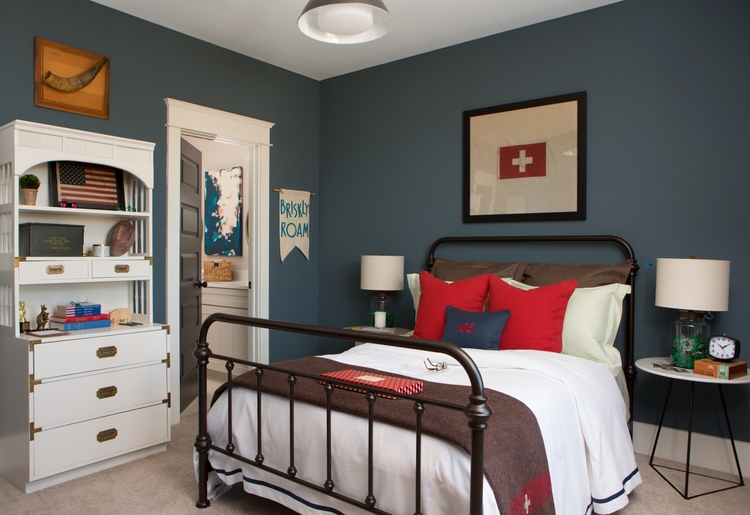 This is the Jack and Jill bathroom between the boy's room and the girl's room.  As you will see in a moment, the art in the bathroom marries the two bedrooms perfectly: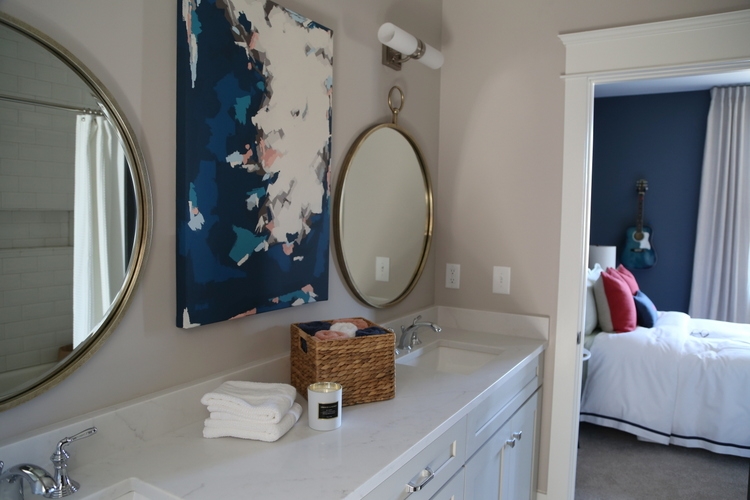 And now for the girl's bedroom designed by artist Gina Julian.  Imagine the daughter who loves coming home from college to hang out in her very sophisticated digs.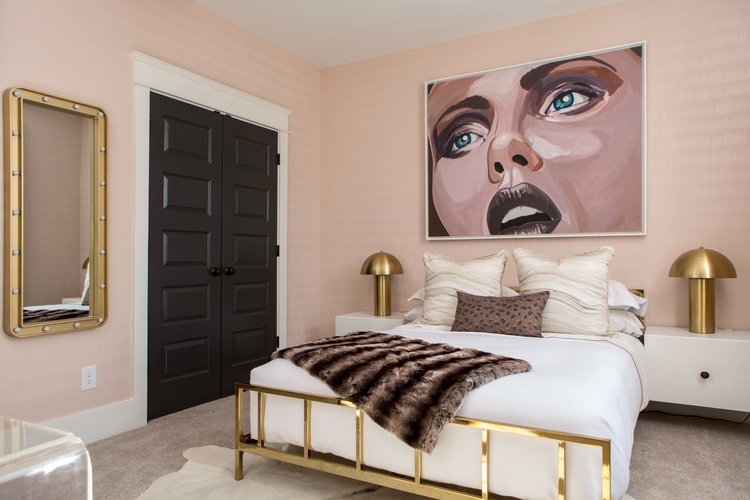 design and art  by Gina Julian
I chose SW Malted Milk, a sophisticated blush pink, for the walls of this room. Bella Tucker Decorative Finishes created a special effect by applying a higher-sheen finish on the applied stenciled pattern that makes me think of teardrops. How appropriate is that for the teenage years??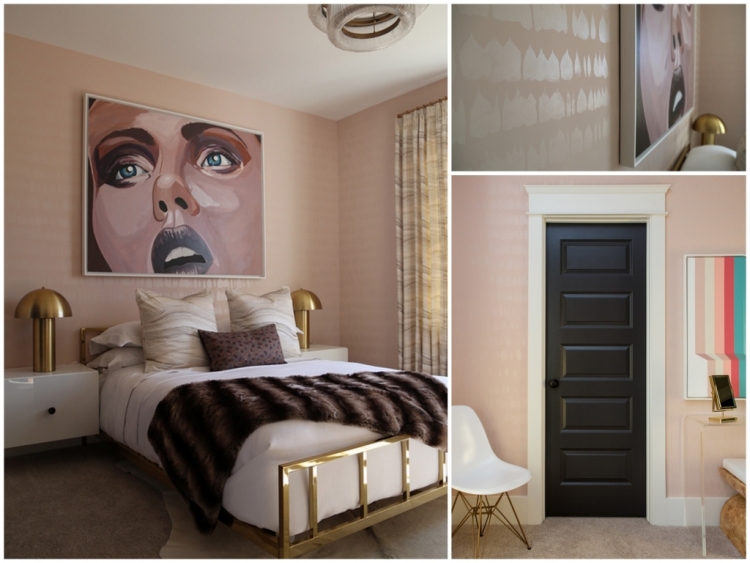 The kid's bunk room was a big hit in the House for Hope Designer Showhouse. The hall walls here are Conservative Gray, while the bunk room walls are Comfort Gray. Don't you just love that built-in bunk bed???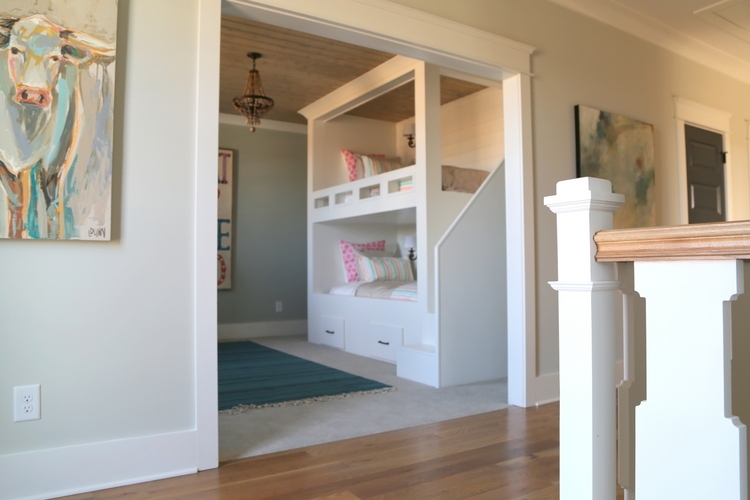 bunk room design by The Handmade Home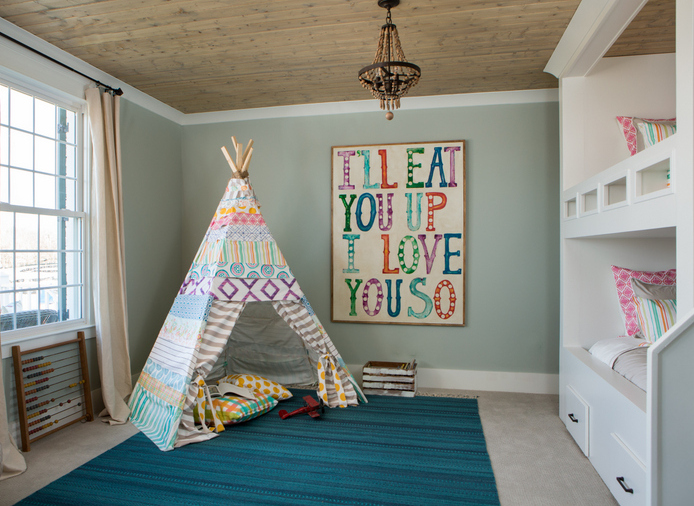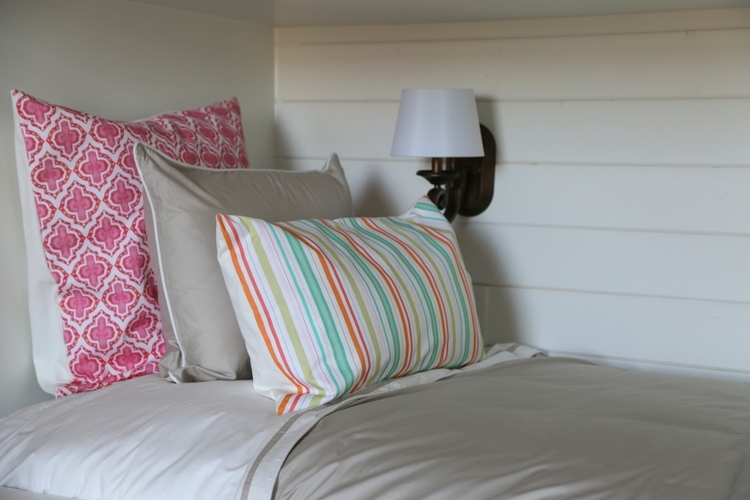 majority of photos taken by SqFt Photography for The Decorologist, a few taken by The Decorologist
There's more to see at the House for Hope Designer Showhouse! Be sure to tour it for yourself if you are local – all of the proceeds go to a myriad of children's charities! Here are some of the ones that will benefit from your visit and the sale of the home (maybe you should buy it!):
Young Life Capernaum, Camp Will, Special Olympics, Big Brothers Big Sisters, Hospital Hospitality House of Nashville, Tennessee Baptist Children's Home, Boys & Girls Club, AGAPE, Saddle Up!, GraceWorks, My Friend's House, Narrow Gate Lodge, Waves – Early Learning, High Hopes, Make-A-Wish Foundation, Bridges Domestic Violence Center, and Franklin Open Hearts.
I'm happy to see three of the wonderful organizations that I personally support on the list. All are great charities that benefit children in need in the middle Tennessee area.
I also want to make note of the fact that all of the designers and sponsors involved in the showhouse were NOT compensated and have donated their time, effort, and money for this fundraising effort to benefit these charities. YOU CAN HELP by attending the tour and checking out the EBTH sale after the tour. It will include items from the house, as well as additional items donated by those involved in the House for Hope.
The House For Hope Designer Show House
Open through March 12 from 12:00 – 5:00
Southern Preserve neighborhood, 2045 Lewisburg Pike, Franklin, TN 37064
Realtors presenting a business card are free throughout the tour!!!
And by the way, if you'd like to learn more about paint color, design, or home staging, find out how you can learn from me here.
Share this Post