Last week I was invited to the NKBA (National Kitchen and Bath Association) meeting about 2017 Kitchen Trends, sponsored by Procraft Cabinetry, Caesarstone, and Richelieu. I took notes like crazy so that I could share some of what I've learned with you – now you can make the best choices in your kitchen renovations!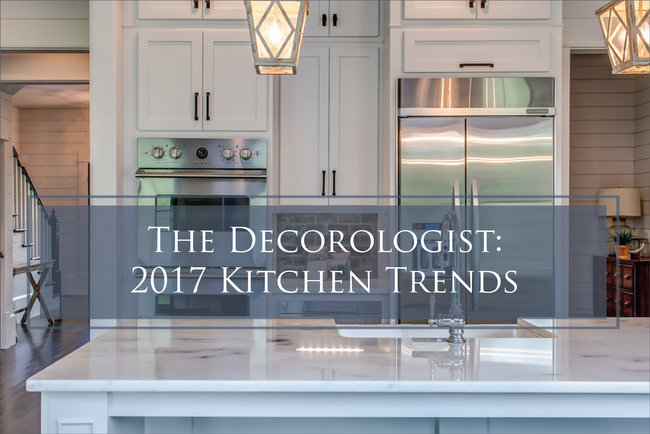 2017 Kitchen Trends: Cabinetry
Some of the top trends include painted cabinet in colors such as white, off-white, and gray, as well as light and dark greens and blues. Black cabinets are back in vogue, as well. Crown molding is actually on the decline in kitchens (this must be in contemporary kitchens??), but cabinets to the ceiling are a must – no more tchotchkes and trailing ivy above the cabinets! I always advise crown molding in the kitchen if the cabinets go to the top,  but just be sure to make it the same color as your cabinetry. If you have colored cabinets and white trim in the kitchen, the crown molding attached to your cabinets should be the same color as your cabinets. Then, you can transition to the room's trim color at the corners where the cabinets stop. Like this: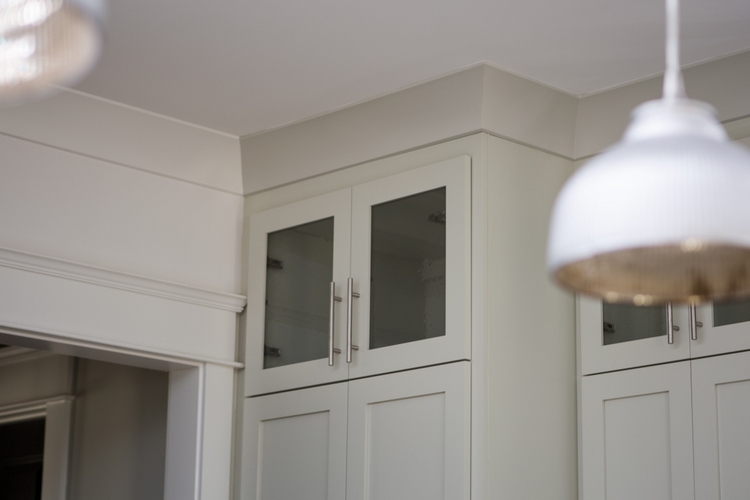 crown molding like THIS
Painters will paint all the crown molding the same as the rest of the room if you don't specify, like they did before I corrected them here: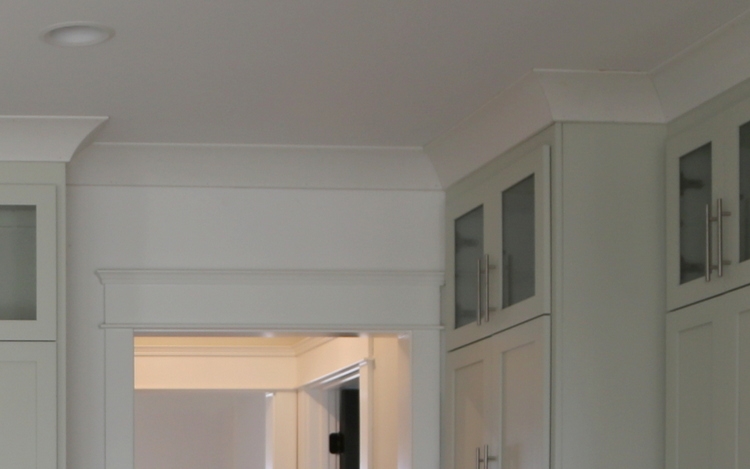 NO, NOT LIKE THIS!
While transitional is the most popular style of kitchens, contemporary currently comes in second place. Mid-century modern looks, as well as aluminum doors with glass inserts are trending. Metal cabinets are showing up, particularly with the younger demographic and for males. Tambour doors and aluminum frame doors are becoming more popular.  High gloss cabinets and black cabinets are emerging within this style, as well as smoked glass doors.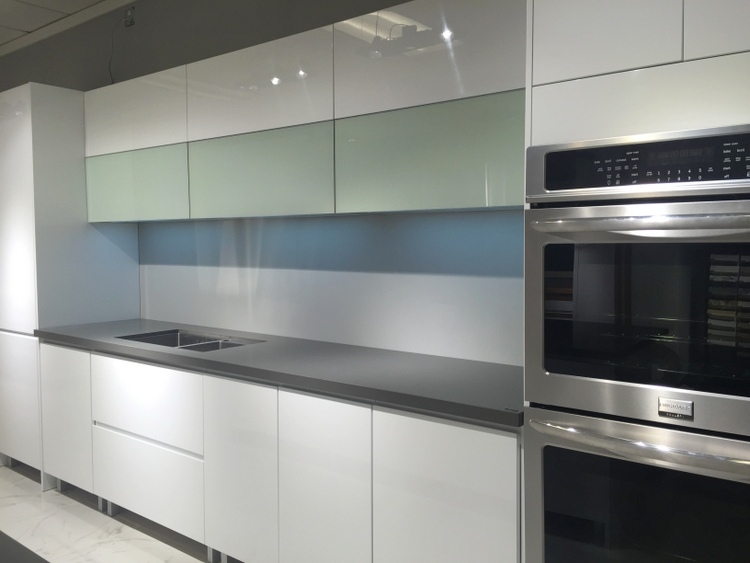 Open shelving and floating shelves are seen in both farmhouse and industrial style kitchens, as well as European streamlined kitchens. There are also a lot of barn wood products being featured in kitchens, especially for that farmhouse feel. Pocket doors are trending, like this one in reclaimed barn wood from the House for Hope Designer Showhouse: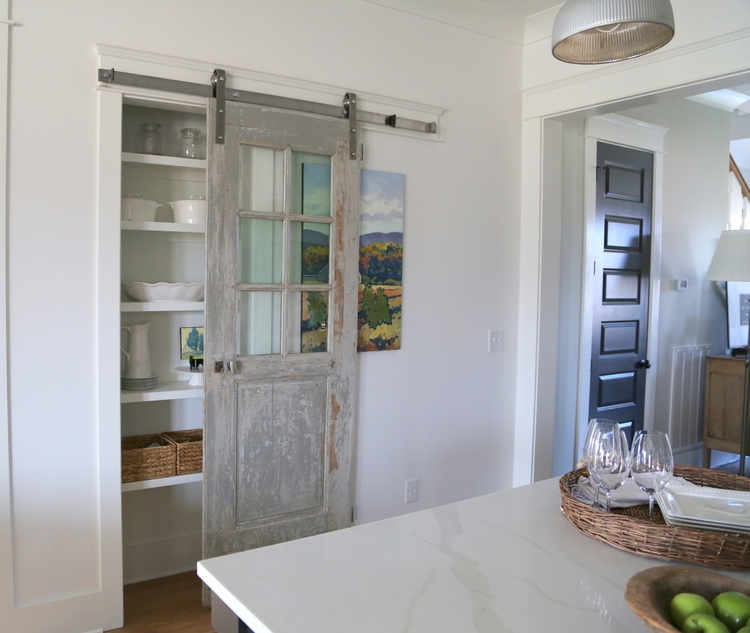 Other kitchen trends include inlaid butcher blocks in countertops and furniture detailing such as footed cabinets and furniture-like islands.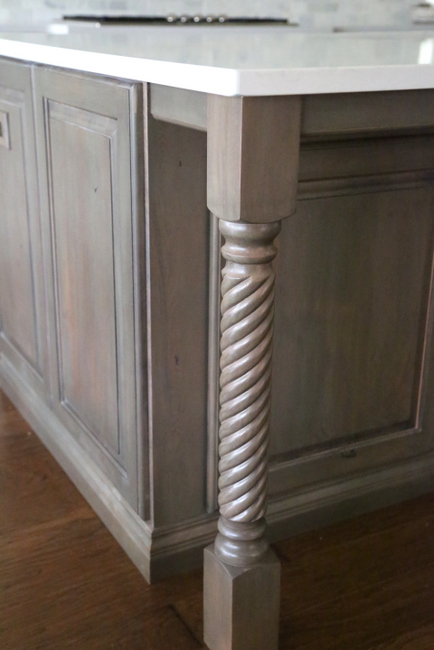 island design by The Decorologist
2017 Kitchen Trends: Islands
And speaking of islands, the kitchen island just keeps getting bigger! Double and triple islands, sometimes even in different colors, are gaining popularity. To avoid seams in jumbo-sized island countertops, you'll have to get larger slabs than what we're used to seeing. We spoke to a rep from Smokey Mountain Tops, and she told us that they can get jumbo quartz slabs that are 132 inches by 65 inches to avoid seams! Of course, it's going to cost you a bit more, but the result will be much more sophisticated. Islands that are a different color and/or finish than the cabinets are still mainstream.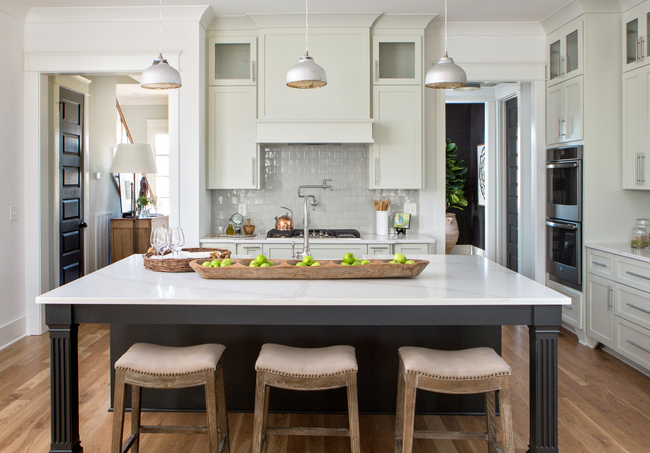 Kitchen by Carbine & Associates, design by Lucy Farmer, paint colors by The Decorologist
2017 Kitchen Trends: Appliances
While stainless steel appliances are still the most popular, black stainless is trending upwards. It's a matte finish, so you'll have much less trouble with fingerprints that you do with typical stainless steel. Appliances hidden behind cabinetry panels help keep kitchens from looking too choppy and are the choice for many high-end kitchen designs.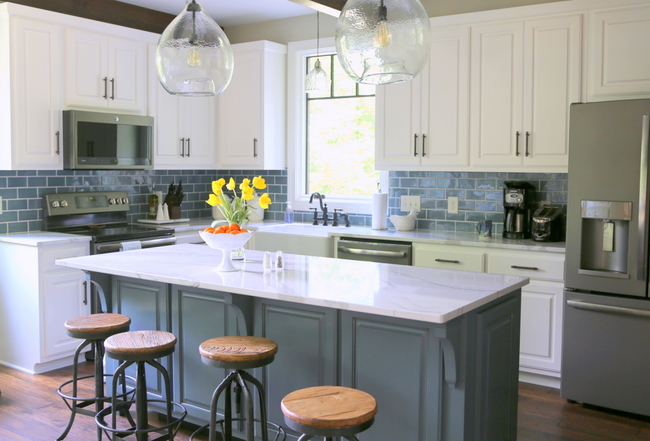 2017 Kitchen Trends: Backsplash
Subway tiles are still going strong. However, 2017 kitchen trends will feature more textured, handmade versions, as well as different colors and sizes of tiles.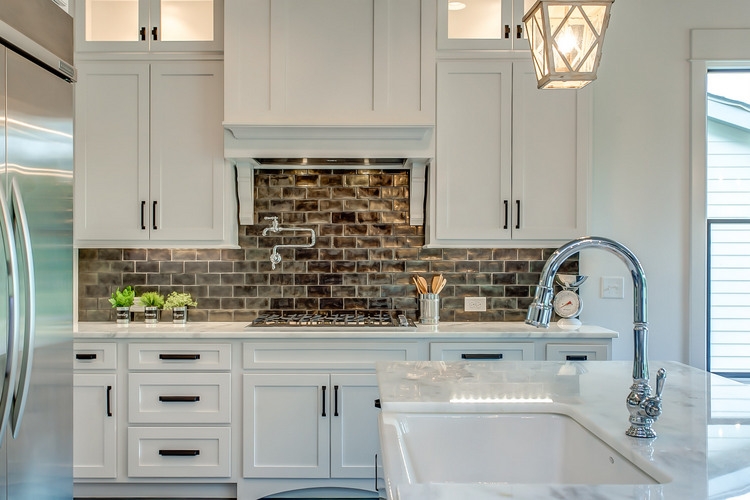 Geometric tiles are also trending, like honeycomb and penny tiles for backsplashes.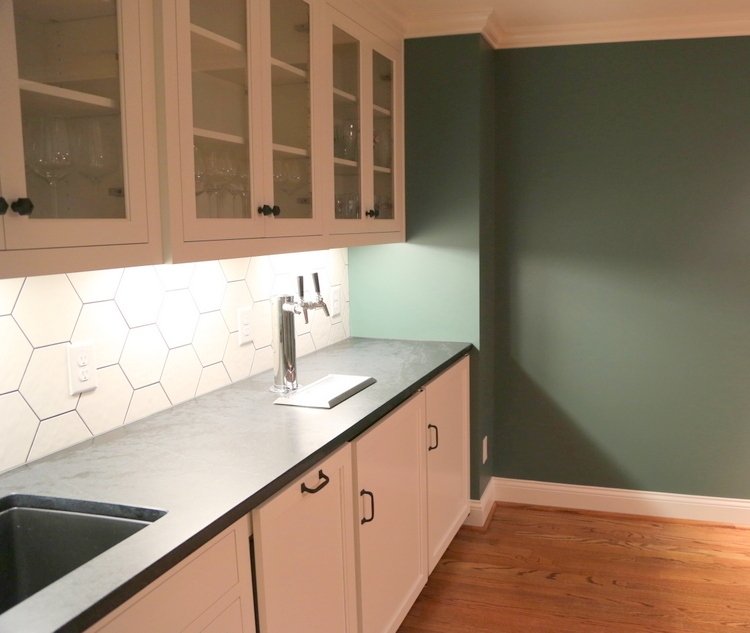 honeycomb tile, dark hardware pulls, and appliances behind panels – design by The Decorologist
Encaustic tiles (or less expensive ceramic versions) are gonna be BIG, y'all. Here's a in-process photo of a long distance design client I've been working with for a while on her home's paint colors and kitchen design.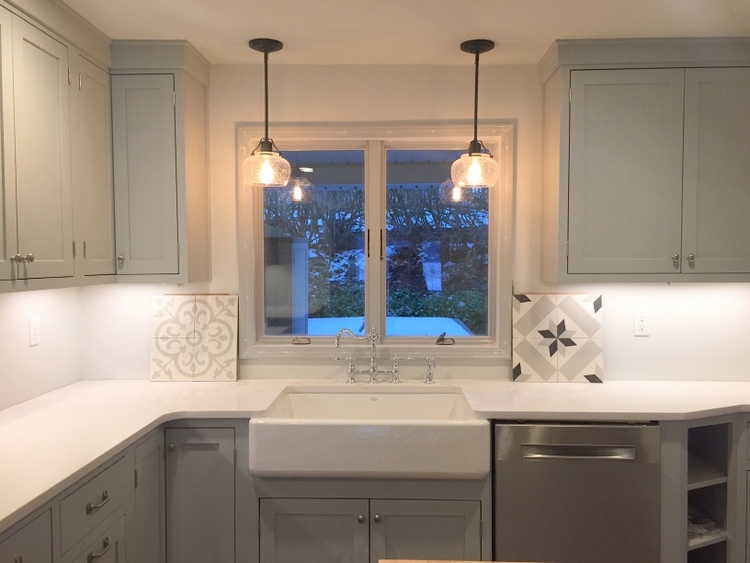 encaustic tile trends in kitchens
2017 Kitchen Trends: Hardware/Metals
The rep from Richelieu reported hardware trending towards champagne bronze (which leans toward gold), copper, matte black, and polished chrome. We are also going to see some beefier pulls.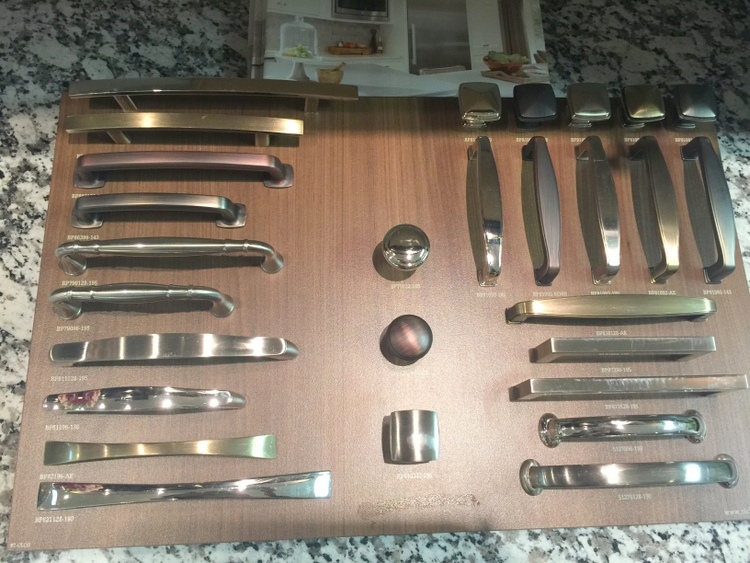 Mixing metals is encouraged! In fact, using a single metal in a kitchen looks pretty un-designed at this point. You'll also be seeing iron strapping like a trunk on cabinets and stove range hoods.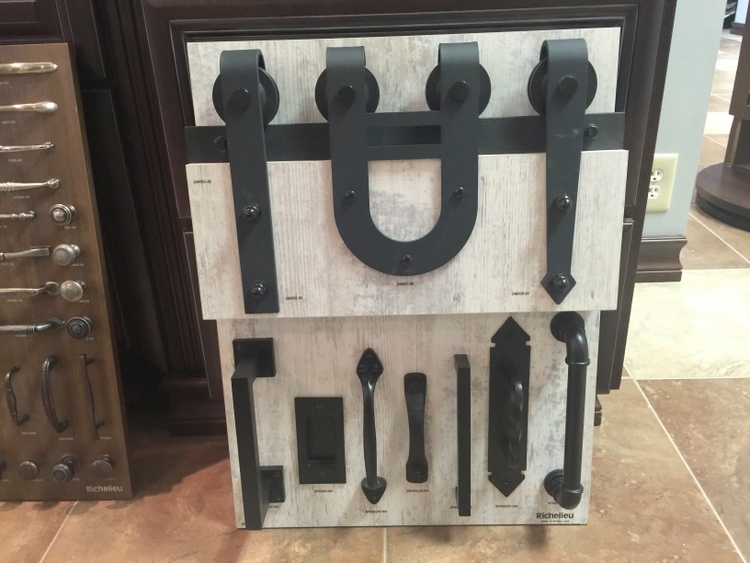 2017 Kitchen Trends: Countertops
Bye-bye, granite. Quartz and quartzite countertops have FINALLY surpassed granite in popularity. With most of these products, no sealing, treatment or maintenance is required. They are scratch-, heat- and stain-resistant. And hygienic! You'll see the growing popularity of quartz countertops that mimic marble, concrete, and soapstone.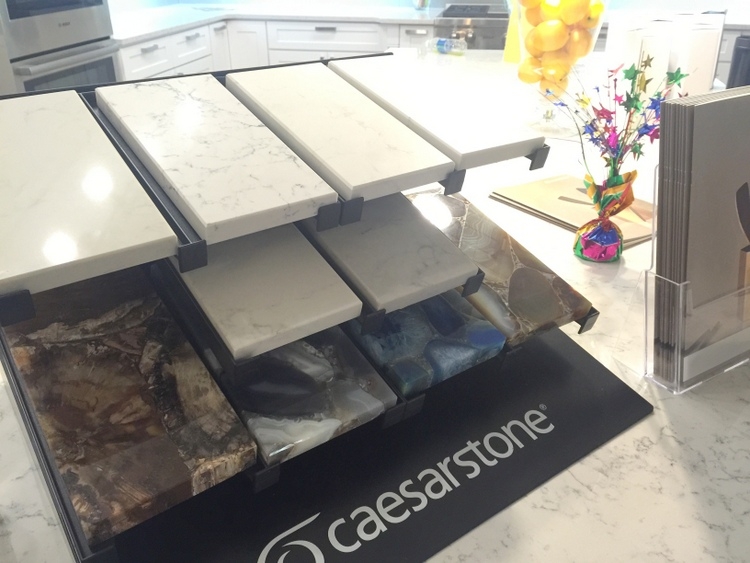 Although I haven't seen this used YET, I am intrigued by this new Caesarstone offering. Reminds me of my childhood neighbor's groovy bathroom counter! In a very specific application, this could be very interesting . . .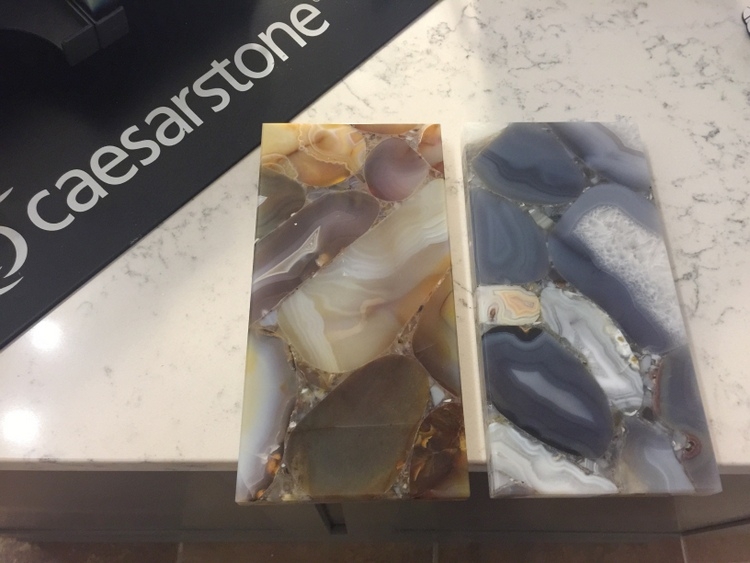 2017 Kitchen Trends: Lighting
Kitchen ceilings are going taller, so we're seeing lots of lighting trends, including recessed, hanging lights, and flush mounts in the kitchen. Hanging lights over islands continue to be oversized. You're going to see lighting in cabinets, under cabinets, over cabinets, in the toe kick, in the drawers, and in corner cabinets. The great thing about this trend is that it is fairly cheap! A lot of the lighting can now be voice- or motion-activated, making it easier to keep messy hands off of the light switch. Even faucet lighting is a thing!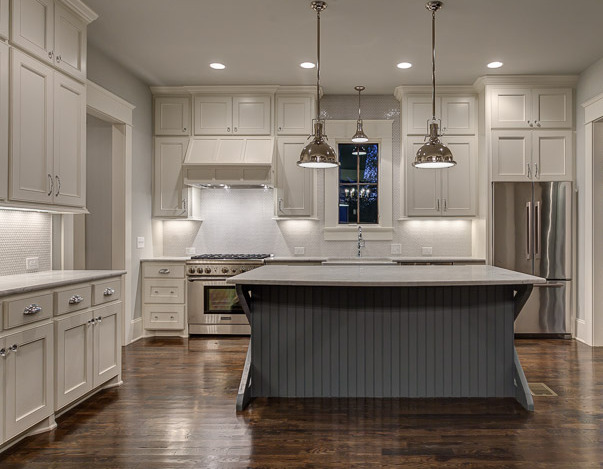 Kole Custom Home Builders – color design by The Decorologist
Here's a tip:  if you have a gray backsplash (especially if it's shiny or glass tile), be sure to use cool lighting underneath your cabinets.  A gray backsplash with warm lighting on it can turn it PINK, which is probably not what you're going for!
2017 Kitchen Trends: Organization and Technology
The Huffington Post reports that cabinet organization is a major source of stress for homeowners. I concur! We're going to be seeing a lot more lower cabinets with drawers. It's just a lot more efficient to store items in drawers, since it is easier to get to the back of them. You're going to see longer, wider, linear drawers to hold your items.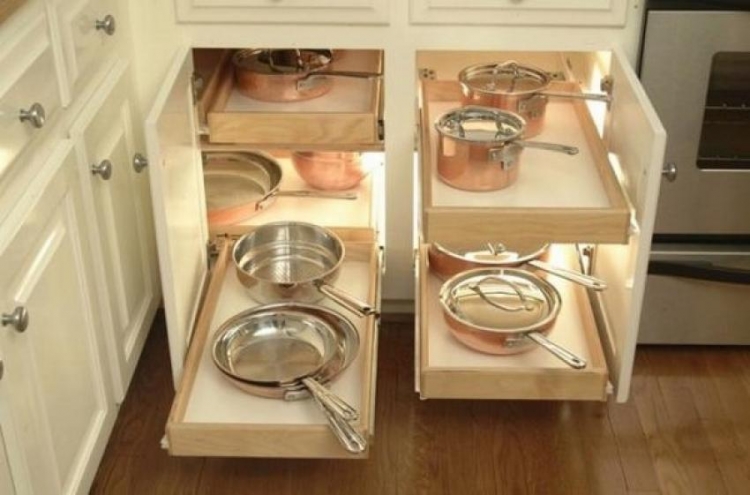 lighted pull-outs in base cabinets by Themsfly
Transforming furniture is an exciting trend in kitchens. How about an island that transforms into a kitchen table? Or step stools integrated into lower drawer panels that camouflage larger appliances? Mixer lifts will be more common behind closed doors, but don't think that those lifts are only for mixers – they can hold your Keurig or heavy appliances, as well. Unfortunately, your darling colorful KitchenAid mixer would be hidden from sight.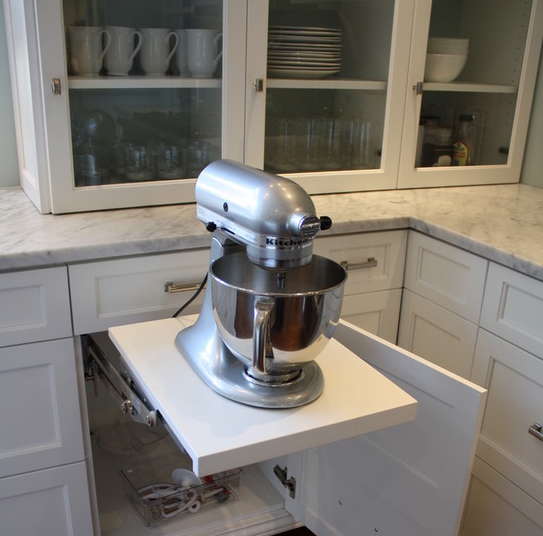 Technological advances are happening in the kitchen as well. Docking stations and internet-ready appliances are becoming part of the landscape of new kitchens.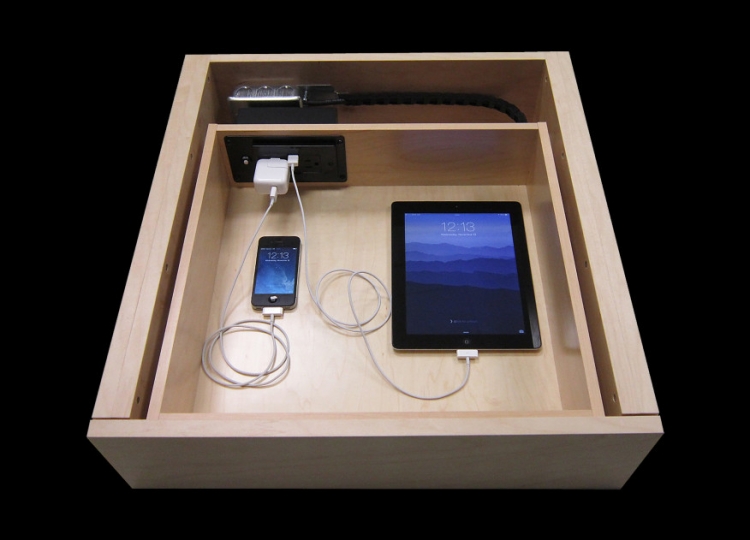 Now tell me, what are your favorite 2017 kitchen trends? And did I miss anything?
My next Expert Psychological Staging™ course is this coming week, and I'm so excited! The June course is already beginning to fill up, so sign up soon if you are interested: