Maybe I'm a bit dramatic when it comes to decorating my house, but have you ever searched and waited for just the right fill-in-the-blank for your home?  Then one day, you walk down the aisle of HomeGoods and you see "the one" and the angels start singing?  That's what happened to me last week – I found the lamps I've been waiting for all of my life.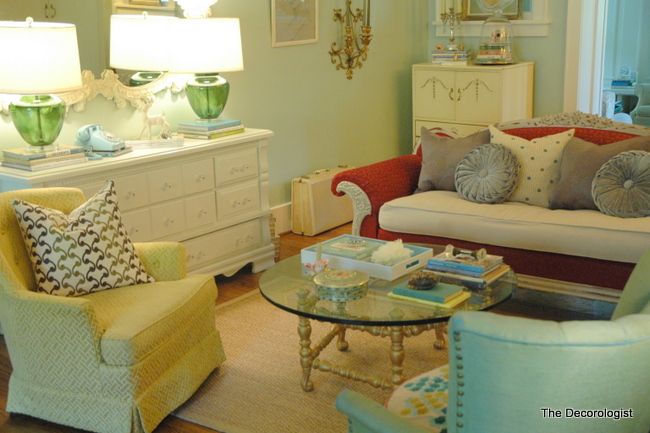 I have this long painted buffet/dresser/console in my living room that needs a big, chunky pair of lamps.  I've had many different pairs of lamps here, but none that I really-really loved for this room.  Since my decor is so funkyvintage, it's hard to find retail accessories that don't scream "I'm the only thing in this room manufactured after 1977!"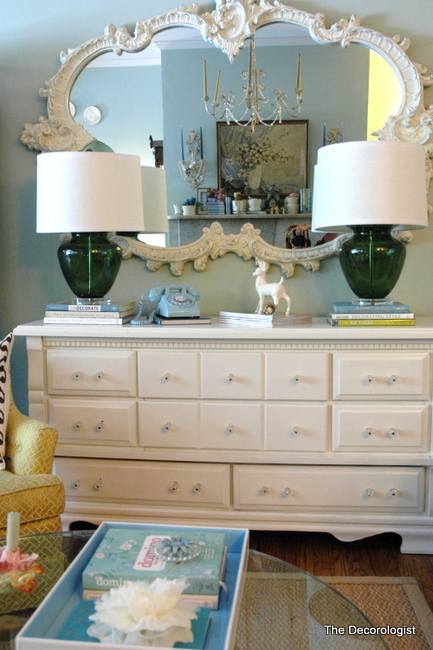 When I found these puppies, one of the shades sat higher than the other one.  I noticed that one of the harps was silver and the other one was brass.  I had the manager of the store scour the back to find a harp that fit so that they would match up better.  Then I got home, put bulbs in, then turned on my new lamps.  Guess what?  The linings of the shades were different, so when they were turned on one looked creamy and one looked white!  Ugh.  Then I spent the next hour changing around lampshades from all around the house (I'm sure I tried about 20), most of which were too small.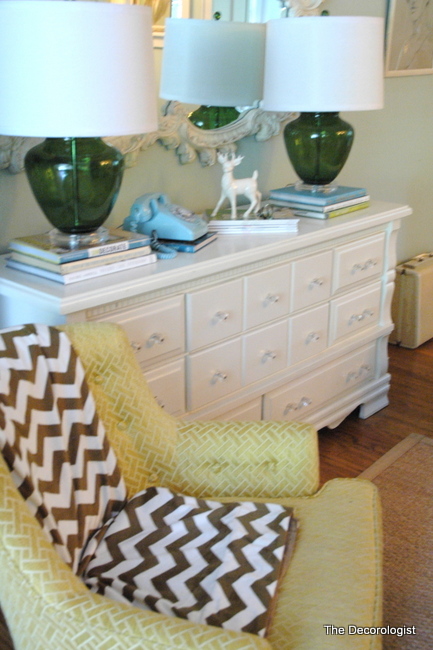 I finally decided on these large white textured ones from my bedroom.  You can't see the texture in the photos, unfortunately.   I posted a photo of my new pride-and-joys on my Facebook fan page the other day, and not everyone thought the shades were ideal (too big).  People are much more BLUNT on my Facebook page than on my blog about what they think!  But I love them – I think they're large and in charge!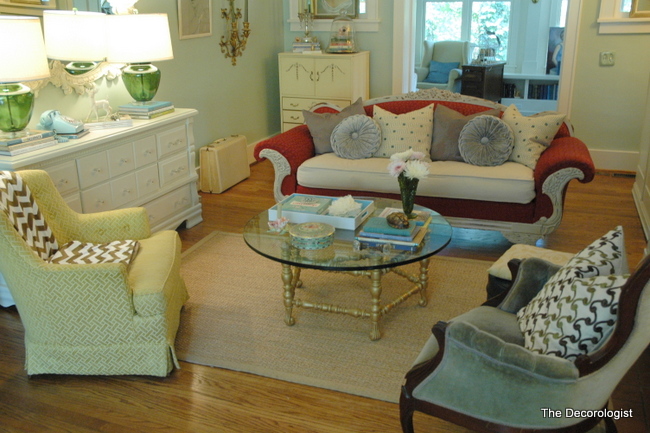 My new lamps are in my current color-crush (did you read my post from Friday?), emerald green!  You may have noticed the chevron blanket – also in emerald green from Home Goods.   I moved around some chairs and  decided on the arrangement you see in this last photo.  It's feeling a bit like Downton Abbey around here lately, and I like it.  What piece of furniture or decor have YOU been waiting for all of your life???