Happy Monday, dear readers!  Have I got a fun room makeover for you . . .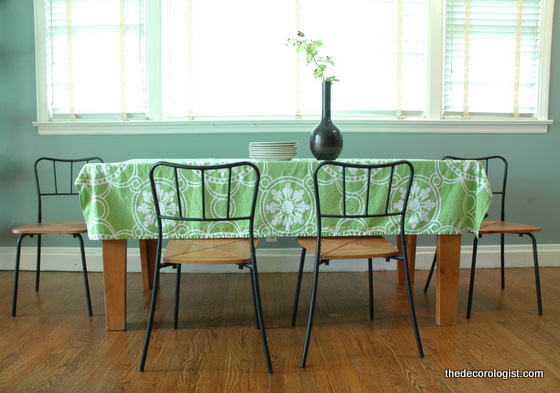 Kristie Barnett
Suppose you lived in a home that looked about the same as it had for the last 50 or more years?  Same paint color (or lack thereof), same finishes, same old groove.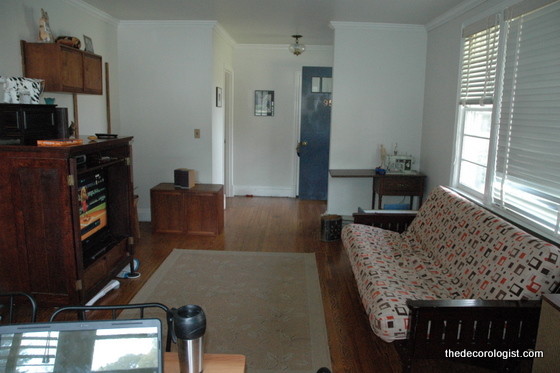 Before Makeover
This mid-century ranch needed to find a new groove.  It was kinda like a Sleeping Beauty, just waiting for The Decorologist to pucker up and . . . well, you get my drift.   Anyway, for very little money this space finally looks (and feels) like it belongs to the current homeowners.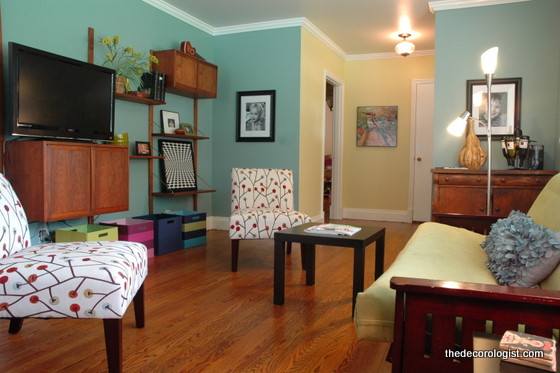 Living Room After
You see, one of the current homeowners (the husband) actually grew up in this home.  And after all those years, he had a hard time seeing it any other way.  His wife and young kiddos are  living here now, but they didn't yet feel like it was THEIR OWN.    This home felt like a hodge-podge of his father's old things and the apartment furnishings from the couple's single days.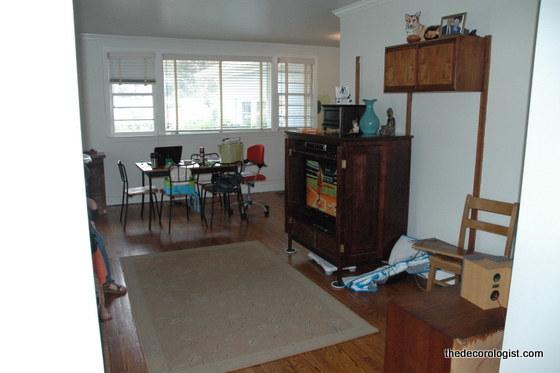 Living Room Before
The wife decided it was time to add some color, try something different.  And she knew that "admitting you need help is the first step . . . "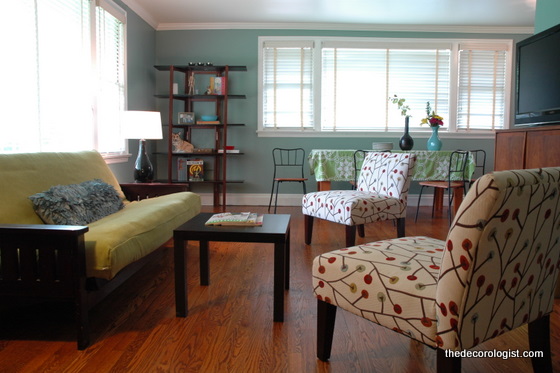 Kristie Barnett
We did a lot of shifting around furniture and brainstorming about better storage solutions.  You can live with what you need without sacrificing beauty.  And you can live with what you love without sacrificing function.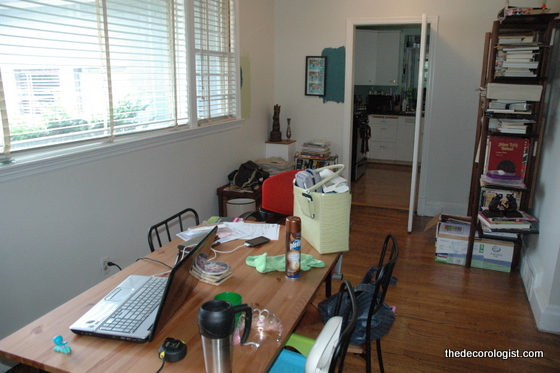 Dining Area Before
We moved out the smaller, shorter table in favor of this larger one that was just sitting under the carport collecting spiderwebs.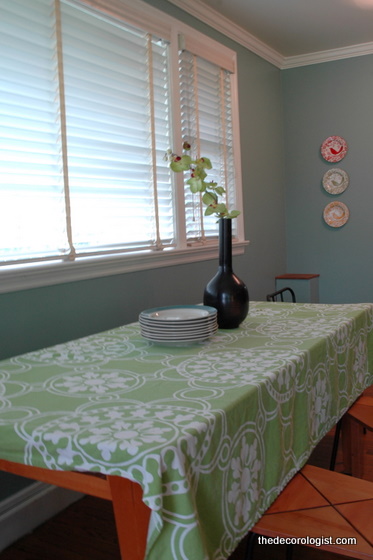 Kristie Barnett
Now, THIS is a groove you can dance to . . .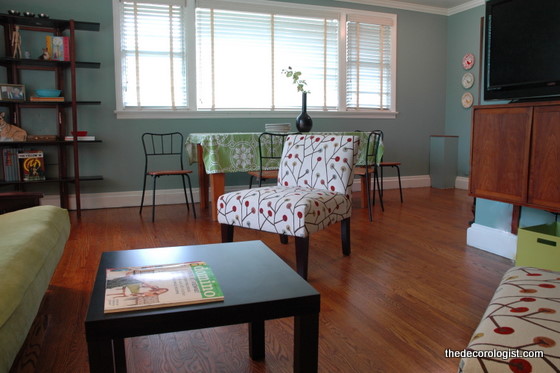 Kristie Barnett
This room is finally living up to it's potential as a fun, contemporary living space for a lively young family.  We incorporated some bargain finds into the decor – the futon slipcover and LACK side tables are from IKEA (check out my post devoted to those awesome little tables by clicking here).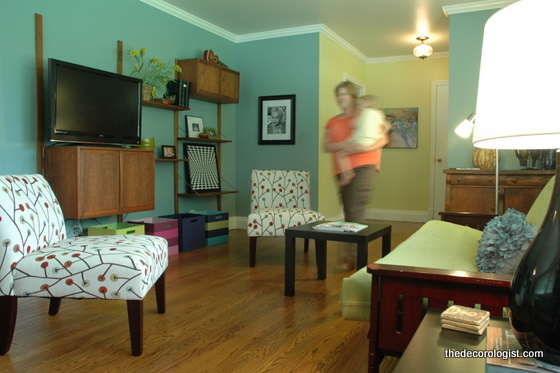 Kristie Barnett
The slipper chairs are from Target.com.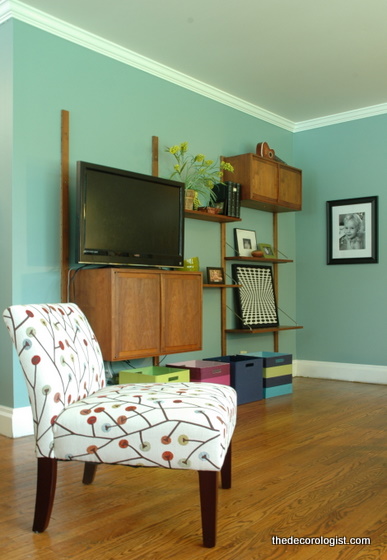 Target's Avington Slipper Chair 
This awesome shelving system was made by the father that previously lived in the home.  The couple had been using a few pieces of it along with a large tv cabinet.  We moved out the bulky cabinet and reassembled the mid-century marvel, creating a better home for their tv and a great area for display and storage.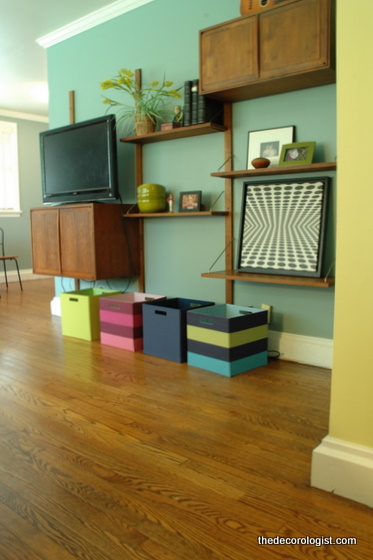 Kristie Barnett
Now the home is as cool as the family who lives there.   How do I know they're cool?  Well . . .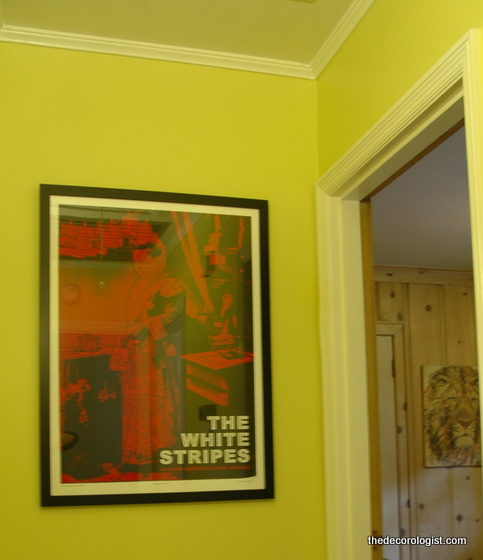 I'd say their White Stripes obsession is a dead give-away.
Contact kristie@thedecorologist.com for a make-over of your least favorite room.  I can help you change its groove!