A while back, I helped a friend choose new paint colors for her home. The previous color of her bedroom made for a bold and dark space, which isn't always bad for a bedroom – but it was time for an overall update.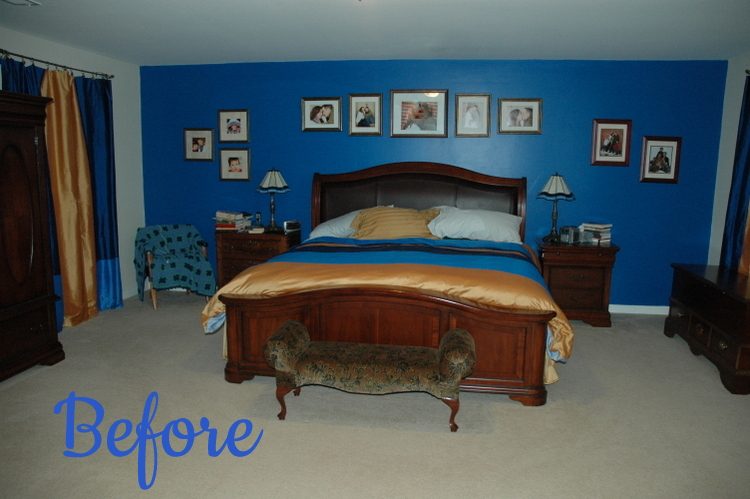 A lighter color palette was in order, and I also suggested some new bedding.  The last time I visited, she showed me how she had painted the walls. She had gotten new bedding and had hung a chandelier she had found, but things were still a bit unfinished.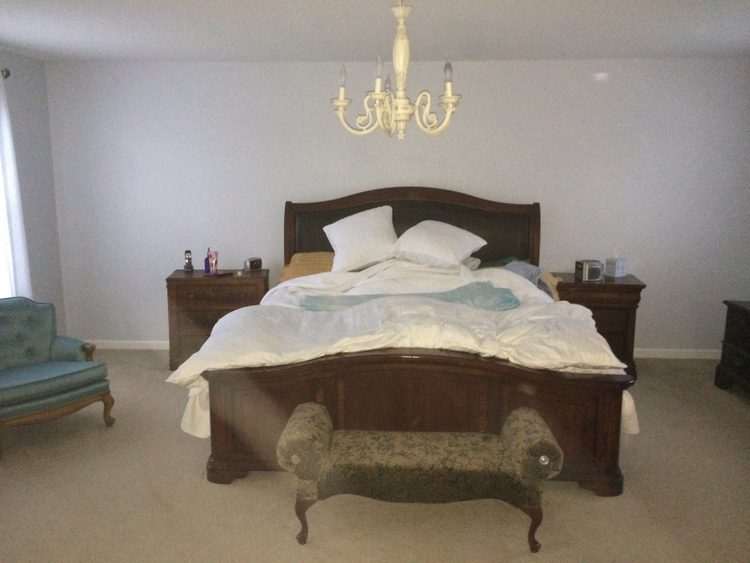 As I gave her some ideas on how to finish it out, I could see the blank look spread across her face.  So I told her to grab her purse, and I drove her to the nearest HomeGoods immediately! Two awesome bedside lamps, a cute new bench, and a simple accent pillow later, we drove back to her house and installed our new finds.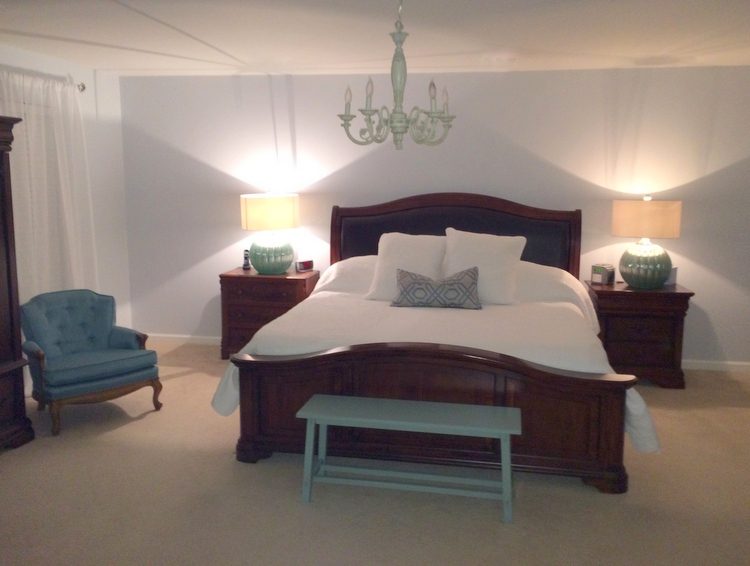 spider legs on the ceiling
But when she put light bulbs in the new lamps, I was appalled! The shadows cast on the ceilings were like spider legs, and the light emitted was glaring and cold. I had told her about Cree LED light bulbs before, but she didn't really think they could make that much difference. So, I ran out to my car and grabbed a couple of Cree LED light bulbs to show her. And, yes, I always carry about Cree light bulbs in my car . . .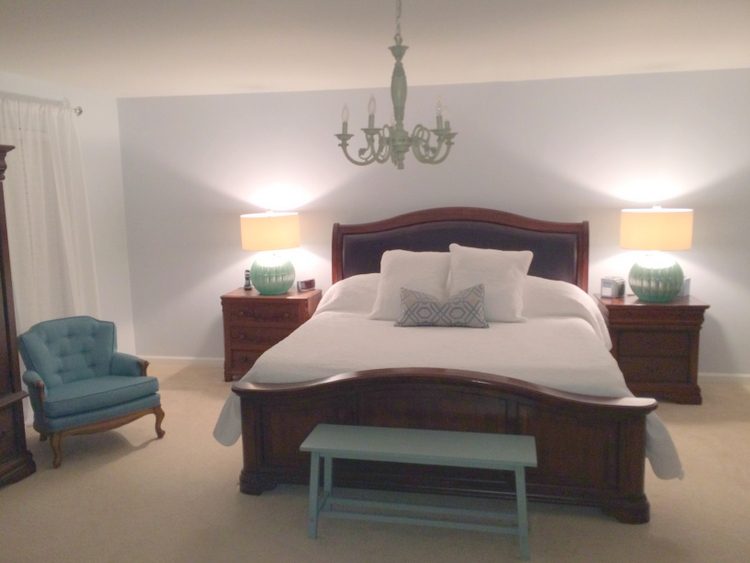 What an improvement! She was like, "THAT'S why you were making such a big deal about replacing my light bulbs!" And I was like, "Duh!"
If your bulbs cast spider legs on the wall, cast a bluish light, expose an ugly corkscrew shape, it may be time for a Cree LED light bulb makeover.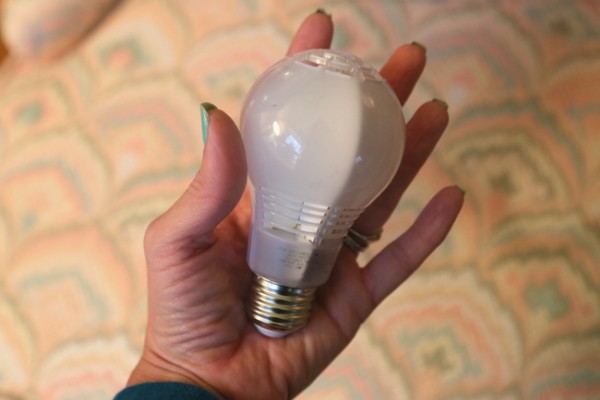 They use less energy and last for decades, too! I found this on their website: "It is 50 times the life of a typical incandescent bulb and 5 times the lifetime of an average compact fluorescent lamp (CFL). In fact, if you ran one Cree lamp for 6 hours per day every day, it would last for nearly 23 years."
On a side note, last week I was in my basement and opened my cabinet where I keep my light bulbs. There was a fluorescent bulb near the edge of the shelf, and it rolled off and hit the concrete floor: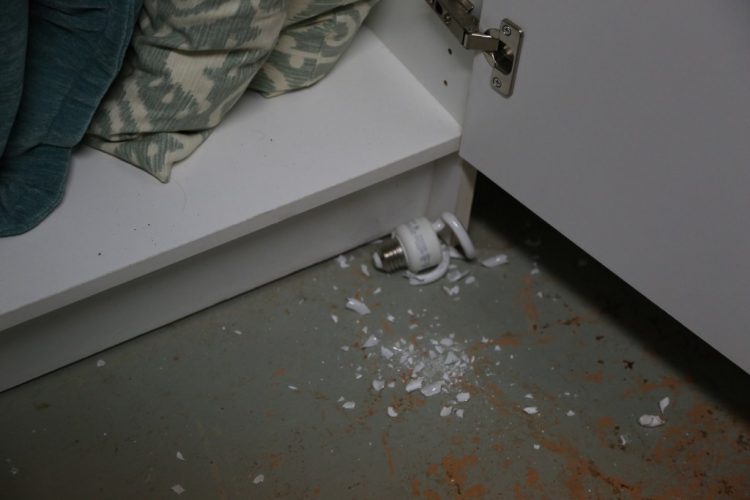 In case you are wondering, THIS IS NOT GOOD. I knew this was bad because of the mercury in compact fluorescent light bulbs, but I didn't have time to attend to it immediately. Thankfully, Mr. Man cleaned it up a few days later. I finally googled today to see how you are supposed to properly expose of these and this is what I found:
1. Before Cleanup
Have people and pets leave the room.
Air out the room for five to 10 minutes by opening a window or door.
Shut off the forced-air heating and cooling system, if you have one.
Collect the following materials to clean up the broken bulb: Stiff paper or cardboard, sticky tape, damp paper towels or disposable wet wipes (for hard surfaces) and an airtight container, such as a glass jar with a metal lid or a resealable plastic bag.
2. During Cleanup
Do not vacuum. Vacuuming is not recommended unless broken glass remains after all other cleanup steps have been taken, as doing so may spread mercury-containing powder or mercury vapor.
Thoroughly scoop up glass fragments and powder using stiff paper or cardboard. Use sticky tape, such as duct tape, to pick up any remaining small glass fragments and powder.
Place the used tape in the glass jar or plastic bag. See detailed cleanup instructions for more information, and for differences in cleaning up hard surfaces versus carpeting or rugs.
Place cleanup materials in a sealable container.
3. After Cleanup
Promptly place all bulb debris and cleanup materials, including any vacuum cleaner bags used, outdoors in a trash container or protected area until materials can be disposed of. Avoid leaving any bulb fragments or cleanup materials indoors.
Use Earth911 or another resource to track down a recycling solution near you. Avoid throwing CFLs (broken or unbroken) into your regular waste bin.
If weather and other conditions allow, continue to air out the room where the bulb was broken and leave the heating and air conditioning system shut off for several hours (a study conducted by the journal Science of The Total Environment found that the critical exposure period passes after four hours).
OOPS. Needless to say, we did not follow that lengthy and terrifying protocol. I assure you, that will be the LAST compact fluorescent light bulb in my home! You can find Cree bulbs at Home Depot or on Amazon here.
Thank you Cree for your amazing and SAFER product and for sponsoring this post!