I, like we all, have missed many "normal" things over the last 18 months. One of which is attending design events and touring homes. It's both inspiration and research for me. So it was nice to be invited to tour a designer home this week with other professionals again!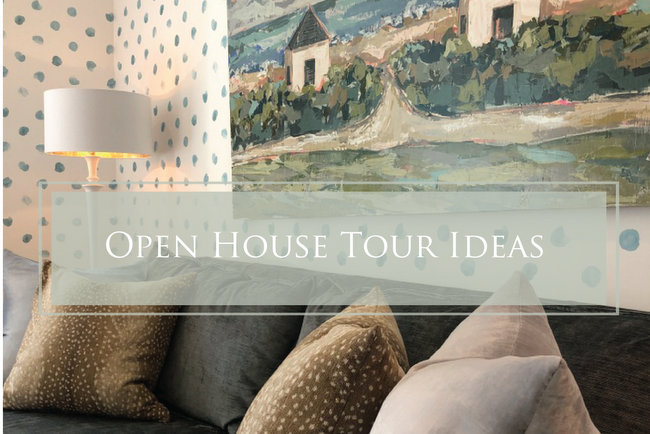 Like my friend and colleague Amanda said "It totally felt like old times, just less crowded!"  We've been attending events like this together ever since she took the Expert Psychological Staging® course six years ago.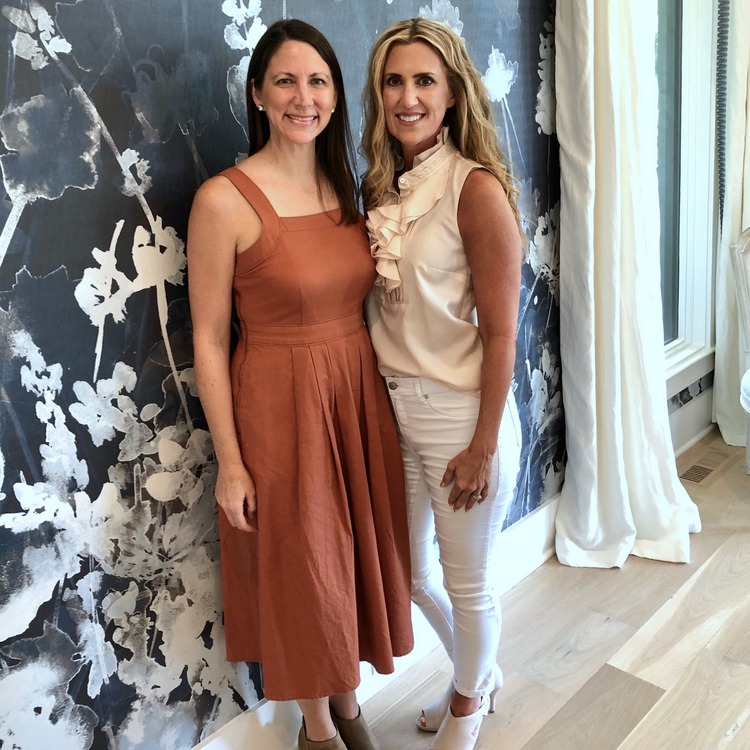 Amanda Carlson of Anthem Collective and myself
Let's take a look around and see if we can get some house tour ideas for your own space. This is not a new house, but is currently under contract with a new owner. Much of the design was done a few years ago by Lori Parangape.
I absolutely love this staircase –  the black iron stiles look so architectural against the wainscot walls. Side note here:  I've always been unsure of the proper pronounciation of "wainscot." Is it a long or short o? I googled and found three different ways to pronounce it. I didn't expect this pronounciation, and I am UTTERLY SHOCKED. If you've ever heard anyone pronounce it like that, do tell!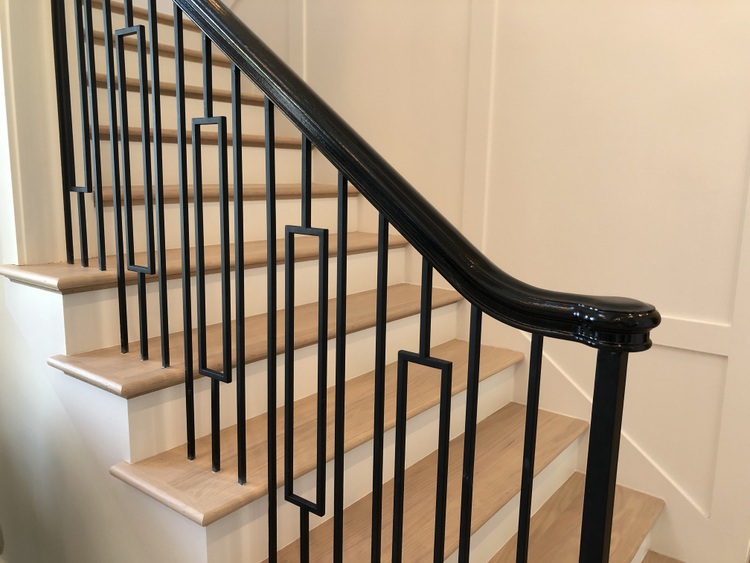 Bookcases in the hallway? Yes, please!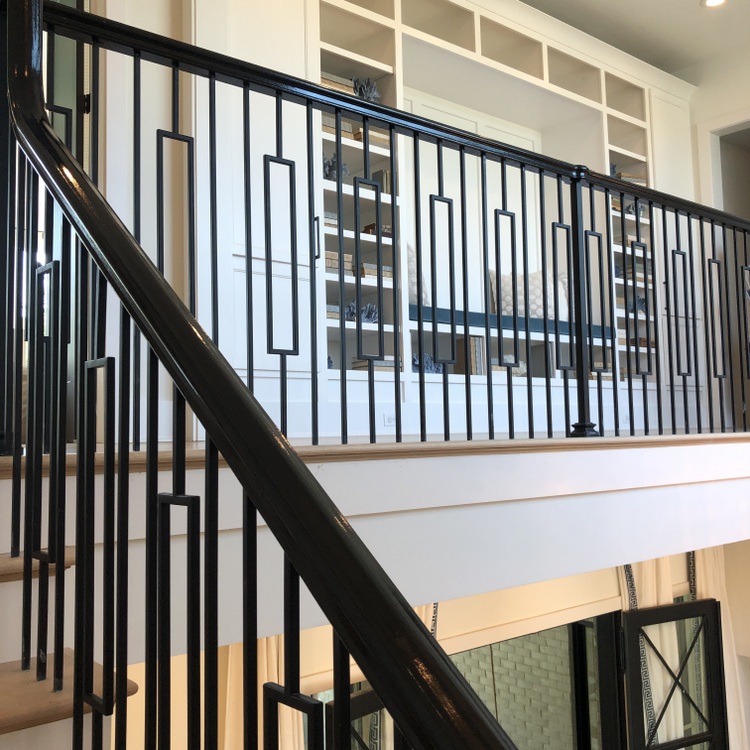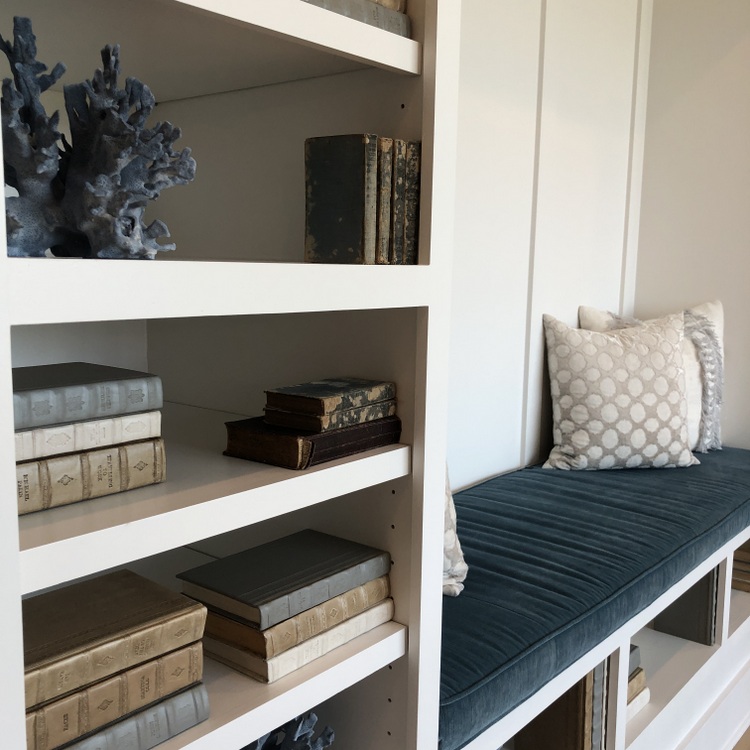 Blue is the dominant accent color throughout, and I specifically noticed the use of blue-black in some spots, like this main level bar: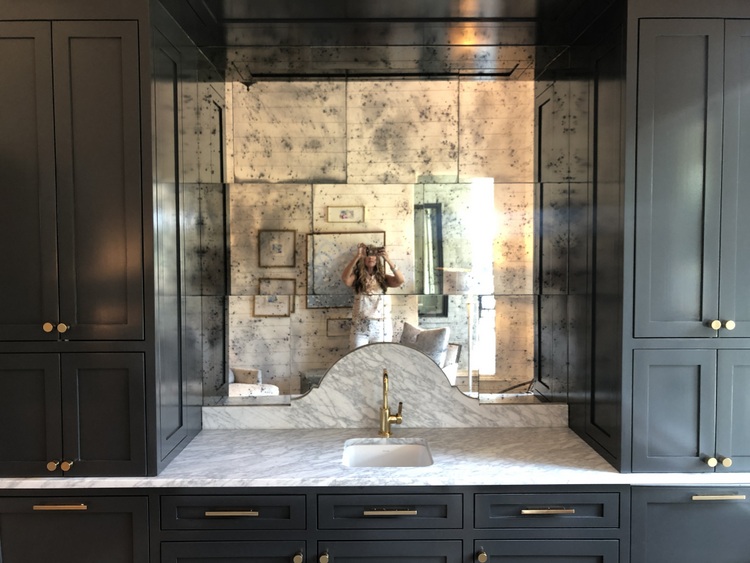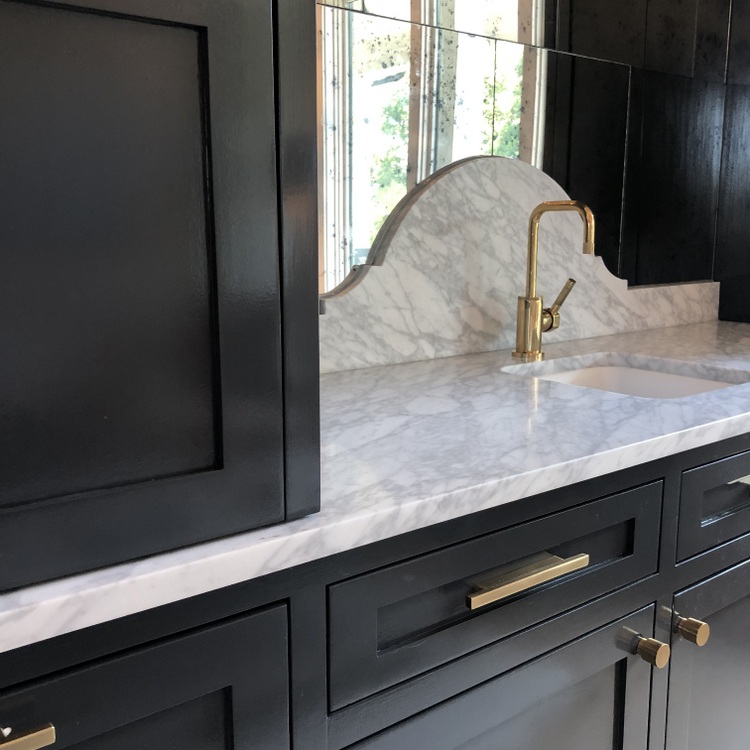 similar to Sherwin-Williams Inkwell SW6992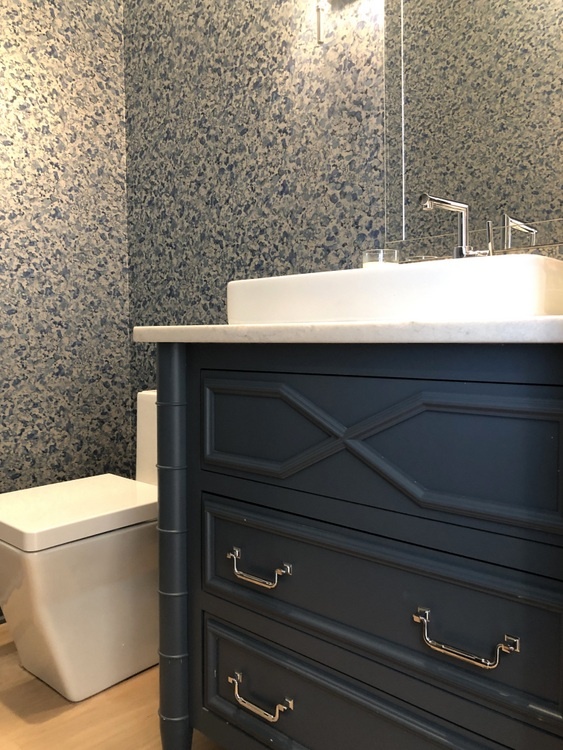 could be Sherwin-Williams Naval SW6244
The lighting in this designer home is really lovely. Using oversized light fixtures in spaces creates sculptural focal points.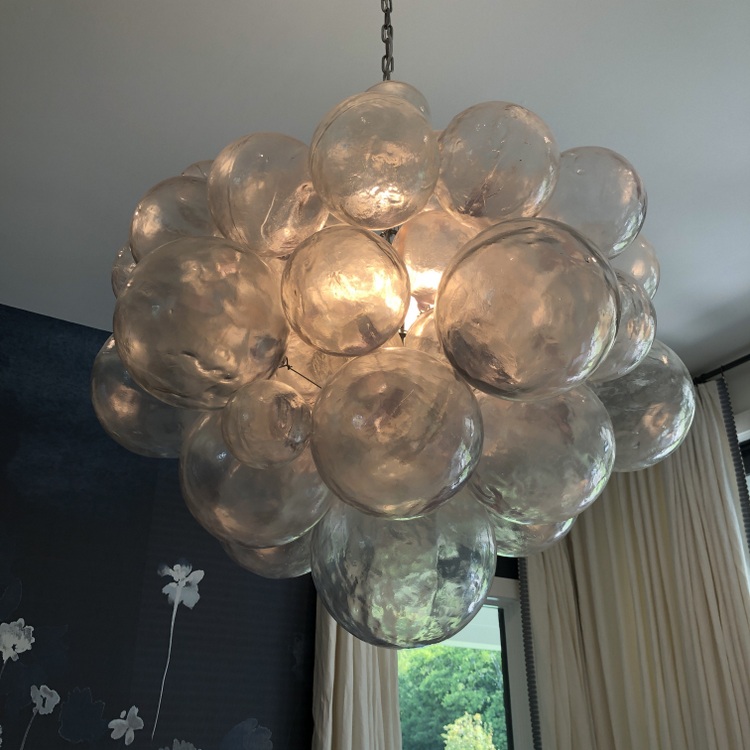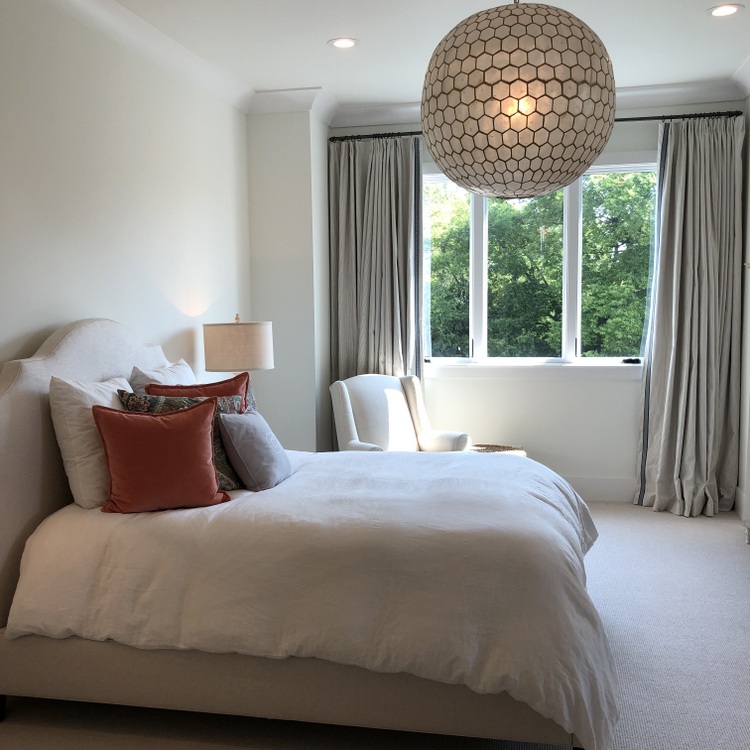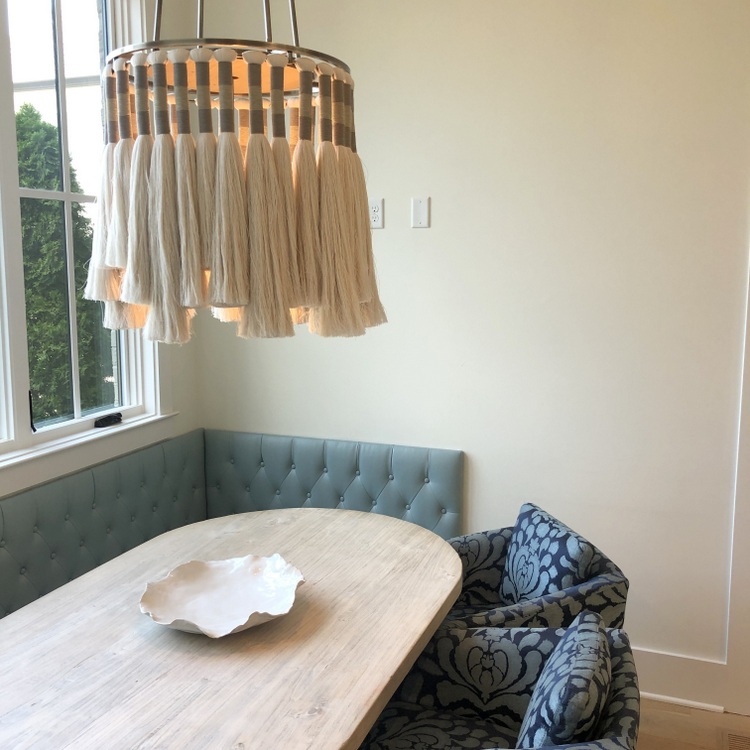 The bedroom literally took my breath away – just look at the stunning mural accent wall! It really is fantastic and makes you feel like you are floating in the clouds. Reminded me a wee bit of a mural project I did a few years ago for a boy's room here. I also love this bed frame . . .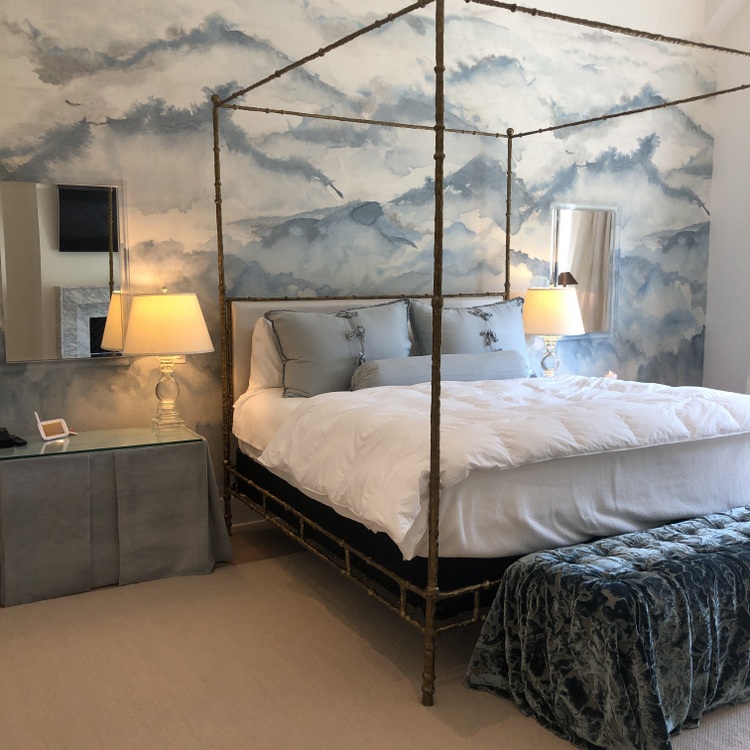 The master closet was pretty amazing, so I had to snap a photo at the vanity and pretend this is mine, all mine! haha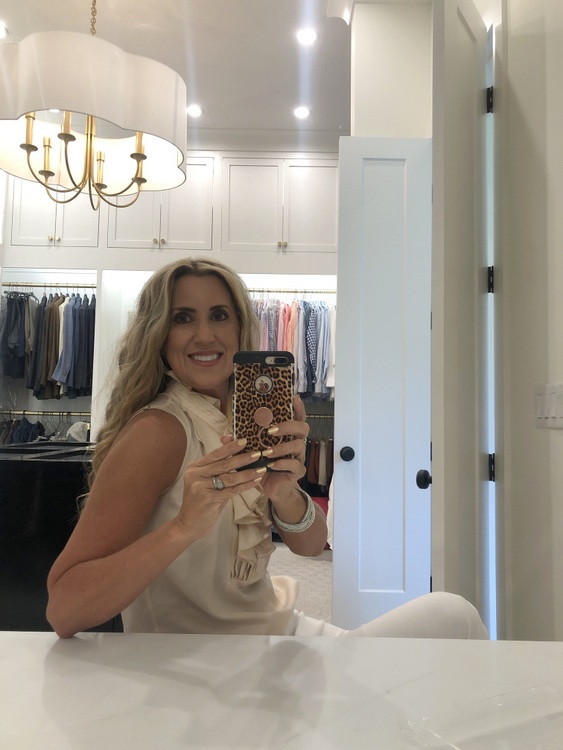 not at all my closet
Most of the bathrooms are wallpapered, along with a few more wallpaper feature walls.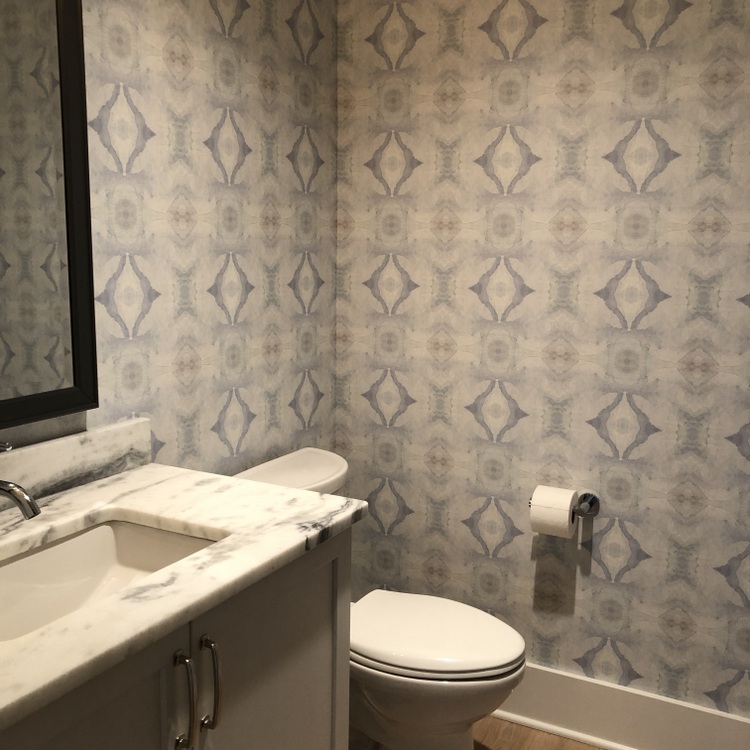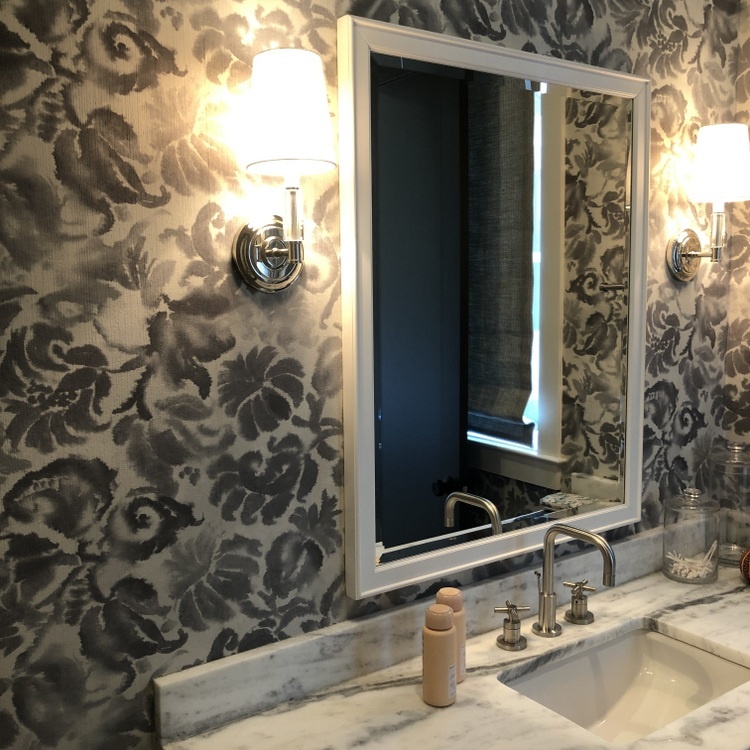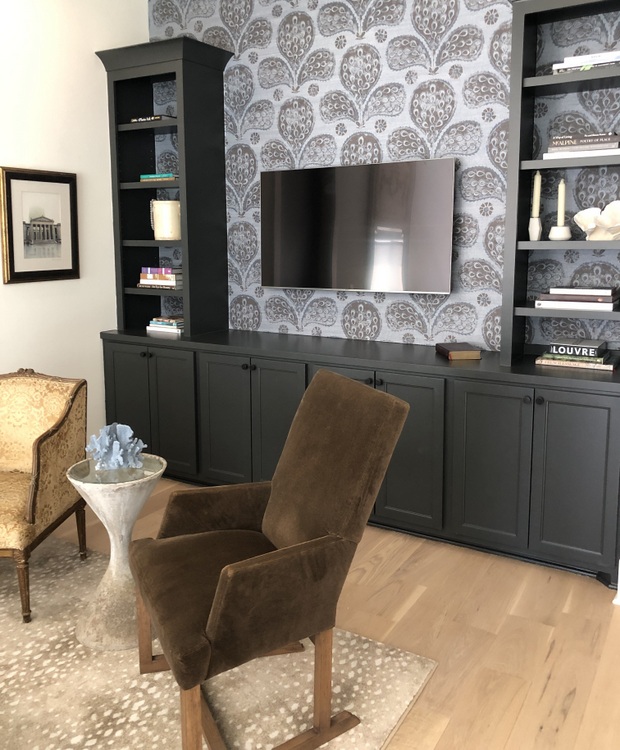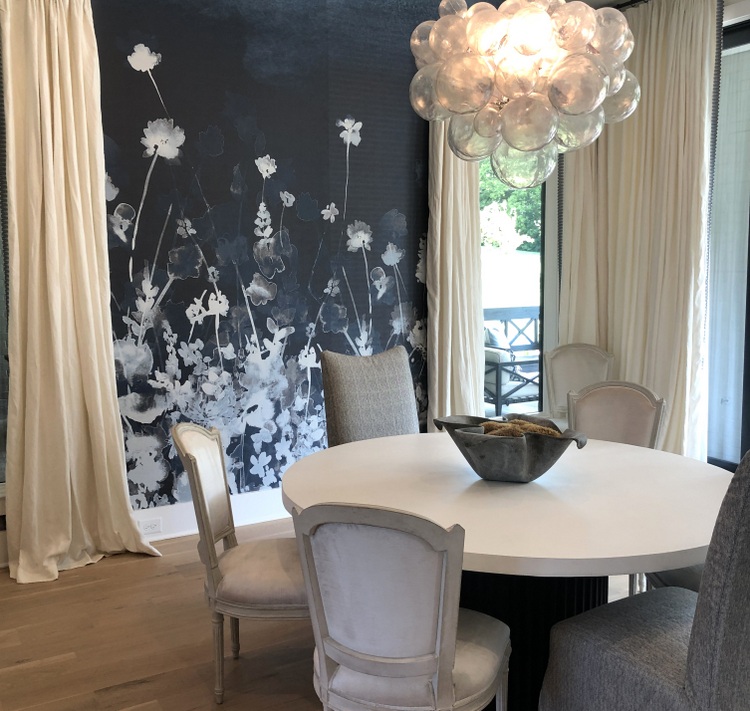 This is a something I don't believe I've ever seen – wallpaper on the walls AND the cabinets! This is the upstairs laundry room, and papering both makes the cabinets virtually disappear: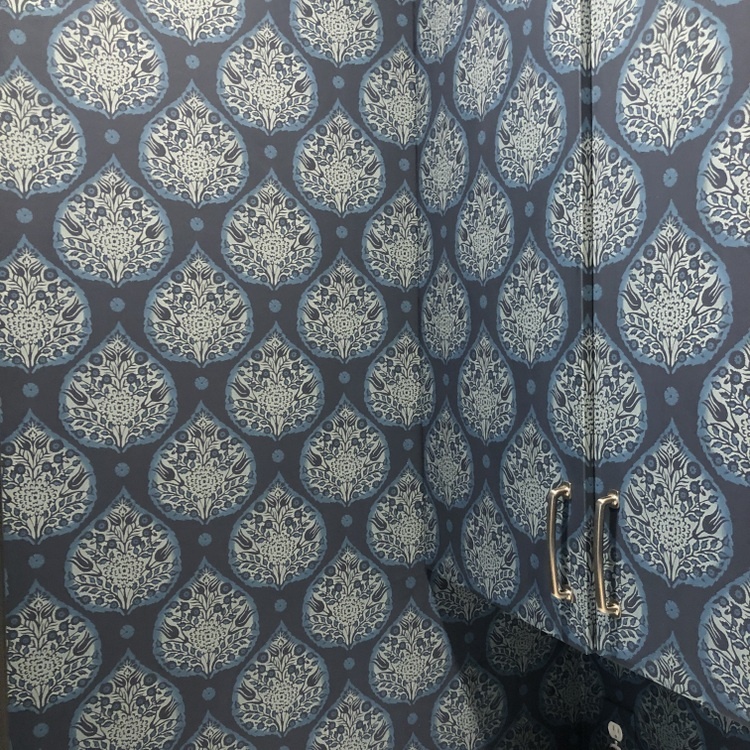 Here's a shot of the encaustic tile floor in the laundry. It's a blue version of flooring I chose for one of my favorite bathroom designs for a client. You can see that bathroom design here.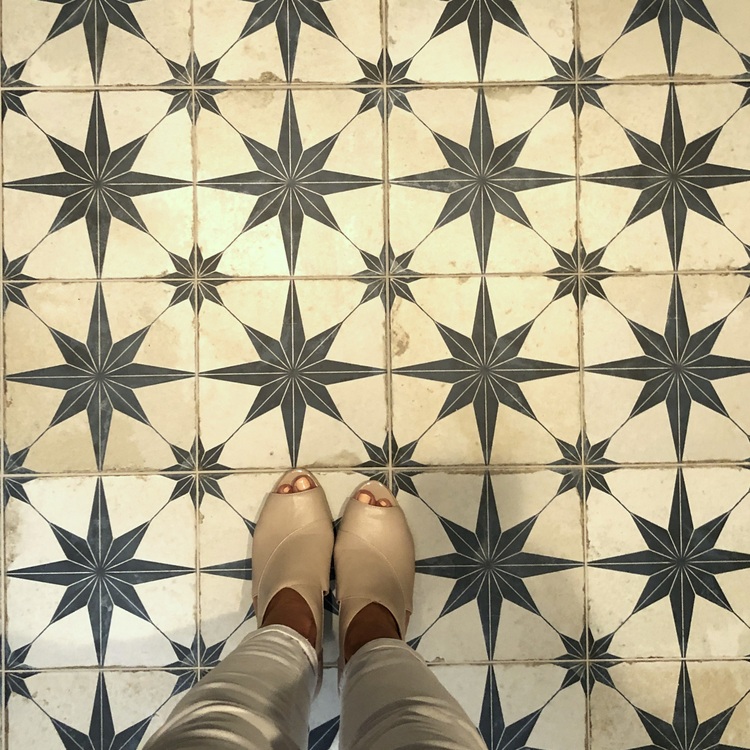 This family home featured multiple kid-centric spaces, including a craft room and play room in the upstairs, a main floor playroom/tv room, and a special surprise in the basement.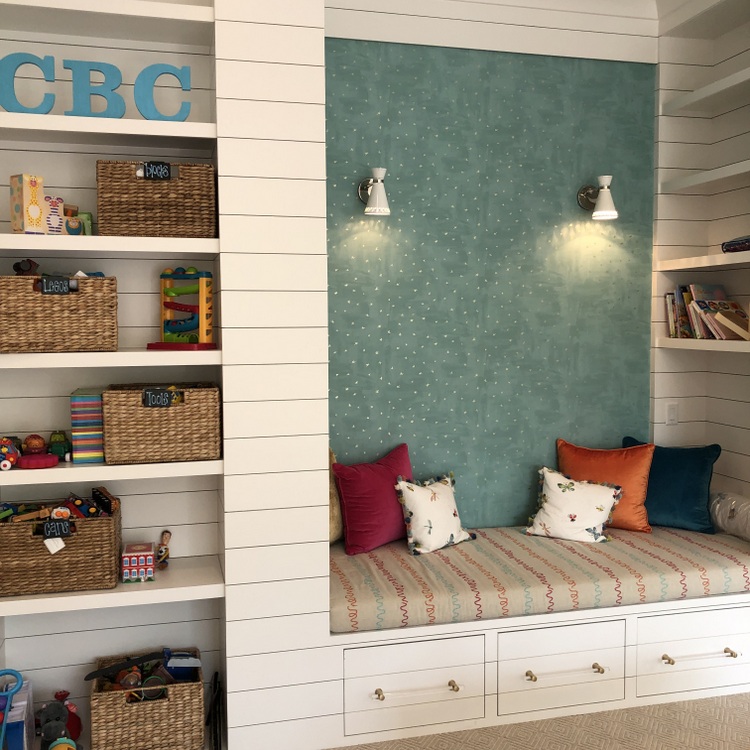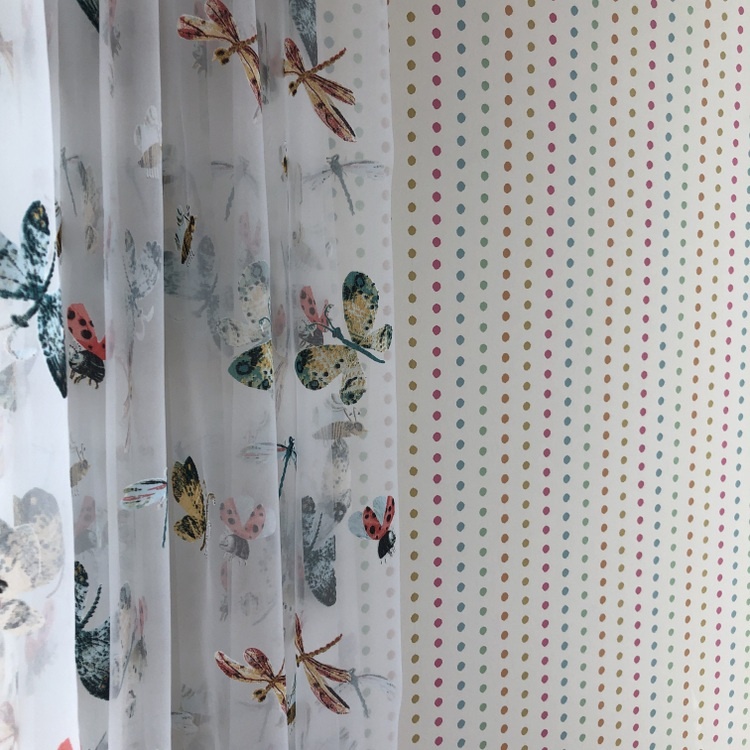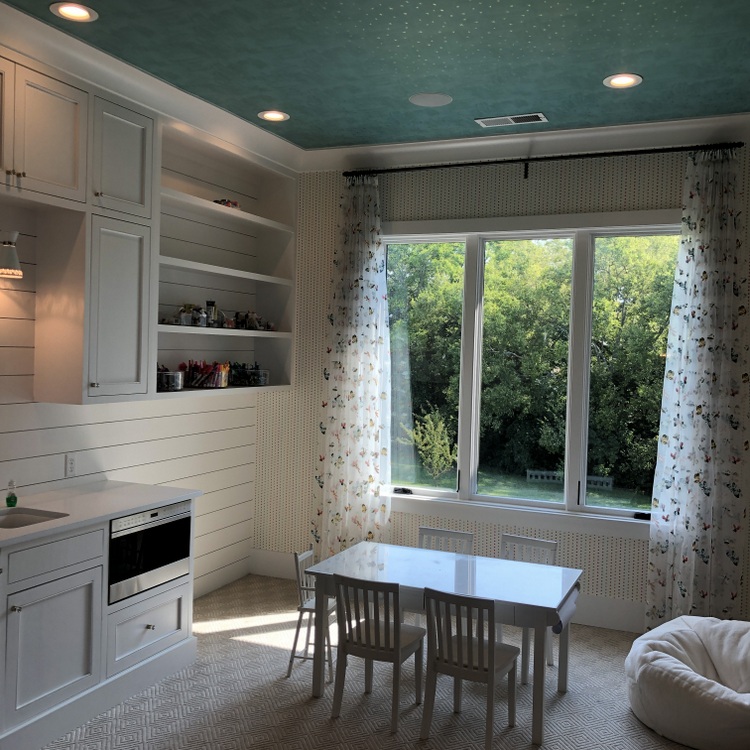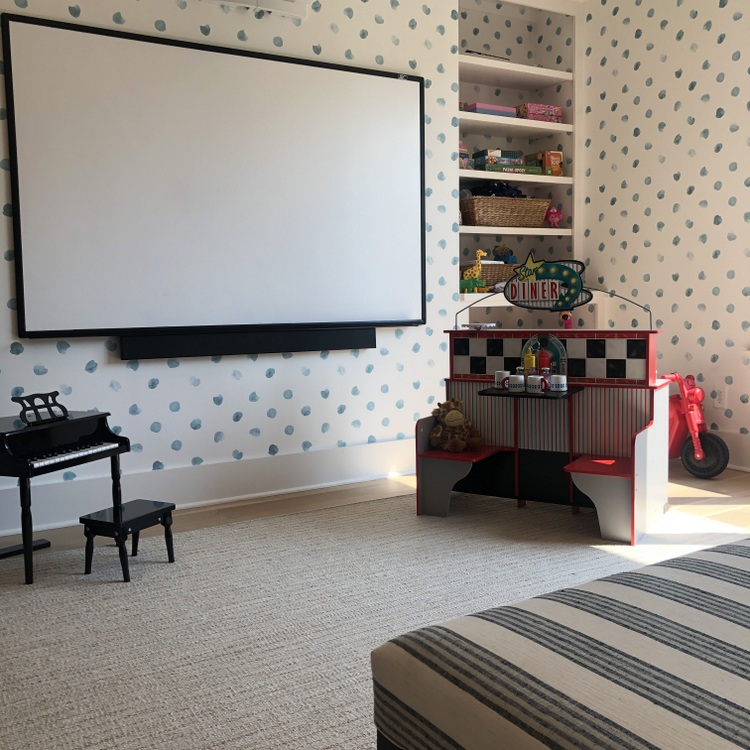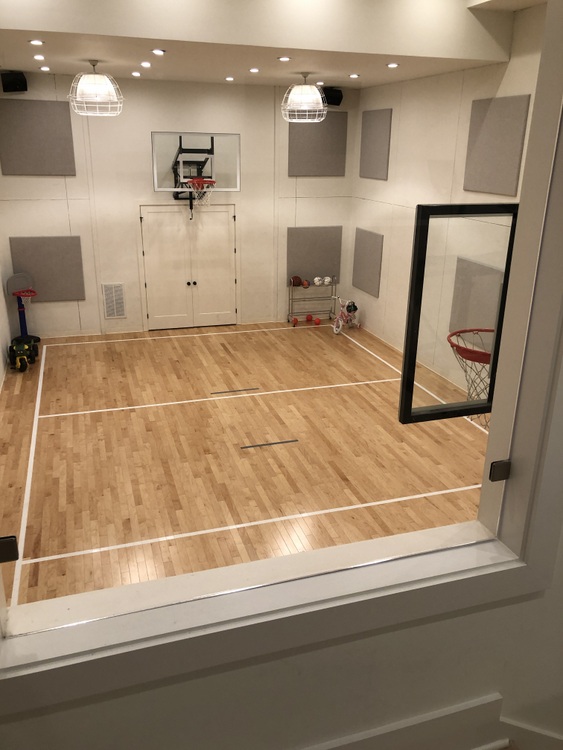 This is the special surprise in the basement that I was referring to! 
We were graciously served a delicious lunch by our host, Amy Pappas Parks of LCTT Team Parks.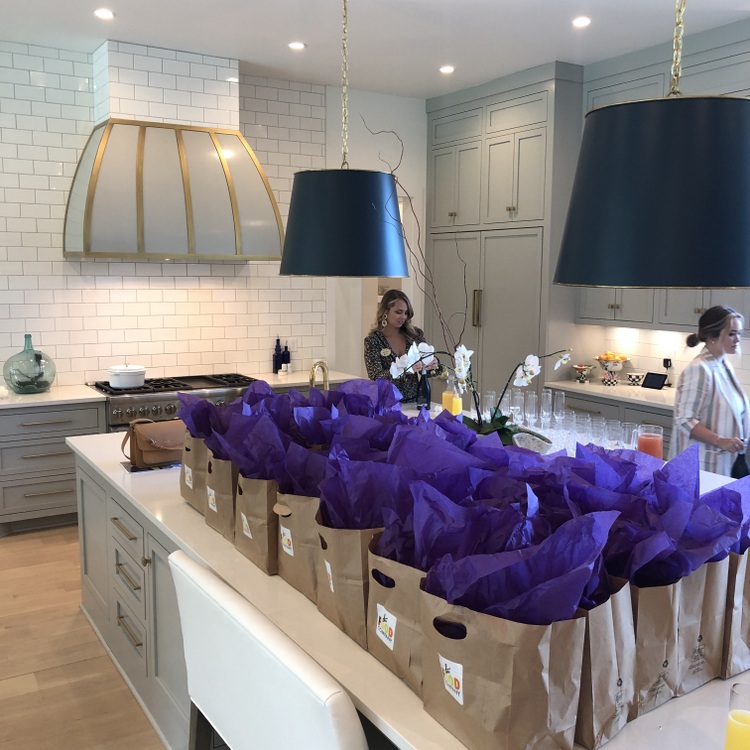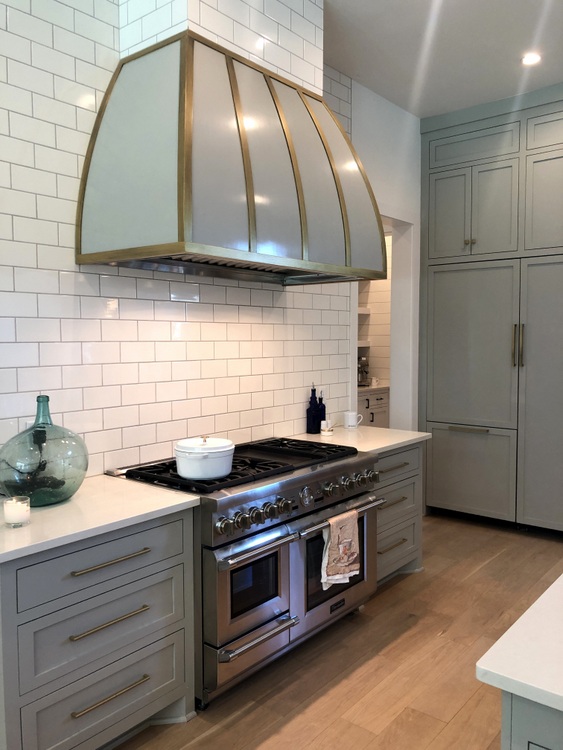 These kitchen cabinets were custom-matched to the gorgeous stove hood (or vice versa). The color is similar to Sherwin-Williams Unusual Gray SW7059.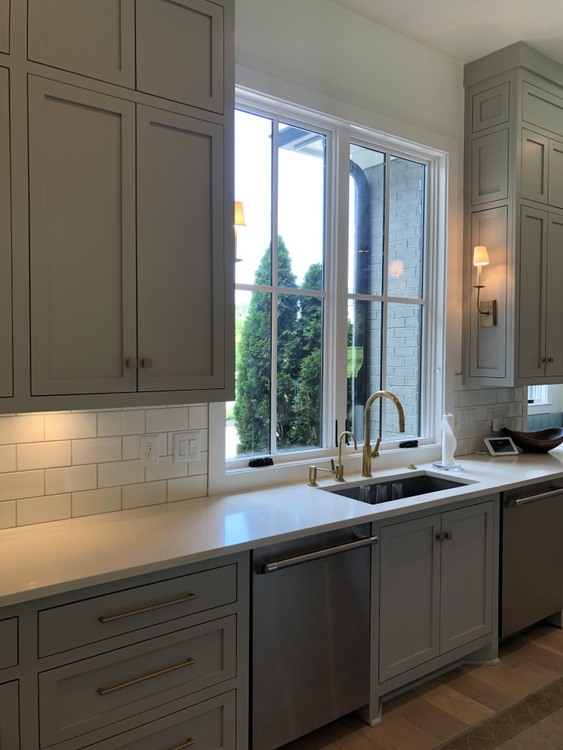 This little tv room off the kitchen is one of my favorite spots. Maybe it's because of the painterly spots on the wallpaper! The mix of colors used here are cool + warm – very cozy but sophisticated at the same time.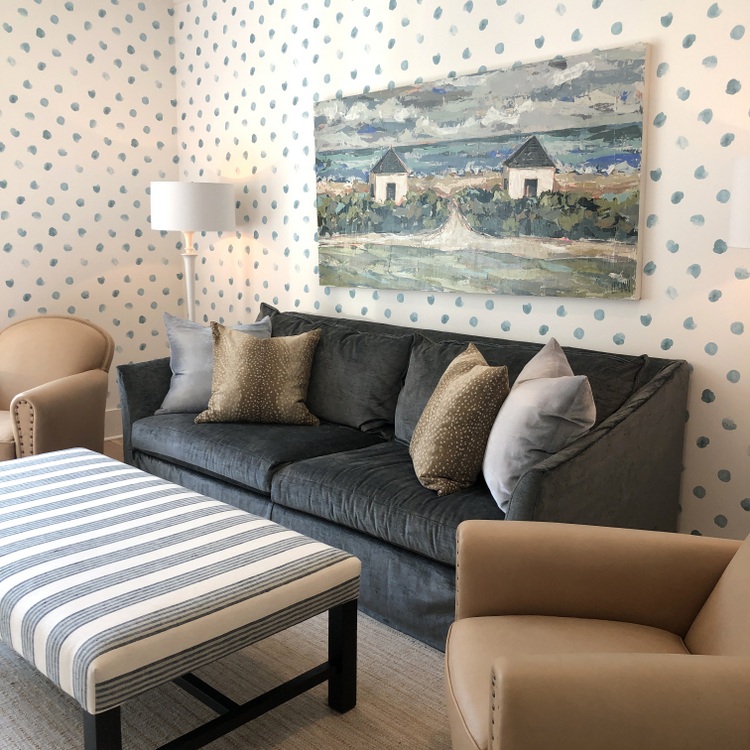 After all the photos I've showed you, you aren't going to believe that most of the walls in this expansive home are actually off-white. But you know me, I prefer to focus on COLORS (I just can't help myself).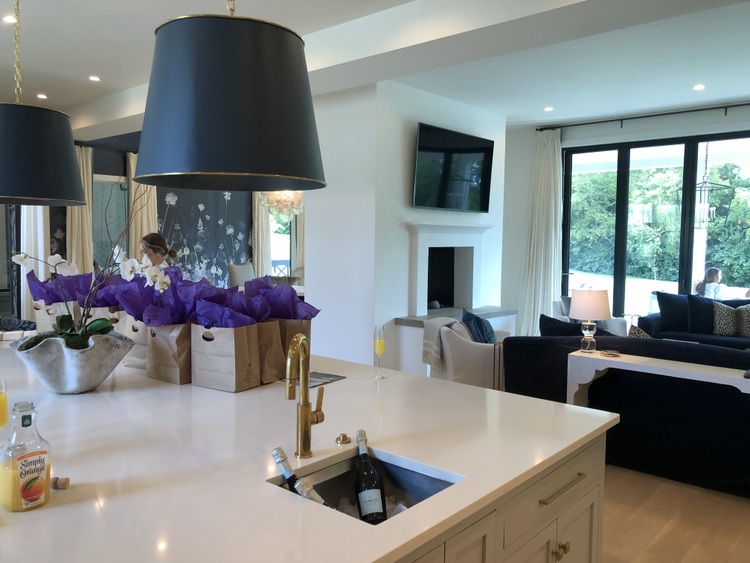 I hope you enjoyed the house tour ideas I shared today! Let us know what you saw that you would like to incorporate into your own home. Maybe some wallpaper? Painted cabinets? Space-saving built-ins?