I want to share a fun paint consultation success story that involves a long-distance relationship. Lisa is in New York, and she has recently put her lovely home on the market. Over the last several years, I've consulted with her on exterior paint colors (see here), her lake house interior, and the interior colors of the listed home I'm sharing here today. Although I've never met Lisa in person or seen her homes in real life, we've done some pretty awesome work together!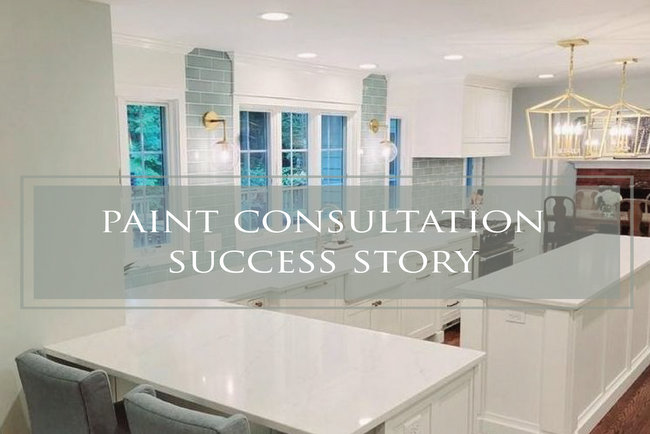 Lisa sent me the sweetest email last week that was such an encouragement to me! I've been doing online/phone paint color consultations about a decade now, and I don't always get to see the results once an entire project is completed. I absolutely love it when clients take the time to share photos or even write to me about how the project came out, and I thought this one might give you a few ideas since it includes a kitchen and bath renovation. Let's start out with the "before" of the living room of the home: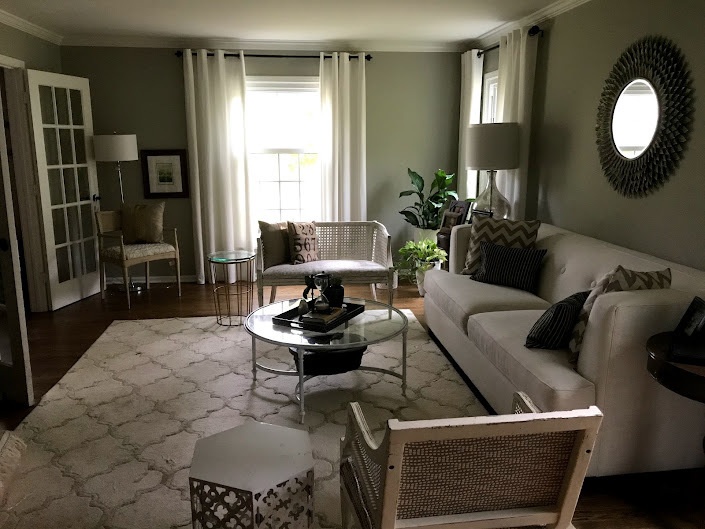 before
What a difference – doesn't this room look amazing??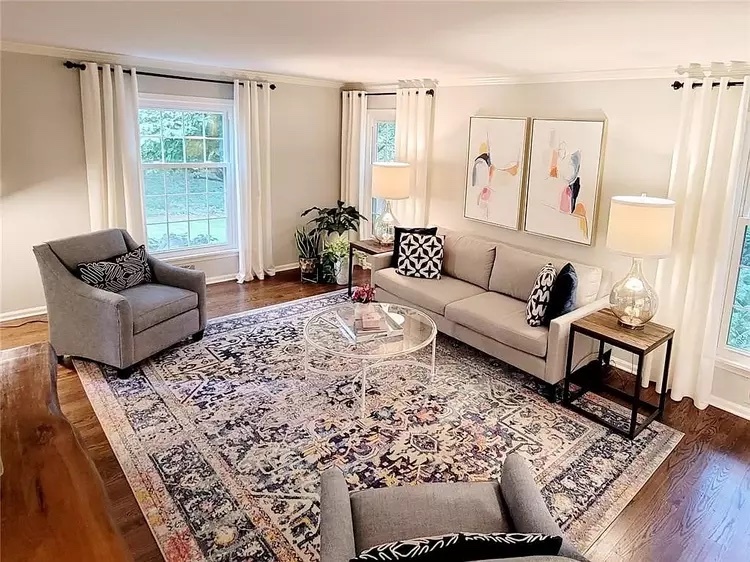 My client worked with a designer on this renovation but, because of our previous work together, she wanted my help choosing the right paint colors and color placement. I also advised her on a few details of the updated space, including some finishes and rugs. The renovation involved removing a wall between the former dining room and kitchen. Here is the dining room before: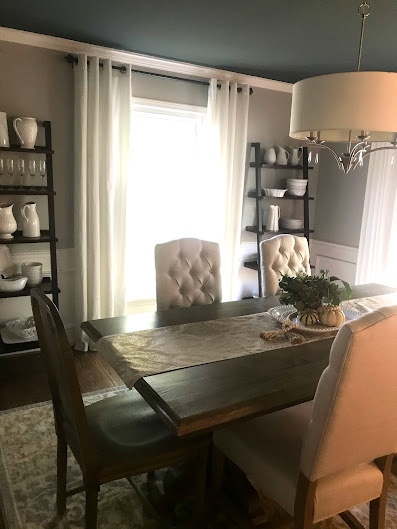 the before served as the dining room
Here is the new space after opening the wall into the kitchen: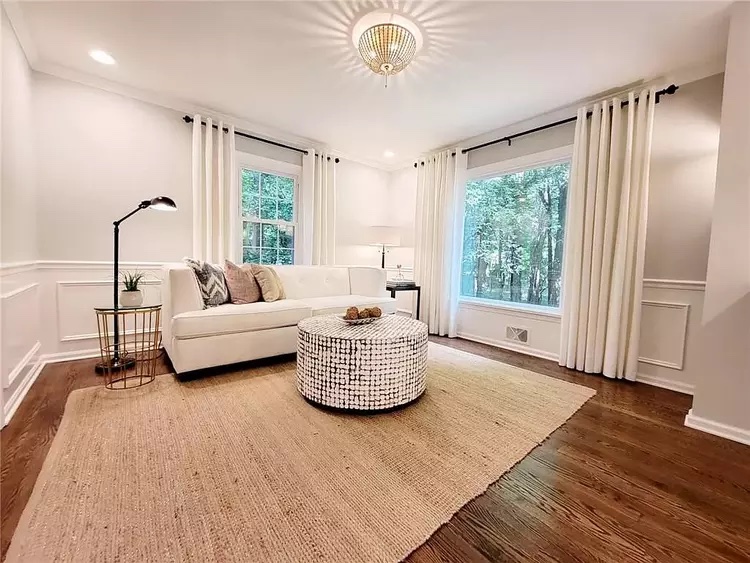 the after serves as a keeping room that is now open to the kitchen
Here's the kitchen with short upper cabinets and soffit (and the former dining room beyond):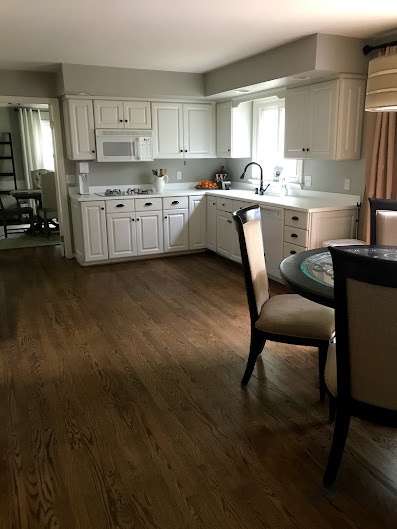 before
Opening up the wall into what is now the keeping room also made way for a peninsula with bar stools. The partial wall to the right is the backside of a built-in bookcase for the keeping room that I suggested during our consultation.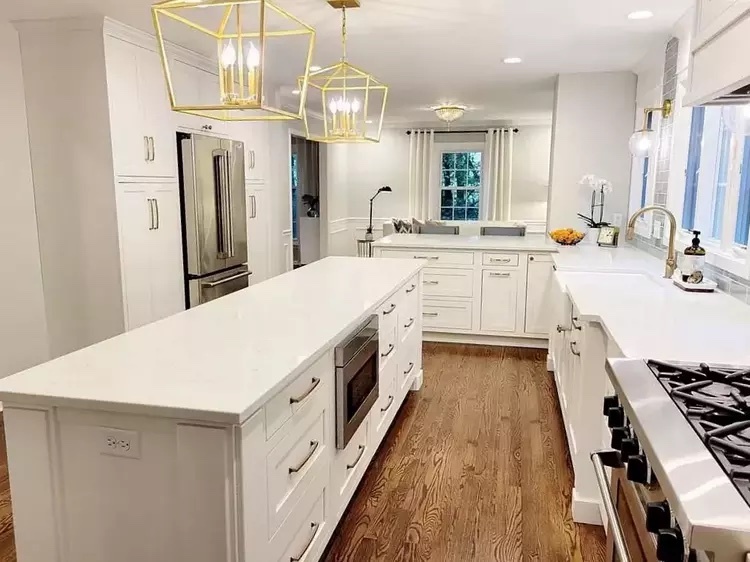 after
At the time of our consultation, the far side of the kitchen had a breakfast area and a wall separating the kitchen from what was formerly a den: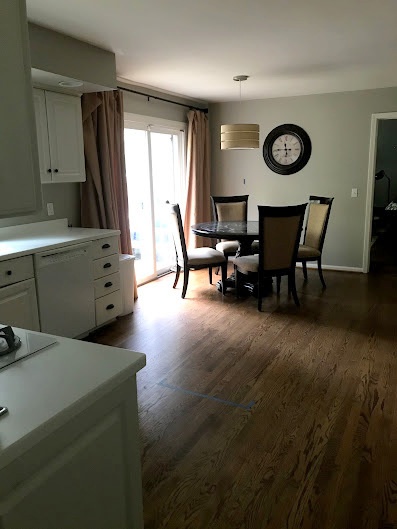 before
LIsa and I chose the right white for the new cabinets and a wall color that would unite the new open space and play well with the beautiful tile she picked for her gorgeous new kitchen: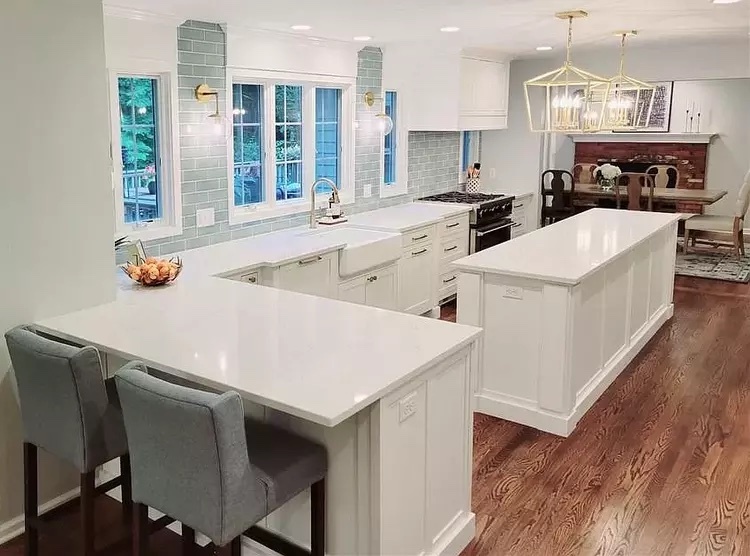 after
Moving through into the new dining space, let me first show you the room when it was a den: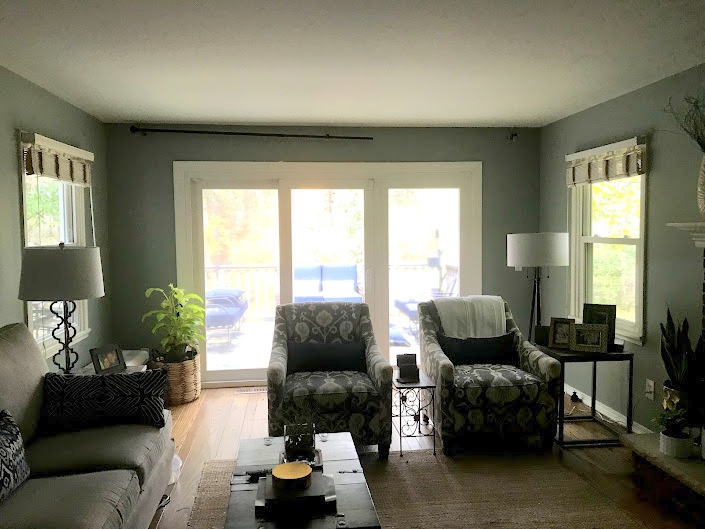 before of den (fireplace is on the right of the room, outside the photo)
Now it's a light-filled dining room that adjoins the outdoor entertaining area: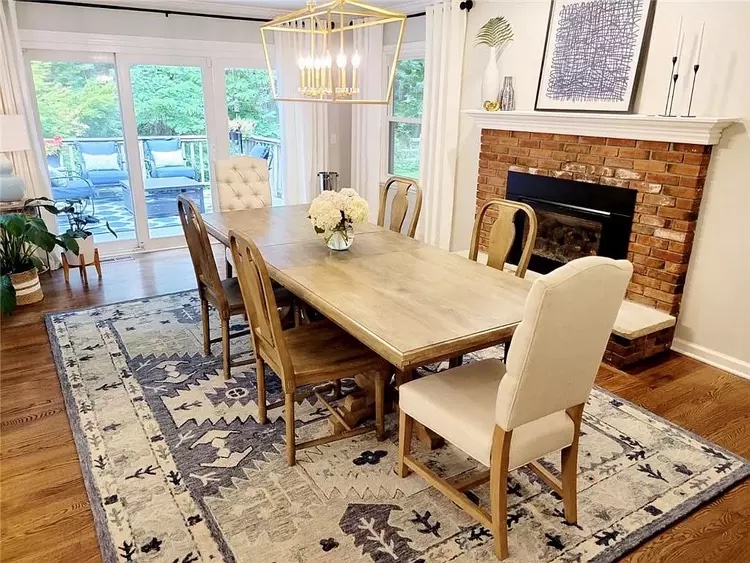 after
The former bathroom was formerly really two adjoining spaces – a vanity area and closets in the master bedroom with the shower and toilet in the room beyond: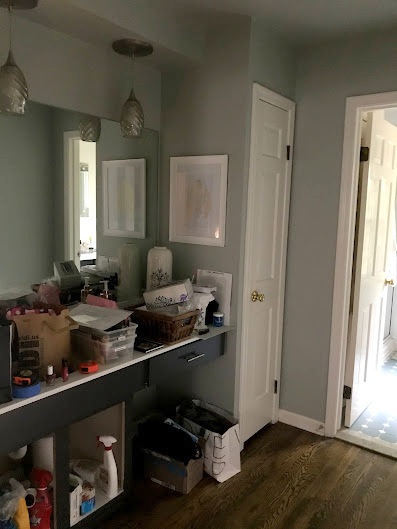 before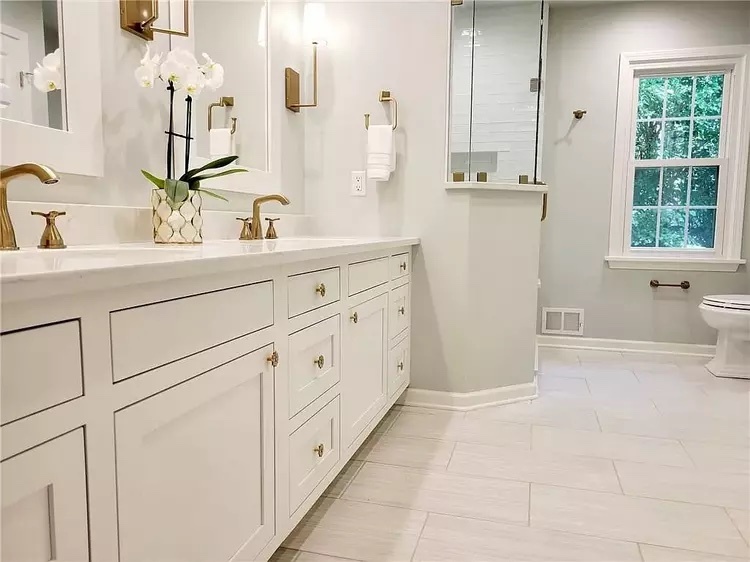 after
We worked with the tile and finishes she had chosen for the bathroom renovation: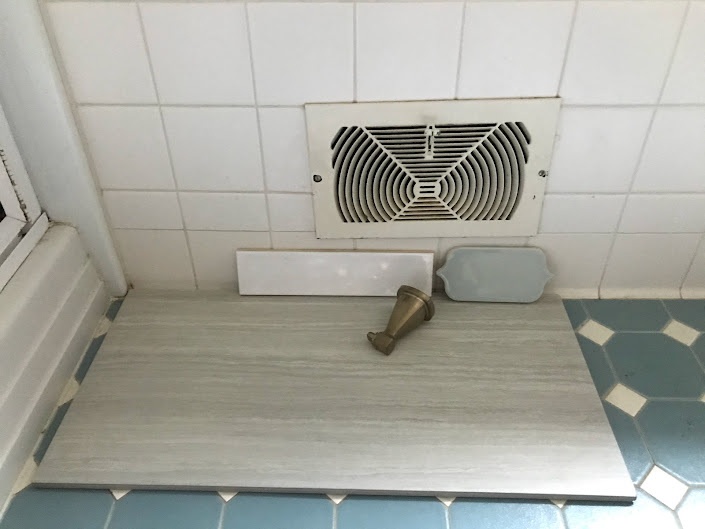 before
to choose the new bathroom paint colors: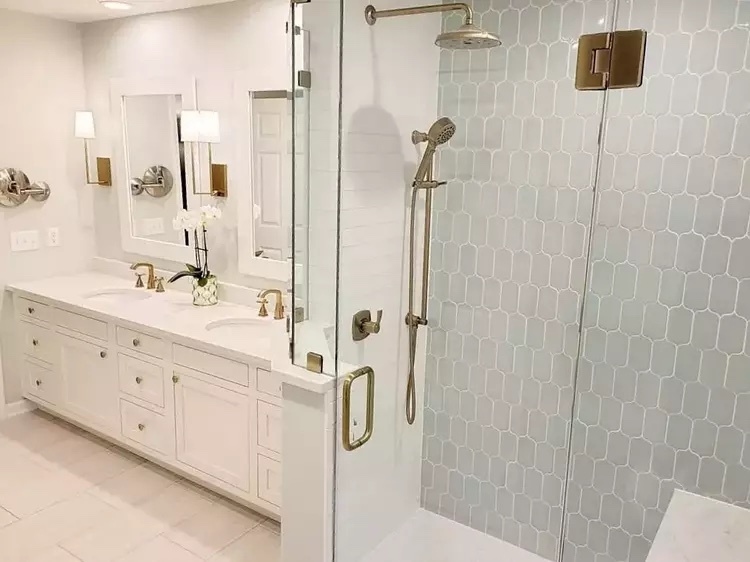 after
Here is the kind email she sent along with photos:
"Hi Kristie,

We haven't worked together for a while, but I just wanted to say thank you.  I've decided it's time to sell my main house and move to my lake home.   The house was listed today. When I looked at the virtual tour, as well as the exterior pictures, I felt so appreciative for your guidance over the years.  This house is is completely transformed from what it was when I bought it, and a lot of my ability to do that was from the work I did with you.

I'm attaching the listing so you can see what it looks like now.  I'm so proud of it.  Between Zillow and Redfin it's up to 60 favorites and saves in just a few hours.   It looks wonderful and I so appreciate all the help you've given me!  Thank you for being so talented, so easy to work with, and for teaching me to be able to make good decisions that I can feel confident in even when I make them on my own!"
Now who on earth WOULDN'T want to buy this beautiful home??? I hope you enjoyed the befores/afters of this paint color consultation almost as much as I did.
I LOVE teaching people how to make good decisions about paint colors! It's only a month until my LIVE, IN-PERSON Psychological Color Expert™ training – I'd be delighted to have you train with me to earn your certification in specifying interior paint color! Secure you spot here: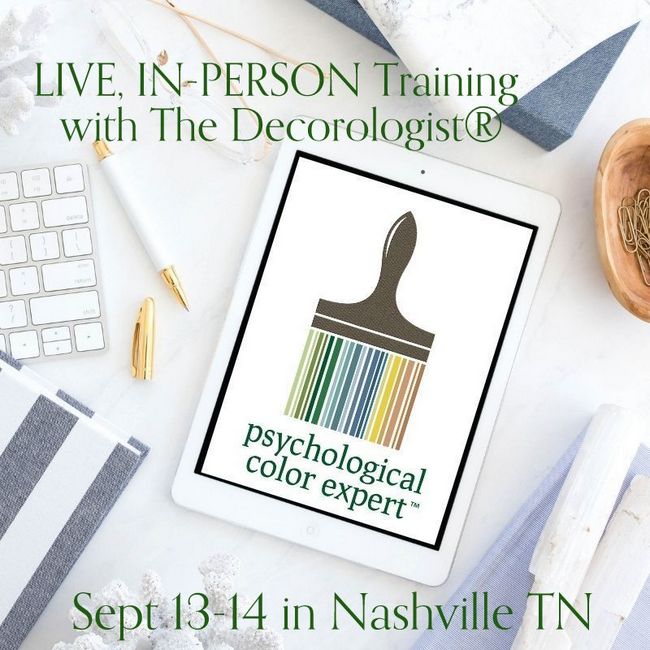 I'm also offering my accredited home staging course Sept 16-18. Join me for either or BOTH ($300 discount for both courses)!