If I badgered you to vote for my living room in Apartment Therapy's 2013 Room for Color Contest, I am so very sorry.  But just so you know, I lost by ONE VOTE.  Yes, I lost by one vote to the fabulous Kelly from Eclectically Vintage.  Here's her super-fun sunroom that kicked my living room's bootie: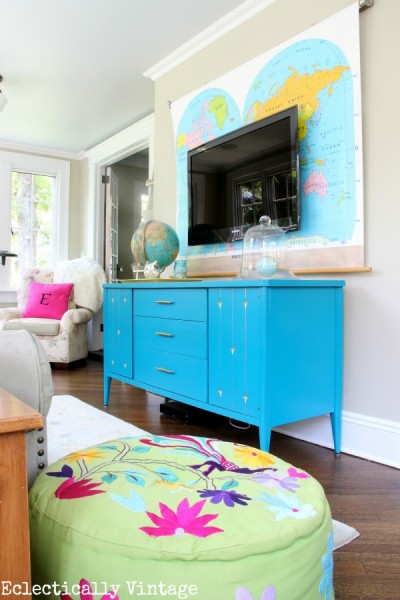 Turns out, there's no one nicer I would have rather lost to!  The day after the decision came down, Kelly sent me a sweet email saying she wanted to feature my home on her blog.  So please go take a look at her fabulous blog and at the article in which my living room and home are featured.
I love Kelly's blog because it's extremely popular despite it's difficult-to-spell name – I can relate!  Just kidding – her blog is amazing, and you should totally check it out.  She loves vintage homes, just like me.  Plus she was nice to me, even after kicking my hiney.