Winter is NOT my friend.  I just can't stand cold weather and the shorter days that make me feel depleted of sunshine and light.  The change to daylight savings time really kicked my butt this year, but I am already loving the added daylight in the early evening.  After spending a lot of time indoors all winter, this tends to be the time of year that many of us get tired of our homes.  We want a little pick-me-up, but who can afford to redecorate every spring?  Since I'm on SPRING BREAK this week and not really working (well, we'll see), I thought I'd share some ideas I included in an article a couple of weeks ago in The Tennessean about redecorating on a dime.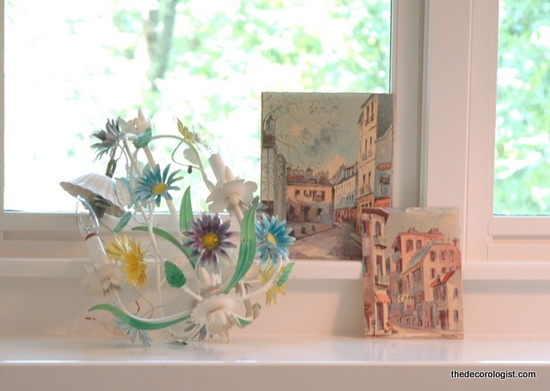 One thing that can to spruce up your home this spring is COLOR.  Whether it's a fresh, new paint color or a pop of colors in your accessories, adding color can definitely liven up your space.  Tired of the pinky-beige walls in your living room?  A couple of coats of gray-blue or gray-green can be a beautiful new backdrop for the furnishings and art you already own.  My advice is to purchase a few sample sizes of possible paint colors and coat a few posterboards.   Move the boards them around your room and view them at different times of the day.  This will give you confidence about the color you are choosing for the room before you commit to several gallons.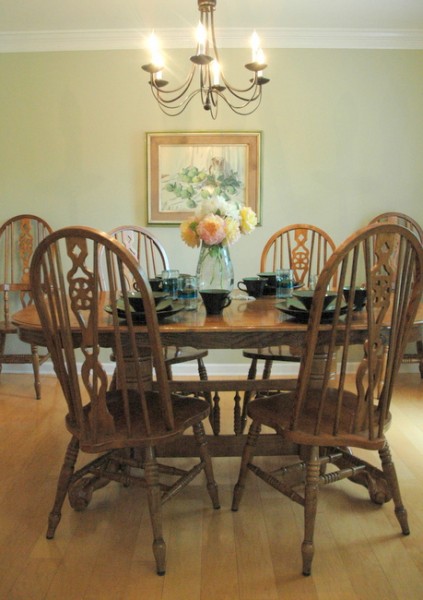 Then there's the option of painting lackluster furniture pieces.  Those dated dining rooms chairs might benefit from a coat of off-white, black, or even a more daring color.  Don't toss out that old dresser – paint it out in a new color and use it in your living room instead of that predictable media center.  You can  paint everything from chandeliers, picture frames, lamps, and candlesticks to get a new and more interesting look from existing pieces.  
A great way to enliven your space is to completely rethink your furniture arrangement.  Get all that seating off the walls and try floating your sofa and chairs out in the room, grouped around a focal point.  "Shop" your home for furniture and accessories from other rooms of your house.  Focus on improving the room you spend the most time in.  If that's the living room or den, move your favorite things where you will enjoy them more than if they are languishing in a guest bedroom.  There is no such thing as a "bedroom chair" or a "dining room piece."  You can use a hutch in any room of the house – even in a bathroom for an unconventional storage solution. Why not make your bedroom your private parlor, with a seating area and then some?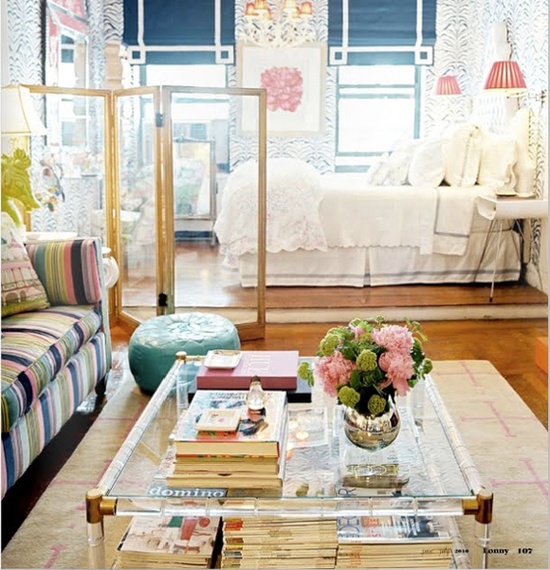 via Pinterest
Buying new things can certainly change your space for the better, but you don't have to purchase large or expensive items to make a difference.  New pillows in on-trend fabrics, oversized lamps, or fun tabletop accessories can give your space the lift it may need.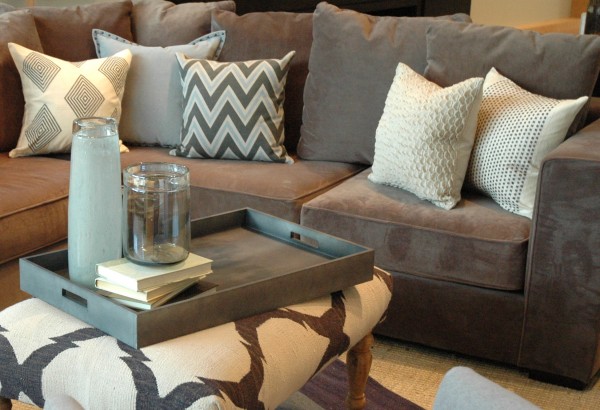 Can't afford new lamps?  Replace the dated pleated or triangular shades with drum or barrel shades in a linen fabric to give those old lamps new life.  Go through the linen closet to find a pretty blanket that can be folded and tucked down the middle of your old sofa.  The main thing is to think outside the box and try something a little different in your home.  
Will you be doing any decorating this spring break?  This might be the perfect time to watch my Color Workshop Video Series and find out my favorite on-trend neutrals and insider tips for using color to bring a fresh, current look to your interior space!