Tudor Revival style architecture has always been a favorite of mine.  There's something about this style home that welcomes, enchants, and seems to wrap its arms around you.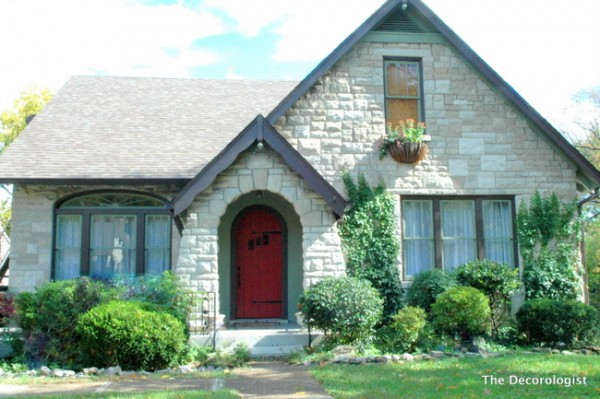 Exterior Colors by The Decorologist
Tudors Revival homes have been on my radar lately, in particular.  That's because I'm currently choosing exterior paint colors for a local Nashville couples' 1920 Tudor Revival and just this week chose interior paint colors for an online client's 1980 version of Tudor in Kentucky.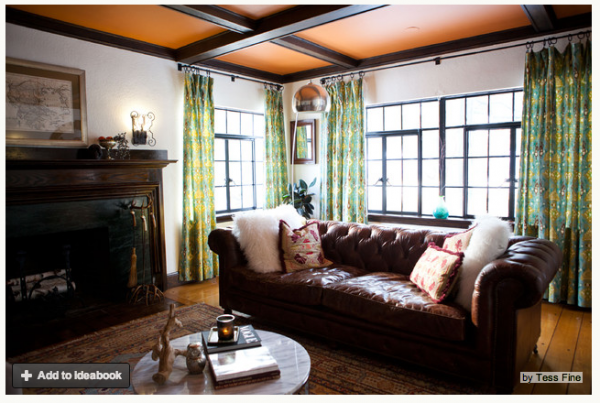 Tudor Interior – Tess Fine via Houzz
There are two ways you can effectively create a paint color scheme for a Tudor style home. You can either 1) fully embrace the period it represents and try to preserve the character of all its architecture.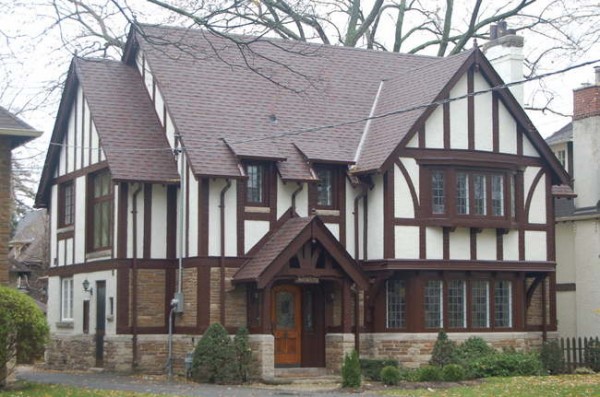 photo by Kristie Barnett
Or, 2) you can choose to strategically lighten up the overall look while still respecting the inherent charm of the architecture and finishings.  I call this look "Tudor Lite."  It's a bit more Frenchy rather than British, a bit more feminine rather than masculine.  We will be doing a Tudor Lite for the exterior of my local clients' Nashville home, using an off-white color on the body of the house and a low-contrast color for the trim.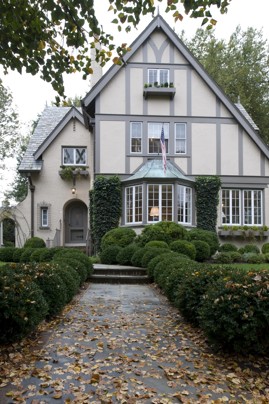 See below how Steven Gambrel painted out the previously dark wooden beams and trim to create a softer, lighter look while still drawing attention to that architecture?  I love this photo because it's practically the same color scheme I have in my dining room!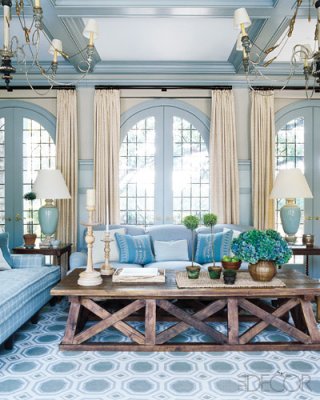 When you are dealing with important architectural elements like those common to the Tudor style, color placement is at least as important as the specific paint colors you choose.   For the Kentucky Tudor, we chose paint colors and paint color placement that emphasize the more historically-correct architectural elements of the home's interior while toning down those elements that overpower and distract from the best features of the home.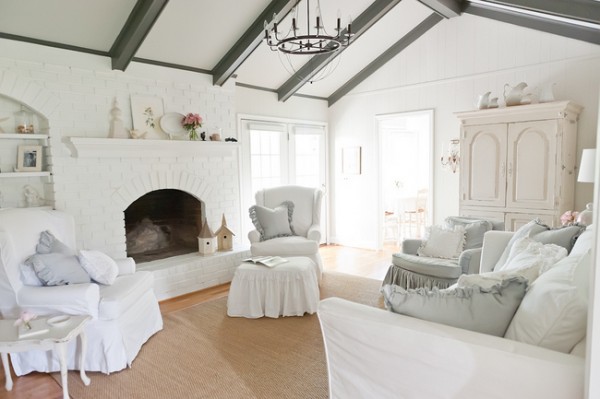 A Recent "Tudor Lite" Living Room Makeover
The whole look of Tudor Revival harkens back to the days of the royal Tudor family of England of the 1500s, but the ones built in the last century are probably best described as "mock" Tudor or Jacobethan – more rustic and countrified versions of medieval Tudor style.  In 1970 – 1980s versions of Tudor Revival, you will often find elements that read more "colonial" and "spirit of '76" than you see in the Tudor Revival of the early 20th century.  That's definitely true of my client Amy's home, so I helped her separate out the elements she should play up and the ones that should be played down, or eliminated altogether.  For example, there is no need to retain the dark cabinets in her kitchen because they read 1980s more so than they read Tudor style.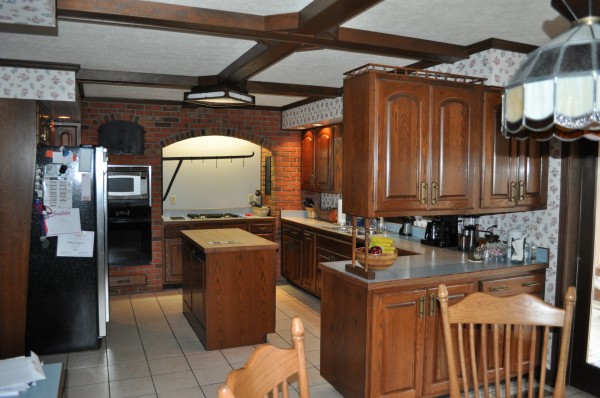 1980's Tudor Revival Kitchen
Lightening up those cabinets and installing lacquered dark wood for a countertop will put the emphasis on the fabulous beams and brick detailing.  Stripping the wallpaper and replacing the light fixtures will de-colonialize the look, as well.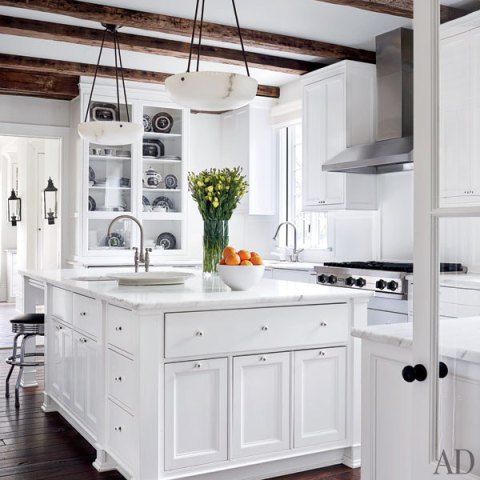 In Amy's amazing living room, we are painting some of the dark wood elements – but not the majority of them.  Again, the color placement will be strategic.  Strategic in such a way as to emphasize the best architectural elements of the space (such as the ceiling beams, half-timbered walls, and diamond-pane windows) while downplaying the things that darken, distract, and overwhelm.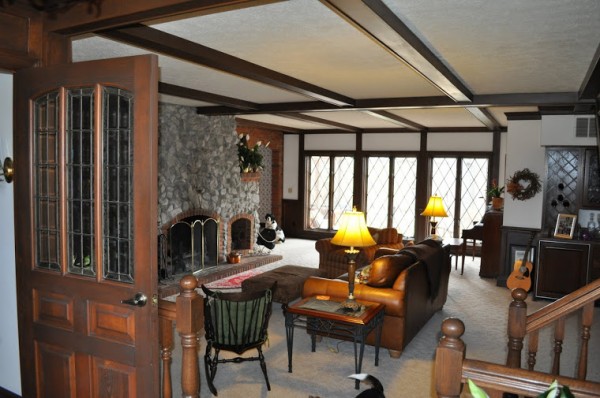 1980's Tudor Revival Living Room 
I recommended painting out the chair rail and wainscoting below, as well as the staircase spindles and newel posts, in a warm white trim color like that on the ceiling.  The walls above the chair rail will be painted a green color that will make the wood trim and half-timbering look richer.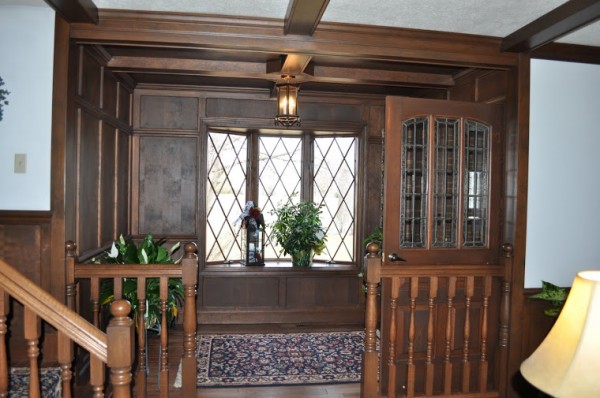 Tudor Revival Entry 
The impressive entry panels will remain unpainted.  You can see in the above photo that the banister and spindles really read a bit 1980's, so those are going to clean up with off-white spindles and a black handrail.  A William Morris-inspired rug with a light background for the entry would also be a good choice moving forward.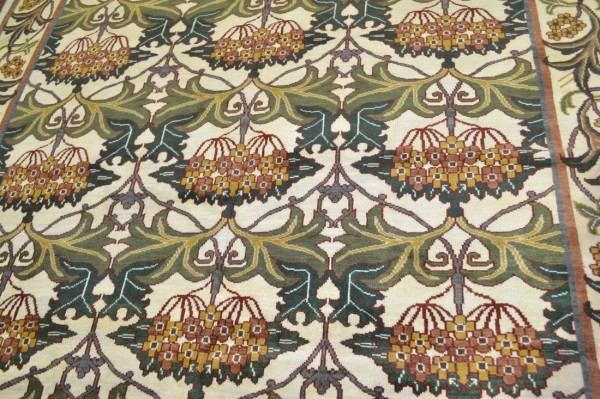 Painting wood can be overwhelming anyway, but especially if you have so much of it!  It doesn't have to be an all-or-nothing decision. Sometimes it's about knowing how much and what to paint out, and how much and what to preserve in its present state.  So how would YOU paint out a Tudor style home?  
If you'd like to learn more about how to make the right paint color and color placement choices, take a look at a preview for my Color Workshop Video!