Whether you are staging a house to sell or using interior photos for a blog or publication, there are a few things I've learned over the years about photographing a home that makes all the difference for those viewing them. And although I am NOT a professional photographer, there are things I wish all real estate photographers would do. This article will address those things and also help you improve your own photos.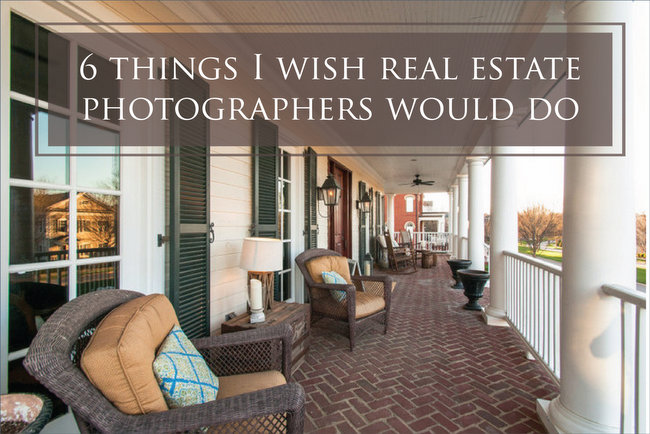 1. Get more flooring, less ceiling.
I don't mean to pick on them, BUT some real estate photographers tend to capture a whole lot more of the ceiling than they do the flooring. This is only good when there's a coffered ceiling or something really special up there. If you need photos of rooms with hardwood floors, you want to be sure to get as much of that architectural detail in your photos as possible. AND, the more flooring you get in a shot, the larger the room appears. So I let the photographer I'm working with know on the front end so they make a point to lower their tripods to get the kind of shots I'm looking for.
I'd really rather not feature a boob light like this one: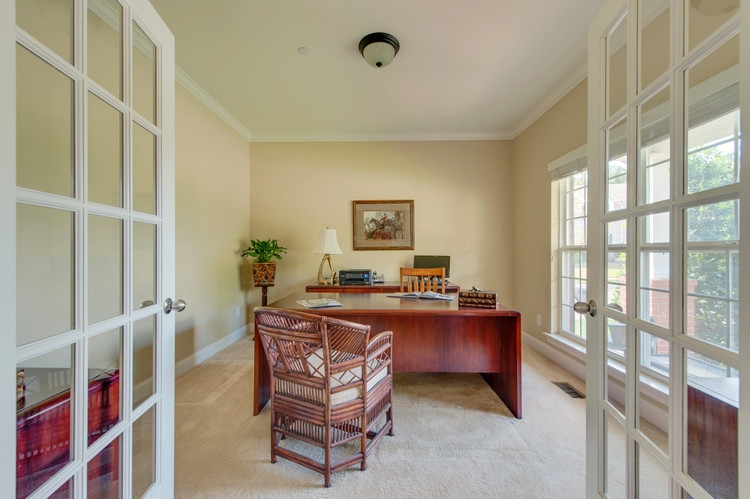 It wasn't necessary or helpful to include so much ceiling in the first photograph. The unimpressive ceiling light is the first thing I notice in the photo above, while the french doors are more the focal point in this photo: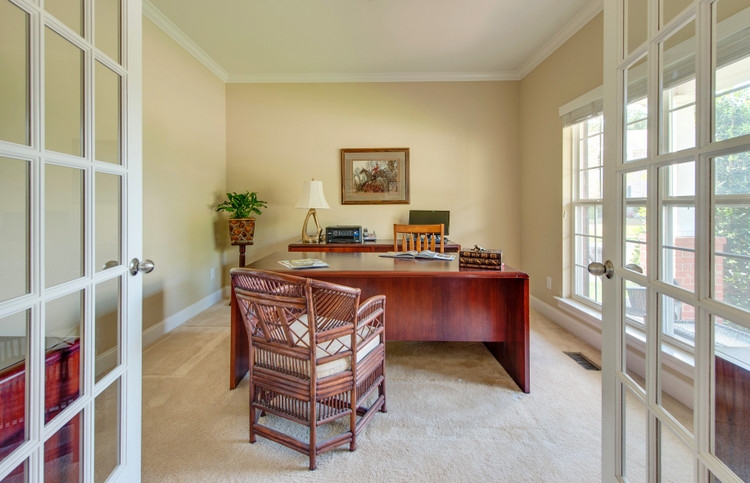 If you are taking your own photos, you may learn that photographing rooms can be more physically grueling than arranging the furniture. Why? THE SQUATTING.  You may have to squat to get your camera to where it's a bit above table level (of a dining table or dresser), so you're not looking down on what you are photographing. As a woman of 5'7 in bare feet, that requires doing a little mini squat to get the camera where I want it.  Depending on your height, this may require a stool you can move around and sit on to get your shots. If you do squat, it's best to steady yourself against a wall or piece of furniture. Steady as she goes – and hold your breath, so as not to shake the camera.
 2. Don't use artificial lighting.
Most real estate photographers turn on ALL the lights in a room when taking photos for a listing.If you want to capture paint and furnishing colors accurately (and you do), for goodness sake, DON'T turn on artificial lights in the room – no overhead, no lamps, no nothing.  If it's nighttime – well, just wait for daytime to take your photos. Artificial lighting may skew the colors yellow (incandescent and soft white LED) or blue (fluorescent and day light LED). And the worst is when the bulbs in a room are a mix of these!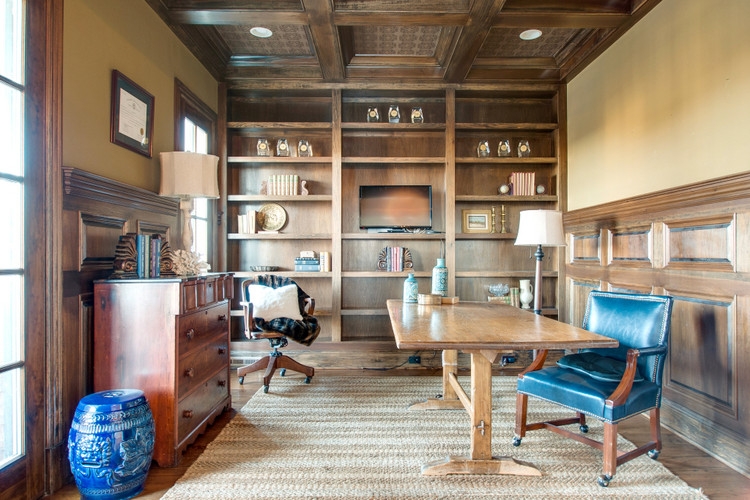 Staging by Expert Psychological Stager™ graduates, shot with natural light by Showcase Photographers
If you are taking your own photos, try to take them with natural light coming in behind you, then edit the photos after the fact to lighten if needed. Shooting towards windows that have light streaming in can result in dark photos. Here's a trick: depending on if you are using a cell phone or DLSR camera, learn how to "meter" onto a dark part of the room. There's a way to make your camera hold that setting while you take a shot facing the light-filled window, so that the camera doesn't darken the entire room. Mine requires me to push the main button down half-way while shooting towards a darker spot of the room, then simultaneously pushing another button to hold that setting while I direct the camera where I actually want to take the shot. On a newer iPhone, you can either tap on the part of the screen that you want the camera to illuminate, or you can tap then slide the sunshine symbol to the right of the box that appears to lighten the photo as much as you like.
3. Take photos from the right angles.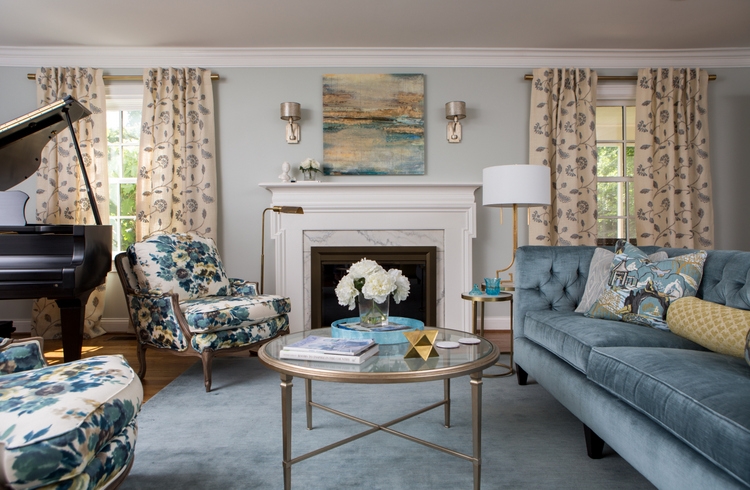 The Decorologist photography by Sqft
Although real estate photographers typically take photos from the entry and corners,  they often fail to take photos head-on facing focal points of each room. One of the goals of Psychological Staging™ is to put the emphasis on the architecture (which is what you are selling) rather than the decor. Taking photos facing the focal points and the architectural details help meet that goal and make for more compelling photographs that look more like magazine shots than real estate shots.
4. Beware the wide angle lens.
Pretty much all real estate photographers utilize a wide angle lens. It enables them to capture a space all the way across, so that a viewer can get a better understanding of the room's layout and its connections to other rooms. However, the use of a so-called fisheye lens is deceptive. It makes the rooms look SIGNIFICANTLY larger than they are in reality, which can be a big let-down when buyers tour the home. Like this bedroom, which looks ridiculously ginormous: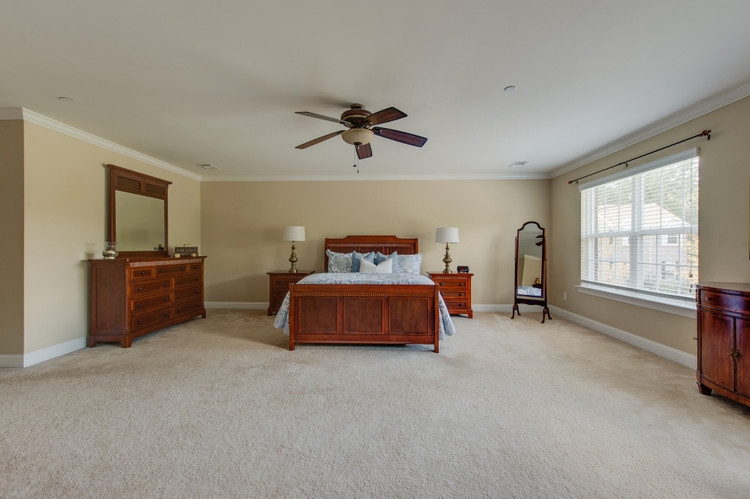 This lens can also cause major distortions, such as making a chair arm look about six feet long . . .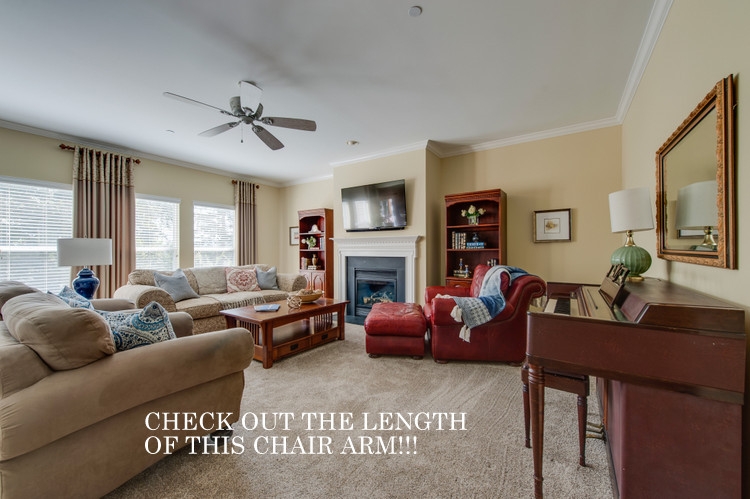 The fisheye lens made this chair's arm so distorted and long that it draws more attention that the architecture of the space, which is definitely NOT what we want.
5. Give us the hi-res (not web-sized) photos:
Even if you are planning on using web-sized photos for your blog or social media, make sure to request hi-res photos from your photographer. I never mess with the web-sized ones, and here's why: I may want to crop the image to create a vignette shot (close-up shot of a certain element in the room) or to correct a shot that has too much ceiling or distorted edges. If they are delivered to you web-sized, any cropping you do will make your photos too small to use.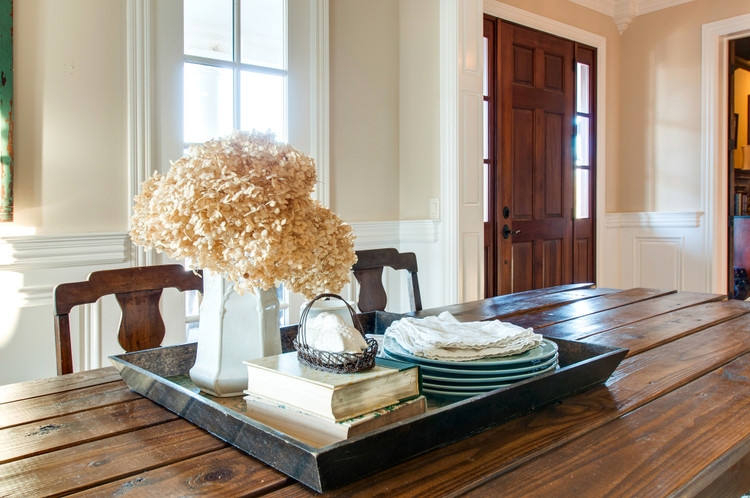 Staging by Expert Psychological Stager™ graduates, photography by Showcase Photographers
6. Take care of wires, outlets, and distractions.
Real estate photographers are good about editing to make sure their work is well-lit and bright, but they usually don't edit out unsightly wires or other unfortunate distractions in the space. I wish they would! Of course, that is something you can do yourself with simple photo editing software. While I would never edit out something that would be deceptive to a buyer, there is no harm in editing out something that detracts from the beauty of a photo, like lamp cords, a white outlet on a wall with dark paint, or that dang hanging string on a ceiling fan. It WOULD be deceptive to ADD something to the photo that wasn't there when you took the picture, especially if it altered the function of the room or added something architectural.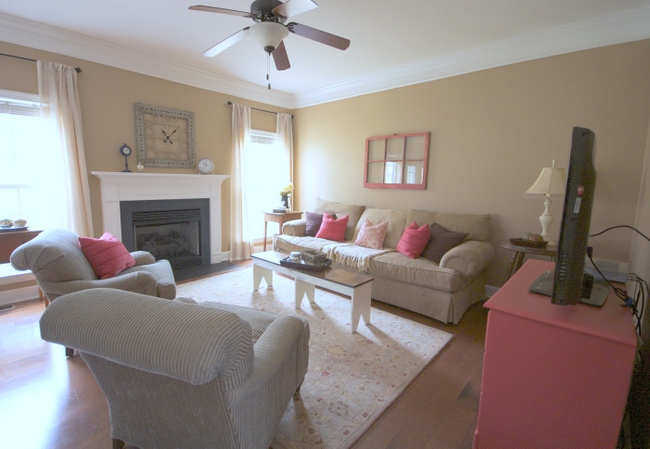 messy tv wires and ceiling fan strings
If you are taking photos yourself, try to minimize any editing by tucking away cords or simply alter a shot's angle slightly so as not to see something you don't want to see in the final photo.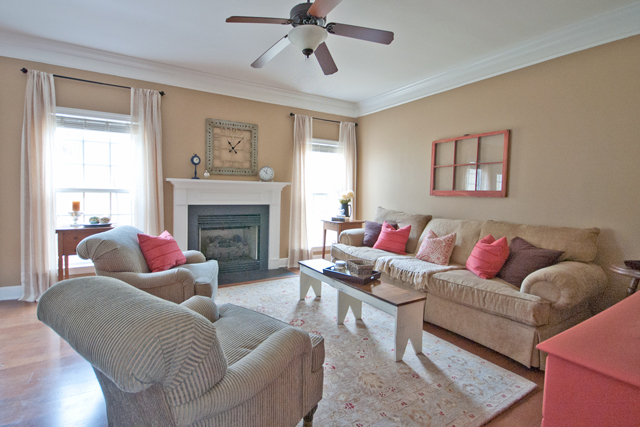 wires behind tv cropped out, ceiling fan cords removed
Just like with stagers, designers, and Realtors, there are good real estate photographers and there are not-so-good ones. Thankfully, I work with some really great ones that understand what I need when I hire them.
Professional photography is so important for capturing staged or designed interiors, so hiring a real estate photographer who understands these six things can make all the difference in the results.  Are there any other things you wish real estate photographers would do?