Tomorrow is my 20th wedding anniversary! To celebrate, Mr. Man and I took a trip last week to the Pacific Coast. We spent a week there for our honeymoon between San Francisco, Monterey, and Carmel, CA. When we were there 20 years ago, I didn't know very much about Carmel and didn't see all the beauty of it UNTIL NOW. The cottage exterior colors are absolutely out of a fairytale, and I think you'll enjoy seeing them!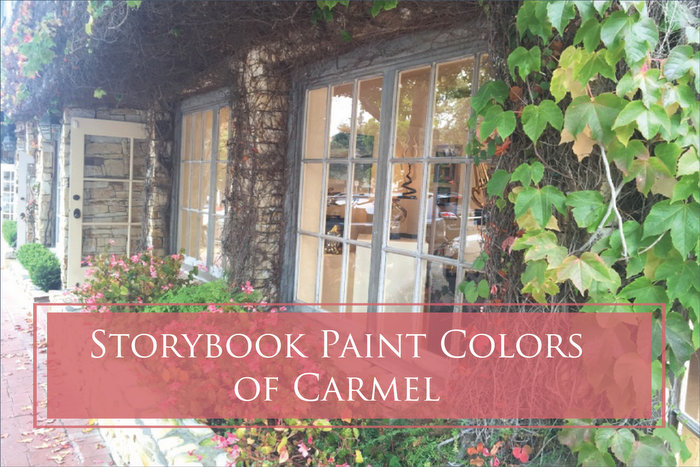 Carmel-by-the-Sea is the village within the city of Carmel. It's pretty much the most beautiful place I've ever seen. It is the most picturesque place you can imagine, especially if you love architecture like I do. It looks like a quaint European village and feels like walking through a children's storybook.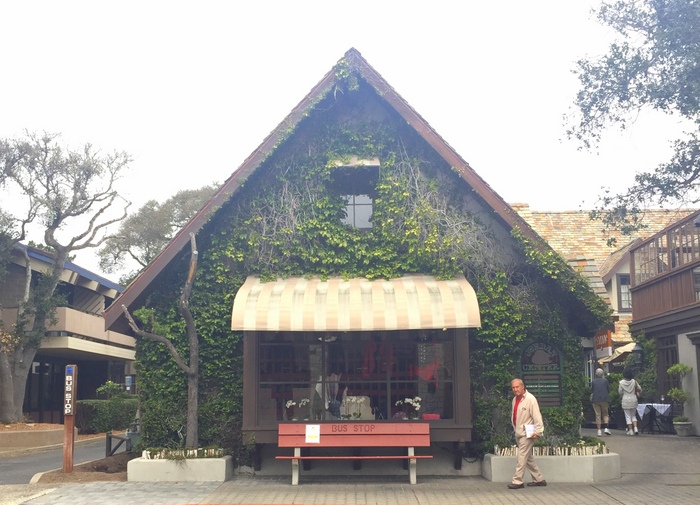 As I snapped photos for two days straight, I couldn't wait to start figuring out the exterior color schemes of the shops and homes to share with you. We don't all have storybook homes, but these cottage exterior colors that I matched to Benjamin Moore paints are definitely inspirational! Here we go:
Cottage Exterior Colors in Carmel, CA
Here I am in front of The Tuck Box, built in 1926 by Hugh Comstock (who built in this infamous Hansel and Gretel style throughout Carmel-by-the-Sea), which seems a very good place to start!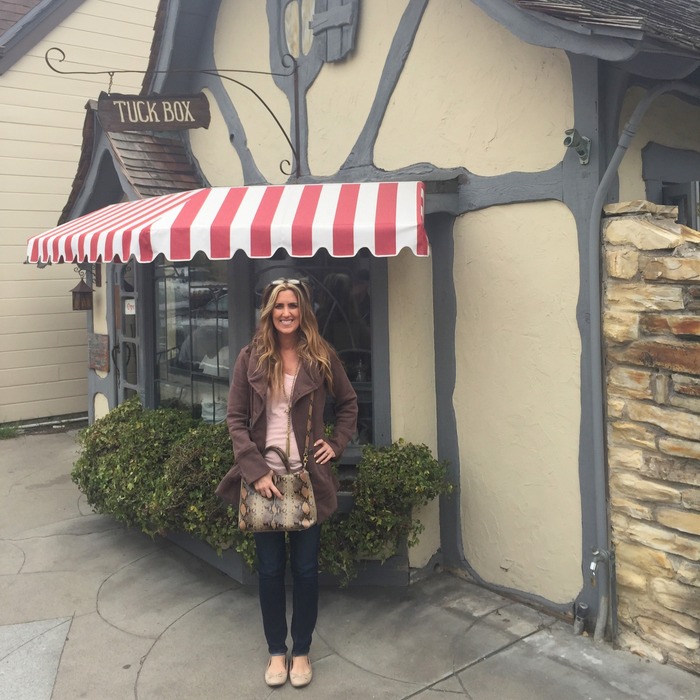 similar to Benjamin Moore Adams Gold and Duxbury Gray
Here's the most darling City Hall I have ever seen – it was formerly a church, built in 1912. The turquoise doors – what a fabulous choice! Looks very similar to the color of bookcases in my home, and coincidently, on the cover of September's This Old House magazine!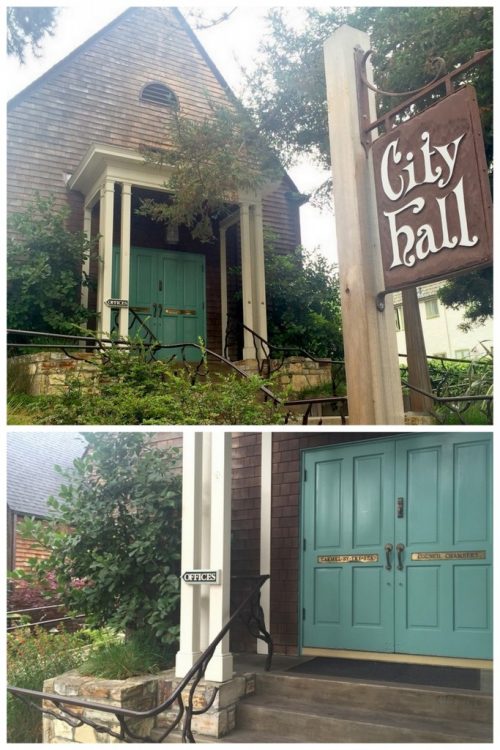 similar to Benjamin Moore Azure Blue
Green windows are my favorite – how beautiful they look with the weathered shake roof and warm stone chimney!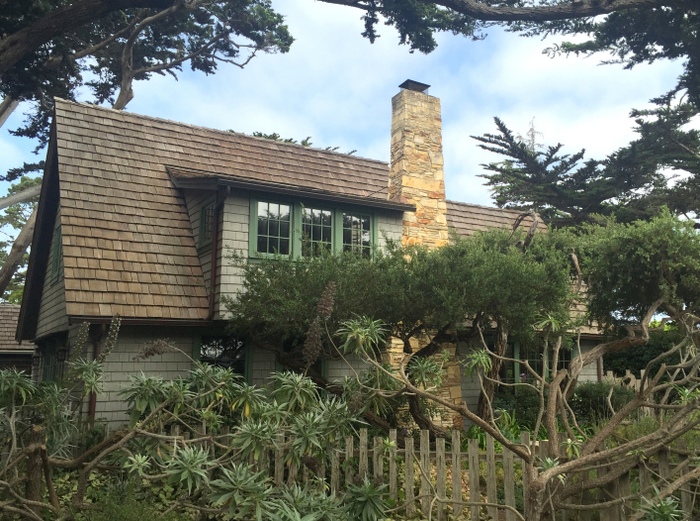 similar to Benjamin Moore Kennebunkport Green
This is one of my favorite homes in Carmel. It's classic Comstock fairytale, with the curvy roof and storybook detailing. Not bad for a garage on the front (which is usually not to be desired)!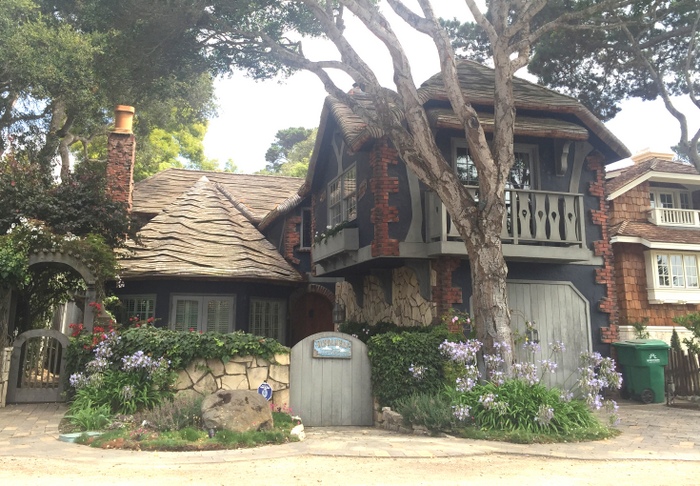 similar to Benjamin Moore Hale Navy and Gettysburg Gray
Here's another example of the amazing roofs in Carmel. And notice the copper tops on the multiple chimneys: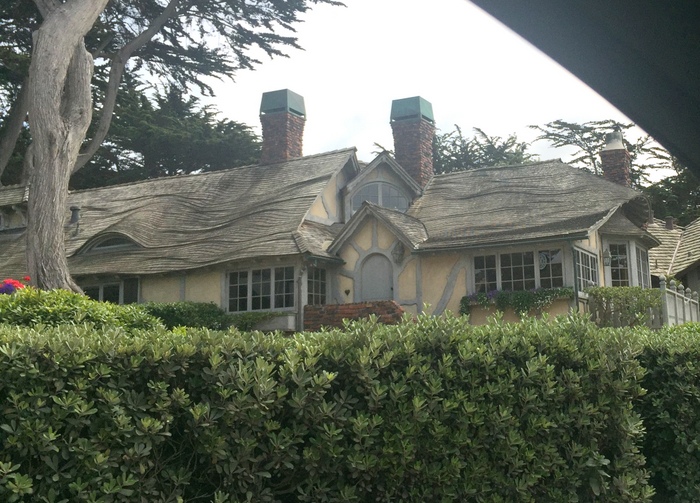 similar to Benjamin Moore Waterbury Cream and Puritan Gray
We've all heard horse shoes are good luck, but this homeowner is hoping for a ton of it! Did you know that you should hang a horse shoe pointing up? Apparently if you hang it the opposite way, the luck runs out the open end of the shoe!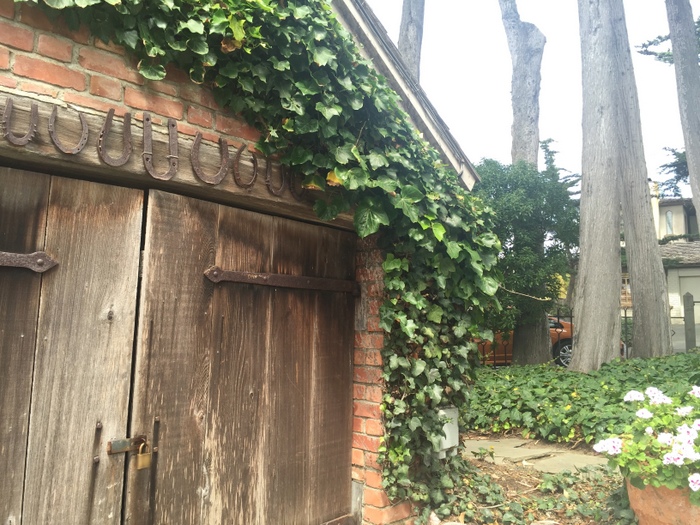 This hotel was so charming, I had to take several photos from different angles. You'll notice that two of the photos make the body color whiter, while two look creamier. This is metamerism – light affects the perception of color. The filtered sunlight on the side of the building changes the way you see the body color.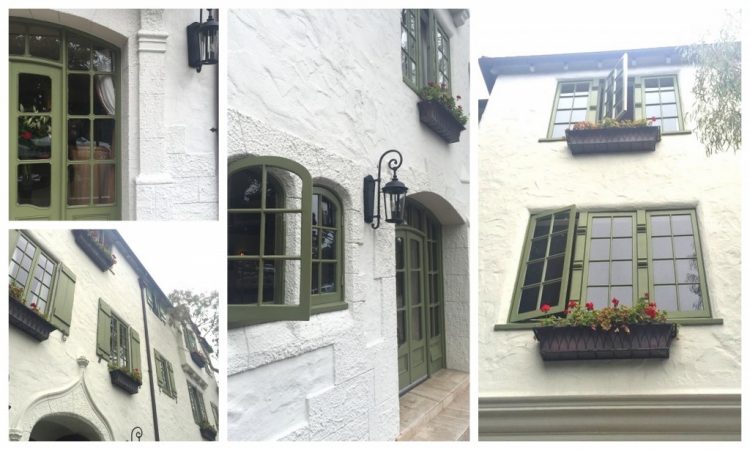 trim color similar to Benjamin Moore Ponderosa Pine
No, I'm not at Disneyland! This is a new build facing the Pacific Ocean in Carmel. I have no idea what that roof is made of, but how much FUN would it be to live in a house that looked like this?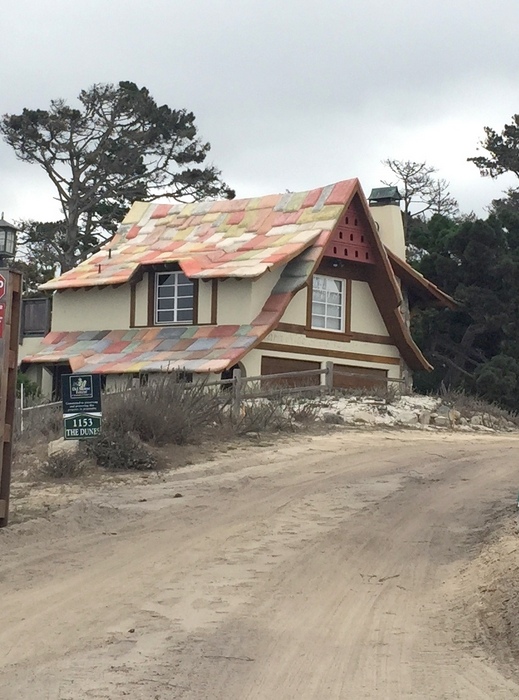 The Carmel-by-the-Sea fire station, built in 1937 of Carmel stone, was delightful to see. They even have an antique fire truck inside (I could see it through the windows)! I believe they use it for special occasions like parades and such.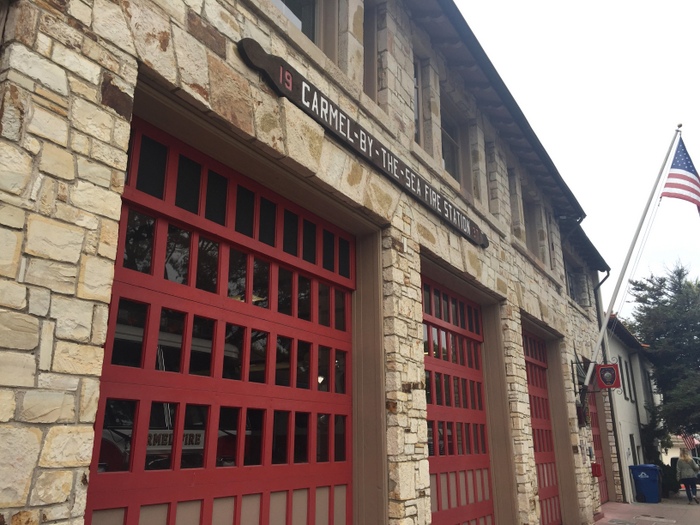 doors similar to Benjamin Moore Country Redwood
Oh, to live in the Cottage of Sweets in Carmel! What a sweet, sweet dream. Built in 1923 as a loom shop.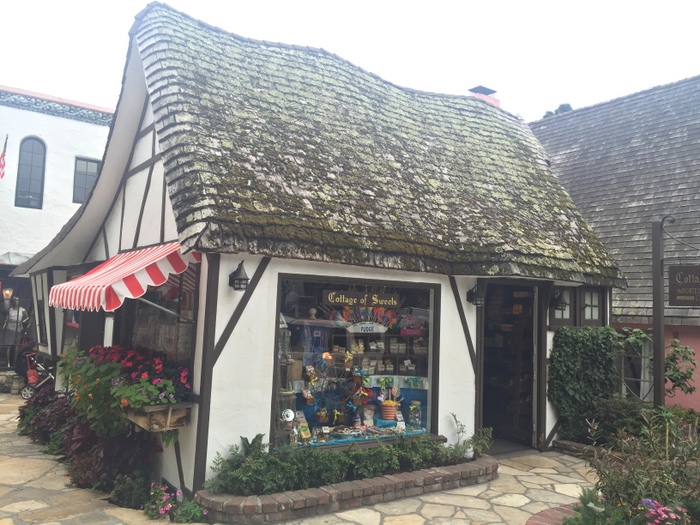 similar to Benjamin Moore Chantilly Lace and Bittersweet Chocolate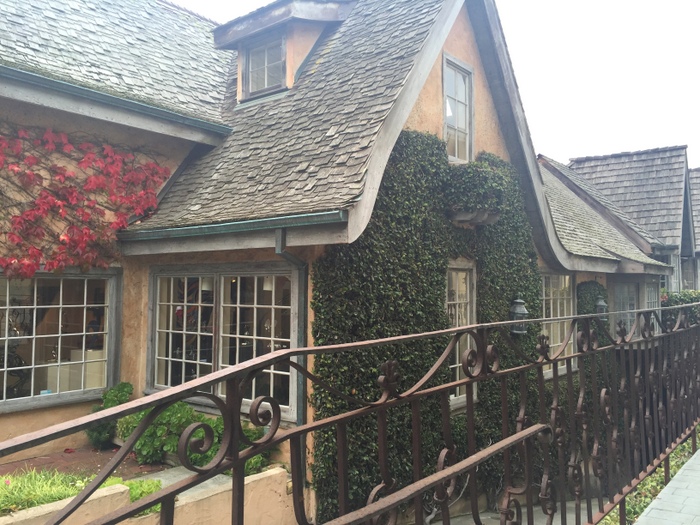 similar to Benjamin Moore Princeton Gold and Intrigue
A slate roof always makes me weak in the knees. It's weird, but true. Take a gander at this one: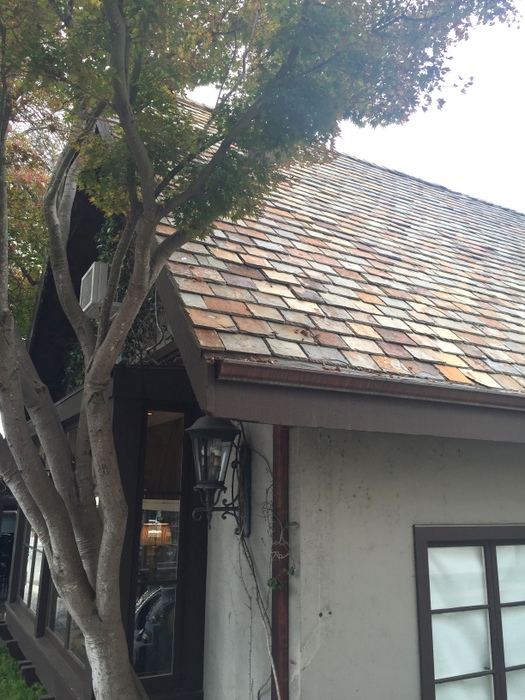 The detail, the imagination, the nostalgia – if you love architecture, Carmel-by-the-Sea should be on your bucket list of places to visit. Even the gas stations are gorgeous! You should know that they are no chain restaurants, stores, or groceries in Carmel. And no street addresses. Yep, you heard me right. NO STREET ADDRESSES. The houses have names, and directions are something like "the third house from the corner of Lincoln Street."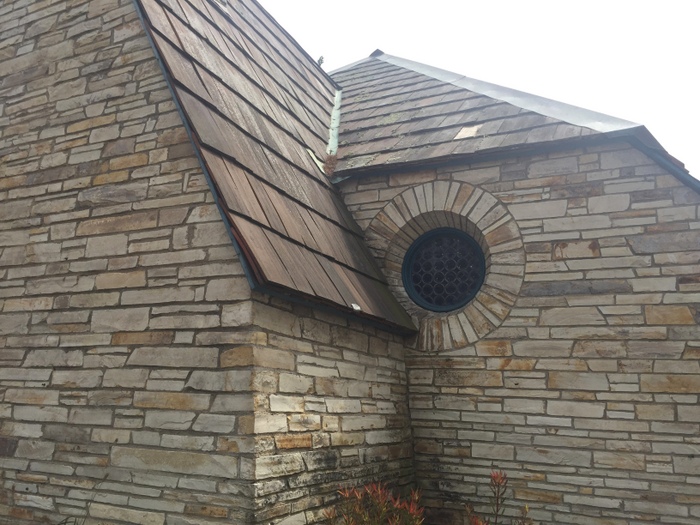 Oh, and there are secret garden courtyards and winding walkways hidden in between and behind stores. It's the most enchanted city in the world!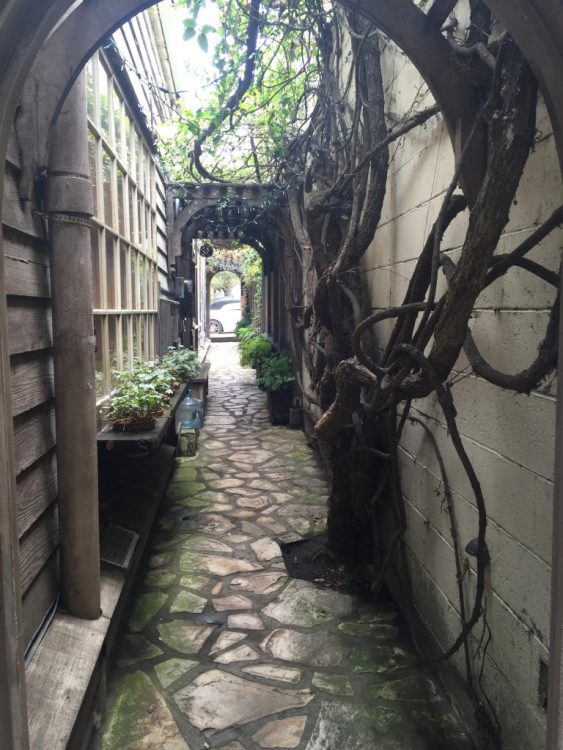 If you go, make sure to take an architectural walking tour. We thoroughly enjoyed the 2-hour we took with Carmel Walks. So now that you've seen these cottage exterior colors, what do you think? Would you like to live in a fairytale cottage?