I could probably do eDesigns full-time, if I chose to work solely from home.  I love doing long-distance paint color and design, but I try to keep it to just a couple a week so that I can do more local (Nashville) designs and paint color consultations.  Otherwise, I just might stay in my pajamas everyday blogging and doing e-designs!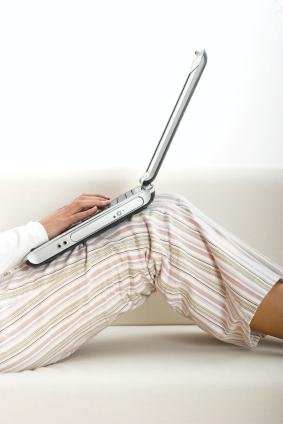 The cool thing about this edesign is that this is the second home I have worked on with this awesome client.  The first was for her musician son's condo near Music Row in Nashville.  Soon thereafter, she and her husband bought a second home on the coast of Florida and asked if I could work on a design long-distance.  The Florida home looked like many typical beach homes – lots and lots of ceramic tile floors and slightly sterile decor.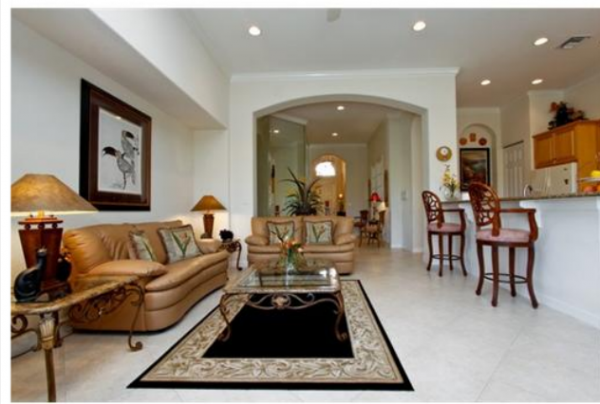 before eDesign
She wanted a casual coastal design without the cheesy "beach decor."  She sent me the floorplan of the open concept living/dining/kitchen area and I got to work plotting out a furniture arrangement.  This is what I came up with: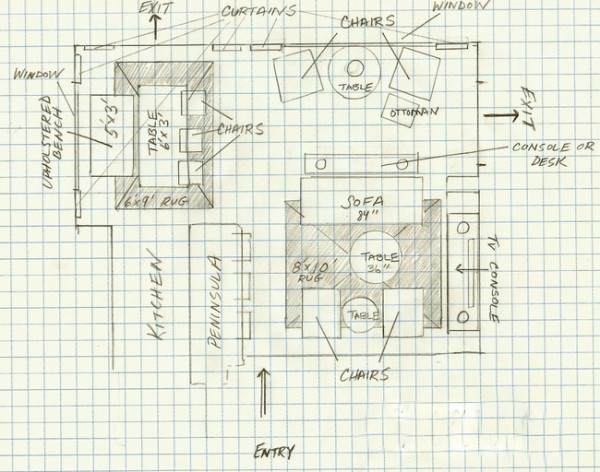 Furniture Floorplan
eDesigns are to help cast a vision for the space – to create a plan for the client that meets their needs, taste, and budget.  Here is the Inspiration Board I created with Olioboard that accompanied the furniture floorplan I made for my client: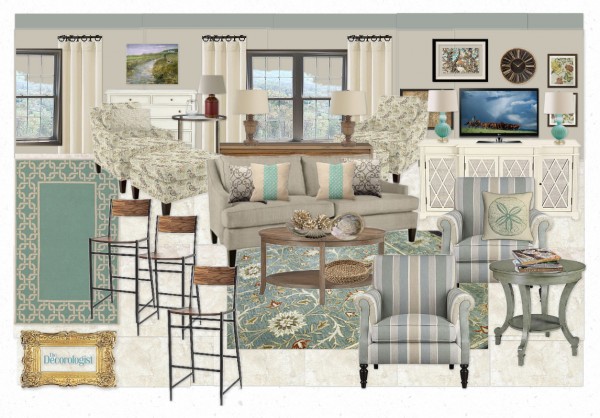 Coastal Home Olioboard
Some of my clients like to follow the design to the letter, using the resources I provide.  But I would say most end up approximating some of items on the Inspiration Board, to get the look and feel of the design but perhaps saving money by finding similar items locally or from discount retailers.  Remember the "before"?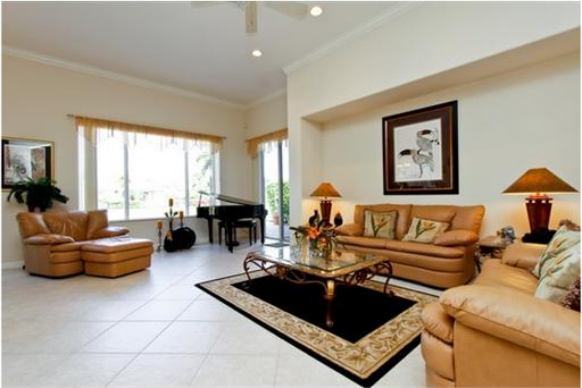 Living Room Before eDesign
Let's see how my client interpreted my vision for her space: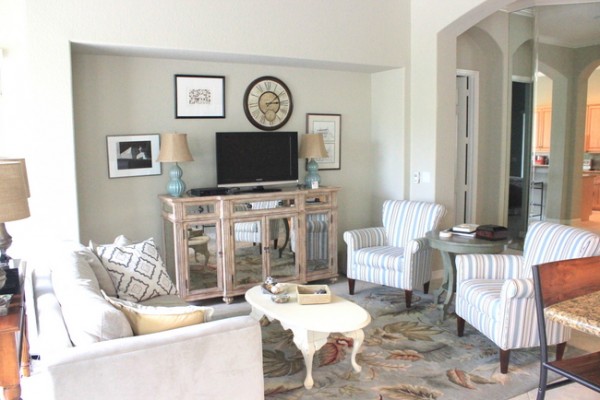 Coastal Living Room After eDesign
I think she did a fabulous job!  She totally understood how I wanted to make this television wall part of the design and not an ugly eyesore, like most media centers.  Decorating around the television can be done with style, and this proves it!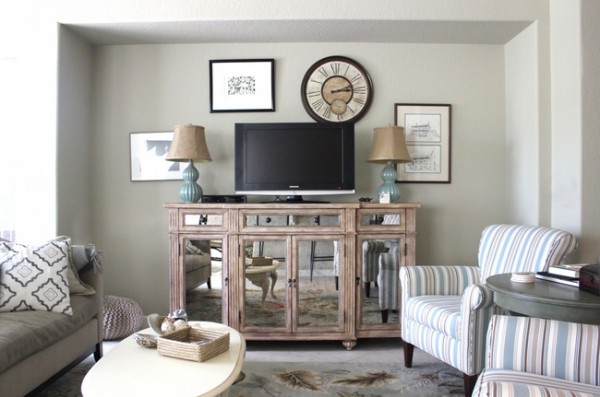 Decorating Around the Television with Style!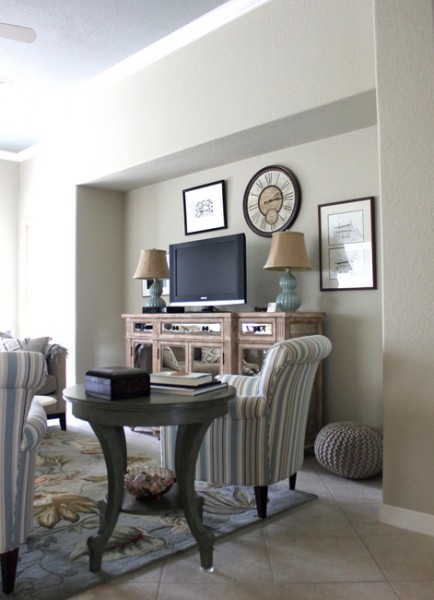 If you have to have ceramic tile floors, I suggest you warm up your space with a few good-sized rugs to anchor your seating.  My client chose a HomeGoods knock-off at a bargain price to give her a similar look to the rug I chose for her Inspiration Board.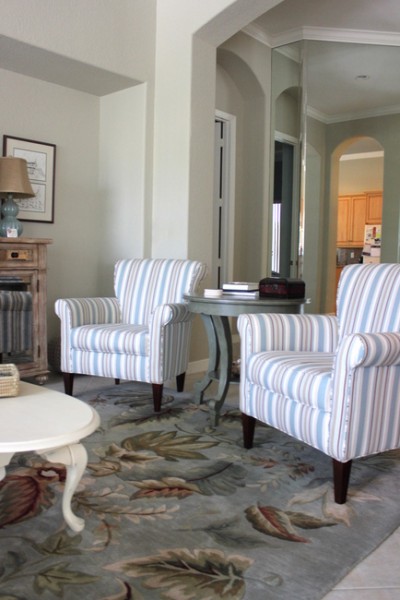 Striped chairs and leafy rug
Here is the Inspiration Board I put together for her attached dining area: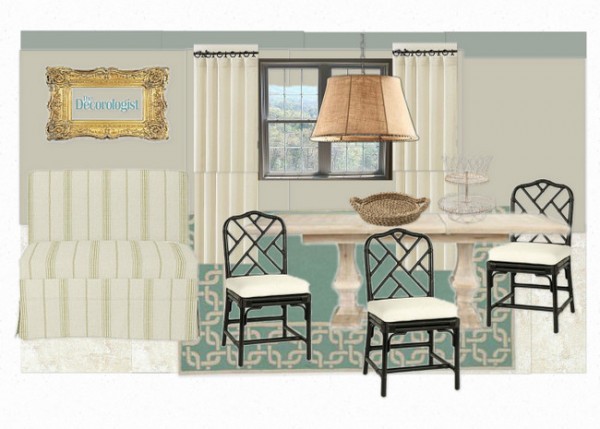 Dining Room Inspiration Board
Here's a photo of the area before the eDesign: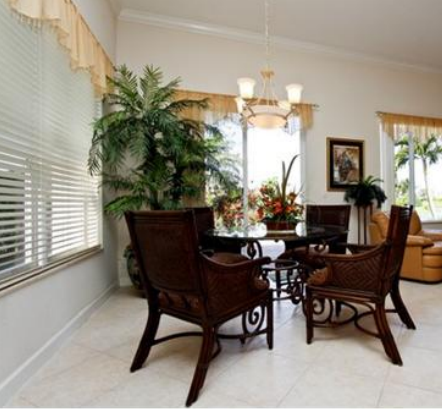 Dining Area Before eDesign
And here's the space now.  My client has purchased the Pottery Barn curtains, but hasn't installed them yet.  The space will warm up a bit when the window treatments are installed.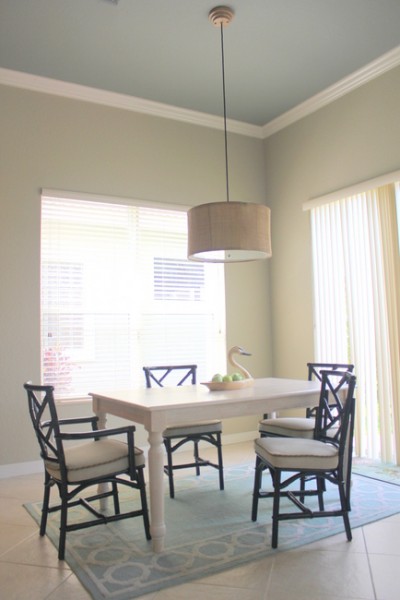 Dining Room After
One final look at the "before" and "after" of this home: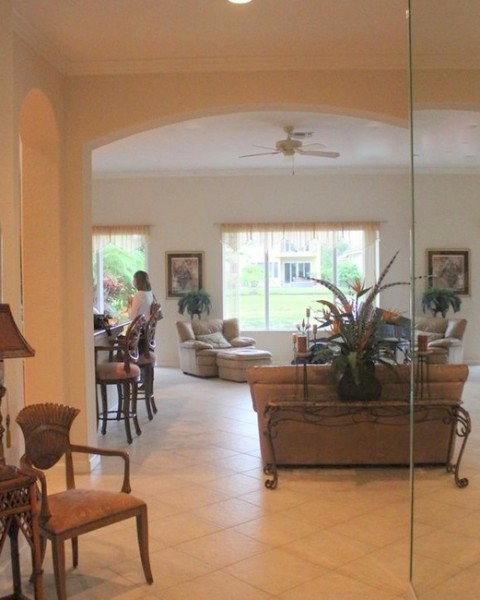 before
It still needs window treatments, which will really finish out the design.  But aren't most spaces a work in process?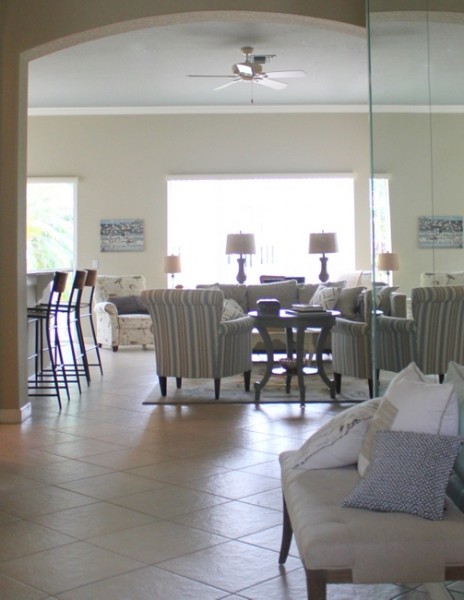 after
I'm so thrilled to see this design plan come together!  If you have a beachfront home and need design intervention, contact my assistant to schedule:  [email protected]