I recently attended a fascinating presentation by PPG Paints all about Frank Lloyd Wright colors. PPG now owns Wright's original 1955 paint color palette, formerly created for now-defunct Martin Seynour Paints. The collection includes the original Frank Lloyd Wright colors used in two of his most acclaimed projects, Fallingwater and Taliesin West.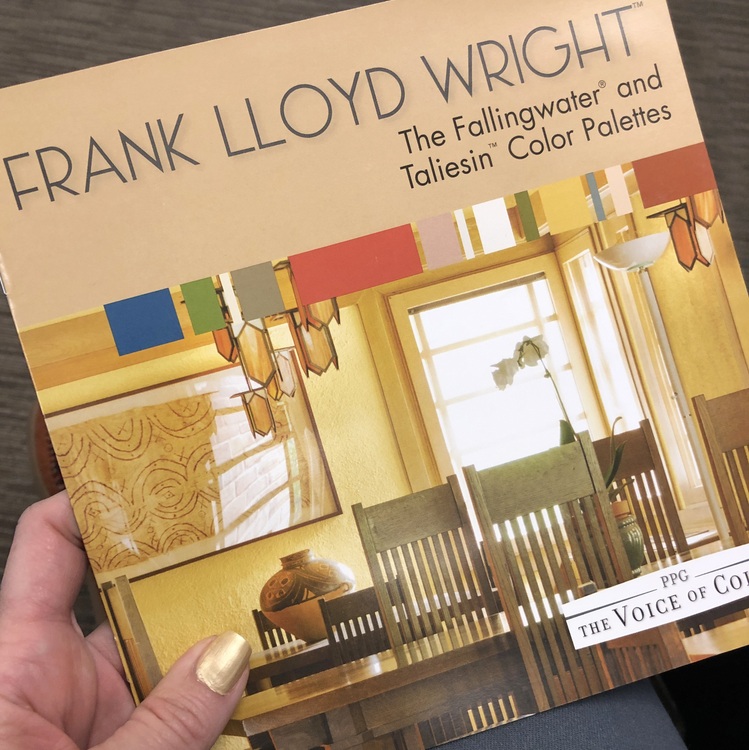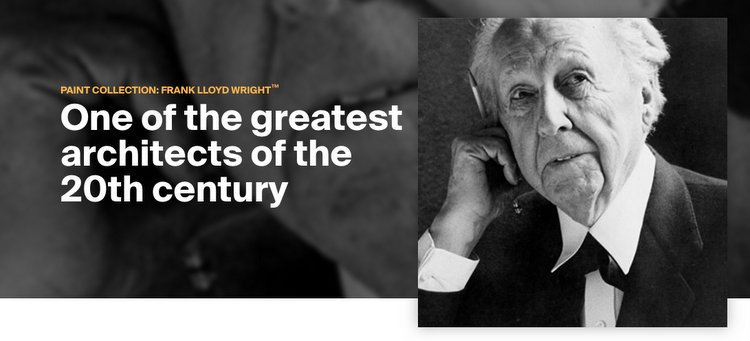 Frank Lloyd Wright (1867-1959) is one of American's greatest and most infamous architects. He designed over 1,000 projects including residential homes, hotels, churches, civic centers, museums, and amusement parks. His most famous building is Fallingwater, which is one of the most important architectural structures in the United States.
FLW drew from two sources in determining his color palette on a given project; that is, the nature of the site and the building materials themselves. Fallingwater underwent a complete restoration in 2002 and is open to the public for touring. It's at the top of my list for places I want to visit!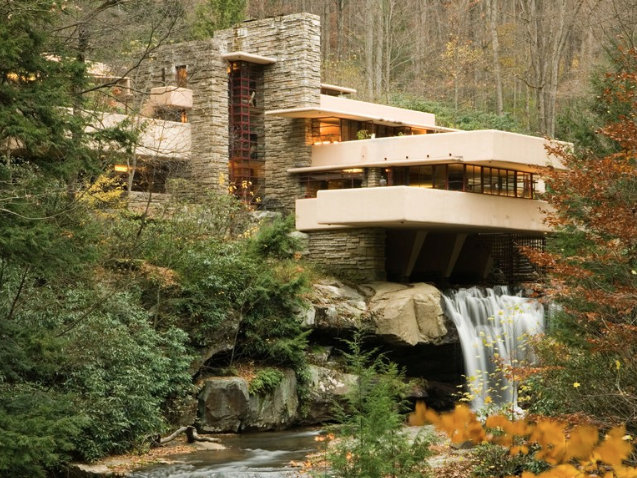 Fallingwater
I've read several biographies about Frank Lloyd Wright (this one is my favorite). Most would admit he was a genius and a narcissistic control freak, among other things. One of the more interesting things to me about Frank Lloyd Wright is that he believed the architect should create total environments. Wright designed art glass windows, furniture, carpets, fabrics, tiles, and even china for the residences he designed.  When he later visited the homes he designed, FLW was known to scoff at and even remove objects that the homeowner dared to add to his original design.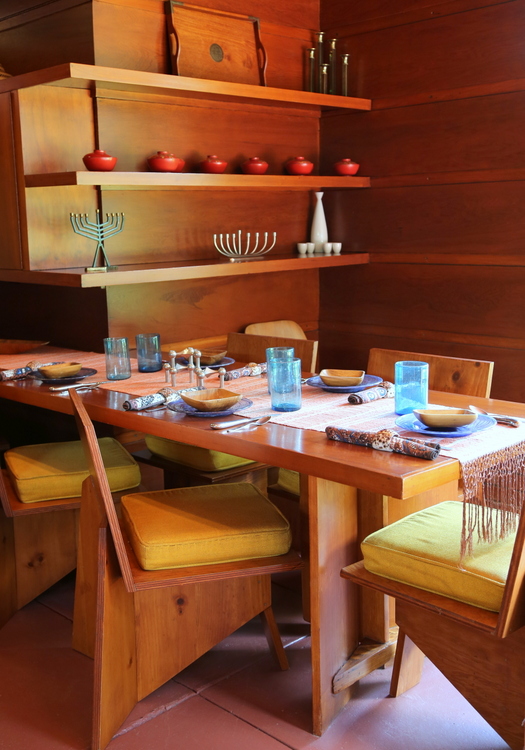 built-ins, furniture, and textiles in Rosenbaum House, photo by The Decorologist
FLW designed homes holistically and was extremely focused on the natural surroundings. He coined the term "organic architecture," and his designs are geometric in nature. Wright looked down his nose at the Victorian style that was popular in his early years and instead preferred an austere interior with unnecessary elements. To be clear, "unnecessary" referred to any elements that he did not design!
Here are some of PPG Paint's Frank Lloyd Wright colors: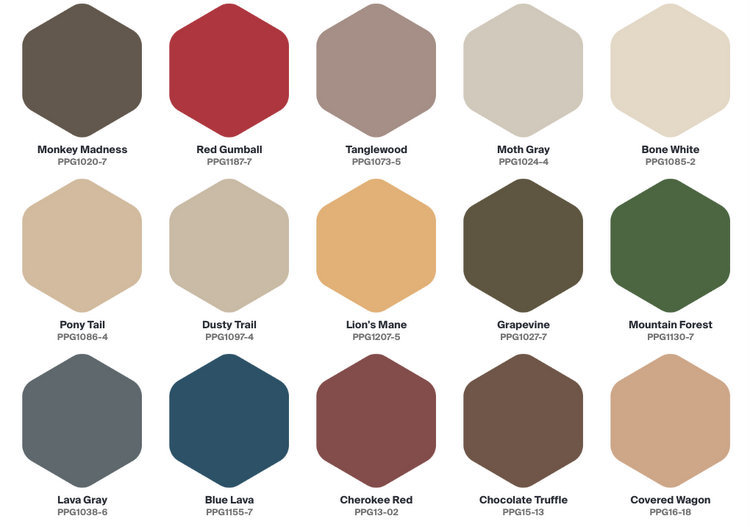 There are a total of 36 original colors in the palette, which are arranged in "micro-harmonies". In another words, any four adjacent Frank Lloyd Wright colors create a pleasing and cohesive palette.
Some of the hallmarks of FLW's building design include flat roofs, lots of windows, horizontal linear orientation, large central spaces, small austere bedrooms, natural elements, wood, stained concrete floors, and cantilevered architecture.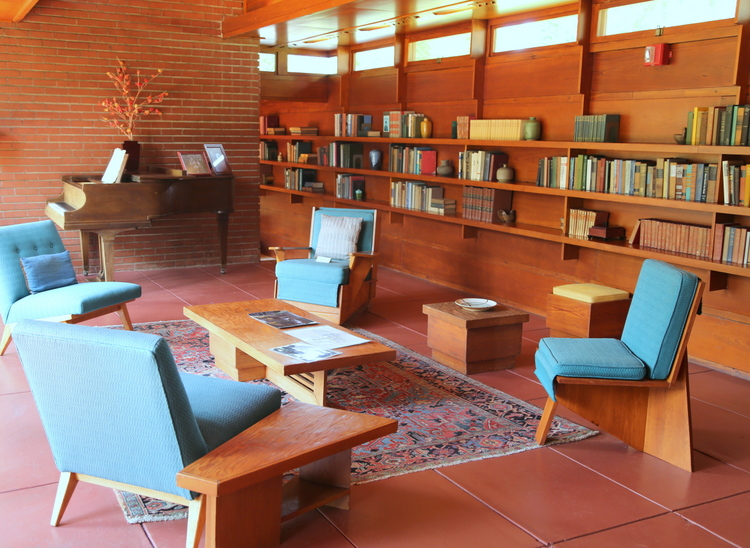 Rosenbaum House, photo by The Decorologist
This was Wright's earliest residential commission after striking out on his own in 1895. It's definitely one of my favorites: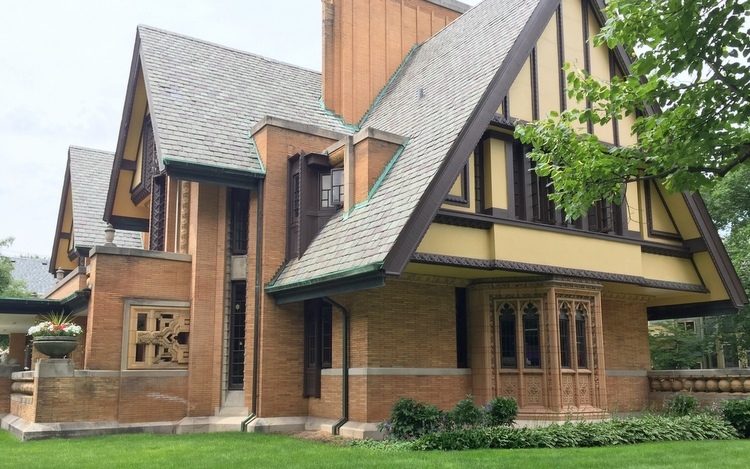 Moore-Dugal House in Oak Park, Illinois, photo by The Decorologist
The Moore-Dugal residence is a bit of an outlier when it comes to Wright's major style eras, but it truly is amazing.
Three Eras of Frank Lloyd Wright
Prairie Style
Wright's early projects were mainly in the Prairie Style from 1900-1904. Constructed of brick and stucco, Frank Lloyd Wright colors include warm reds, gold, orange, brown, and yellow-green. This particular style reflects a great deal of Asian influence.
Arthur B. Heurtley House
Concrete Textile Block Style
Next up, the Concrete Textile Block Style (1917-1924) began when Wright became interested in stamped concrete as a building material. This style is Aztec-influenced and built with concrete blocks with stamped patterns. The Ennis house is currently on the market for a cool 23 million and has been used in more movies than almost any other home. I remember seeing it in the old black and white thriller, The House on Haunted Hill!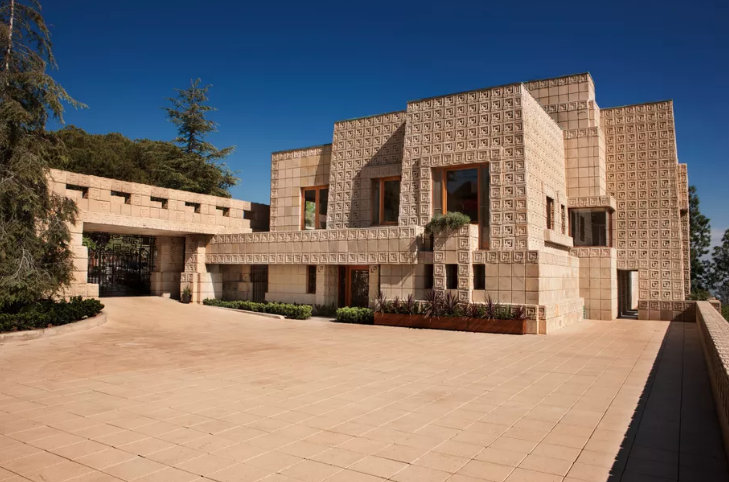 Ennis House via Curbed
Usonian Style
Finally, Wright wanted to create a truly American architectural style without ties to the past. He built many residences in the Usonian Style from 1936-1959. They were meant to be affordable, tract-type housing. Usonian homes are single story, feature long rows of windows, and have no basement, attic, or garages. Some have carports, which actually originated with Wright. I visited the Rosenbaum House four years ago in Florence, Alabama. The front is mostly brick, although the back of the house is almost all floor-to-ceiling windows.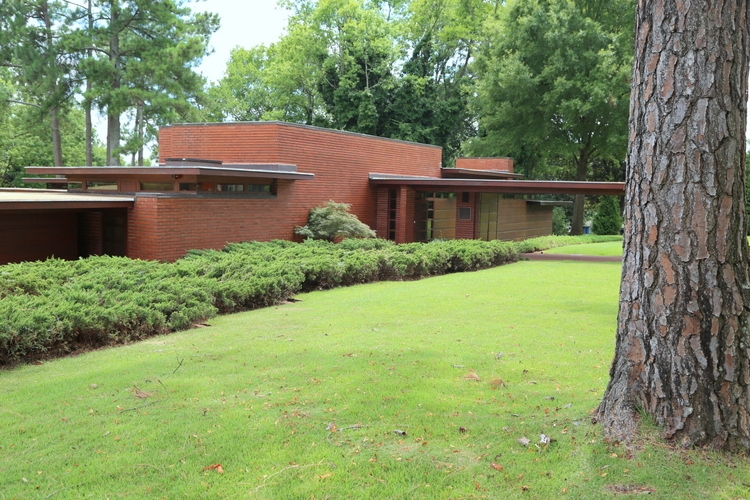 Rosenbaum house, photo by The Decorologist
If You Want to Be Like Frank:
Integrate horizontal and geographic patterns in your color scheme on fabric and upholstered items.

Maximize natural lighting, stained glass, and lots of ambient and mood lighting by way of stylized overhead fixtures, sconces, and lamps.

Choose decor based on form and function. Marie Kondo and Frank would've hooked up, for sure.
If you love all things Frank Lloyd Wright, check out the other articles I've written about his work here, here, and here.
Overwhelmed with color trends? Want to know how to choose the BEST neutrals, colors, and color combinations? Wish there was a no-fail system that creates cohesive and beautiful color schemes for any home with any finishes?
Now there is! I've been doing this for years, and now I'll teach you how (including all the specific colors). You can find out more HERE.