A client of mine recently downsized into a townhouse and asked me to help her pull things together.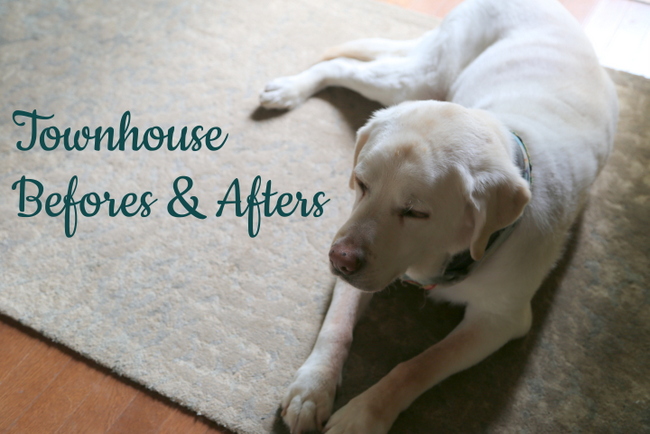 We worked with much of what she already had, but a few things were needed. This was her den soon after moving in: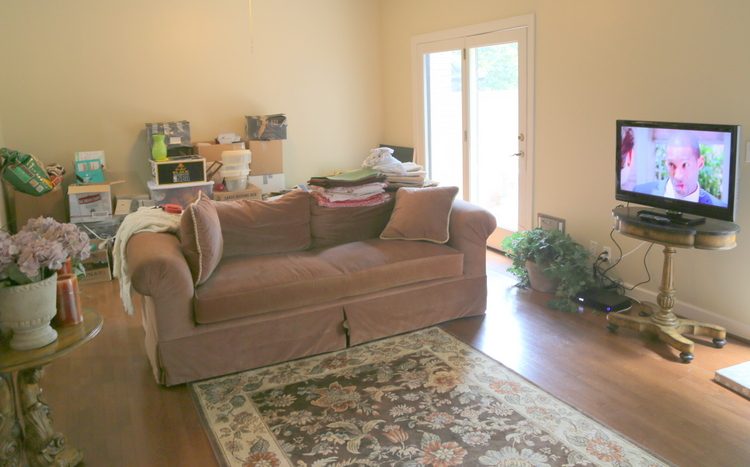 before
She reused the paint colors I helped her choose in her previous house and we moved a dresser from her bedroom to balance out the space. Her sofa had a tear in the corner, so I found a beautiful throw to camouflage it.  I changed up the sofa cushions a bit to give it a fresh, new look.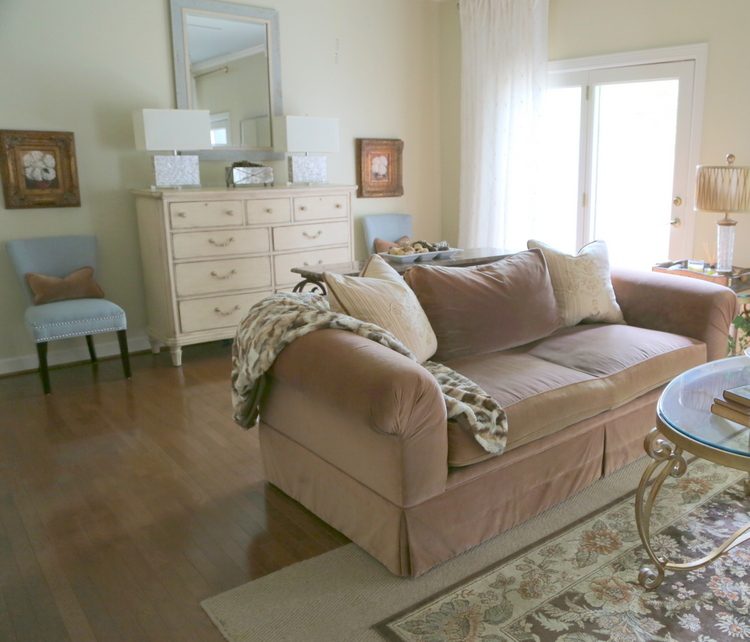 A new pair of lamps and blue side chairs helped give us a little symmetry. I hung some of her existing art above the chairs, and then I scored this large weathered frame mirror from Kirkland's. The blue and cream in the frame tied in perfectly with the wall and ceiling colors. I was thrilled to find such a large mirror for such a good price!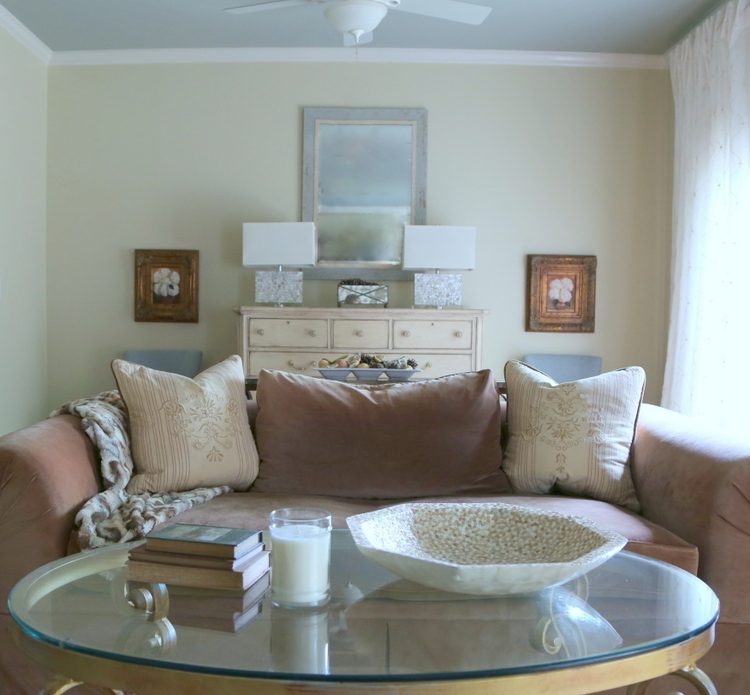 This is a shot of the other end of the room in its "before" state.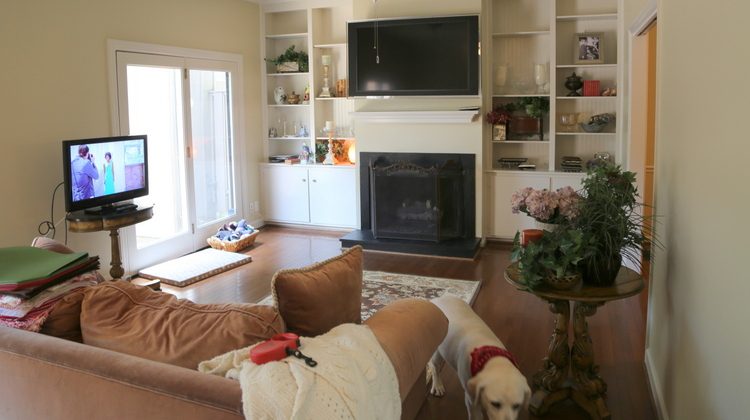 before
The rug she had in the den was too small, so we turned it 90 degrees and layered a larger natural fiber rug beneath it. I'm nothing if not resourceful!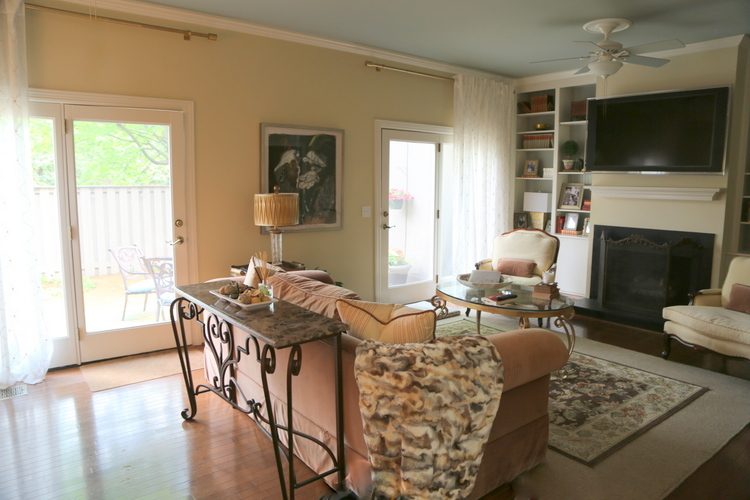 Her grown son had painted on cardboard for a high school project, and she wondered if we could frame it for a guest room. My framer is a genius – she mounted it, floating it on the mat beneath to give it dimension before framing it. It looks almost like a shallow shadowbox and turned out far better than either of us ever expected!  Now it's a personal treasure that hangs in the den.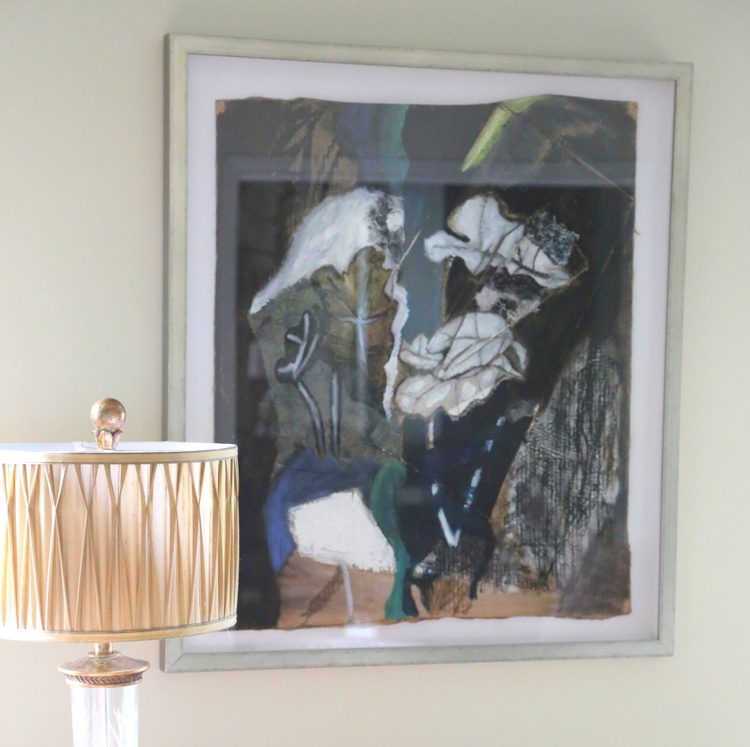 We needed something to hang on the wall between the kitchen and dining room, but my client wanted something neutral and preferred the idea of an architectural piece. I found a this large medallion at Kirkland's, and my client loved it. Thankfully, it's not as heavy as a real architectural piece would have been, so it was a breeze to hang.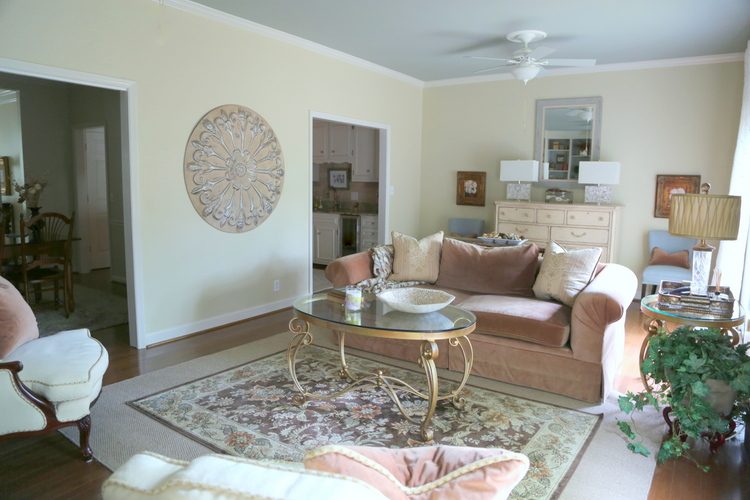 This room leads through to the dining room: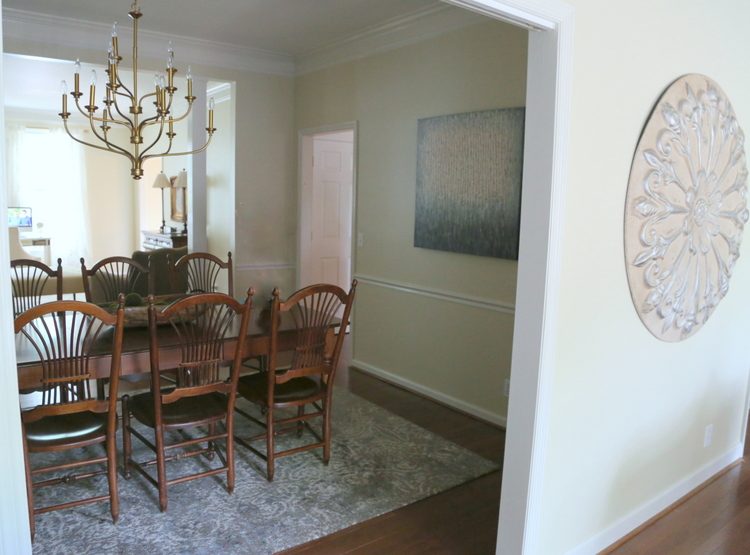 Would you like to see this room before? Here's the very bare "before":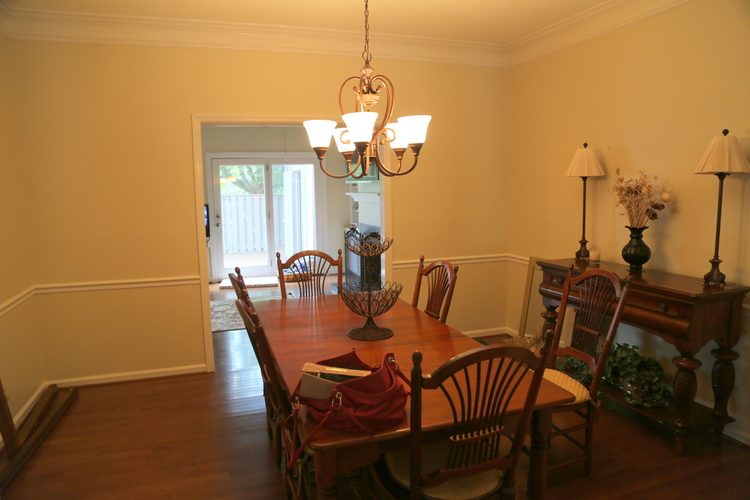 before
We kept it spare, as that's what my client prefers. A beautiful new chandelier and plush rug made a big difference, as did reorienting the table. We moved the buffet/console into another room and simply hung another painted wood frame mirror from Kirkland's. All the mirrors kick the light around and expand the space. I searched for some time to find the perfect centerpiece for the table.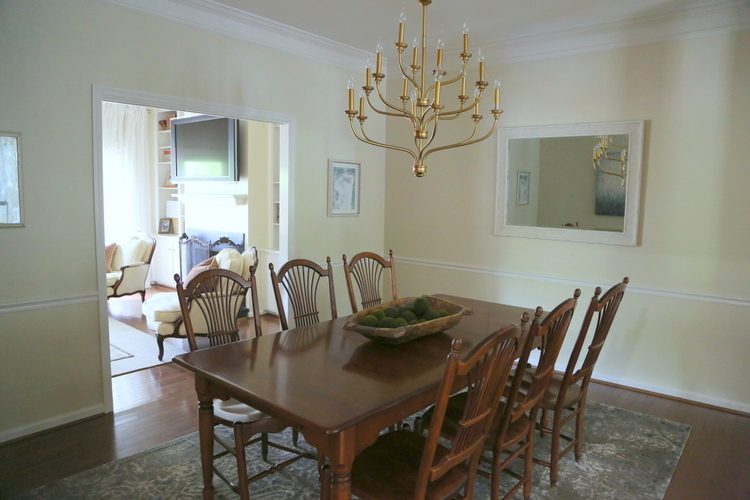 This 100-year-old dough bowl from a local antique store was exactly what we hoped to find for the table!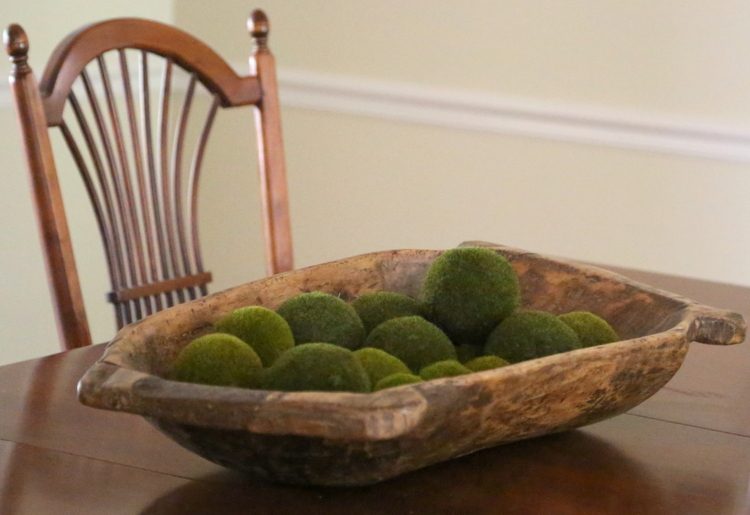 We also decorated the bedrooms of the house, but the day I took these photos her boys were home from college and were still dead asleep in the beds at midday. They wouldn't have appreciated me barging in to take photographs! But I've got one more room to show you – here's the kitchen with brown cabinets before: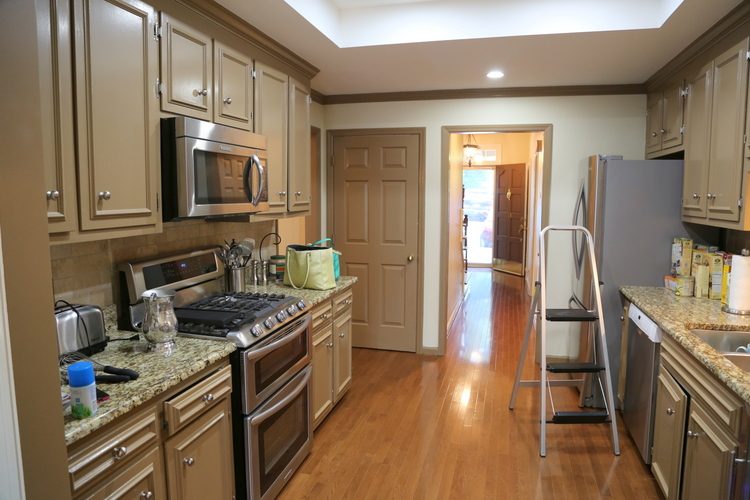 before
Painting the cabinets white brightened the kitchen that has little natural light.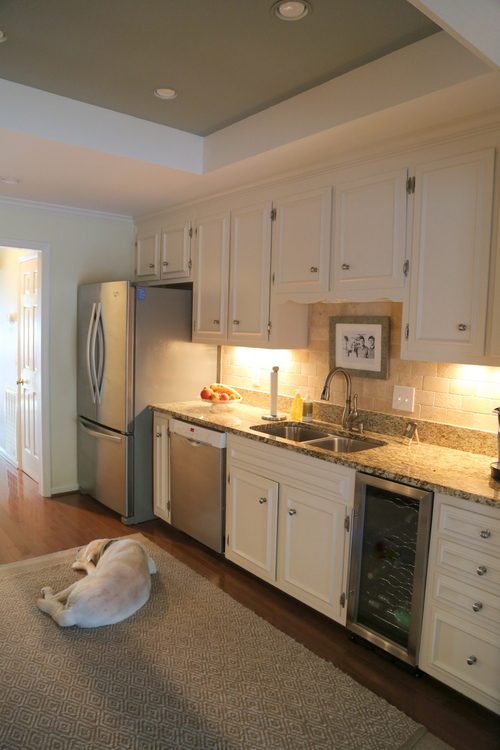 The blue on the ceiling is like a little bit of sky above.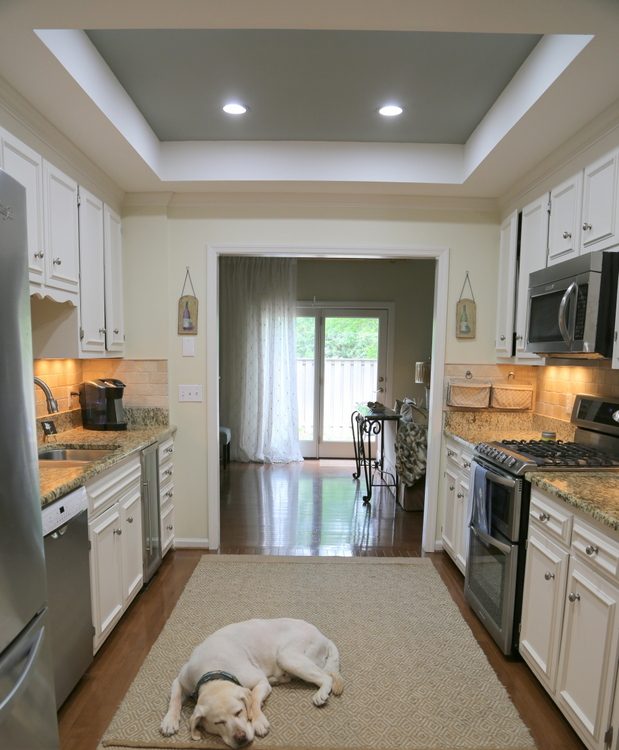 The puppy seems pretty relaxed and happy in his "new" kitchen. I think my client is feeling pretty good about it, too! Kirkland's has all metal wall art 20% off right now, so check them out if you want a good deal on large wall art!
Kirkland's partnered with me to raise brand awareness, and I received compensation for this blog post. All purchases and content are on my own accord and reflect my personal opinion and style.