No, it's not the Pantone Color of the Year. It's not the Paint Color of the Year, nor is it the Fashion Color of the Year. It's been seeping into your psyche, increasingly crossing your field of vision over a year or two. Which means the time has come for it to gain mainstream appeal to wider audiences!
DARK GREEN, I hereby dub thee the 2019 Kitchen Color of the Year! I'm going to show you some beautiful examples, as well as the best dark green paint colors for kitchen cabinets: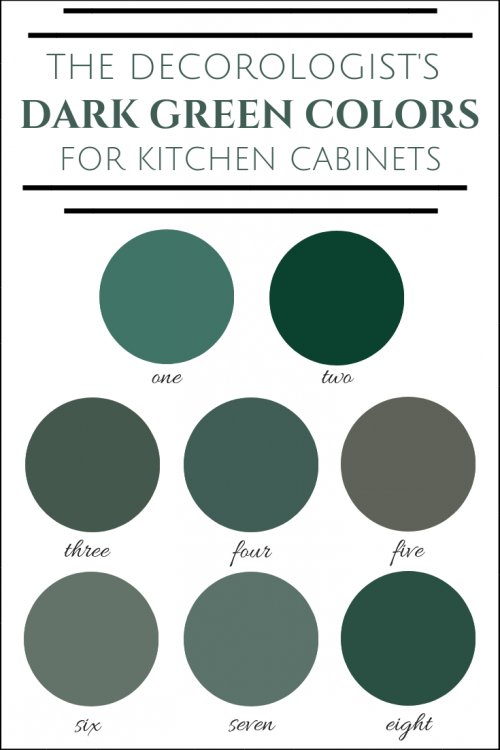 The paint color names are at the end of this post
First, let's check out some gorgeous green kitchen cabinets. In this dramatic DeVol kitchen you may have seen drifting across the internet, dark green covers both the cabinets and walls of this kitchen. Gold, marble, and wood look amazing with the dark green paint colors.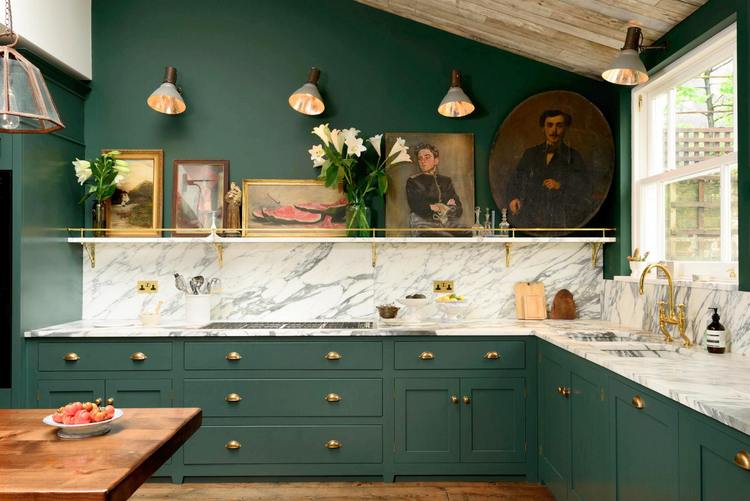 deVOL kitchens
For this look, you can do one of two things. You can either paint both the cabinets and walls in a satin finish or, for more contrast, paint the cabinets in a semigloss and walls in an eggshell finish.
Below is another DeVol kitchen in dark green, but this time, it's a dusty dark gray-green. This would look perfectly at home in a turn of the century chateau!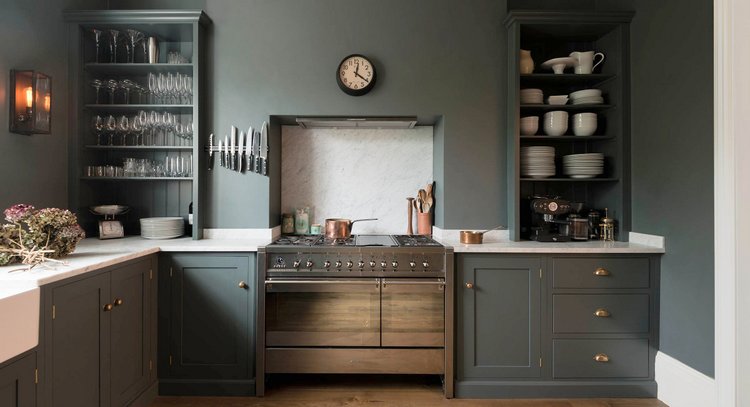 deVOL kitchens
Green glazed tile is a classic complement to dark green kitchen cabinets: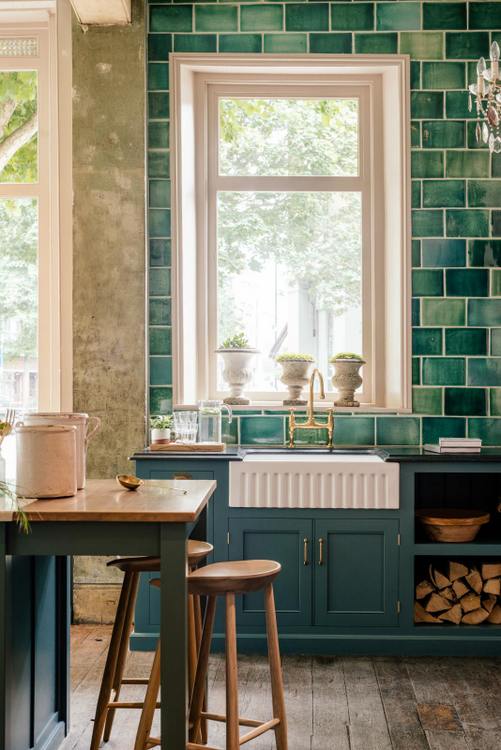 deVOL kitchens
If you like dark green kitchen cabinets, but are fearful of SO MUCH green, maybe the next few ideas will seem more do-able.  My online designer friend, Abby Manchesky, remodeled her kitchen for the One Room Challenge. She painted her lower cabinets dark green, but replaced the upper cabinets with open shelving. The paint color is Benjamin Moore Steamed Spinach, which I have used here and here.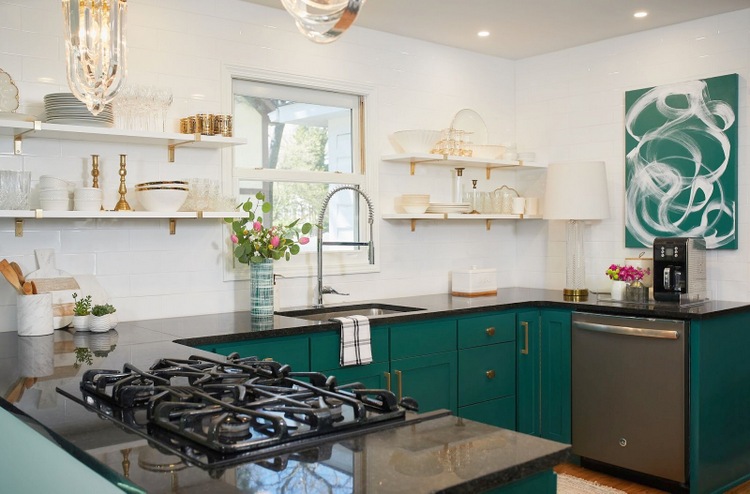 Abby Manchesky Interiors
Because everything is light and bright up top, Abby was able to do black countertops here.
Of course, if you want to keep your upper shelving, you can still do white uppers with green lowers. Marble tile floors look amazing with dark green, too!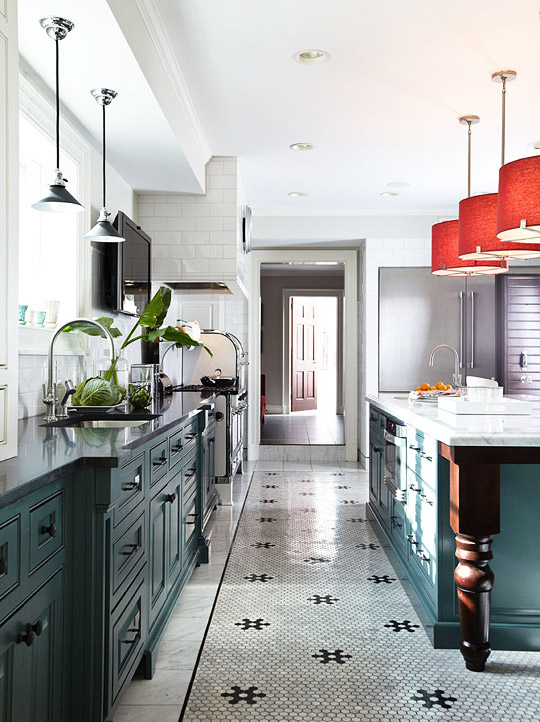 Bob Williams' kitchen featured in Traditional Home
Or, you can actually do a combination of closed and open upper shelving to keep the space light, like in this kitchen renovation I completed last year: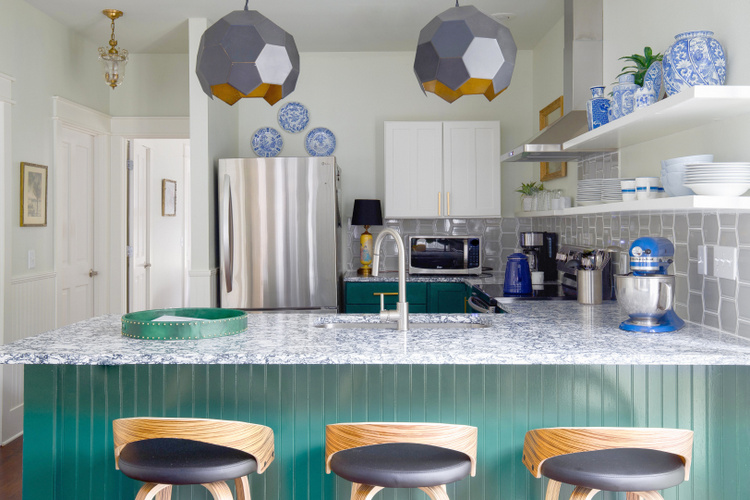 Kristie Barnett, The Decorologist
We rehung one of the original upper cabinets and painted it white like the trim and open shelving. The base cabinets and peninsula are painted in one of my favorite dark green colors for kitchen cabinets, Benjamin Moore Garden Cucumber.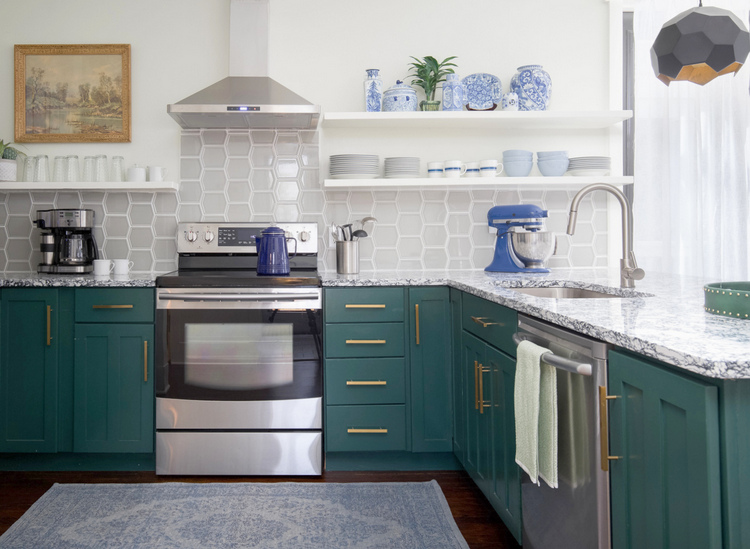 Kristie Barnett, The Decorologist
If you love your bright white cabinets, you could always add a heavy dose of dark green in your kitchen. In House Beautiful's Kitchen of the Year, designer Martyn Bullard painted an island dark green and installed wall tile in green, black, and white.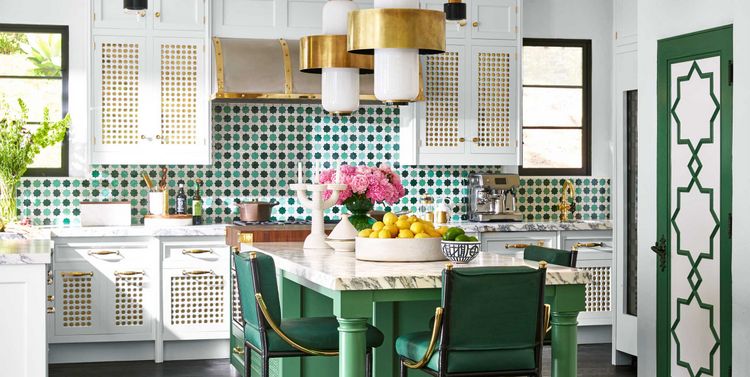 design by Martyn Bullard
This is a party kitchen if I've ever seen one! Why would anyone want to go sit in the dining room?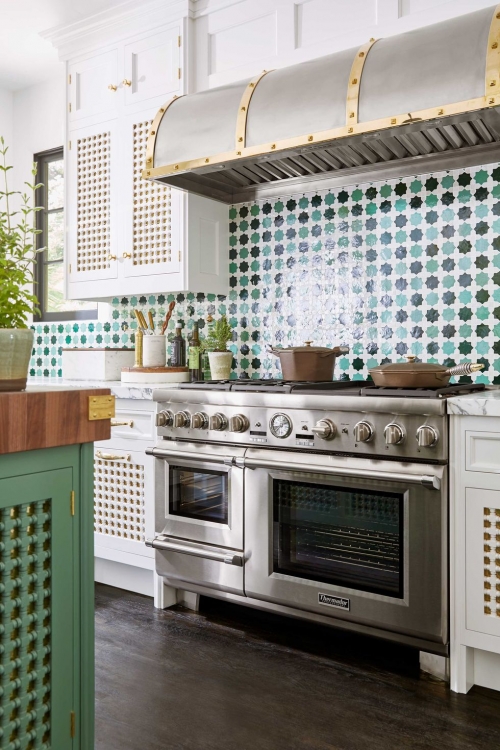 design by Martyn Bullard
If you are considering dark green cabinets, here is a tip for you: go darker and duller than you think you should. Trust me, dark colors go lighter and brighter than you expect, especially when you are using a higher sheen than flat/matte.
Also, don't get your paint colors from magazines. I've mentioned many times before how inaccurate color can read in photography, particularly in design magazines. Case in point: scroll back up a few photos to Bob Williams kitchen with dark green lower cabinets. I checked the sources in Traditional Home magazine, and they claim the paint color is Benjamin Moore Charlotte Slate. I'm here to tell you, it is CERTAINLY NOT! This is what Charlotte Slate looks like on kitchen cabinets I had painted a couple years ago. It's a dark grayed blue.
I don't want you to be deceived, so I'm sharing the best dark green colors for kitchen cabinets: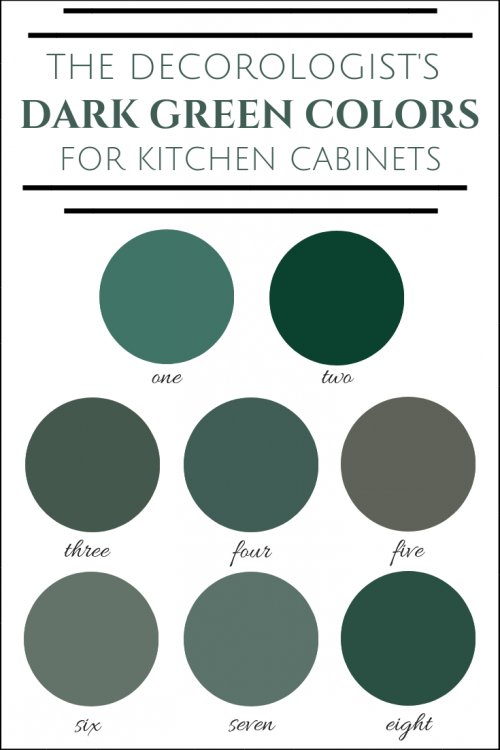 one: BM Steamed Spinach 643, two: BM Chrome Green HC-189, three: SW Billiard 0016, four: Garden Cucumber 644, five: SW Pewter Green 6208, six: BM Caldwell Green HC124, seven: BM Jack Pine 692, eight: SW Hunt Club 6468
Designers, stagers, and the paint color obsessed: